So, today was really full of monkeys. Seriously, nothing else than monkeys. For ONE ENTIRE DAY. Not that I would be complaining, thats pretty much the whole reason I came to Lopburi for, but still: "I have never seen more monkeys".
Even though there are so many, and they are basically everywhere you look, its harder to get some good shots than it would seem in the first moment. The problem is, shooting mediocre monkey images is more than easy here. So, you really have to get creative to shoot interesting stuff. And you have to go one step further than everyone else. 
I think, there are several ways to do that.
The first is to take a lot more time than everyone else. I tried this here, and it worked out pretty well. By staying in one spot, and constantly screening your surroundings you get a better feel for the speed and the action that is going on around you. If you are moving yourself, you can hardly focus on all the movement around you. This turned out to work pretty well. After choosing a good spot, I just stayed. Firstly this lead to the monkeys paying less attention to me, secondly this lead to me getting closer without them running off. And of course I recognized things happening around me that I definitely would have missed if I would have just passed by them.
Mother Monkey with Baby Monkey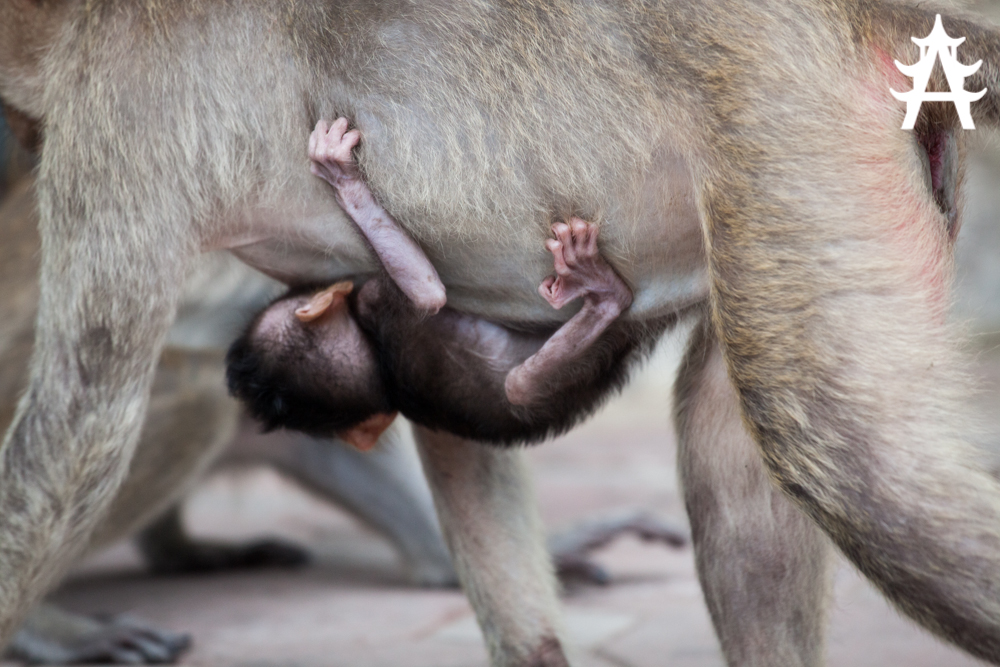 Three generations (on Flickr)
One the negative side, this also led to monkeys being a lot more daring, jumping on my backpack and trying to steal my bottled water. After having read many stories about the results of monkey bites (infections, inflammations, scars) I am overly respectful when it comes to monkeys. One could also say I am slightly afraid. However, I did not have any negative experiences, and the images were definitely better than without taking time.
A second way to move your stuff beyond the mediocrity is moving yourself beyond what the mediocre photographer would do. As you would guess, I also did this today. Here is what happened:
I was circling around Prang Sam Yot, the monkey centre of the city, where most of them gather. I tried to find an interesting subject matter, something unsual, something that would be different from the allday monkey shots. After a bit of searching, I saw two guys working on the electrical distribution a couple meters above ground. I saw this and decided that that definitely could give an interesting combination, the climbing monkeys together with the climbing humans.
I got myself into position and shot a couple of shots. This is what I got: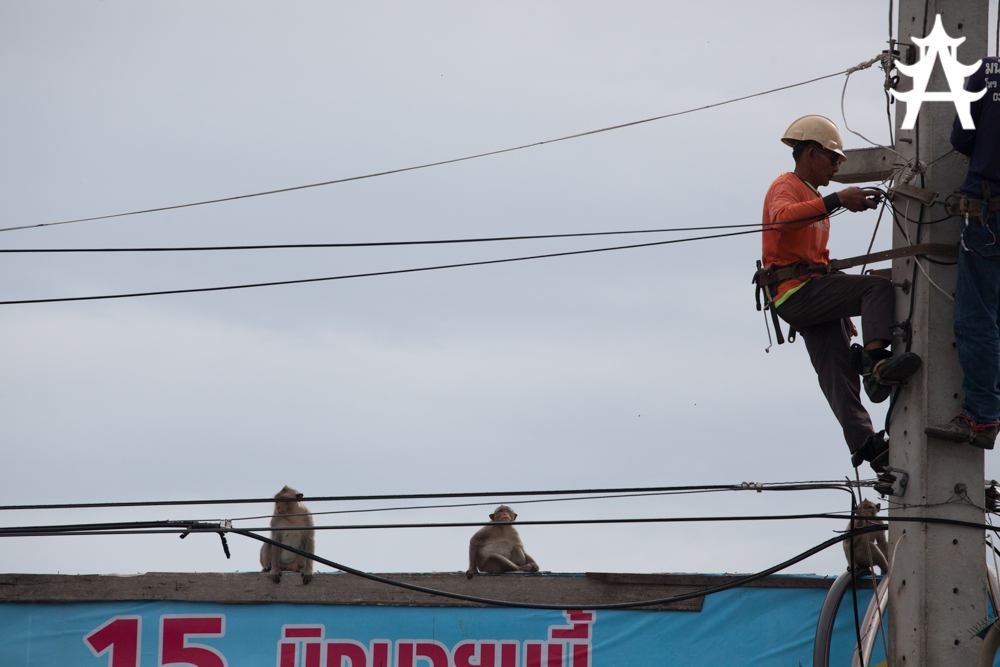 I liked it generally, but I missed some movement. So I decided to changed the site, probably I get a nicer angle from the opposite direction. It turned out, this site was just about the same, however I was lucky enough to catch some movement from here: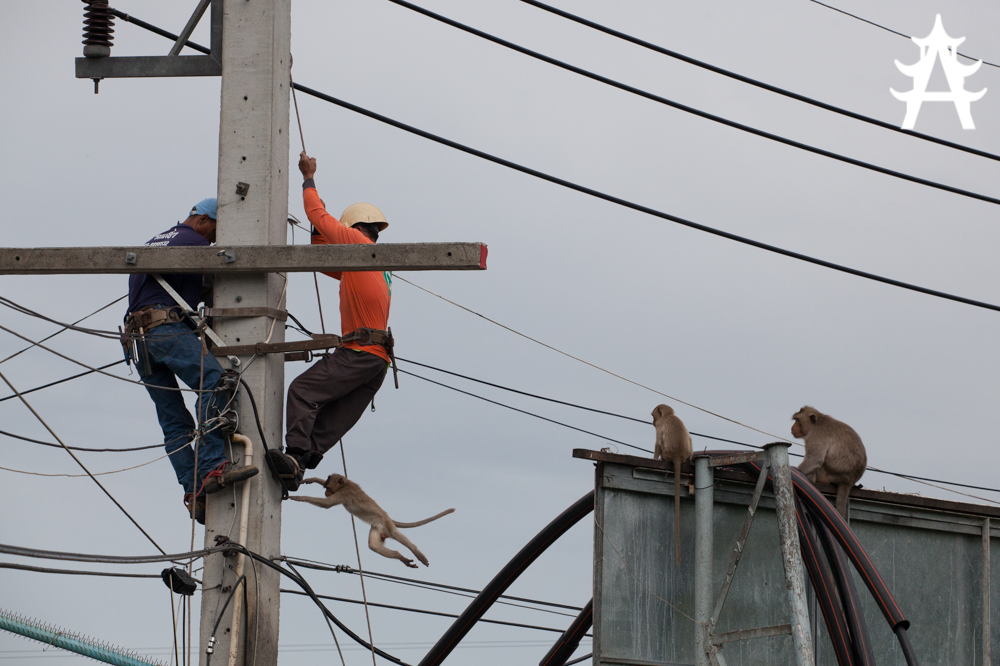 What I dislike most was how present the advertising wall was, on which the monkeys sat. This really bugged me, and I only saw one way of changing that: I needed to get a higher point of view. So, I looked around and the only thing I saw that looked usable was this: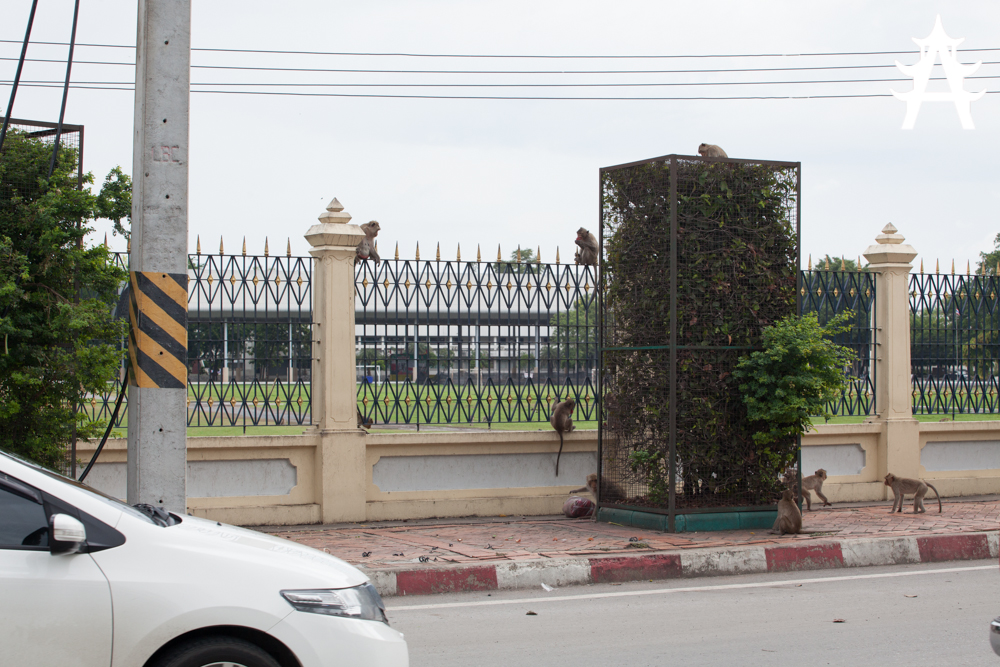 A very unstabile, shaking grid box, that was build to stop the monkeys from eating the bush (at least thats what I think). Said, done. With the help of the nearby fence I made my way up to the top, it was a lot more unstabile than I thought, but at least I now got my higher viewpoint. And even better, after two minutes some monkeys approached, and I got this very nice foreground/background composition: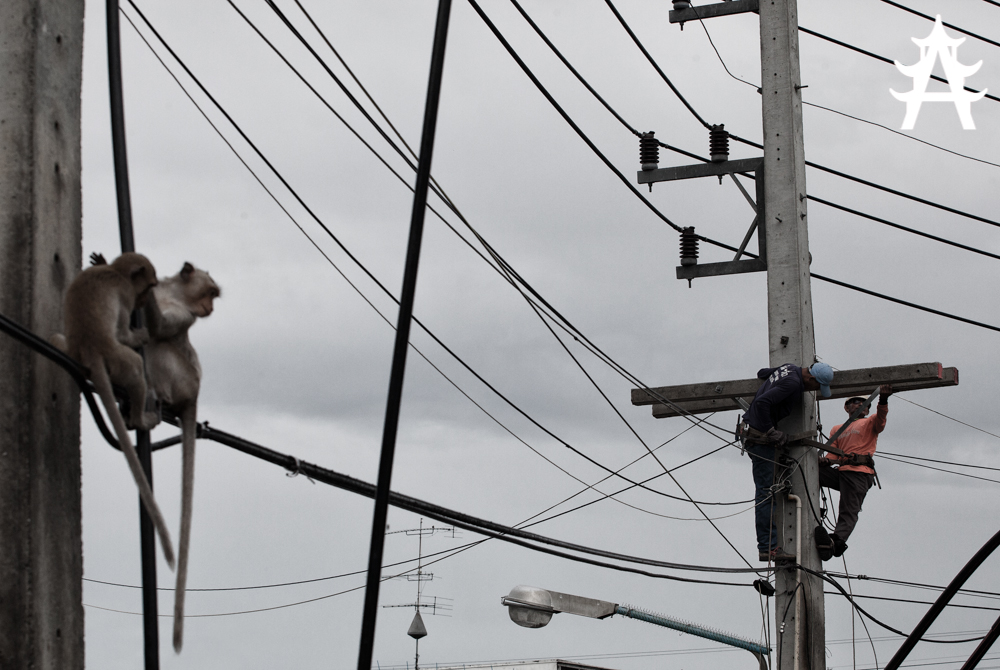 Honestly, I am not too happy with the compostion. I would have loved to get a bit more to the left, in order to get the monkeys closer to the humans, but that was not possible. Also, the position of the two workers is not too nice, I would have liked them to be silhouetted more. Still, I like the shot as it really shows what Lopburi is about, and how close we humans still are to the monkeys. And definitely, thats a rather unique shot, something that you won't see too often. Only seconds after shooting this, I turned my head and realized a middle sized monkey sitting right behind me. I did not really know what he wanted, and tried to scare him away by waving one of my flip flops. This did not scare him away, but he definitely got more aggressive by that. So I decided to head back down again, AS QUICKLY AS POSSIBLE. But at least I got the shot, right?
So, to sum this up: You have to act like a monkey to shoot a monkey. Getting good, or at least better shots is not easy, and it takes a lot of motivation and passion to make it work. But if you are willing to do more than others, than be sure that it will pay off.
Yours
Crazy Ivory
Follow my photos, travel route and stories on the Asia Adventure Page.