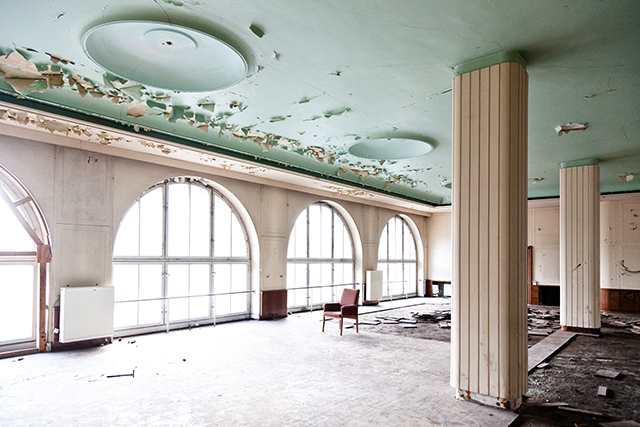 Hover over the image to see the BEFORE version
I decided to publish a Before and After of this shot, because the processing took me a total of 4 days (about 1 1/2 hours per day).
The biggest share of time was used for retouching of the Graffiti and other small imperfections.
Processing
Camera Raw
I started the processing in Camera RAW, where I used the automatic lens correction to correct the vignette and distortion of that the lens produced.
I shot this image with a Canon EOS 5D Mark II + Canon 24-105mm f/4L IS USM, which is a strong combo, but which produces a much larger distortion than I expected.
Since Camera RAW corrects this without any questions, its a complete no-brainer though.
After brightening the image slightly in Camera RAW, I open it in Photoshop where I start with the retouching.
Photoshop
Directly after opening the image in photoshop I start with the retouching.
For that, I used almost exclusively the clone stamp tool to get rid of the graffiti and other small imperfections.
No secrets here, only a very time consuming pixel per pixel retouch.
After having the image cleaned up, I create a stamp visible layer in order to correct the converging lines.
I used the perspective transformation to stretch the upper part of the image in such a way that the pillars become straight and natural.
Then I did some sharpening using the Highpass Filter and cropped the image in order to get a clearer focus on what is important, and to spare the "not so nice" parts out.
 Thats it.
If you have any detail question, dont hesitate to ask in the comments =)
Yours
Crazy Ivory