Without any korean support I made it safely and almost as planned to Lopburi. I say almost as the first ride from Kanchanaburi to Suphanburi took closer to three hours than the advertised two, and because after that I had to change (and pay) for one more bus than planned. But whatever. At least the bus was highly reliable, german engineer quality, so that I felt incredibly safe while travelling.
Very old Mercedes Benz bus from Kanchanaburi to Lopburi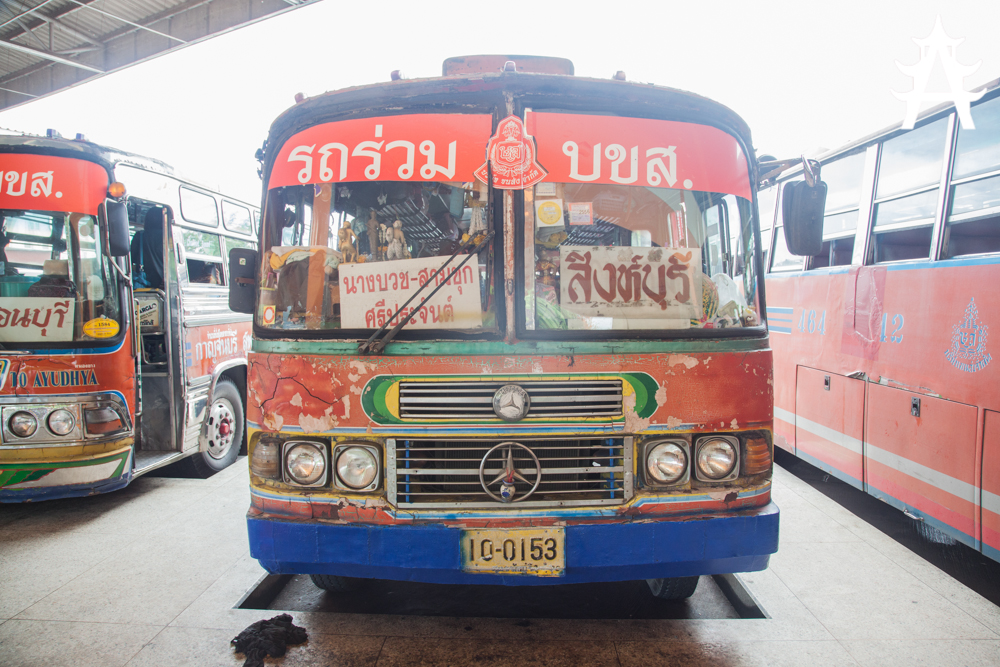 Detail of the front of the Mercedes Benz bus that got us to Lopburi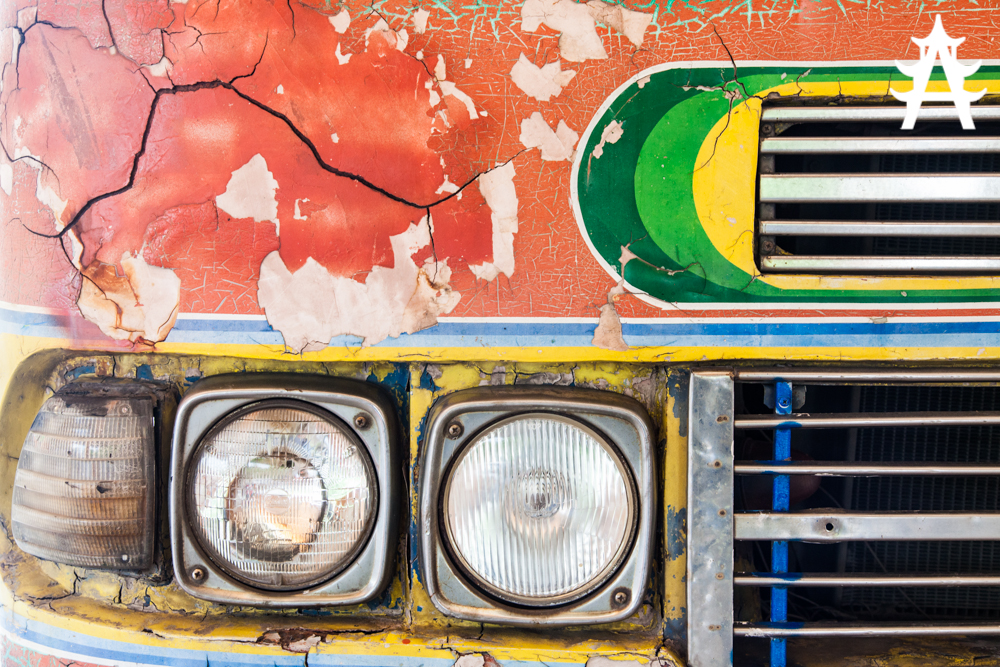 Inside the old Mercedes Benz bus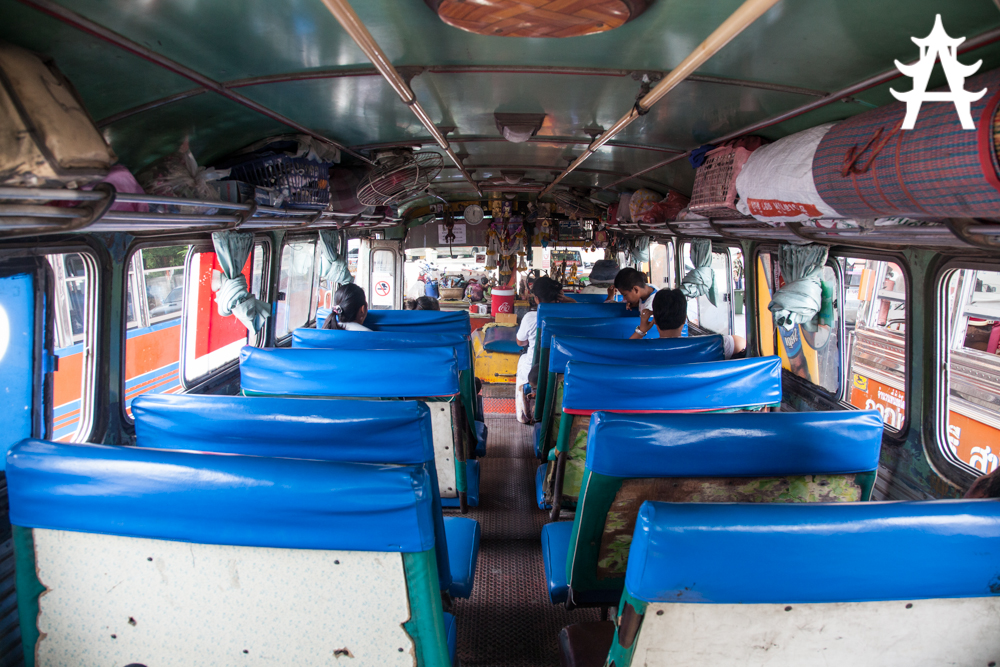 The driver also told us that he bought the bus 50 years ago and that its still working perfectly. Well, thats something german engineers can be proud of.
The driver of the old Mercedes Benz bus (he wears buddhist pendants that are supposed to give luck)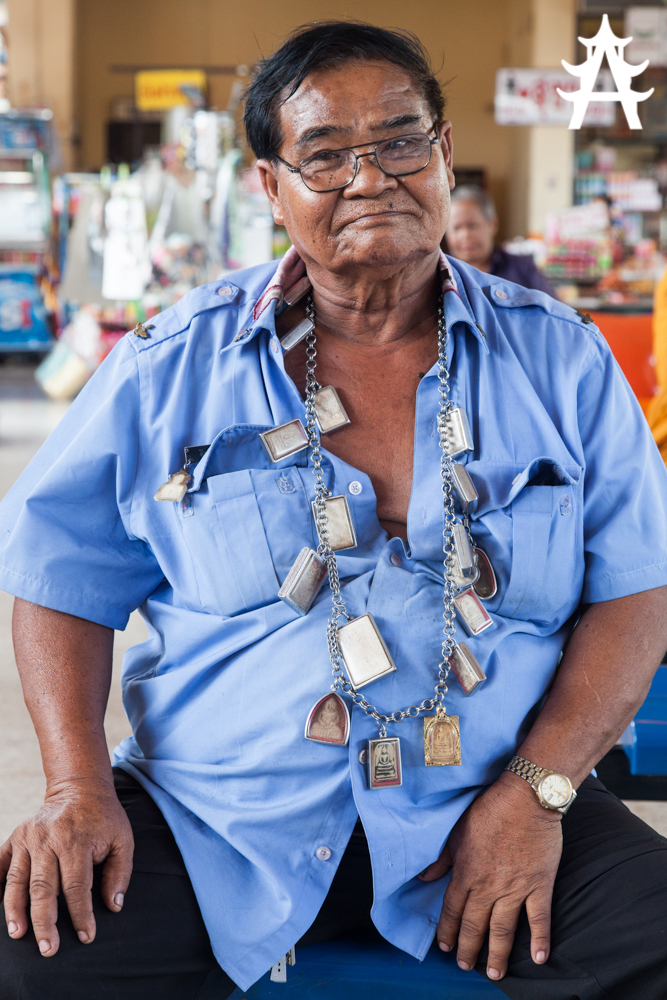 So, after around six hours I finally arrived in Lopburi. I did not see any signs or anything saying Lopburi, but the sheer quantity of monkeys on the roads made me quite sure that this is where I needed to get off. But more on the monkeys later, I don't want to ruin the tension just yet. Back to my story.
So, after a quick mototaxi ride I arrived smoothly at my pre-booked hotel (unfortunately there are no hostels in Lopburi, at least none that I could find, I am kind of annoyed of staying in hotels and guesthouses already). It looked a lot nicer than expected considering the room rate of only 220 Baht for a double room with fan and private bathroom (the usual rate is 260, but without even realizing it, I seemed to have negotiated a better rate when booking the room via telephone).
Also, the hotels and guesthoueses in Lopburi are usually rated by two main factors:
High, medium or low density of monkeys in the area

Caged or uncaged
The first is pretty clear, the second may need some explanation. In order to allow their guests the freedom to open their windows, and also to prevent them from very bad experiences, the "better" hotels are completely caged. This means all the windows, balconies etc. are blocked by tight bars and nets, so that no monkey can get in. This is definitely the option that I preferred, also it has a nice, prisony touch to it. You feel very safe (or even more unsafe and entrapped depending on your personality), and you don't need to worry about monkeys attacking you while sleeping or anything. I chose the "Nett Hotel", firstly because of the promising name (Nett means nice in german) and secondly because it was in a high monkey density zone. Also it was important that my hotel would have a good wifi connection, so I booked this one (the price was just perfect). That my hotel is also caged was something that I only found out when checking in, I did not pay too much attention to that when booking.
So this is what my place looks like:
My room at Nett Hotel Lopburi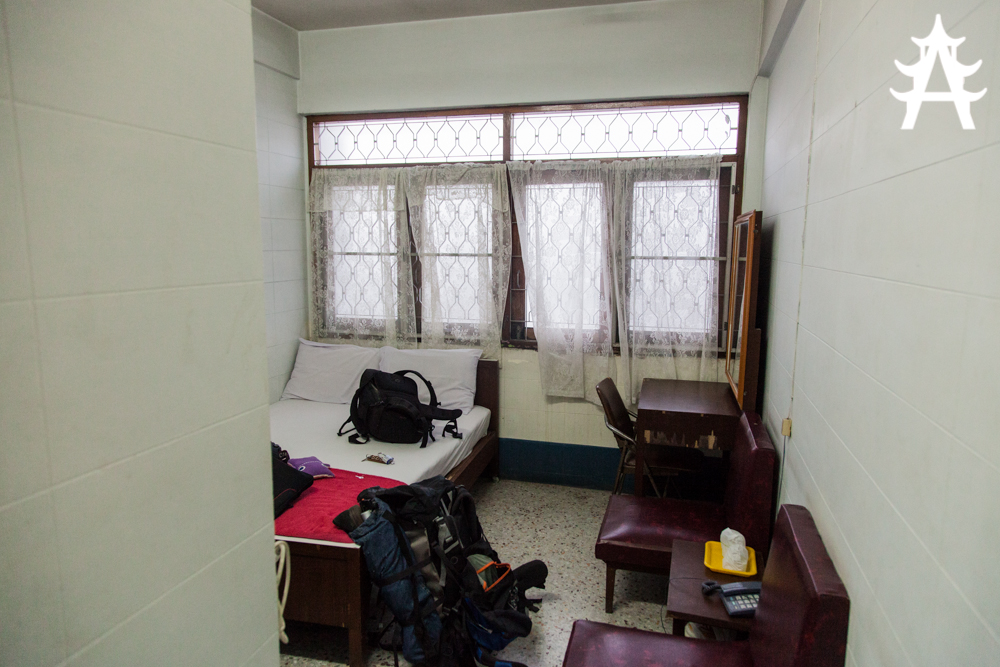 The bathroom (its only a wall, other than that its not separated from the bedroom)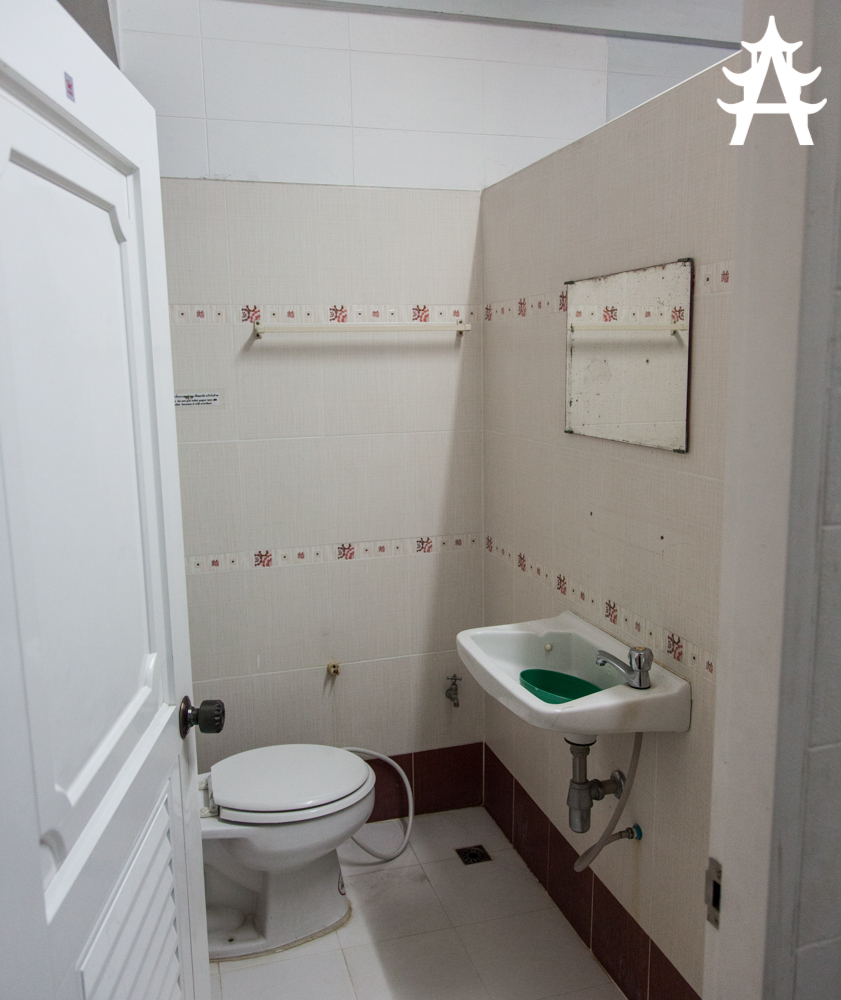 All hallways are caged…COMPLETELY
The roof deck, surprisingly its caged as well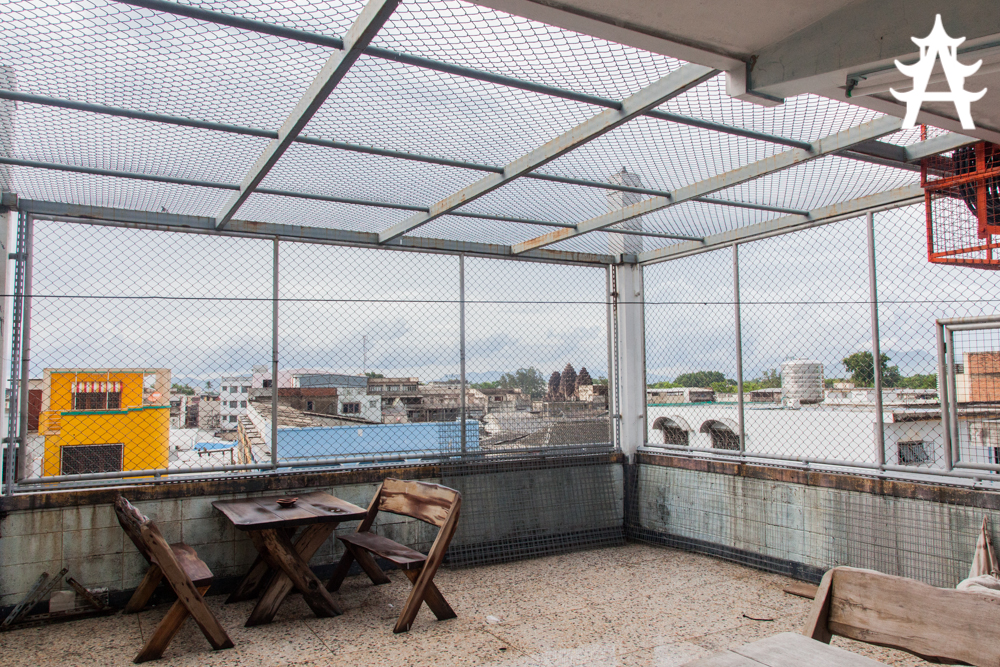 Obviously I am not the first Berliner staying here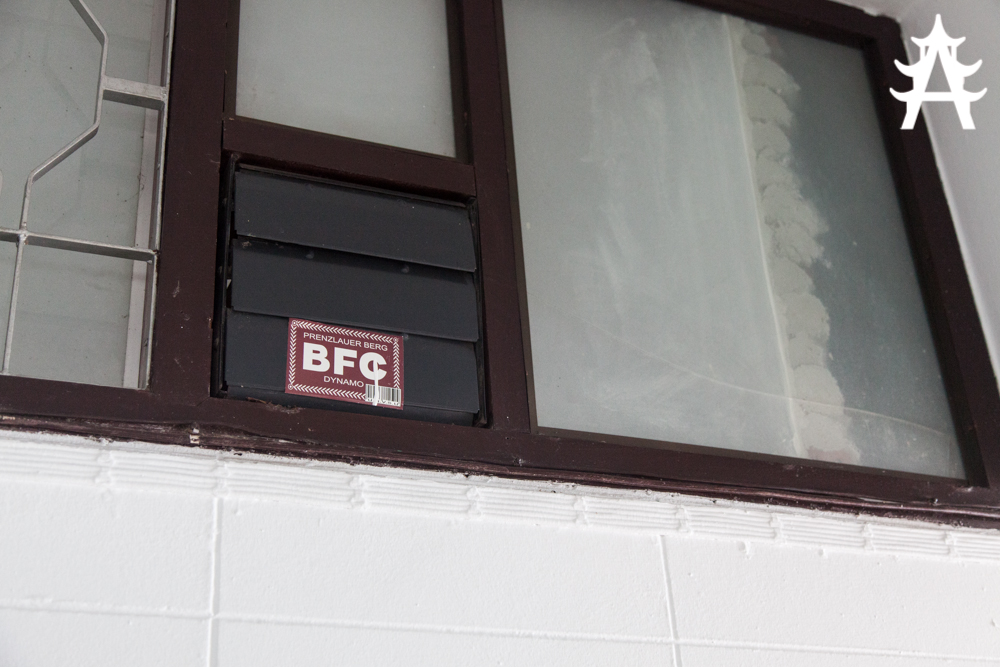 So, of course I did not spent too much time inside the hotel. I wanted to get out and see how many monkeys there actually are here. And yes, "High monkey density" was not exaggerated. In the very same moment of leaving the hotel, you already see five of them. And thats before you look up and see another dozen. They are everywhere. And its not only interesting to watch the monkeys, its just as fun to watch the locals. Because they don't pay any attention, it seems like the monkeys would not exist. Its crazy, and I am pretty sure that what I have seen until now was nothing compared to the whole extent. Nevertheless, here are some first impressions of mine:
Monkey in front of street sign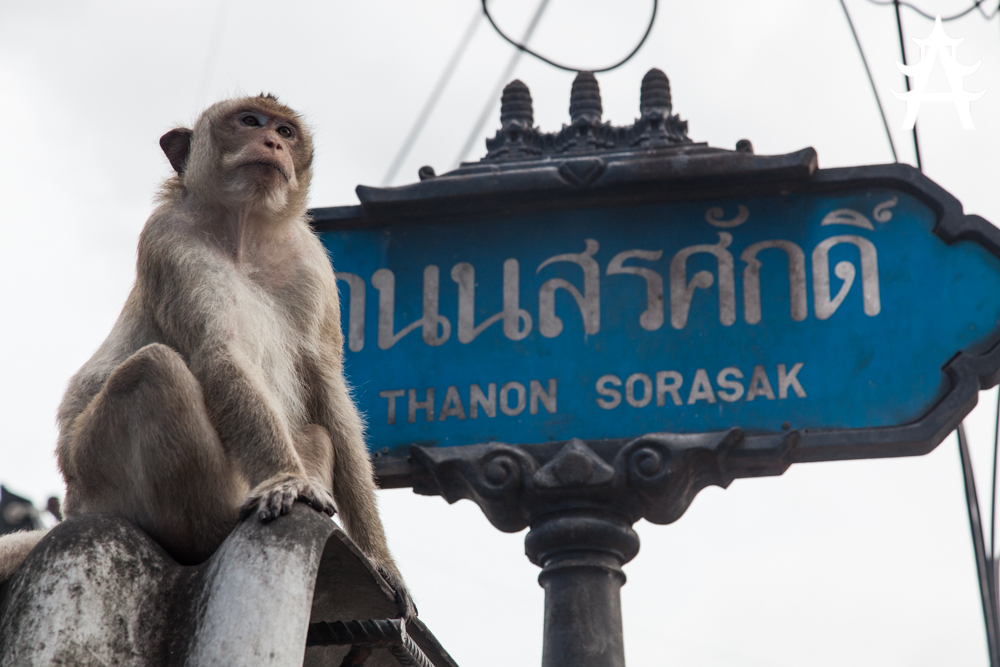 Monkeydance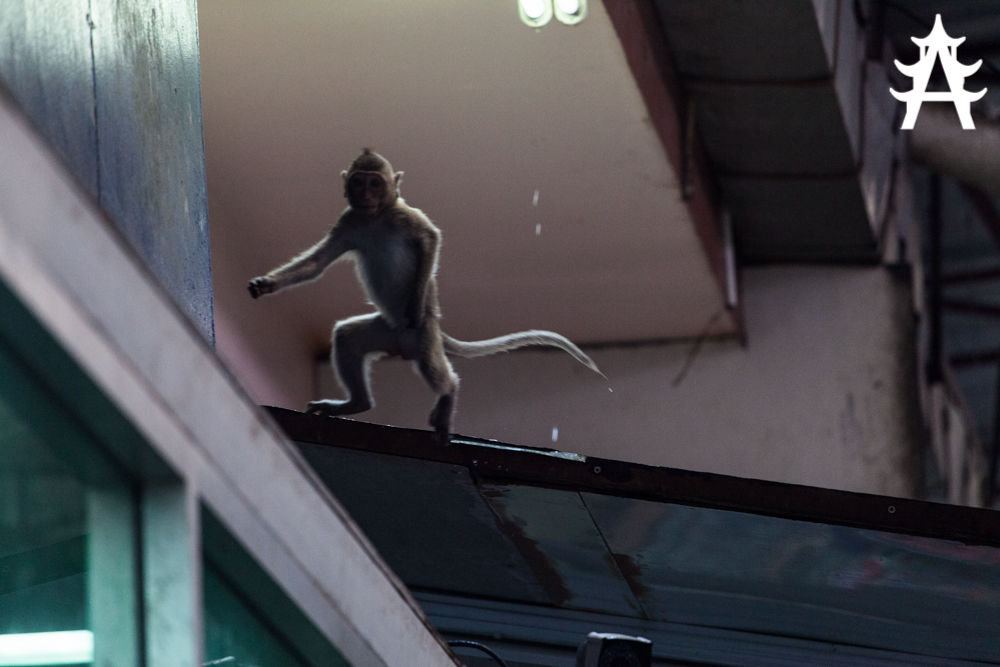 Monkey on top of electrical installation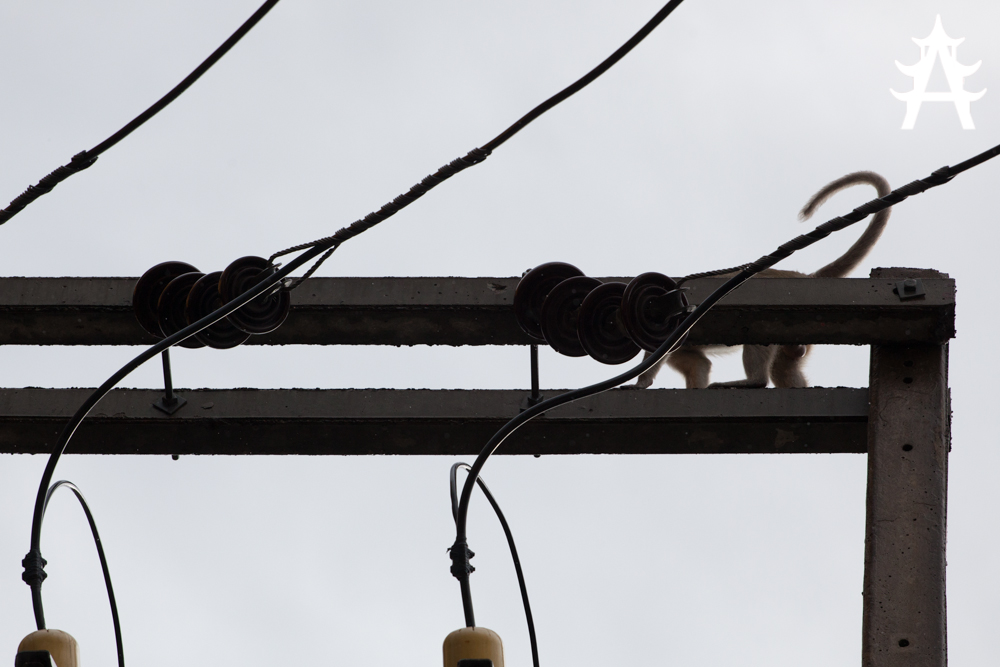 Horde of monkeys on the streets of Lopburi, Thailand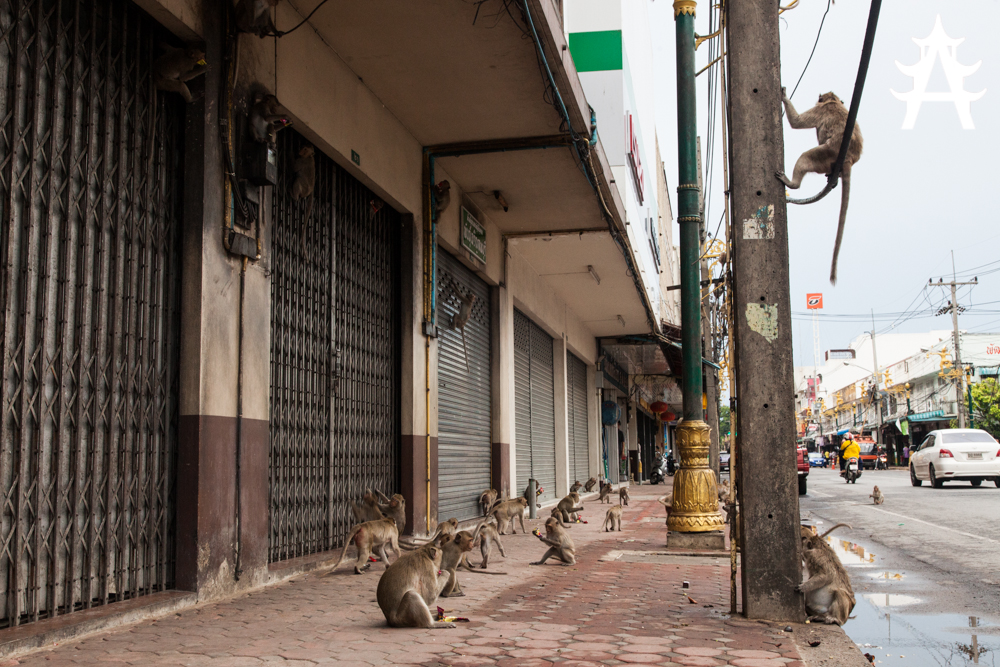 So, I am looking forward to a few days of exclusively shooting monkeys I guess. But it could be worse, I have not seen too many monkeys in my life, and the combination of monkeys and streetlife that you can see here, is definitely something different than shooting caged animals in the zoo.
Enjoy your monkey free day!
Yours
Crazy Ivory
Follow my photos, travel route and stories on the Asia Adventure Page.