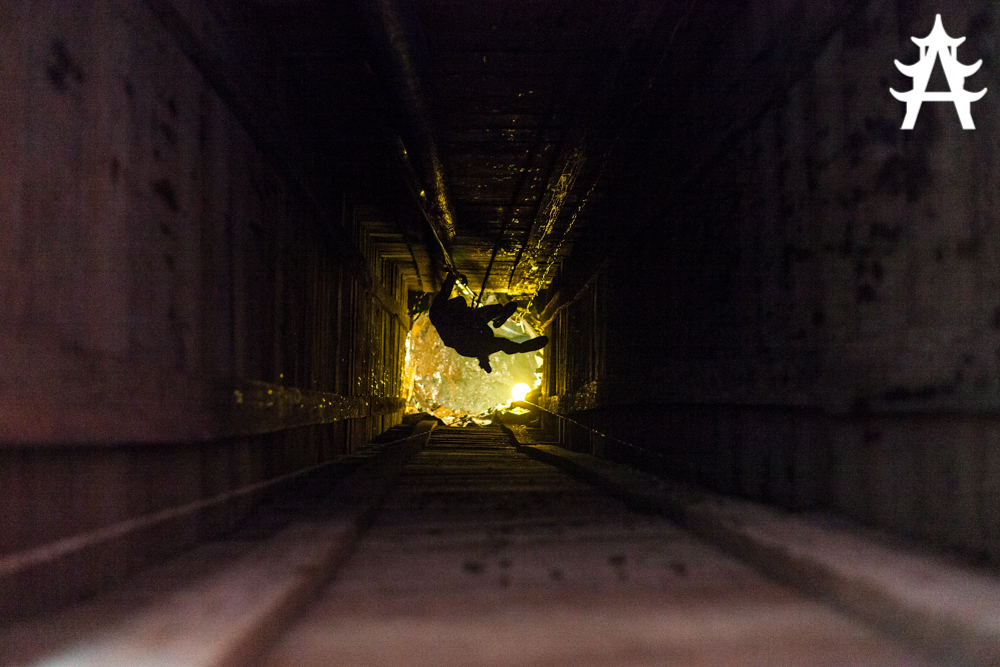 I don't like guide books, thats why I don't usually use one. However, when reading gathering information about Sen Monorom and its surroundings, the Lonely Planet Cambodia proofed to be a huge help.
One of the mentions (that was not highly recommended though) was Mimong, a gold mining city around 50km from Sen Monorom. Reading this, I instantly knew I had to go there. I had never seen gold mines in real life before and in my imagination I was quite certain that cambodian gold mines would be among the most interesting you could visit (mainly because every job here is mainly done by hand and without machines, so I hoped for people actually working with their hands).
I found myself a guide who had been living a long time of his life in Mimong and who felt comfortable enough to take me there. This was important as the roads to Mimong are described as being in "extraordinarily bad condition". 
We left by motorbike around 9:30AM and had soon left the usual bad condition dirtroads for something, that really doesn't deserve the name road. Huge furrows, mud, water, ponds deep enough to make almost the whole motorbike disappear, huge stones and shaky bridges. Getting stuck in the water happened often, and we both got soaked in mud. It was horrible and fun at the same time even though it took me two hours to start enjoying this ride. Even though only 50km, it took us 4:30 hours to finally arrive in Mimong, the city of gold mines.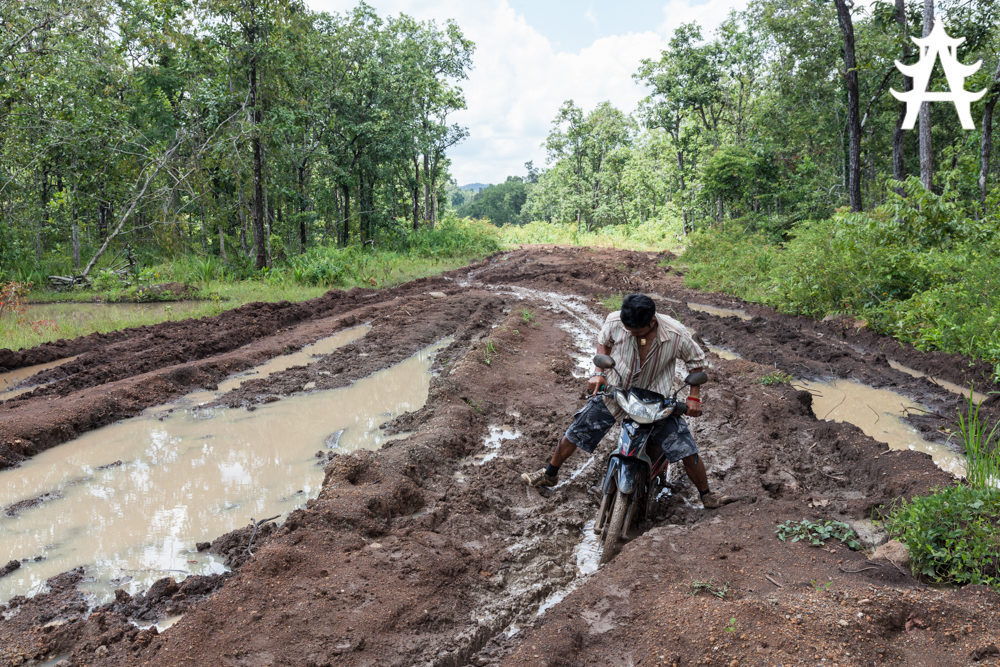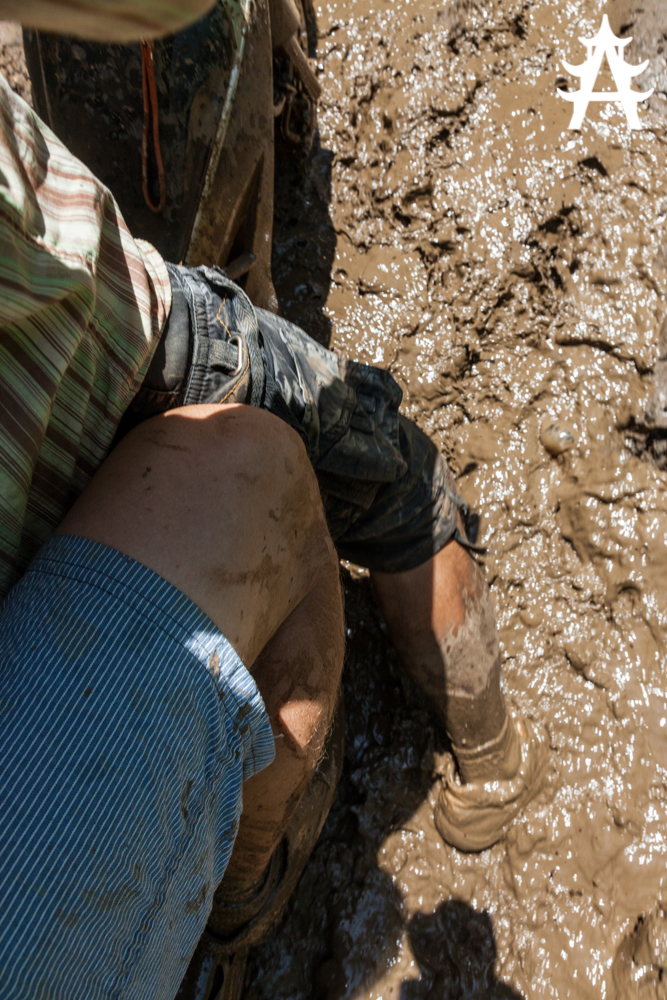 After resting for a bit and grabbing a bite to eat, we headed to the gold mines. Here I was able to witness people working under tough conditions for 12 hours a day, every day of the week. Stones were pulled out of the 20m deep mines by jacks, stones were poured into machines to pulverize them, sand was washed to separate the gold from the worthless pieces.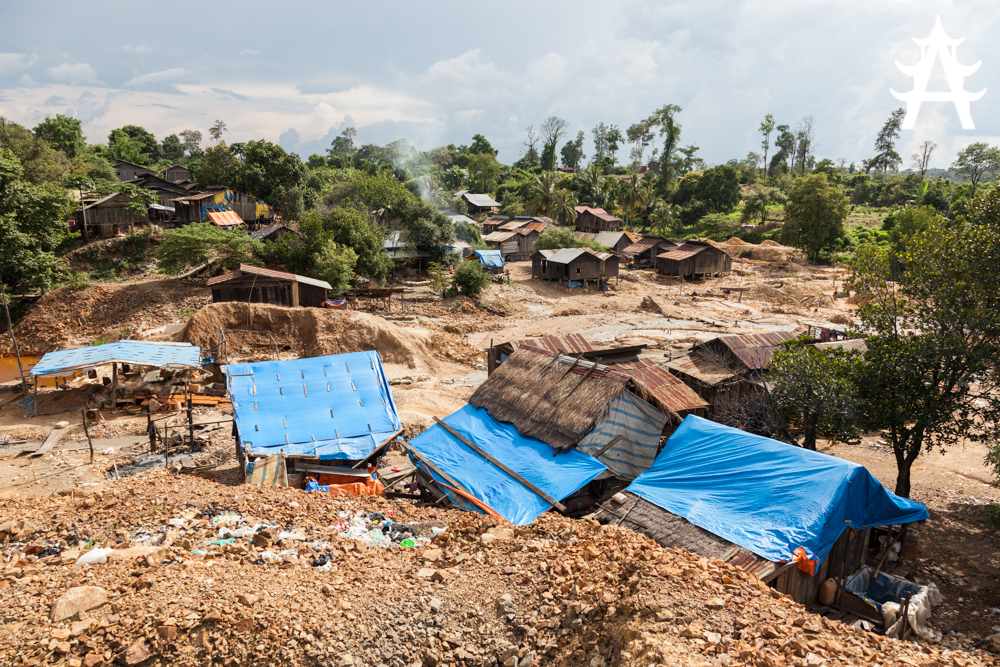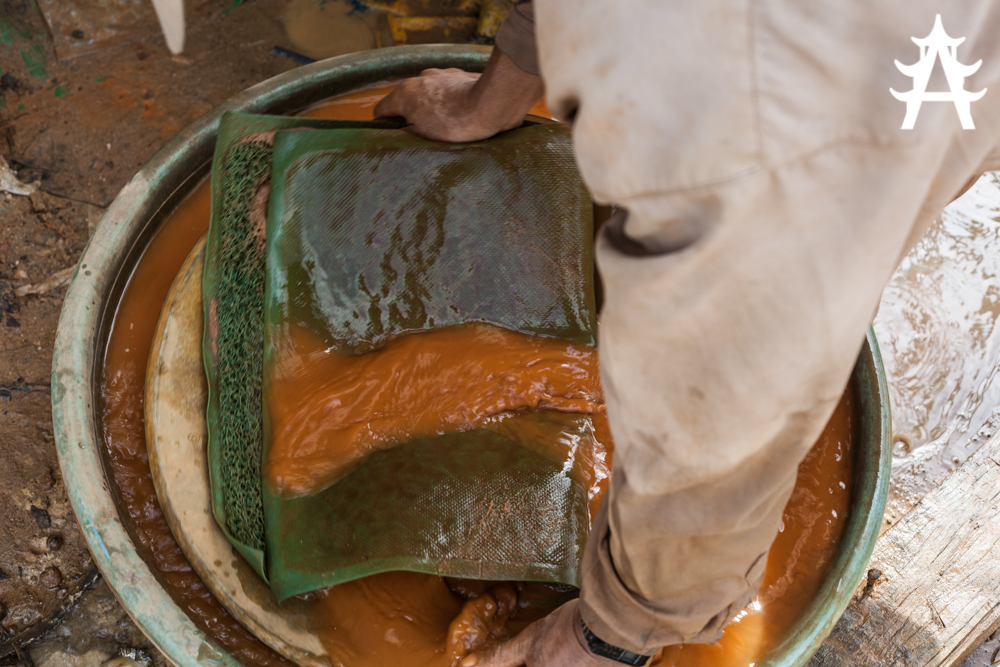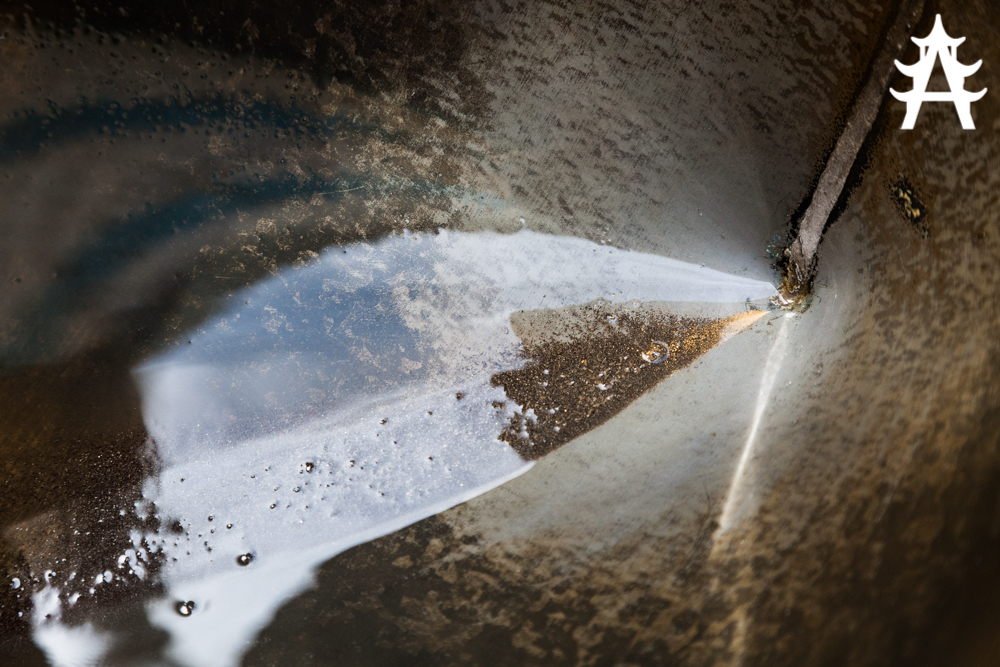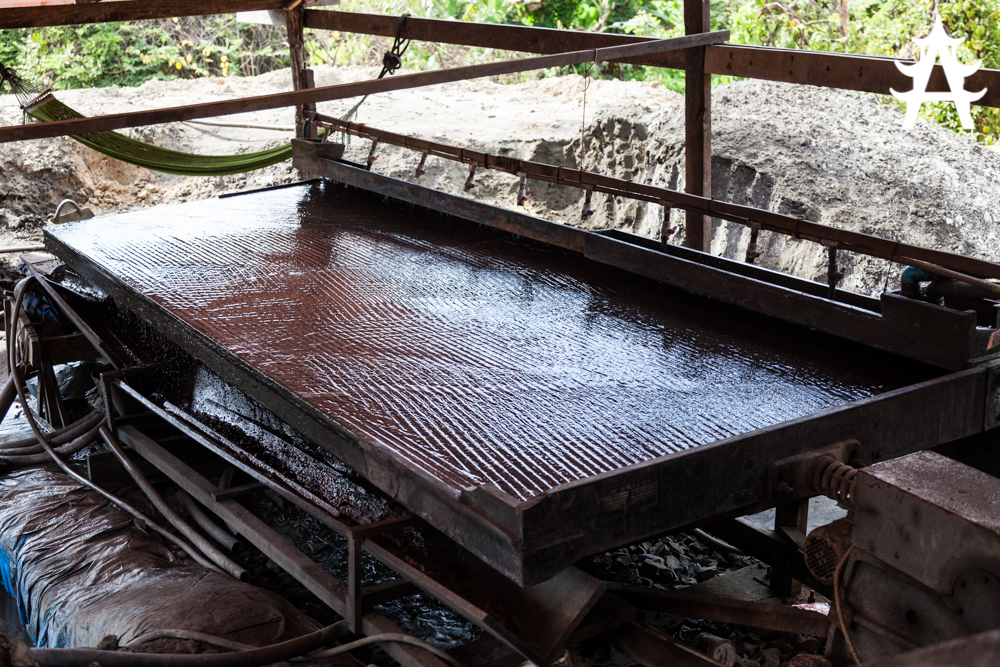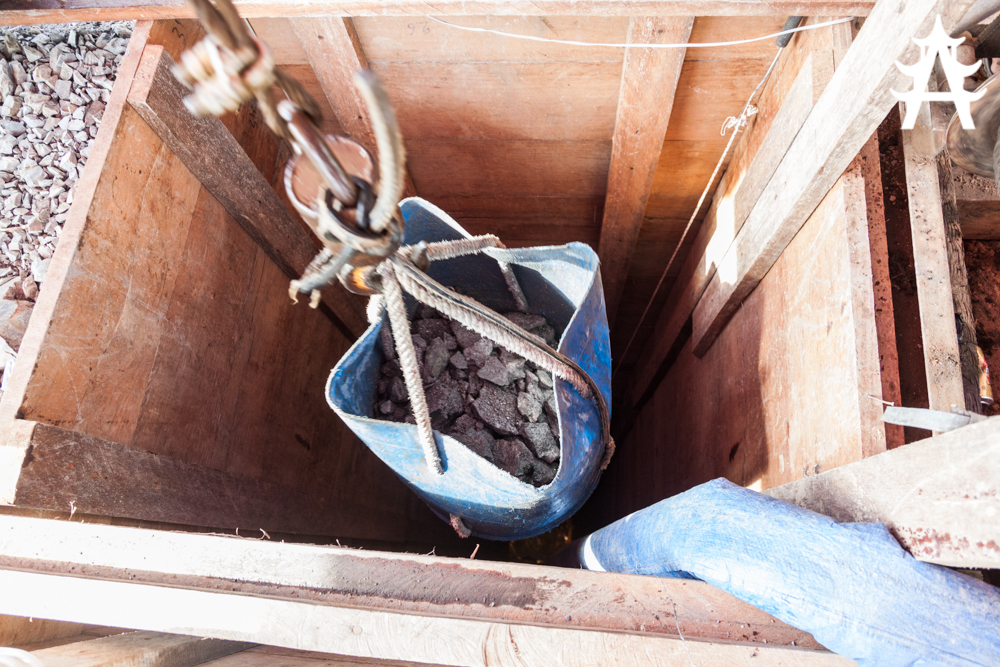 It was definitely interesting to see, however, the surrounding and lighting conditions were far from what I had hoped for and so the images I took remained mediocre. I wanted more, I wanted to go down into a mine. After asking my guide to ask the guys I first got a "yes, sure" and a couple minutes later a "no, sorry, its too dangerous". The only way of going down there is by using a rather shaky construction from wood and rope (see the image).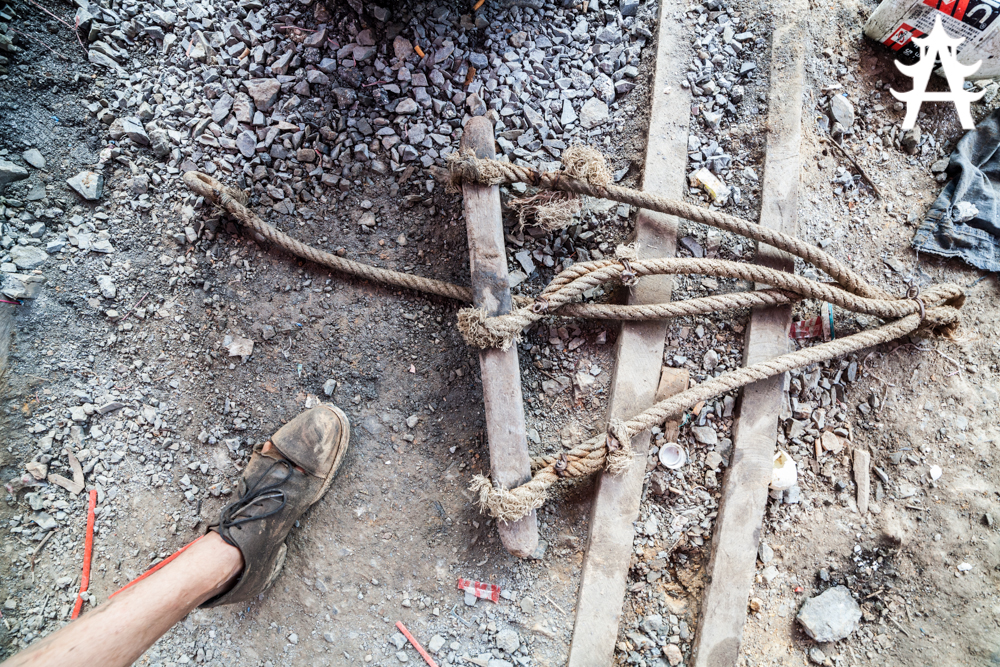 The workers were too afraid that I would spin heavily while they would let me down and that I would lose orientation and fall down. After seeing other guys going down I was reassured that I could handle it but there was no way they would let me down.
That was the final decision.
We stayed with the guys until their shift was finished around 5PM and then relaxed for the rest of the day. It was a huge disappointment. In terms of photography I got nothing worth mentioning and the effort of going to and from there, not mentioning the money I had to pay for my guide, were not worth it.
But we still needed to go back. In order to have buffer time and to be back before the rain might come, we left very early at 8:30AM. After 20 minutes, when we had just left Mimong village, the motorbike got stuck in a pond again. We pushed it out but something was wrong. Even though the engine was running the bike would not move. Quickly we realized that the chain was ruptured. Damn.
We pushed the bike into the yard of a nearby house and asked the people for help. They send their daughter to get the local mechanic to come here (after she had sold all her stuff at the market). It took him 45 minutes to arrive and he had all the required tools with him. I was positively surprised. He had quickly repaired the bike and left again. We stayed with the family for a bit, and my guide bought a bottle of rice wine to thank the family for their help.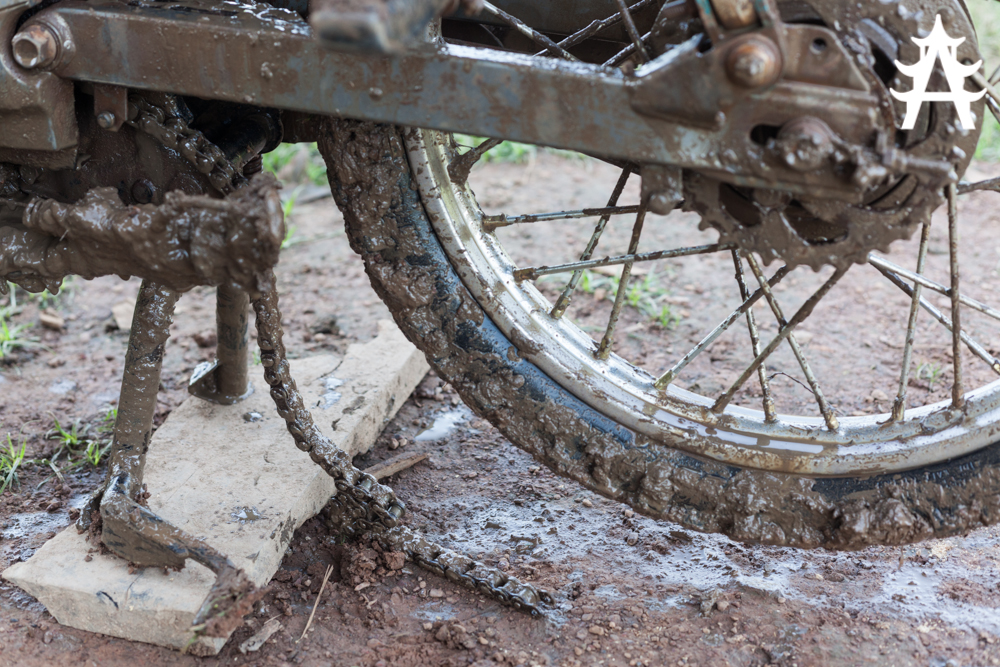 We got onto the bike and left…and 7 meters later the bike stopped. The chain was ruptured again. The daugther was send another time but came back quickly with the info that the mechanic was nowhere to be found. Other people left to look for him and it took a total of three hours before he finally appeared with a new chain. This one was installed within minutes and around 1PM we were ready to go, which we did.
The chain did its job and even though it started raining after about two hours, we made good progress. The rain made the last OK parts of the road muddy and slippery which really didn't help our motivation. However, without too many breaks (and without any accidents luckily) we made it back to Sen Monorom within four hours.
I returned dirty, with my hands blistered from holding the safety rail at the back of the bike and arms feeling tired as if I would have worked out for hours. It was quite an experience and will definitely make me think twice before calling a road "bad" again.
Altogether, I can not recommend visiting Mimong if you are not extremely into mining. Its small, uneventful and, especially during rainy season, massively hard to get to.
Yours
Crazy Ivory
Follow my photos, travel route and stories on the Asia Adventure Page.