After my first horrible night in the Vientiane Hostel I decided to ask around the fellow travellers in my room what there is to do in Vientiane. Most of them simply answered along the lines of "Nothing. Get out of here as quickly as possible" but one girl told me about the COPE Visitor Center. After asking what this was about she explained to me that it is a facility that is commited to helping people in Lao who have been affected by leftover explosive devices from the Vietnam War. This definitely sounded like a place where you can learn something about this country and so I decided to pay it a visit.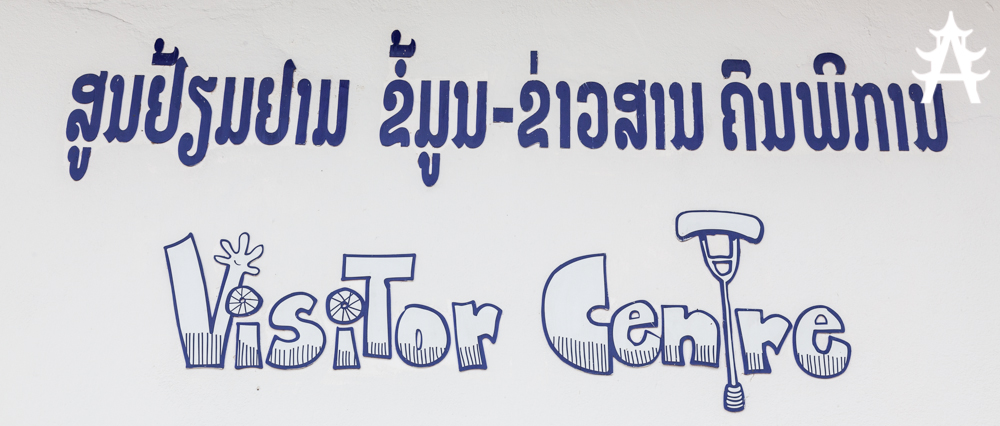 Its easy to get to by bike or Tuk-Tuk and very close to the city center. You can find a very good map on the Cope Laos Website or see the location on the map here:
I went there without really knowing what to expect and was even more impressed and affected by what I saw.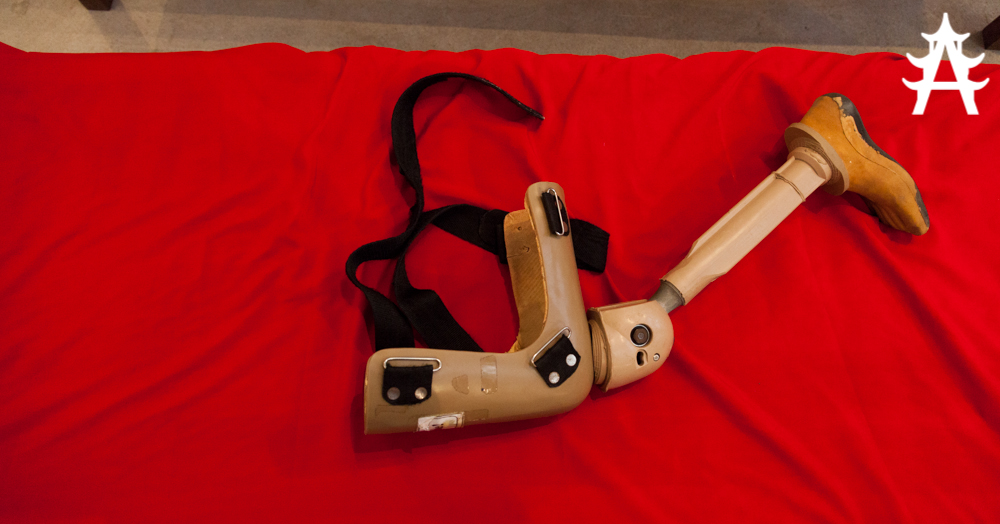 Basically Laos was strongly affected by the U.S. bombings during the Vietnam war between the 1950s and 1970s. The U.S. executed hundreds of thousands of bombings over big parts of Laos, often using Cluster Bombs. Cluster bombs, from my understanding, are big bomb containers that hold dozens or hundreds of so called "Bombies"(smaller bombs). When the bomb is dropped it opens up to spread the bombies over an even bigger area to enhance the destructive effects. However, these Cluster bombs are said to have had a failure rate of about 30%, resulting in an estimated 80 million bombs which would not explode.
Areas of U.S. bombings in Laos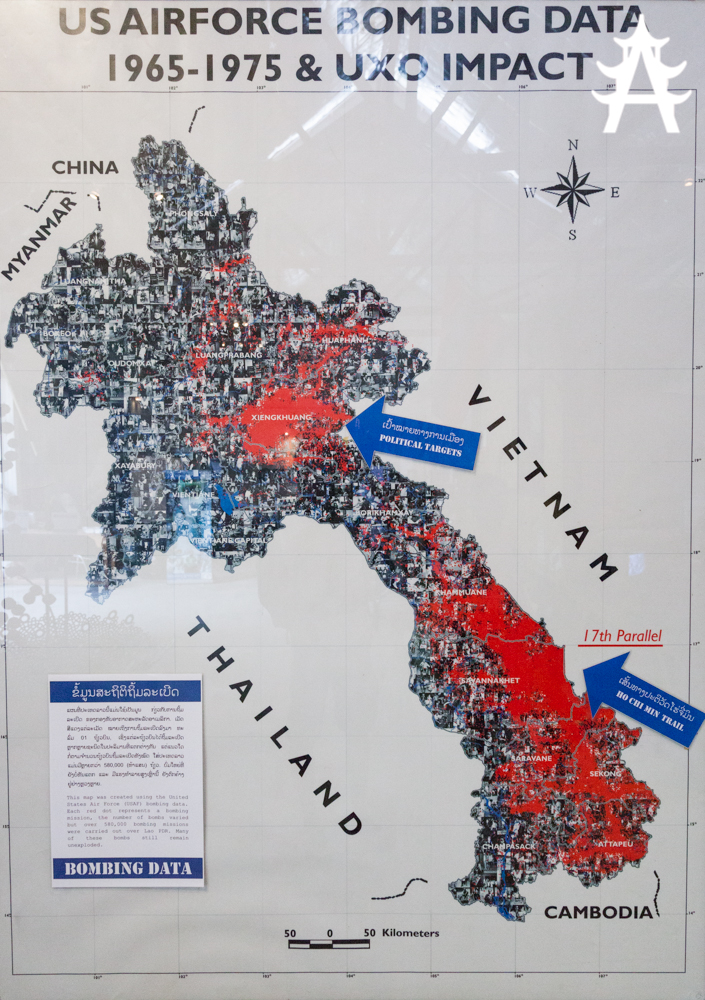 At least they would not explode instantly. They would stay in the ground and as soon as people started using the land for farming again, after the war had ended, these bombs would eventually explode when moved or hit. This situation did not change all the way through 2008 when the first organisations started to clear areas from the bombs in order to prevent the Lao people from making contact with these bombs and to make the land usable again.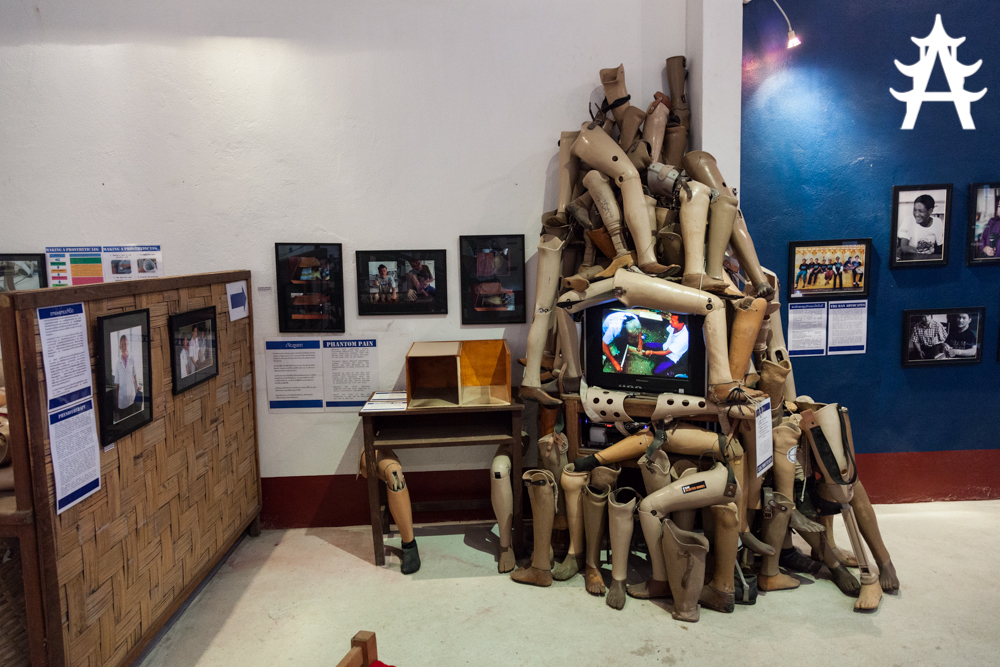 Still there are around 100 deaths caused by UXO (unexploded ordnance) every year and even more severely wounded and disabled people.
COPE is an initiative founded in 1997 that provides UXO affected people with medical treatment and prostethics.
The visitor center is located on a site together with different facilities for disabled people. Its less a museum and more of an interactive exhibition that really is impressing and hard to endure at the same time.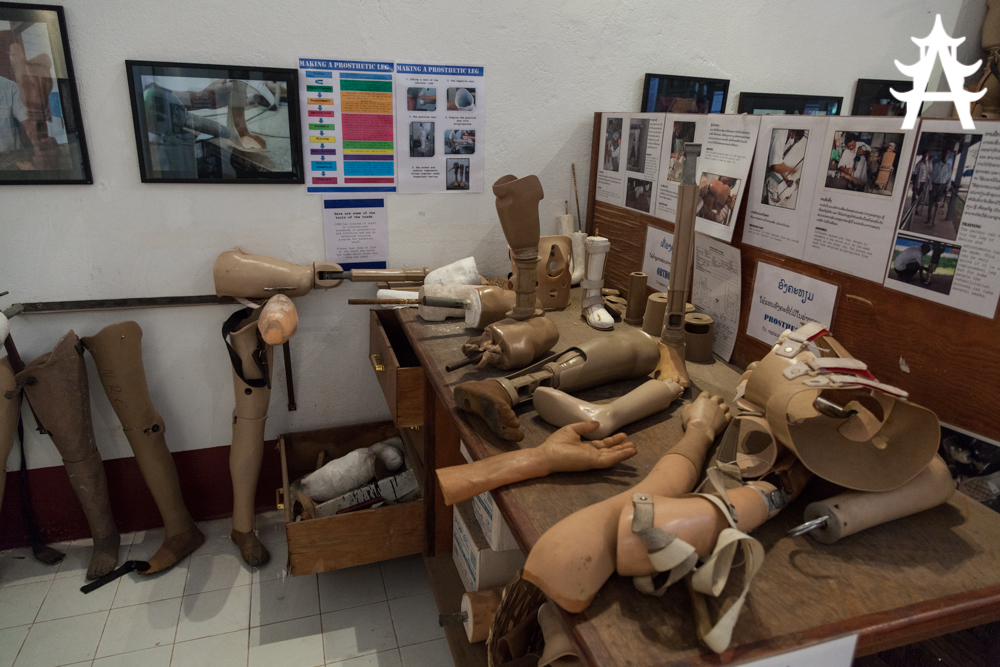 Here you can learn about the sheer masses of bombs that were dropped over Laos, about the different types of bombs and you can also learn a lot about single people who have been affected by the bombs. Either they lost limbs themselves or people in their family did.
Before coming here I had never heard of this situation, which really leaves me wondering now that I am aware of the extent of UXO contamination in Laos.
After seeing the exhibition I had a chance to talk intensively with Soksai Sengvongkham, the Operations Manager of the Visitor Centre. He told me a lot more about the current situation. For example he told me that the UXO contamination is a big reason for Laos high dependence on import goods. There is so much fertile land here but most of it simply remains unused because of the dangers that are hidden in it.
Also I learned that the process of cleaning up UXO contamined land only started in 2008 and that, even though there is a high number of volunteers, the cleaning moves forward at a pace of "only" 100.000 bombs per year. Considering the estimated 80 million that are still left, this problem will continue to exist for many decades in the future.
I also asked Soksai which the heaviest affected areas are and he told me that that would be Xieng Khuang. This is when I made my decision to make Xieng Khuang a part of my trip, and to try to document the current situation there.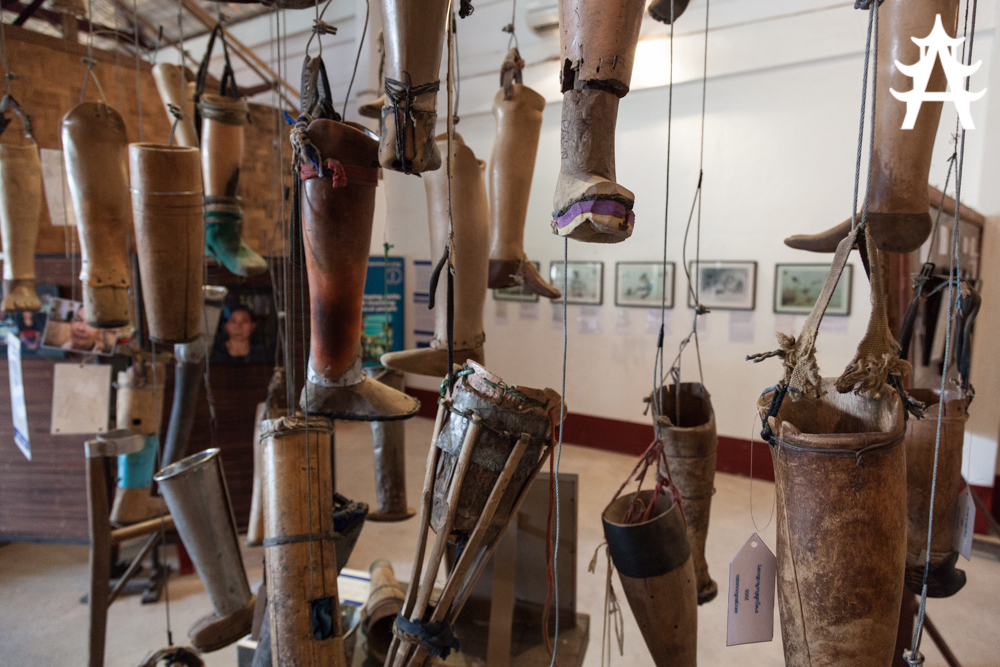 Altogether the COPE initiative is incredibly important for this country and I feel that more people should be aware of the situation that Laos is confronted with. If you want to help, visit the COPE Laos website to find out how you can support them. Also you can visit them on Facebook.
If you happen to be in Vientiane, definitely visit the COPE visitor center.
Thank you to Soksai for telling me so much about this topic and thank you to COPE Laos for doing such a great work.
Me with Soksai Sengvongkham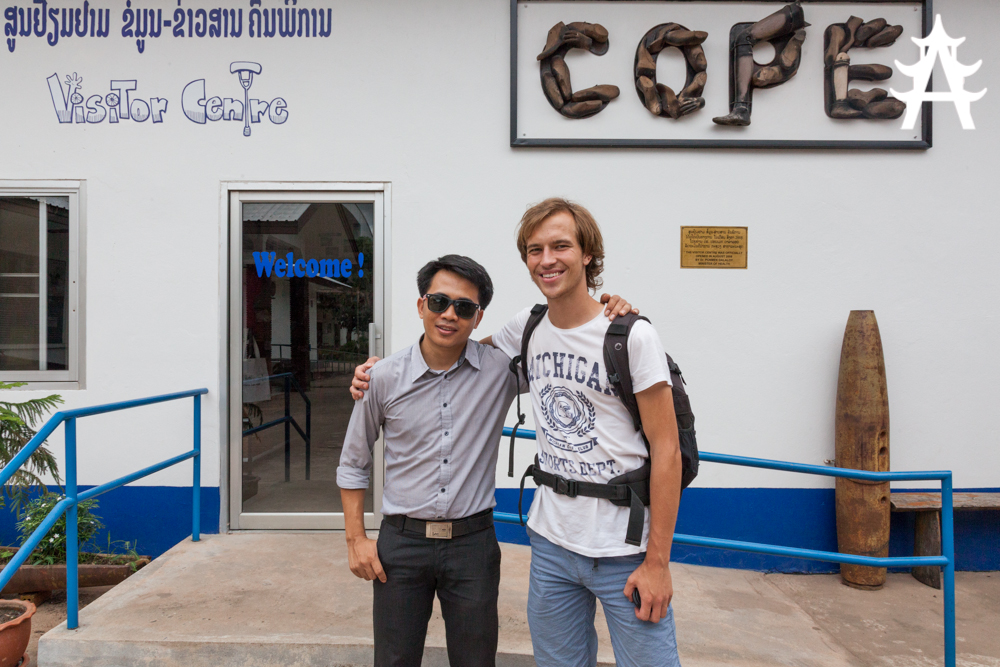 BAN CLUSTER BOMBS

Yours
Crazy Ivory
Follow my photos, travel route and stories on the Asia Adventure Page.