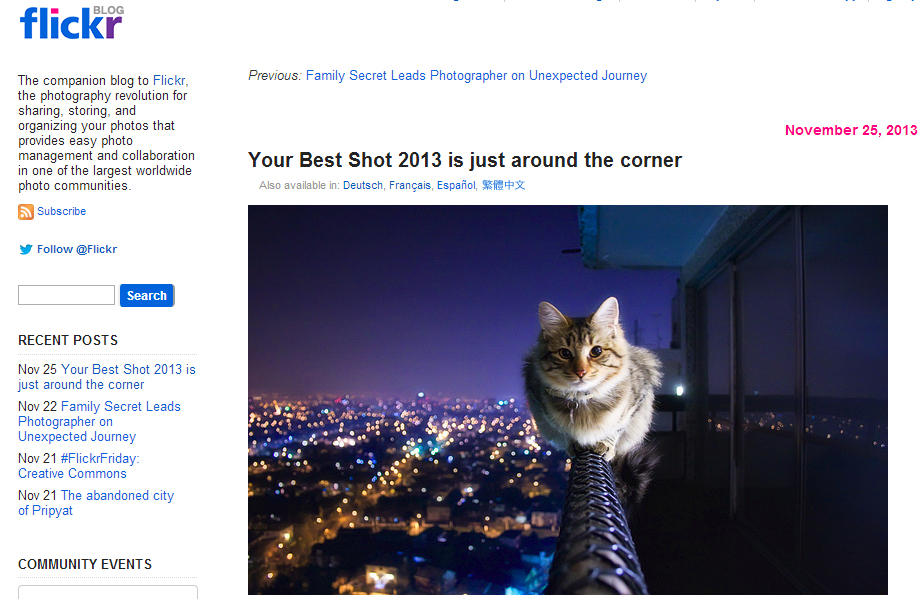 Not long ago I posted an image to Facebook, which showed my Flickr Stream click count. I had hit 3.000.000 total clicks and was (and still am) very proud of that, as it is the result of more than five years of continous shooting, uploading, networking and time investing.
Early in the morning today I opened Flickr to check my recent activity as usual and instantly realized an unusual amount of comments on my "Sick Fearless Bastard". In order to check where all the people came from I went to check my stats page, which at this point displayed about 180.000 clicks…ONLY TODAY! I could not believe my eyes. I continued to check the referrers and sure enough, all the people seemed to have come from the Flickr Blog. One click further, I found this.
Turns out Flickr decided to use my shot as the featured image for the "Best Shot 2013″ announcement. Not only was my shot featured in the article besides others, as the featured image it also shows up in the sitebar of the Flickr Homepage, which means that pretty much every Flickr user sees it these days.
It's crazy, it's lucky, it's pretty cool and it's unexpected. Neither did I post my image to any group for this purpose nor did anyone tell me about this before. Considering that this image was taken in 2010 it is surprising that they would use it for the purpose of advertising their "Best Shot 2013″, however, I guess they decided to choose the best shots they could find in order to get people interested.
So, pretty exactly 24 hours after this Flickr blog post was being published in the english, german and french version of the Flickr Blog, my stats look like this:


This equals:
292.342 Clicks
4.478 Favourites
319 Comments
This is easily the most active day my flickr stream ever had. Thank you Flickr and all you out there who appreciate what I do! 
Yours
Crazy Ivory