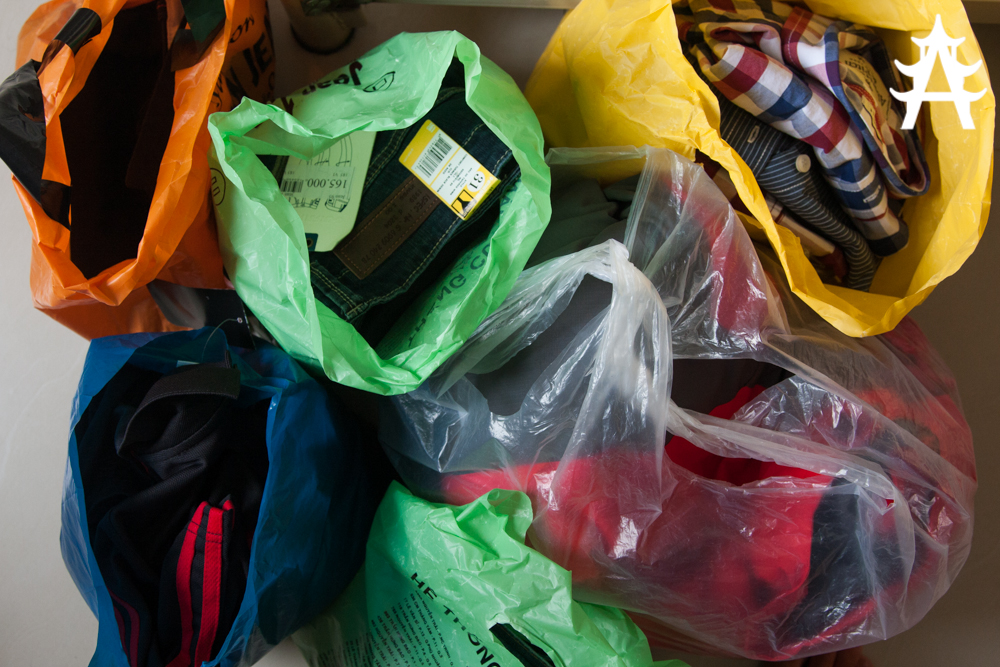 My past four days in Ho Chi Minh City (or Saigon as the old name of the city is) consisted almost exclusively of shopping. Every day I got up early in the morning to wander through the city centre, looking for interesting shops, cool markets and cheap outlets. In my last post I mentioned, how I am not in that exploration and travelling mindset anymore, and that my last week of travelling will be all about throwing out the overused shirts, trousers etc. and replace them with new stuff. I really lived up to that announcement.
When I started getting into the markets and shops, I focussed mainly on t shirts, because my t shirts are certainly the garments that I am sick off the most. I have worn the same 5 or 6 t shirts again and again (and again and again) in the past six months and I really can't stand them anymore.
However, I did not stop at that point. I continued by buying jeans, shirts, shoes and shorts. Not to mention the North Face Jacket I had already bought when staying in Dalat.
For everyone who is interested in the prices for clothing in Vietnam, the following list will hopefully help you and give a rough dimension of the difference in pricing between Europe, USA and South-East-Asia. The stated prices are what I actually paid, the numbers in brackets are the prices that the sellers told me at first. Agreeing on the final prices required intense haggling, almost without exception.
Prices are stated in Dong and always referring to single items.
 At the time of publication 100.000 Vietnamese Dong equal around US$ 5 or € 3,50.
Kind of Clothing
# of Items
Starting Price
Final Price
Shop or Market 

There are a few more things that I bought in other places in Vietnam, which are not listed here. That is mainly because I do not remember the exact prices.

All of these products are counterfeits featuring brand logos and designs. I decided to leave out brand names as I don't think they matter in this context.

T Shirt (unembroidered)
2
150.000
75.000
Ben Thanh Market
T Shirt (embroidered)
1
180.000
100.000
Saigon Square 2
Fitness Shirt
1
150.000
  90.000
Ben Thanh Market
Fitness Shirt
1
  50.000
 Fixed Price
Ben Thanh Night Market
 
 
 
 
 
Longsleeve Shirt
3
280.000
220.000 to 230.000
Saigon Square 2
 
 
 
 
 
Jeans
4
135.000 to 185.000
Fixed Price
Jean 135-165
 
 
 
 
 
Sports Shoes
1 Pair
450.000
400.000
Luu Van Lang Street
 
 
 
 
 
3in1 Jacket
1
750.000
650.000
Central Market Da Lat
 
 
 
 
 
 Total
 2.730.000 Dong
 € 95,76
 US$ 129,44
 
 
 
 
 
 
 
 
 

 

 
Altogether I must admit that shopping is great fun here. The variety of products on offer is amazing, as is the quality of most things. As always and everywhere, you get what you pay for. You can certainly get cheaper than me (T shirts are starting at 35.000 Dong, shirts can be had from 100.000 or even less) but then you will have to make compromises in terms of longevity I suppose. Spending only a little more already boosts the fabric quality a lot, to a level which is comparable to original, branded products.
My favourite shopping spot in Ho Chi Minh City certainly is Saigon Square 2. Its a great mix of good quality products at reasonable prices but without the hassle and tourist masses that you will meet in Ben Thanh market. The shirts that I bought here are my favourite pieces and there would have been a lot more that I could have bought (however, due to Air Asias Baggage Weight restrictions, I needed to stop to prevent myself from paying extraordinary high baggage excess fees).
In the next days I might add some more products to this list, its very likely that I will find some more interesting things here =)
Yours
Crazy Ivory
Follow my photos, travel route and stories on the Asia Adventure Page.