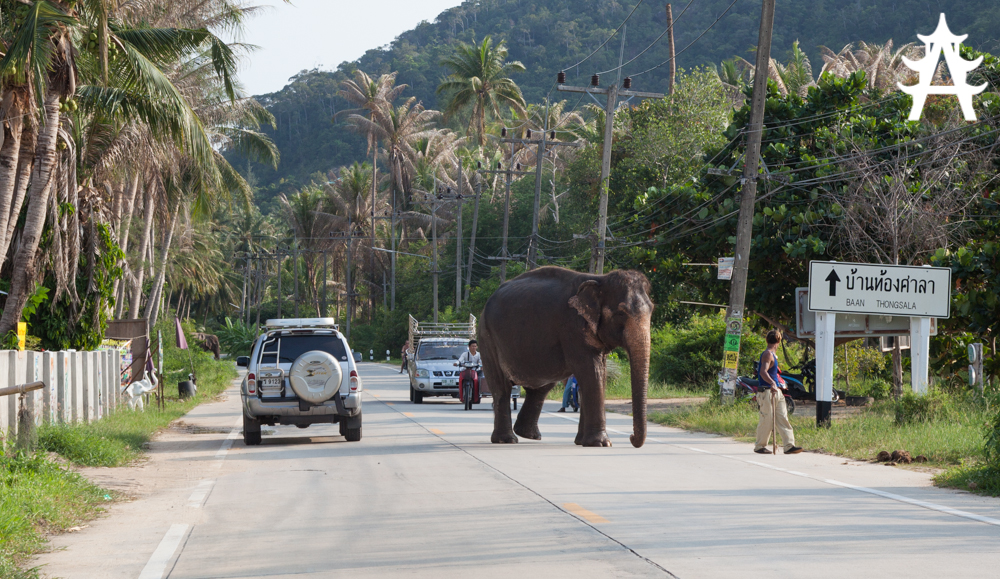 Five months in Asia. Quite a while, and it feels even longer than it sounds. Perhaps its the amount of different experiences, changing locations every couple days or simply a long time.
October was an extreme month, for many different reasons:
Most countries in one month
Most kilometers travelled
Most expensive night in a hotel
Cheapest month
Longest single trip
Many of these points have to do with my wonderful brother Gordon visiting me this month. He arrived at the beginning of October and we spent two weeks together, the first time of real vacation on this trip.
Apart from our amazing time on Koh Phangan, this month I spent time in Cambodia and Vietnam.
Some of the highlights in the past month certainly were spending a night in one of Bangkoks most exclusive hotels, enjoying the relaxing island lifestyle of Koh Phangan, overnighting on airport grounds for the first time ever, experiencing the insane traffic situation of Hanoi and cruising through beautiful mountain roads in northern Vietnam.
Budget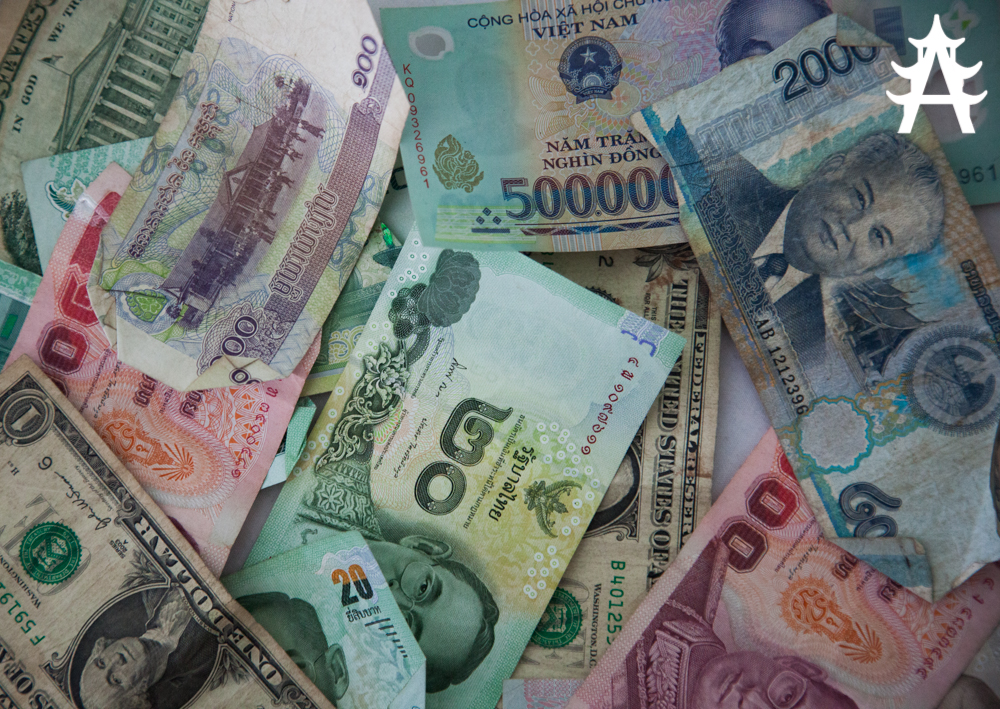 Figuring out how much I actually spent this month was far from easy. Firstly, I had to deal with four different currencies (Riel, Dollar, Baht and Dong). Secondly, due to my brothers visit, there were a lot of costs that he covered, which would usually have to be part of my budget. So, even though I stayed in a very expensive hotel for one night, spent 8 nights on the paradisic island of Koh Phangan and flew from Bangkok to Surat Thani and back, my budget is still the lowest of my whole trip.
In October 2013 I spent a total of € 318. This is an average € 10,26/day (31 days)
Here you can see how that compares to the previous months: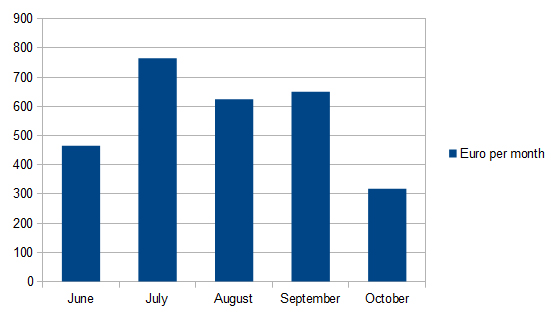 The budget would have been severely higher if my dear brother would not have paid most of the more expensive expenses. I am very thankful for that as it would otherwise have been hard to survive the last couple of weeks. This of course means that its not really possible to compare the budget for October with the previous months, simply because the conditions changed a lot.
Extraordinary expenses this month included a $ 40 fine for overstaying my cambodian VISA by 8 days or taking several long and prices trips such as from Battambang to Bangkok or from Hanoi to Sapa.
Travelling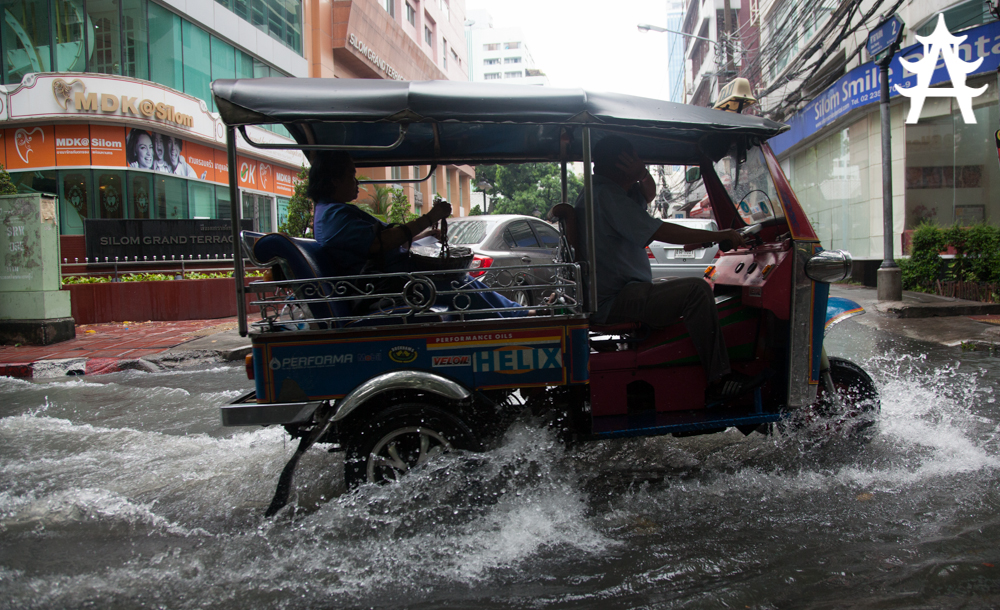 October would have easily amounted to the highest number of travelled kilometers, simply because I flew a total of three times. For the sake of comparison, I decided to leave out the flewn kilometers in the statistics. I only counted kilometers travelled by bus and train, which amount to 1.712km this month.
If I would count in the flewn kilometers as well, the total would be 3.827km.
Here you can see a comparison of the travelled kilometers in the past months:

 The longest single trip I undertook this month was a train ride from Hanoi to Sapa, in the north-western end of Vietnam. The scheduled travel time was 9 hours, in reality it took me 18 hours to arrive, due to a huge delay that I do not know the reason for.
If I compare the average prices for bus rides in Cambodia, Thailand and Vietnam, my feeling is that Thailand is the cheapest, followed by Cambodia. Vietnam seems to be the most expensive of the three. Even rides that only last a few hours are hardly cheaper than $ 10 or 15 here.
Sleeping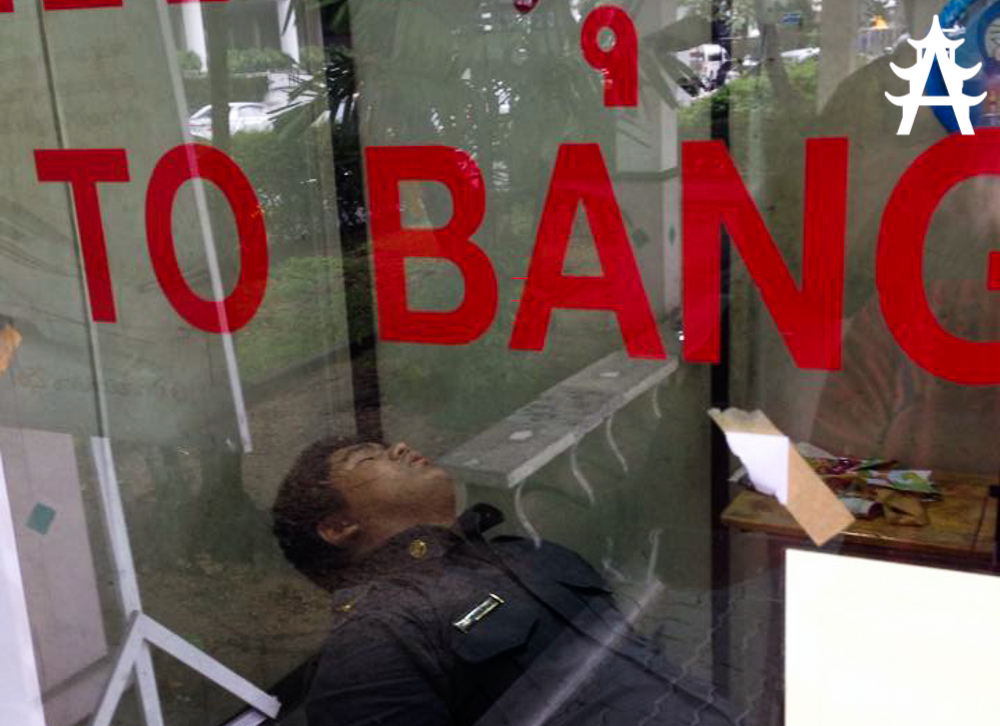 The month of October offered a huge range of accomodations. The most memorable certainly was the Lebua Hotel at State Tower, where Gordon and I spent a night overlooking Bangkok from the 58th floor.
Apart from that, we also stayed in a luxurious resort on the northern end of Koh Phangan where we got to enjoy cold milkshakes with a view like no other.
On the other end, my hostels and hotels in Vietnam never costed more than $3 to 5  a night.
Eating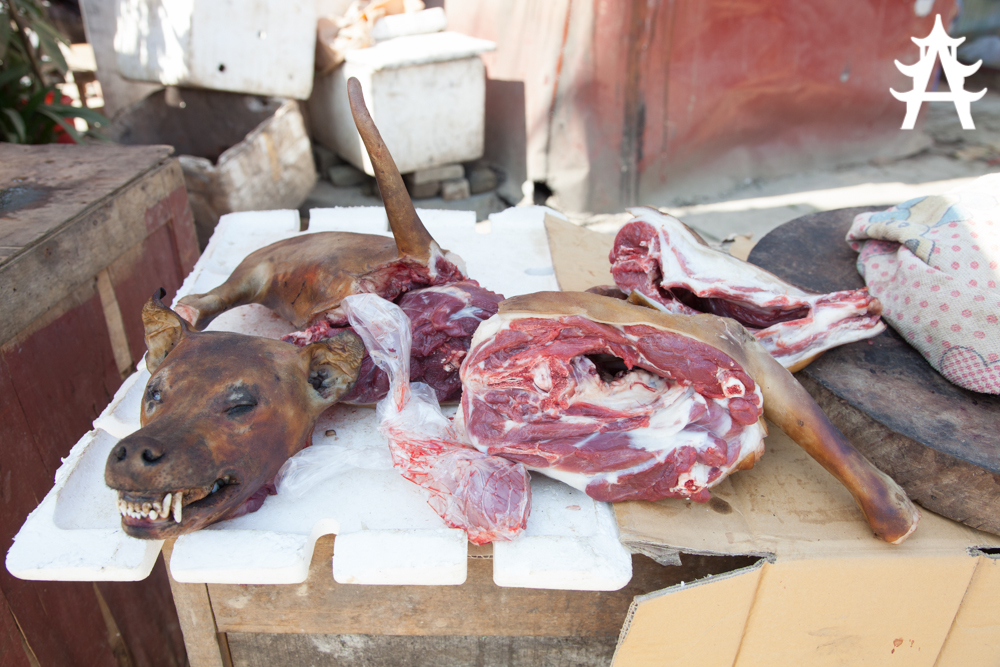 OK, granted. I only used the dog image for illustration purposes, I did not actually eat it. That was partly because…well, its dog after all and partly because I would not find a place that actually sells dog as part of a dish.
The food, as always, was amazing and mostly cheap. Especially during my time in Vietnam I got to try out numerous new plates, often simply because I would not be able to read the menu and therefore order "blindly".
In terms of prices, Cambodia certainly offers the cheapest food of the three countries. Thailand, with its huge variety of tasty dishes for a few Baht, scores the second place. And Vietnam finishes last. Vietnamese food is amazing, I would even go as far as calling it my favourite asia food country, but its not competible in terms of prices.
While a usual dish will cost no more than 2.000 or 3.000 Riel in Cambodia (€0,40 to 0,60), and 35 to 45 Baht in Thailand (€ 0,90 to 1,10), eating in a vietnamese street food stall or shop will cost 25.000 Dong (€ 0,90) if you are lucky. More often than not a decent dish will average somewhere around 40.000 to 60.000 Dong (€ 1,40 to 2,10). Nevertheless, Vietnam food is certainly worth the extra costs, believe me.
An average dish this month costed me between € 1,50 and € 2,00.
What Else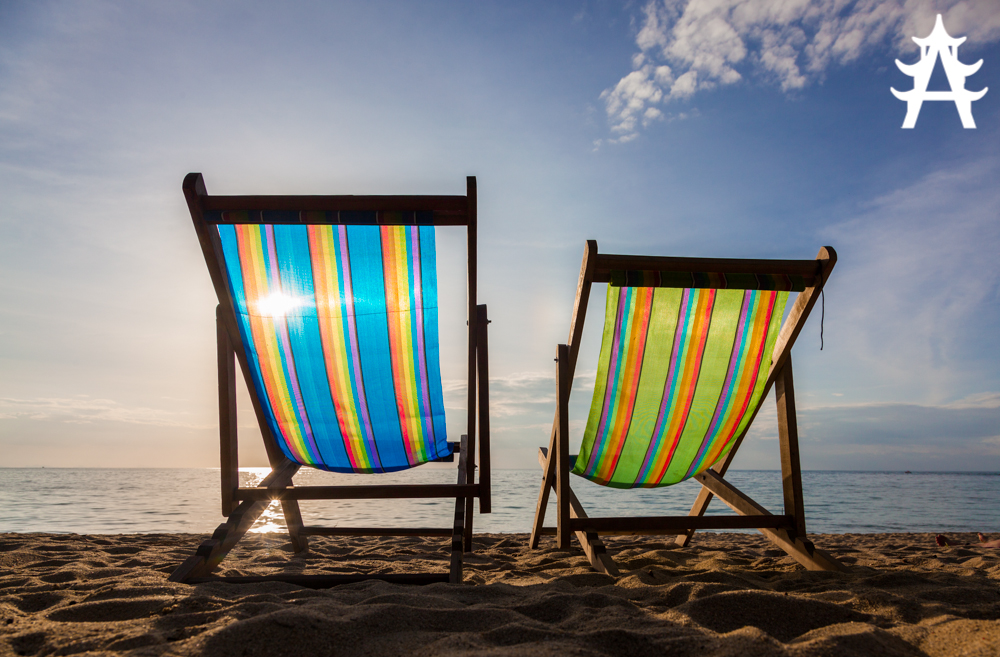 This month, the only thing I want to mention at this point is a huge thank you to my brother Gordon who came to visit me. Not only did we have a wonderful time together but he also paid for the better part of accomodation and journeys we did during the two weeks he was here. Thank you Gordi, I really appreciate it!
Yours
Crazy Ivory
Follow my photos, travel route and stories on the Asia Adventure Page.