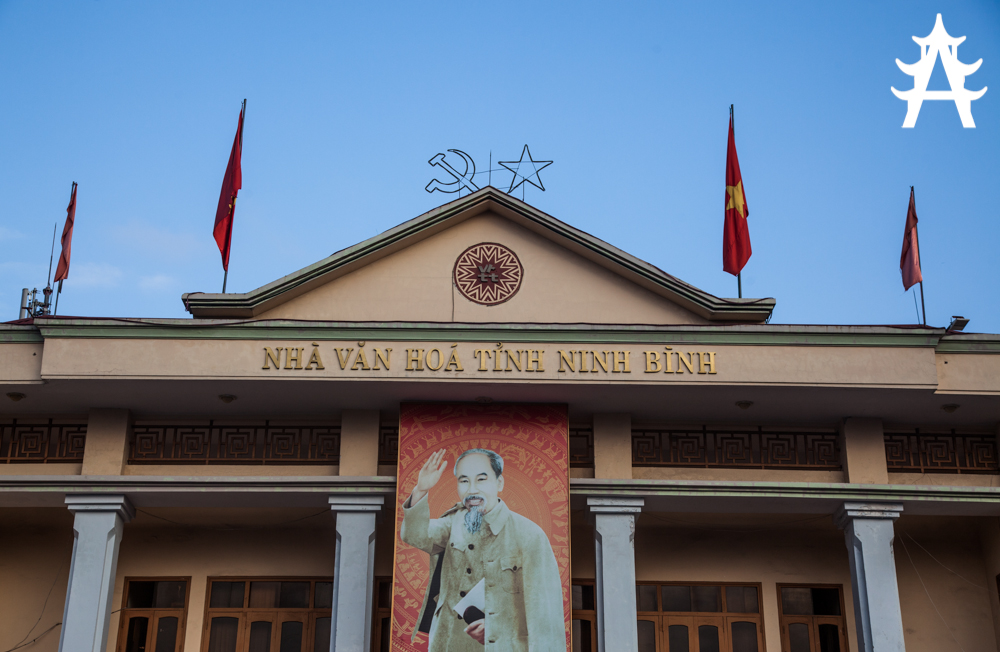 Well, the title pretty much sums it up: I am in Ninh Binh, the perhaps funniest named place in all of Vietnam. After spending my last couple of days on Cat Ba island, which was surprisingly cold and uninteresting, I made a next step towards south.
I tried to find the closest interesting place south of Hanoi (to cut my travel time and to not miss out on anything) and stumbled upon Ninh Binh. While the small town is uneventful, the surrounding areas feature "One of Vietnams most spectacular sights", at least according to Wikitravel. The fact that there is a direct connection between Cat Ba island and Ninh Binh made my decision-making even easier.
Said and done. I made the decision to not book a direct ticket to Ninh Binh as I was sure that I could certainly get cheaper than the advertised 300.000 Dong ($ 15) by booking the single rides separately. So I only booked a ticket Cat Ba – Haiphong (130.000 Dong – $ 6,50), from where I planned to book a connecting bus to Ninh Binh.
When we arrived in Haiphong I somehow missed the right moment to get off the bus and found myself already being on the way to Ninh Binh, or at least on the way to the bus that would get us there. A woman that acted as a staff member of the bus company asked everyone for tickets, when I told her that I had only booked to Haiphong she told me that I would need to pay another 150.000 ($ 7,50) for my ticket to Ninh Binh. For the sake of keeping things uncomplicated I obliged and handed her the 150.000. However, she did not hand me a printed ticket. When I asked here about it, she told me that I would not need a ticket and that she would tell the driver that I had paid for the way to Ninh Binh. I then saw her talking to the driver, both looked at me, I made sure to show that he realized that I was the guy who she was talking about and then she left the bus.
When we arrived at the bus station where the connecting bus to Ninh Binh was waiting, things started to become complicated. The driver again asked for tickets and when I showed him my ticket that said "Haiphong" he said: "No, No, Haiphong, not Ninh Binh". I then proceeded to tell him that I was the guy who paid the money to the woman, but he did not want to listen. He kept on repeating that he is the driver, my ticket is to Haiphong, and that I need to pay. I started getting a little more aggressive, I simply hate getting ripped off and will certainly not accept such a scam to happen to me. Everybody that knows me would certainly agree that I am not a person to get aggressive or loud easily but when somebody acts as if he would not know what I am talking about, even though it has happened only 15 minutes ago, I lose it.
Lucky enough, all the other passengers on the bus (many of them german coincidentially) helped my case by telling the driver that I had indeed paid for my ticket and that they had seen it. It did not seem as if the driver would care and I was almost certain that I would need to pay again, when he suddenly pointed at the other driver (the one that would take us to Ninh Binh) and said: "Go, Go". Either he was sick of dealing with me, or he realized that he would not get money from me, whatever it was, they took me to Ninh Binh without a valid ticket that had "Ninh Binh" written on it and without needing to pay again. Puhhhh.
The rest of the story went as expected. It took us three hours to arrive in the bus station of Ninh Binh, a young guy advertised his hostel to the passengers, and since I had not booked anything in advance, I decided to go with him. There is not much to consider when you are offered a $ 3 dorm bed in a 5-Bed dorm with Wi-Fi, right?
Tomorrow I will start early and explore the popular environment around Ninh Binh and of course I will keep you posted.
Yours
Crazy Ivory
Follow my photos, travel route and stories on the Asia Adventure Page.