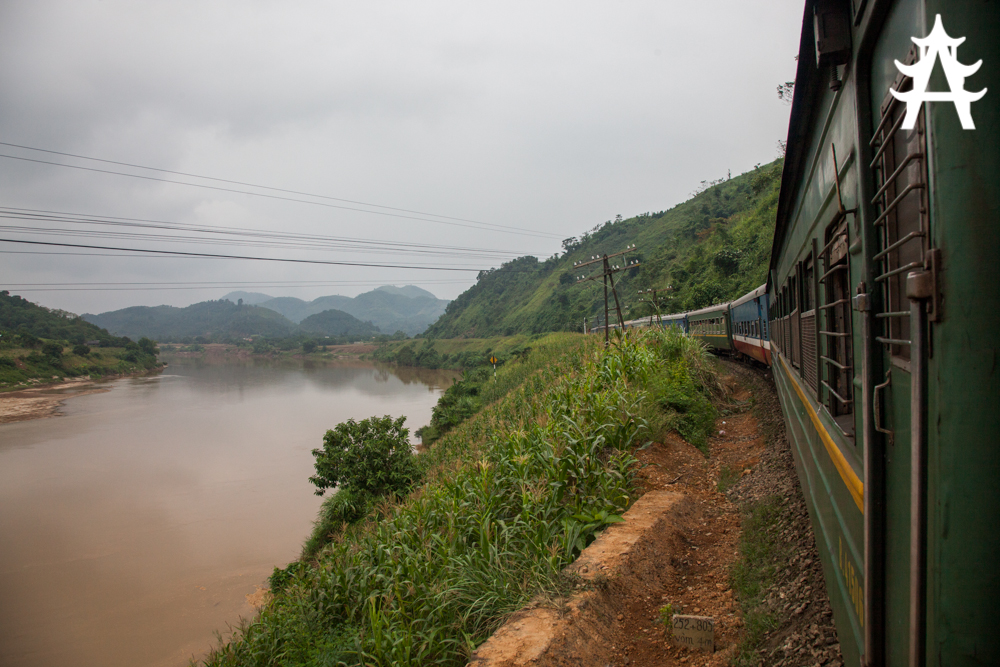 Yesterday I told you about my upcoming train ride from Hanoi to Sapa and I anticipatory mentioned that it should be 8 to 9 hours:
 "If everything works out as it is supposed to (which is not very likely) I should be arriving around 7AM tomorrow."
Well, turns out that my experiences in the past months have teached me a lot about how things work in this part of the world. The train ride that was supposed to take 8 to 9 hours and should have gotten me to Lao Cai (the hub from where minibuses for the nearby Sapa leave) by 6 or 7 AM actually took 18(!!!!!) hours and arrived in Lao Cai at 4PM.
So, how did this happen?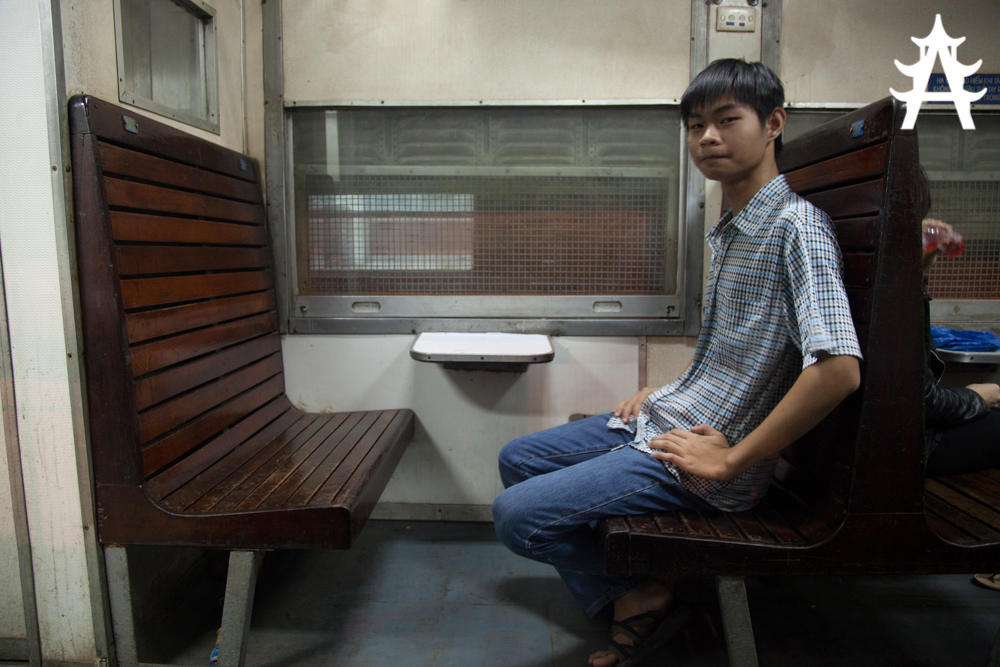 It started out pretty well, we left the Hanoi Railway Station at 9:59PM, perfectly on time. The train was still mostly empty and I wondered why so many people had told me not to book a hard seat. I made myself comfortable and started sleeping for a bit. The train quickly filled up as we stopped at other stations close to Hanoi and within 30 minutes I had no more than a half wooden bench for me. The others around me started getting comfy, the young couple sitting across of me mingled together and were asleep within moments while the old lady next to me struggled a bit with finding a good postion. However. she was sitting at the window and was therefore able to rest her head against the window, I sat at the aisle and had no luck with finding a position that I could sleep in.
Vietnamese people sleeping on the train (you see the person on the floor?)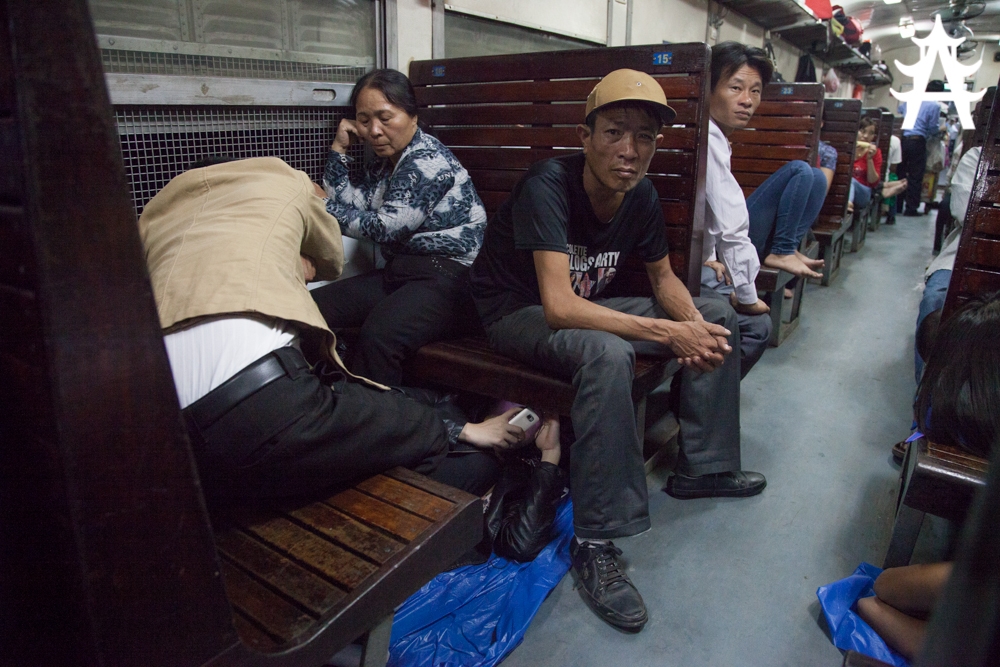 I decided to read for an hour or two but when we passed midnight I got more and more tired and my back and bum started hurting badly. Why did I choose the hard seats again? Oh yeah, they were only $7, perfect decision Ivo.
The next hours were a terrible mix of being half asleep, being woken up by rude people passing the aisle, the screeching sound of the trains brakes and fellow passengers chatting extremely loudly. When I finally decided to give up my sleeping attempts, my head was hurting, my eyes were read and my mood was terrible. But hey, its only a few more hours, right? That they were numerous small cockroaches all over the floor and the walls did not help my mood either.
Around 3:30 or 4:00AM we stopped at another station, nothing out of the ordinary. However, the train driver made an announcement over the loudspeakers and everybody listened closely (besides me who obviously did not understand a word). However, even without any vietnamese knowledge I was able to understand the shocked and surprised reaction of all the passengers on my coach when the driver seemed to have finally said the important stuff. My guess was that our departure from that station would be delayed but I wanted to know how much. Asking other passengers did not help very much, only a young couple showed me three fingers and I supposed we would leave the station again in three hours. 
However, the situation changed for the better when I saw that a pregnant woman, who had spent the night with her baby in a separate compartment, was leaving. I reacted quickly and moved to the small but private compartment. With a few layers of blankets it was almost comfortable and being as tired as I was, I fell asleep quickly.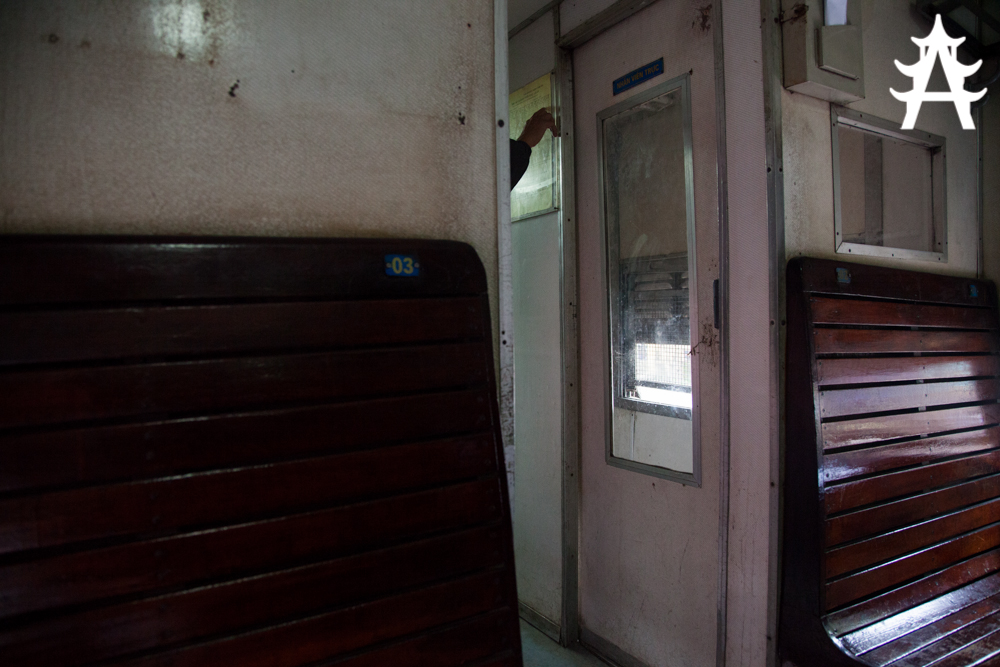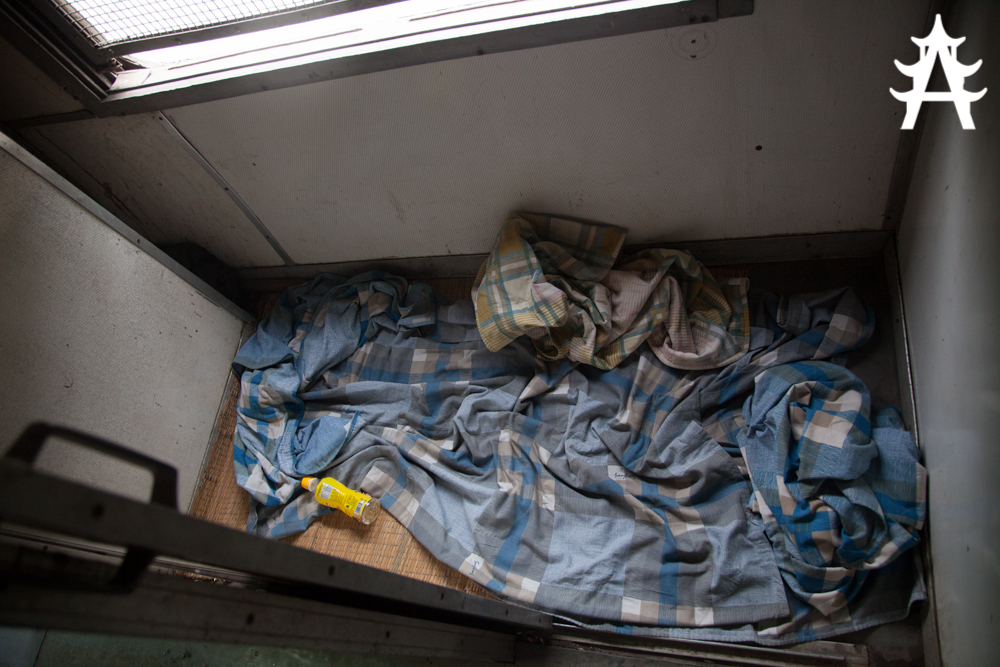 I slept more or less until 7:30AM, which was roughly three hours from when I was shown the three fingers by the young vietnamese couple but still, nothing seemed to move. I asked other people and answers I received, even though they did not understand the question, was not promising. One guy typed 11 into his mobile phone. Was that the time we would arrive in Lao Cai? Or was the the time we would leave this station? I wanted to believe it was the former, but was afraid it was rather the latter.
I stayed up, also because I had discovered more cockroaches in the compartment and the thought of them crawling into my mouth kept me awake.
The train started moving at 8:45AM and I was happy. This must mean that we arrive at 11AM, according to the vietnamese couple, right? No, unfortunately not. At least the train had become a lot emptier even though I had no clue where all the people had went to.
One of the train staff people told me to get a free soup in the restaurant coach and of course, having not eaten much in the past 12 hours, I went to collect my meal. Of course, in a situation like this, you can't simply give out meals to anyone asking, otherwise some people might get several meals while others get none. But the vietnamese way of making sure that this did not happen was, lets say, not the most effective one.
One woman was responsible for this task and what she did basically came down to writing down all the info from the passengers ticket (I mean, all of it) and having the respective passenger sign. This obviously took a while and I was glad that I had slept through the big run for the soups. I waited in a line of 4 people, with small vietnamese women permanently squeezing to the front, and had my bowl within 15 minutes.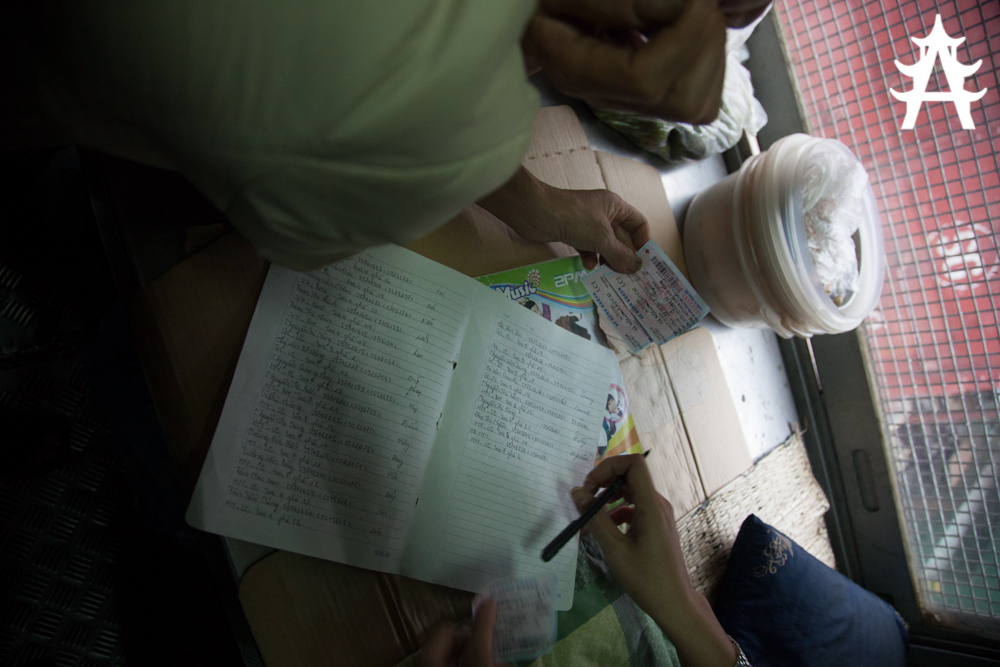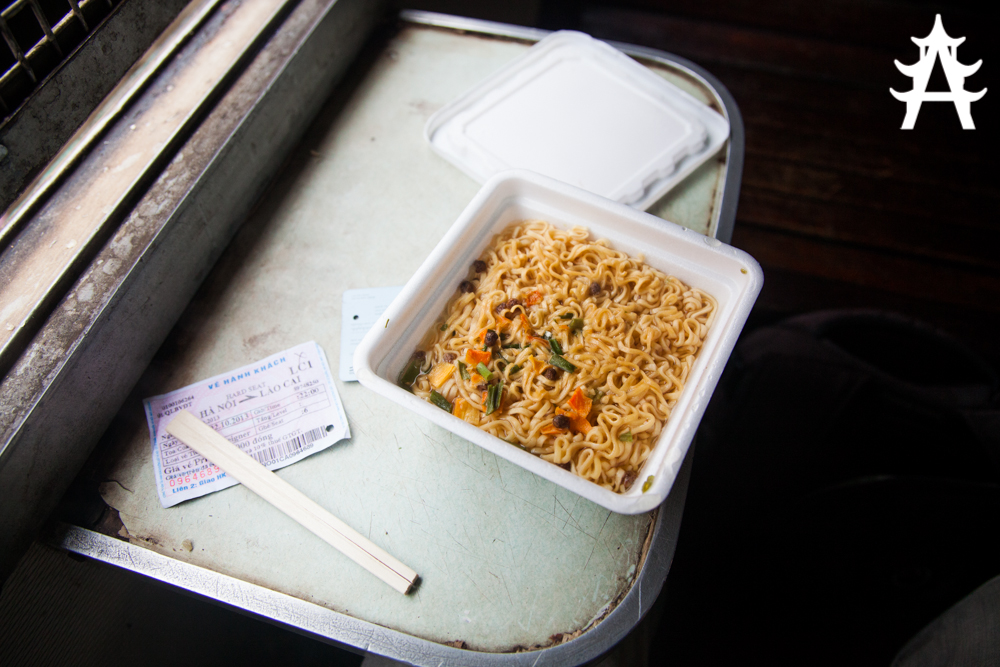 The rest of the day went slowly, very very slowly. For some reason, every stop of the train would take 30 to 45 minutes and 11Am quickly became unrealistic. At some point I made the inner decision that it did not really matter anymore, our delay was already five hours and getting mad would not help.
So I sat in the almost empty wagon, read my ebook from time to time, looked out of the window, tried to sleep and hoped that any of the leftover passengers would tell me when we approach Loc Cai.
Finally, after 18 hours in this hard seated train, we arrived. I could not believe it and felt as happy as one individual can be. And tired. And worn out. But my trip was not over yet. I still had to find a shuttle to Sapa.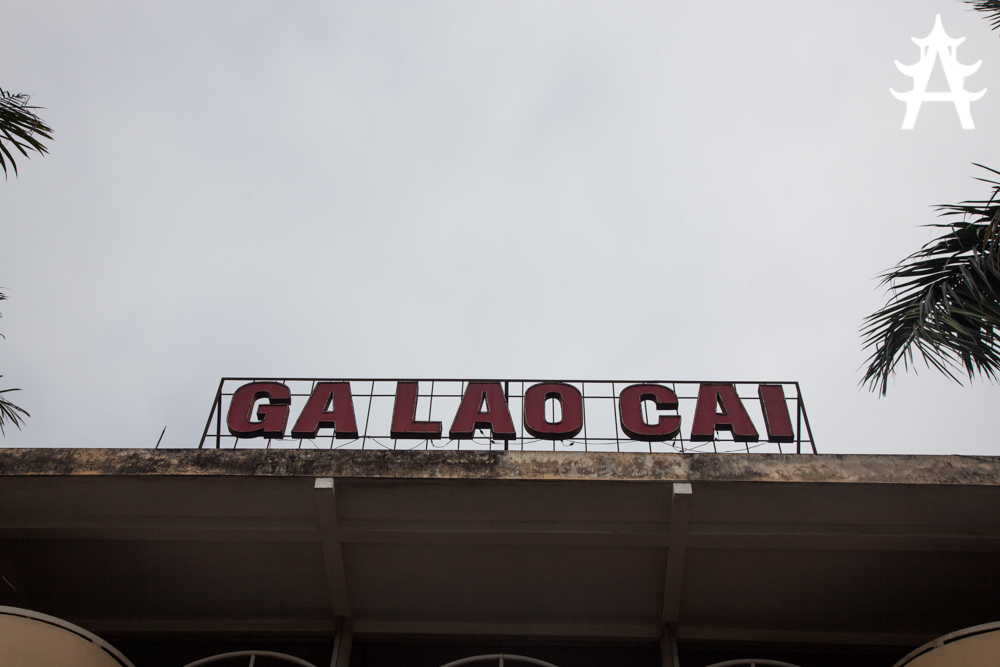 This turned out to be an easy task as, when I was leaving the station, dozens of touts wanted to sell me their rides. From my guide book I knew that the fare would be 50.000 Dong (€ 1,70) but these guys were asking for 200.000. By walking away and repeating that I would go with them for 50.000 we finally found an agreement. And then, more than 19 hours after entering the train in Hanoi I had finally arrived in my hostel.
I don't know whether train delays of this extent are usual in vietnam but I will definitely think twice before choosing a train over a bus ride again. Especially as I still do not know what even caused the train to stop for five hours. However, what I have seen of Sapa yet looks promising and I will join some other travellers tomorrow for some trekking.
Yours
Crazy Ivory
Follow my photos, travel route and stories on the Asia Adventure Page.