Even though I have only been in Hanoi for one day, there already are so many special things here that catched my eye. In order to not forget all of them (or become too accustomed to them to even realize them), I put together my first list of Hanoi observations that I want to share with you.
I could have written a lot more but decided to focus on the 5 most interesting and special things. Perhaps I might write another five at another point.
1. Traffic Madness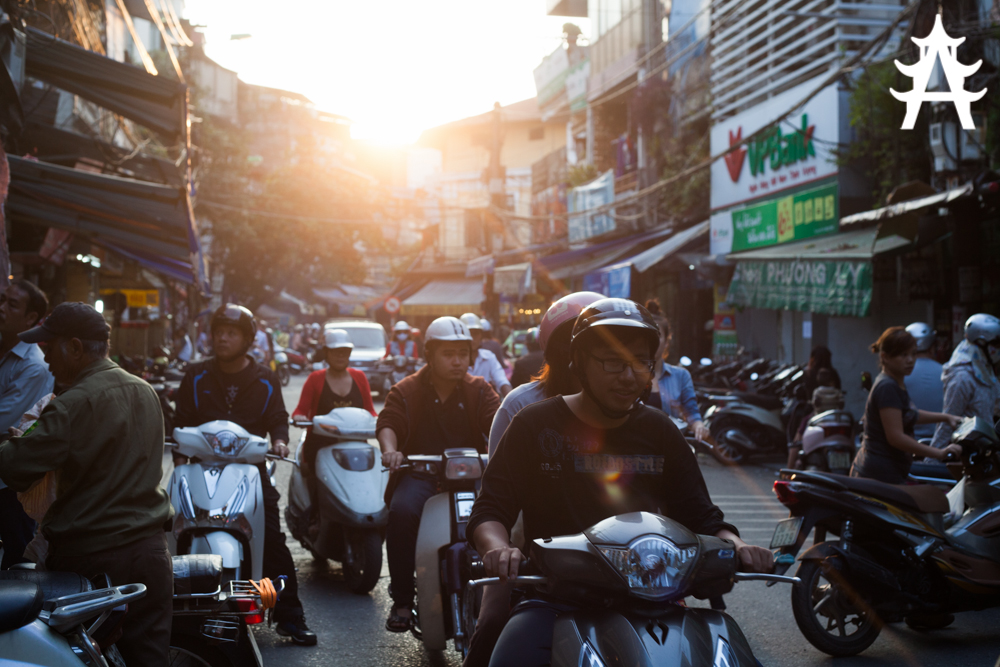 Now this certainly is the most apparent and therefore least surprising fact (especially for everyone who has visited Vietnam). The infamous Hanoi traffic is omnipresent, loud, dirty, dusty and life-threatening. For a first time visitor like me it looks like there are no traffic rules whatsoever. Road markings, traffic lights or street signs are exisiting but seem to be widely ignored. Basically you need to expect traffic at all times and from every direction. In order to save words I will write a dedicated post about the traffic in the coming days. 
Here is one impression of what the traffic looks like (shot by me):
2. Dust Masks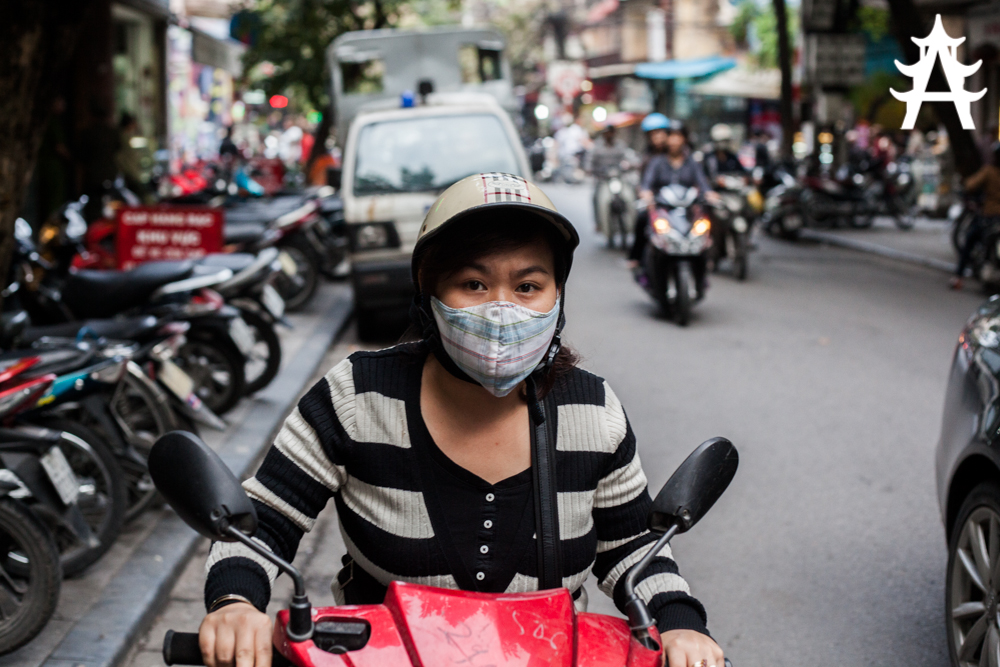 This observation is directly connected to the first point on my list. Almost everybody is wearing a dust mask here. The amount of fumes in the street is high. Walk around in the narrow alleys for a few minutes and you will already feel an itch in your throat. The people that live here need to adjust and therefore protect themselves by wearing a dust mask whenever they leave home. They come in various shapes, designs and colors. Honestly, I feel like Hanoi is perfect city to rob a bank as nobody would worry about a masked person coming in and nobody would be able to describe his features. Not that I would be planning something like that…
3. Singing Birds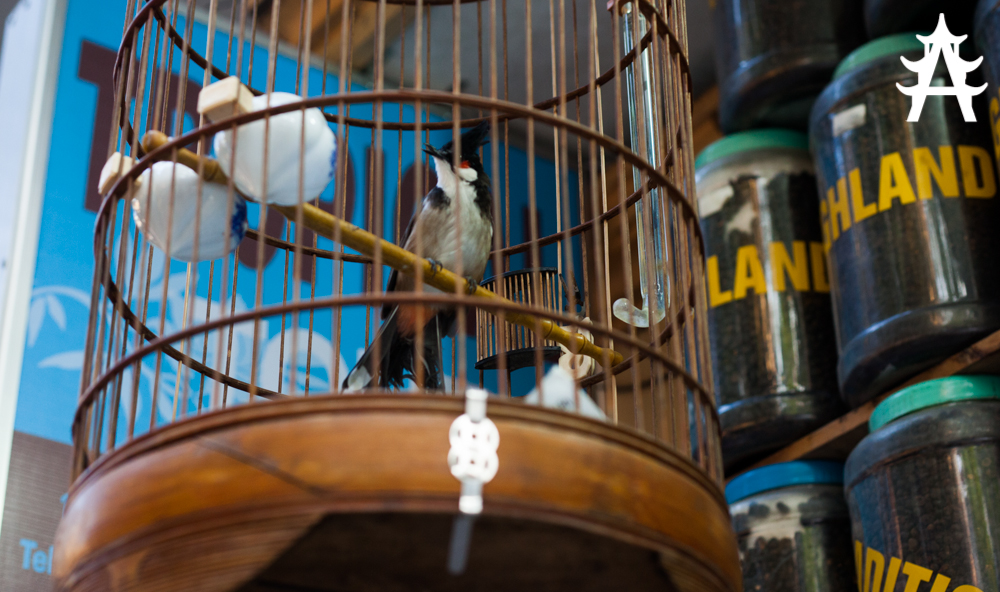 Now, this one comes really unexpected. Whereever you go in Hanoi, you can see small bird cages hanging on trees, power lines or houses. They contain beautiful, small and colorful birds that sing their melody. I will need to research this a bit more before giving my opinion on it but its certainly something very unique. I am not sure whether they are also a gastronomical delicacy or whether they are only held for their voice but that should be easy to find out.
4. Marrakech Feeling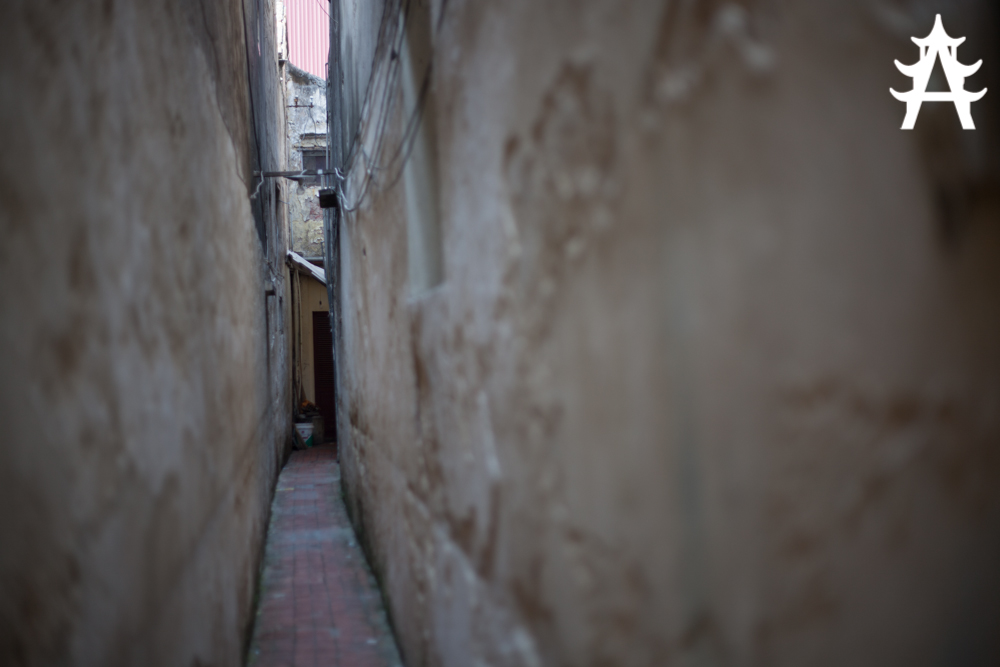 I have been to Morocco less than a year ago and was surprised to find a couple of spots in Hanoi that is strongly reminiscent of Marrakech. The capital of Morocco is famous for its old city centre, the medina, that is consisting of an abundance of narrow alleys and winding back roads. Between the houses in Hanois "Old Quarter" are many such alleys that I feel very attracted to explore. After the first few meters into such an alley, the sounds of the streets start to faint and you quickly are in a perfectly quiet spot that would be impossible to find anywhere on the side of the street. 
5. Like from a movie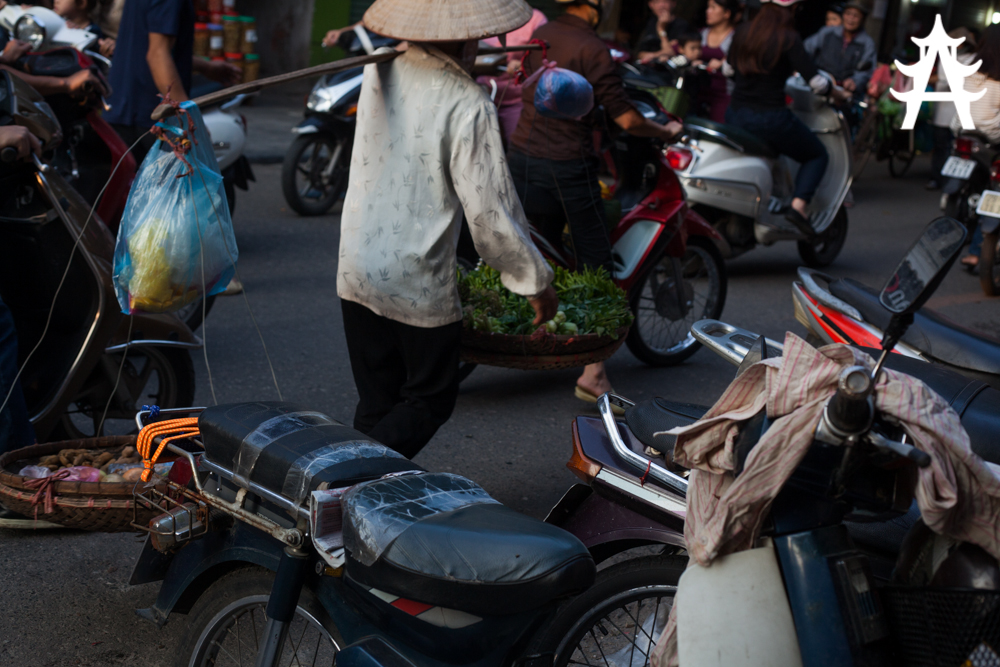 Living in the "Old Quarter" of Hanoi is stressful, loud and terribly bad for your lungs (see #1 and #2). At the same time its incredibly beautiful. The old vietnamese culture is very much present in the streets. May it be the food or the famous vietnamese cone hats, you will never forget where you are. Oh, and the hawkers of course. These women carry their goods on two baskets that hang from a wooden stick that they carry on their shoulder. It must be demanding as hell to transport your stuff like this the whole day, without any padding for your shoulder. Also, all the hawkers I have seen yet are middle aged or really old women, which certainly must be tough ladies to not break down under that weight. Really special.
Yours
Crazy Ivory
Follow my photos, travel route and stories on the Asia Adventure Page.