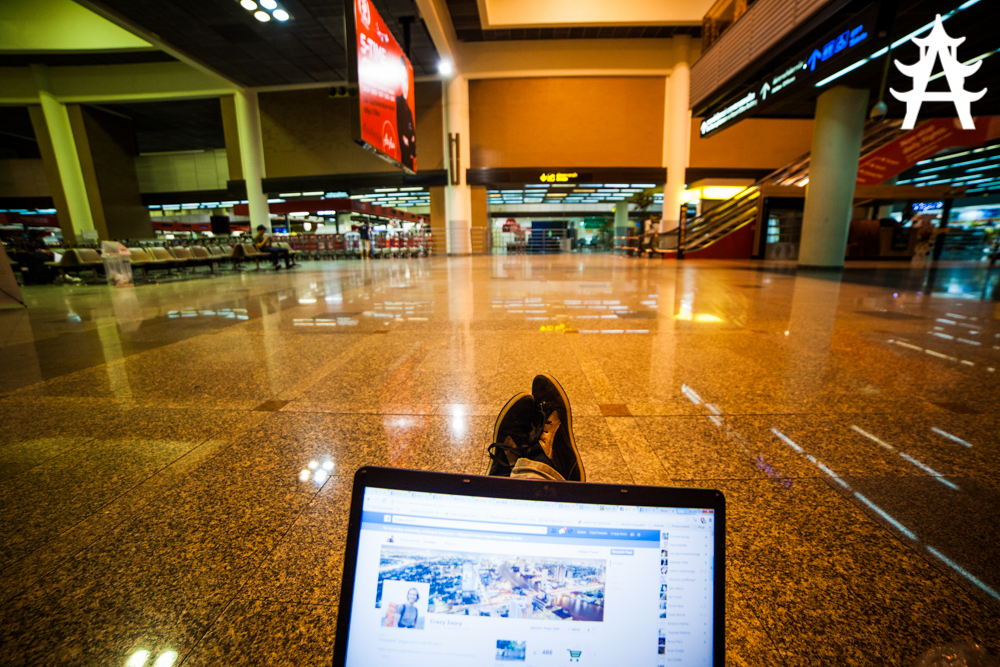 Yesterday I explained how my flight from Bangkok to Hanoi is leaving very early in the morning and I would therefore have to spend the night at the airport in order to not miss it (and don't have to struggle getting to Don Muang in the middle of the night). Well, that night is over now and as promised I want to share my experiences.
It all began after parting ways with Gordon (my brother, who had visited me here and was heading back to Berlin) and rushing to the Hua Lamphong Railway station to take the airport link from there. After a beautiful and sunny day the weather had changed for the worse and the rain was pouring, while a huge storm covered the city in thick clouds and lightning. I knew where I had to go as Gordon and I had taken this very train before when flying from Bangkok to Surat Thani. However the experience was quite different from that.
The train was overflowing with people and by overflowing I really mean it was as full with people as you can imagine. It was pretty much the same as the one time I travelled in a cambodian minibus with 26 other people but…well…in a train. It was too full to reach my camera once I was offered a seat by a very nice Thai family, therefore I have no images illustrating that ride. I was the only tourist as far as I could see and all these locals were headed to Ubon Ratchathani. While slowly proceeding to make our way to Don Muang, I grow anxious about the moment when I had to leave the train because I really had no idea how to do that. When the families mother told me that we were approaching Don Muang, I started forcing my way through the masses towards the exit. In retrospect, climbing out of the window would have been the easier option for sure. The people were too squeezed to move and also afraid of loosing their spots, so they simply did not move. I had two other guys help me lift my 20+ kg backpack above my head and finally make it to the platform before the train started moving again. Done.
I arrived there around 10PM and went directly to the Air Asia check-in, believing that I would be able to get rid of my luggage. Nope, not possible as I was way too early. They simply told me to come back around 4AM.
I found myself a spot next to a power outlet. Unfortuntely the only outlets were situated where no seats or benches were. Whatever, at least I would be able to use my laptop. In order to get online, I went to the few staff members of the discount airline Nok Air, which offers a free wifi service in the airport…but only for their customers. I convinced them to give me a booking number of a random passenger so that I would be able to log into the wifi network. Success.
The first two hours flew by quickly by doing nonsense online before I started to get tired around midnight. I contemplated my options and decided to sleep where I was, on the tiled floor. I used one pair of pants as a pillow and a second to block my eyes from the horrible airport lights and tried to get some rest. This worked out so-so. I actually fell asleep after a while (despite the freezing temperatures, thanks to the A/C) but were quickly woken up by airport staff that transported dozens of luggage trolleys back to their docks. I was awake again and felt wasted as hell. I started to wonder what the hell I expected from spending a night at the airport. Perhaps I imagined it to be like in the movie "Terminal": An adventure, interesting, teaching and full of unexpected and unique experiences. The only experience I had was a chinese women who charged her mobile next to my sleeping spot and who, without further explanation or reason, started showing me images of her vacation. She did not seem to understand my hints, that I was tired as hell and definitely not in the condition to watch hundreds of images of chinese people posing in front of flowerbeds. She left eventually.
I considered staying awake for the rest of the night and changed my decision once I found out that the Nok Air Wi-Fi booking number had expired. My connection to the rest of the world had ceased to exist so there really was no reason to stay awake. I put together my stuff and moved to the rows of benches that promised a tad more convenience. At least they were cushioned.
I slept much better. For about an hour and a half. Around 3:30AM the airport started getting crowded as check-ins for the first flights of the day had started. Sleeping time was over. I waited until a few minutes past 4:00AM to check in as well, made it through customs without getting charged for my one day VISA overstay (YAY!) and then spend another two hours waiting before we finally left.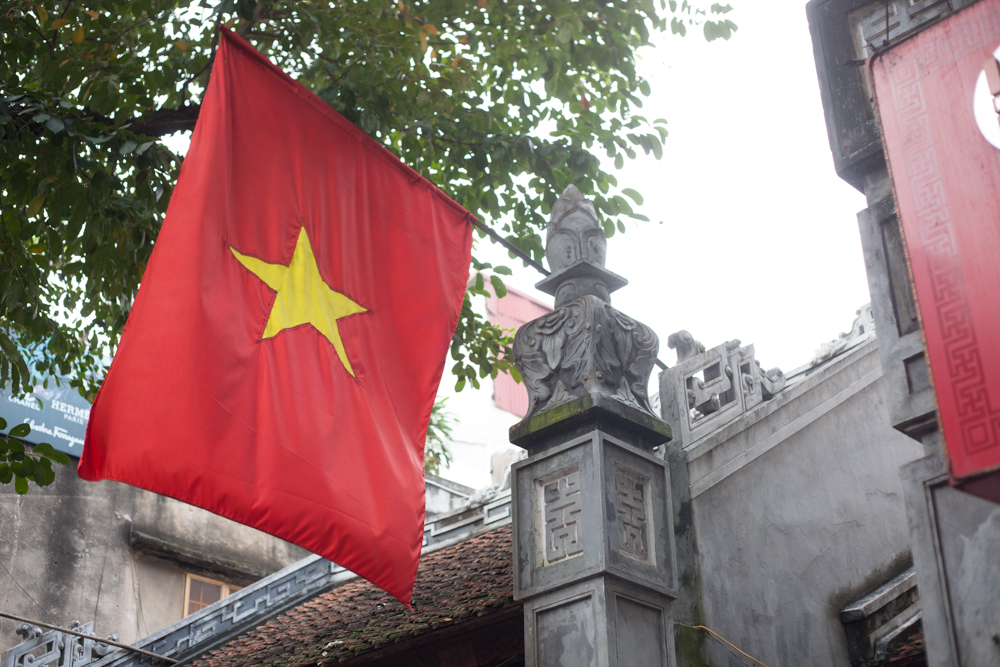 Fast forward to Hanoi. Its cloudy, its much colder than Bangkok (22°C vs. 32°C) and the airport is much smaller than what you would expect Vietnams capital airport to look like. I ask the guys at a official looking booth called "Tourist Information" for the best way to get to the city and they tell me I should "definitely take a cab". In order to prevent scams the price is a flat fee…of US $ 30. WHAT? Upon asking he tells me that there is also a minibus service but that is "very very slow". I decide to take the minibus that charges a whopping US $ 2 for the same ride. It gets me into the city center in no more than 40 minutes, which is not exactly slow for the 30km trip.
I get myself a mototaxi driver to get me to my hostel and am able to get a first impression of the insane traffic that I had heard so much about. As soon as I have arrived, I fall asleep and two hours later I start typing this article. I am planning to share my more detailled impressions on Hanoi in the coming days so stay tuned.
Yours
Crazy Ivory
Follow my photos, travel route and stories on the Asia Adventure Page.