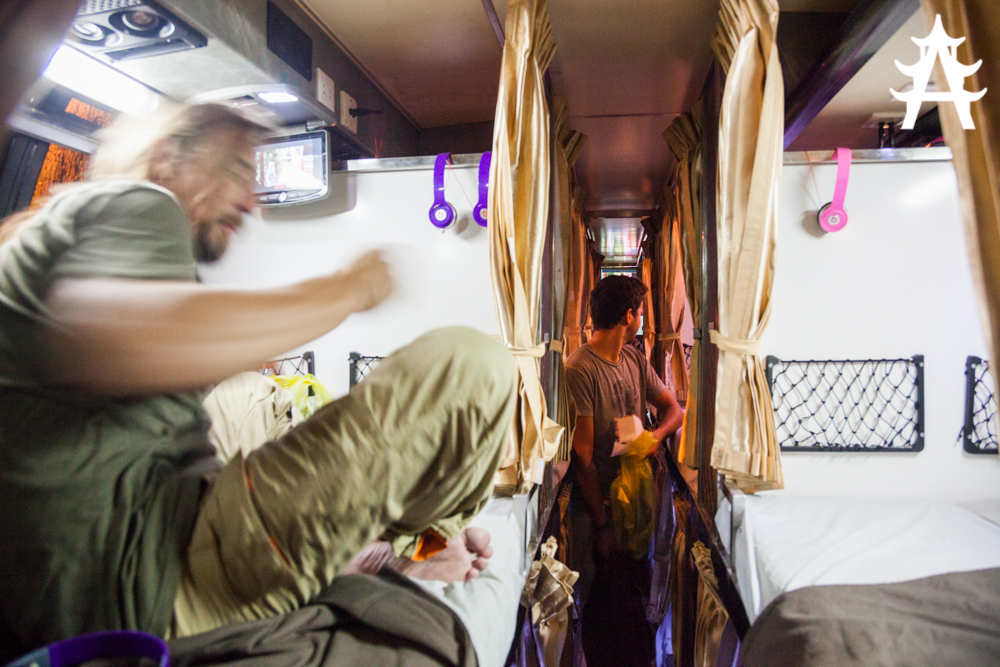 As the weather on Koh Rong was not on my side (it rained almost constantly for the whole three days of my stay), I decided to move back into the central part of the city where I hardly had to deal with rain over the course of the last three weeks in Cambodia. Since I had already covered the whole eastern part of the country the next stop would be Siam Reap.
As always, my travel medium of choice was the bus, however, I decided to try out something new. Instead of spending an extra night in Sihanoukville and departing in the early morning, I booked an overnight bus, or to be more detailled, a hotel bus. A hotel bus is basically a big travel coach that is equipped with around 24 "sleeping boxes". My final decision to book this one was greatly impacted by the fact that this 12 hour bus ride would only cost 13 Dollars, which is dirt cheap even at cambodian standards.
One sleeping box is supposed to offer space for two people…in theory. In reality these boxes are tiny as hell. I am around 180cm and did not fit in properly (I easily could have used another 10 to 15 cm). Even though the size of the boxes is a joke, its equipped with a few nice extras such as an electrical outlet (important if you want to work on your laptop for a while), your own TV screen, headphones and wifi (which was massively advertised but not available on my bus). Now, sleeping together with a stranger on this 1 sqm is certainly unusual…I suppose. I was lucky enough to have one whole box to myself which fixed the height problem (I was able to lie diagonal).
The time passed quickly, I watched a couple episodes of Breaking Bad on my laptop before trying to fall asleep. This was not as easy as it should have been, mainly because of the air condition. As usual in South East Asia, the bus drivers have an extreme taste when it comes to temperatures. I would guess that they cooled the coach down to something around 15°C, which is really freaking cold. I was lucky enough to have to blankets for myself but was still shaking from the cold. This was definitely the worst part of this trip. Not only am I sure that I catched a cold, I also left the bus extremely tired.
To sum it up, I was glad that I chose the bus, even though I should have worn a couple extra layers of clothing. With that in mind I will certainly book a hotel bus again if the chance comes up.
Yours
Crazy Ivory
Follow my photos, travel route and stories on the Asia Adventure Page.