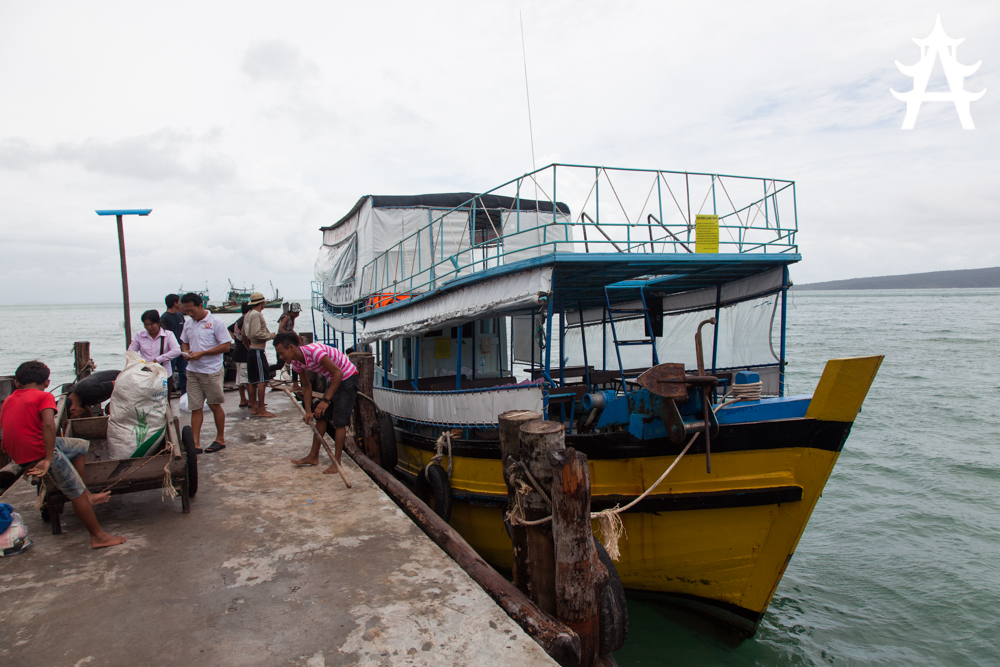 I am afraid of water. I don't think I have ever mentioned this before on this blog but I am. I hate diving or even putting my head under water, I have a bad feeling in my stomach while swimming in the ocean and I even have nightmares about being trapped under the water surface from time to time. I wouldn't say its extreme or that it limits me in any way its just that I have a huge respect when it comes to water.
Since Sihanoukvilles beaches are not as paradisical as I had imagined, and since the amount of tourists who only come there to get wasted is far above what I would think of as a healthy ratio, I decided to take my beach experience a step further and move to Koh Rong, a beautiful island with a small village, amazing beaches, palm trees and only a decent amount of visitors. All this together means that you can still find your private beach here, something that is far from likely in most other places that are as beautiful. For the record, this is all stuff that I have been told by other travellers, not my personal experience. Its what I am expecting.
Getting to Kho Rong is quite easy to organize in Sihanoukville since every single one of the 1.436 travel agents, guesthouses or restaurants will be happy to book the boat for you. The price is a fixed $5 per  person. I booked my boat early in the morning through my guesthouse and made it just in time to get ready for the 7AM pickup. 
We picked up another few travellers from other guesthouses and headed to the pier, but not before receiving a few very motivating words from one of the guys who was in charge of getting us to Koh Rong. He told us that the weather is extremely bad, that there is a huge storm going on and that it will be a "very rough trip". He also encouraged everyone to reconsider his decision and that we could still get off the bus. You can seriously believe that I did indeed reconsider my decision. I had read some horror stories of this trip online and having officials tell you stuff like this really makes you wonder. Nobody left the bus though.
We quickly arrived at the pier, which is a short 8 or 9km ride away from the city center. During the whole process of everyone getting off the bus, walking towards the boat, boarding it, I was thinking about heading back. I was already frightened at this point. However, for some reason I simply did what everyone else did: Boarding the boat, storing my backpack in the "basement" of the boat and heading to the upper level to sit down. I looked towards the sea and everything looked quite calm. I started relaxing a bit.
Some others seemed frightened as well. One girl stood in the corner while mumbling that is was a big mistake to board the boat. Another girl came up to us to tell us that one ferry sunk just earlier today. I could not believe it. It quickly turned out that she had misunderstood the guy giving her this information and that it was no ferry, but a scuba diving boat (a small one) that had sunken and that it did not happen today, but two days ago. Nevertheless this information struck me hard and at this point I decided to get off. This was about the moment that I realized that the small wooden bridge from the pier to the boat had already disappeared. So had the rope tying the boat to the pier. We had officially left Sihanoukville. Fuck,
I tried to accept my situation and told myself that it would work out. Within a few minutes the waves increased in height and frequence and the boat reacted heavily to it. We were shaking up and down, left to right, while knowing that this was nothing compared to the storm that seemed to go on further out. The atmosphere among the other passengers worsened quickly. More and more people admitted being afraid. One girl even started praying. It was crazy. I did not know what to think. All I could think of was a sentence I had read online about this trip, which was repeated by another guy who had taken this trip a couple times before: "They haven't got enough life vests for everyone".
I sat down and started relaxing, I even tried to enjoy the shakiness of the ride. The further we went, the darker the sky turned. Heavy rain set in and the waves got even bigger. It was then that one guy walked past me, talking to another passenger. Apparently he had talked to one of the passenger, a khmer guy who is living on Koh Rong and who had been a boat captain for more than 10 years, who had told him that they should have never even left the port with weather conditions like this and that it was extremely dangerous for us to go to Koh Rong. This seemed to have motivated the tourist to approach the captain in order to ask him to return to Sihanoukville. I joint him and together we went downstairs to the captains corner. Since the captain did not speak any english, his young coworker needed to translate our inquiry. 
He told us to wait, because he would have to call the office. He did, and after giving an introduction in Khmer, handed the mobile phone to the passenger who had suggested to return. It turned out that this guy was not in charge either, and that he would have to call his boss  to ask for a permit to turn. This process was repeated a couple of times, with the result that the young coworker of the captain asked around the passengers to figure out who many people wanted to go back to Sihanoukville. Apart from 2 or 3 people everyone agreed that it would be the best idea to go back. Another call was made and the decision was final: We would return.
I was more than happy to hear this and started to relax. We would go back, we would be fine.
However, this turned out to be easier said than done. With wind. storm and waves like this, turning is a dangerous maneuver. Even if the turn is done smoothly, it can get dangerous within seconds as one big wave would be enough to tip over a boat that stands sideways to the waves. In order to stabilize the boat all passengers were required to move from the upper level to the ground level.
After minutes of waiting for the turn it became apparent that, even though continuing our ride would be very dangerous, turning would be even more dangerous. So, even though 95% of the passengers did not agree with it, we had to go to Koh Rong.
The weather turned worse and worse, I even became travel sick which never happens to me, and we all got soaked by the rain as the boat did not offer any shelter whatsoever. I decided to stop worrying (as if it would be that easy), sat down and put my head between my legs. This actually helped a lot and, even though only for a short time, I was able to forget where I was.
The time passed and due to a lack of alternatives, everybody calmed down more or less. I was able to figure out Koh Rong in the distance, which helped my motivation a lot. I started to talk to fellow passengers to distract myself and before I realized it, we got very close to the island. The waves around the island seemed to be the worst, however, knowing that the island is closeby helps thinking positive. After a total of three hours we finally arrived at the port of Koh Rong, and you can be sure that everyone was thankful for that.
Situations like this activate something in you, that you easily forget in the allday life: It can all change very quickly. Being in such a situation shows you how helpless you can be, and how powerful  the nature is. The adrenaline rush I had during this trip is still not over as I am writing this, but I feel good. I think. if for nothing else, situations like these are important to make you realize again how unpredictable life can be, and that you need to be careful.
For everyone going to Koh Rong: Check the weather forecast and ask the staff about weather conditions. Don't board the boat if a storm is going on, it can get really dangerous. And remember: "They haven't got enough life vests".
Yours
Crazy Ivory
Follow my photos, travel route and stories on the Asia Adventure Page.