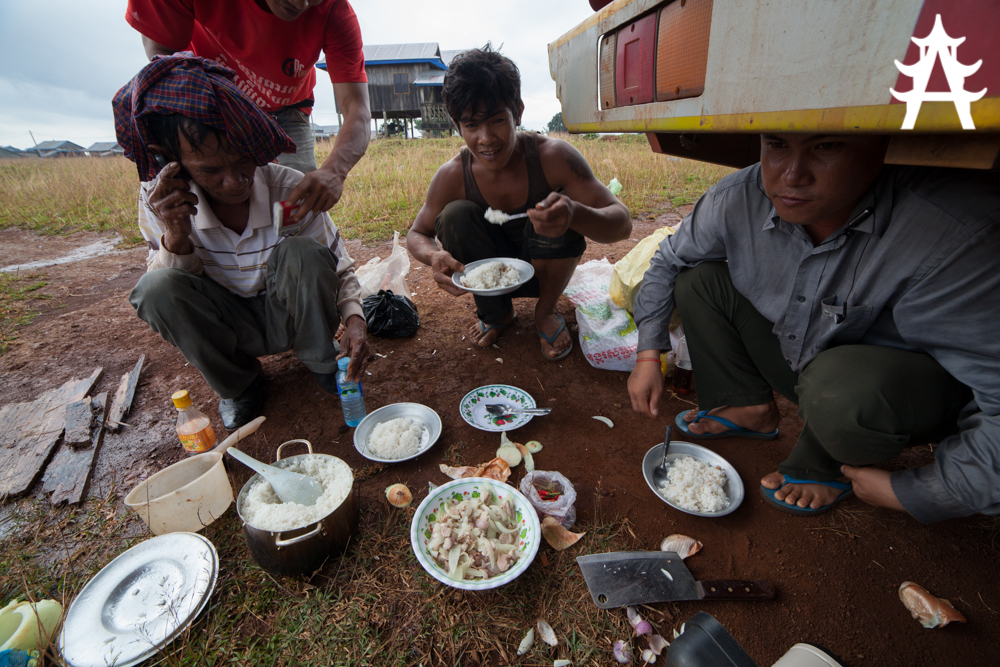 A couple days back I was exploring Sen Monorom and its surroundings by motorbike, when suddenly a rainstorm approached. At this moment I was in the middle of nowhere, in between two villages, with no houses or big trees available to seek shelter under.
Just as I was hectically scanning my environment for cover, I recognized the two trucks that were parked on the side of the road. In between them, under an overhanging part of the trailer, two guys squatted. I quickly parked my bike and joined them down there, not without asking whether it was OK for them. Of course it was.
It turned out that they were not only waiting for the rain to stop but that they instead held their lunch break there. And by lunch I am referring to nothing less than an improvised but nevertheless very well equipped and organized kitchen where they cooked a real lunch menu.
They cut chicken, garlic, onions and cabbage. They added a variety of powders and spices and cooked all this freshly on a camping stove. The rice seemed to have been prepared beforehand though.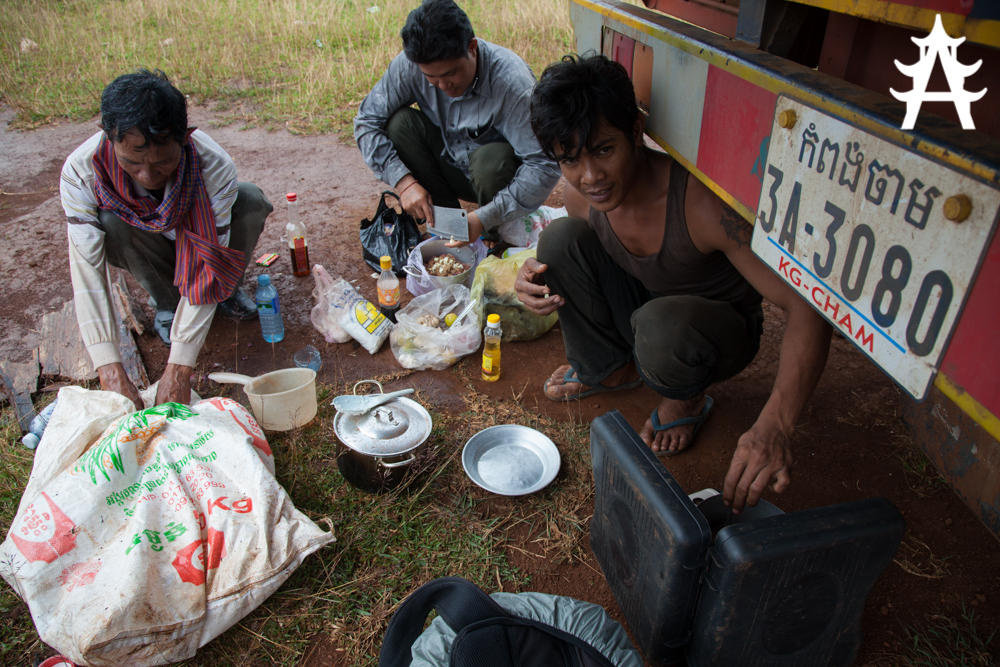 It all looked delicious but I did try not to look at the food too noticeably. In the end I really did not want to take anything away from them. However, I should have known better. As anywhere in Asia people will invite you to eat with them whereever you are. I have enjoyed lunch with a couple of construction workers in Thailand before but eating under a truck trailer was a different thing.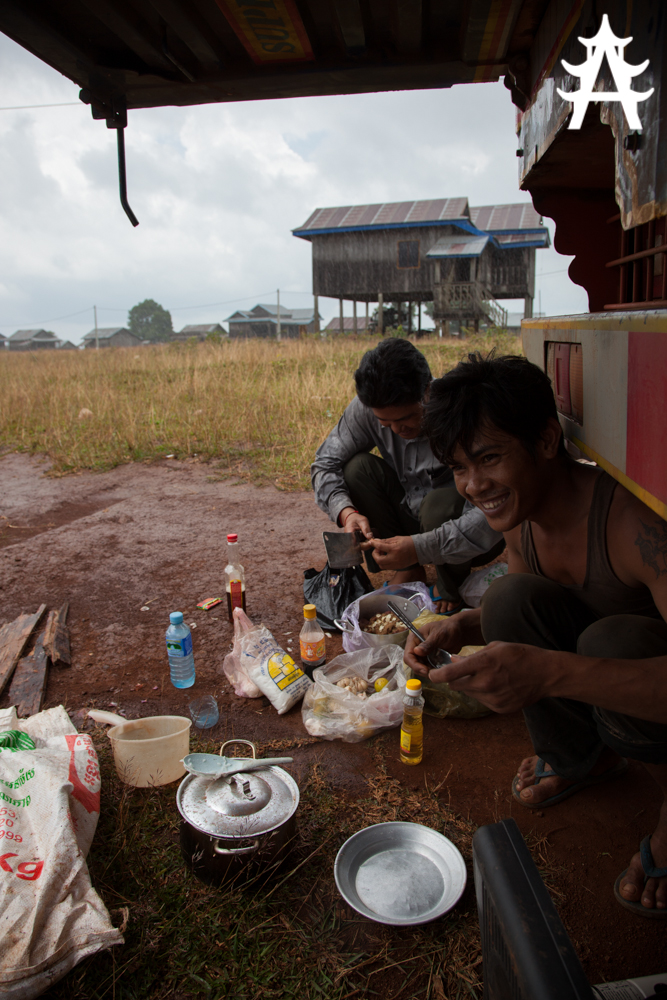 My plate quickly filled up with a variety of things and before I knew it I also had a cut off plastic bottle bottom filled with rice wine in my hands. It really was a delicous meal that they had there and I was, and still am, surprised that they would take all this effort instead of eating in one of the local restaurants. However, I suppose its cheaper this way and they would have a lot of leftovers for the rest of their trip (or their families).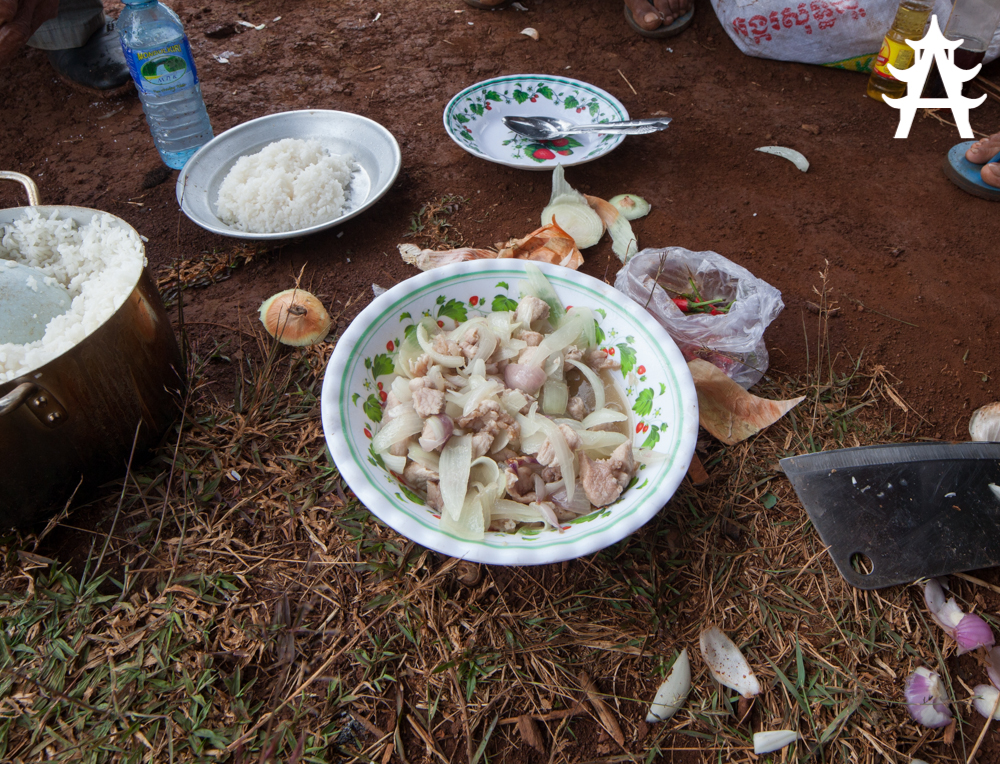 While we ate, the rain ceased and having finished my plate I decided to leave before the next shower approached. When I tried to leave a couple of Riel notes to pay for my meal the drivers got very angry. They made clear that they would not take this money. In the end, even the people in such a poverty ridden country as Cambodia would not let anyone take away their hospitality. It was amazing.
Yours
Crazy Ivory
Follow my photos, travel route and stories on the Asia Adventure Page.