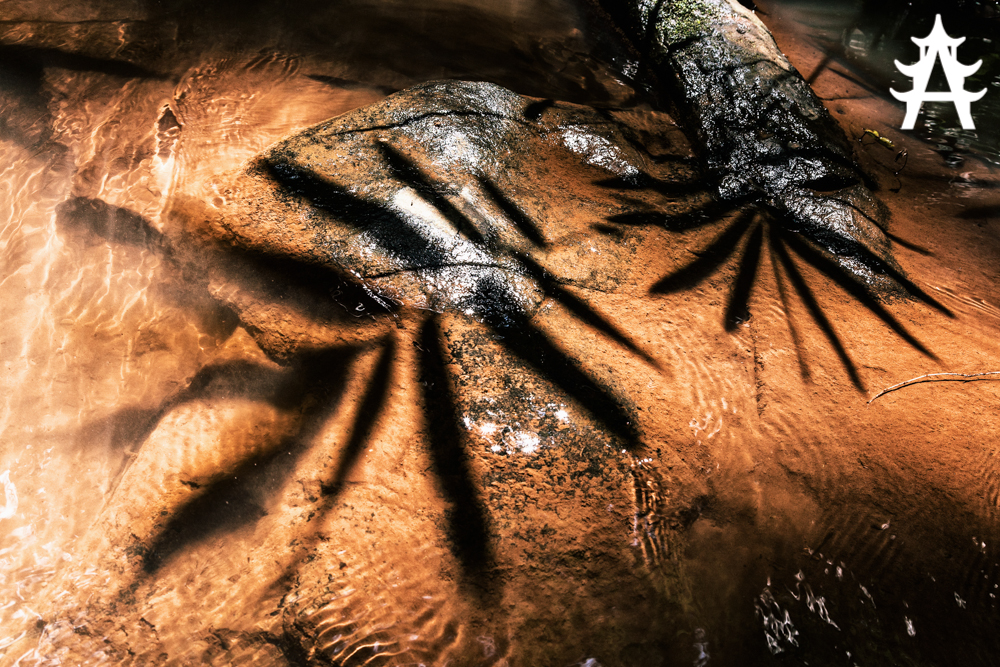 I have safely returned from my three-day trekking experience in the surrounding areas of Sen Monorom and it was…well…full of experiences of different kinds.
The trek was organized through Mr. Mot,  the friendly manager of the Phat Gecko bar. For me it was important to do this trip alone with a guide, so that there wouldn't be other travellers with us. I hoped that this would secure a unique experience without distractions. The pricing was a lot cheaper than I would have expected at  $ 30 US per day incl. a local guide, accomodation and food.
I met my guide Ven when he picked me up from the guesthouse on a sunny monday morning around 9:00 AM. We were then driven out of the city limits by mototaxi drivers and dropped of in the middle of nowhere. A quick chat and goodbye to our drivers, we headed towards the jungle. While the first hour of the trek was still mostly on paths wide enough to allow cars to drive there, the conditions quickly changed. The ways got narrower and steeper as we went further and further into the forest.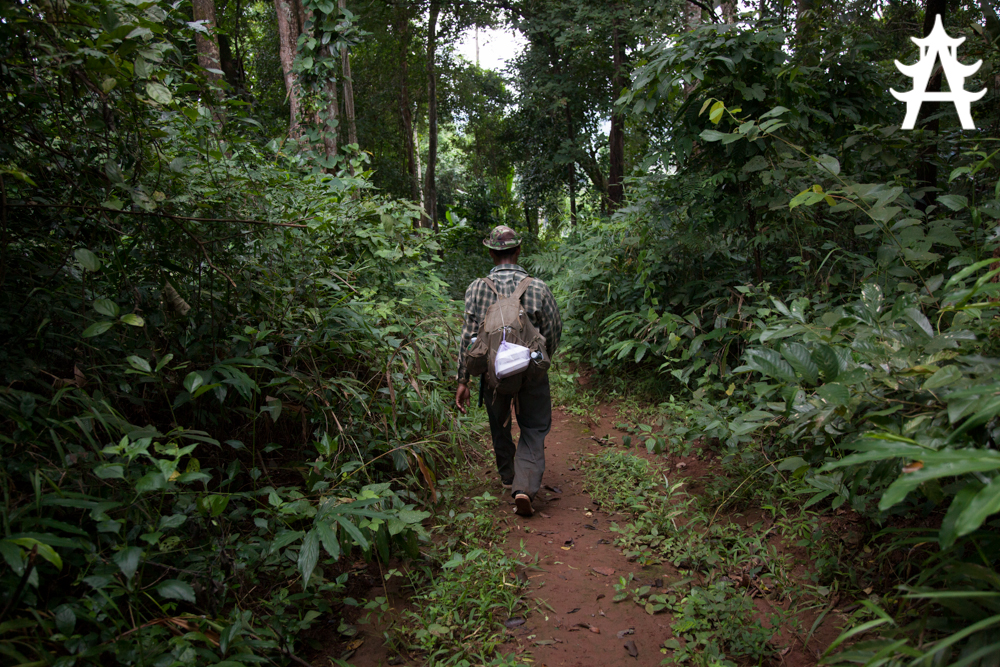 I was surprised that we took our first break very soon, after only one and a half hour. We met another trekking group there (including Ven's cousin who guided that group). We had a swim and the guides started building stuff from Bamboo. Ven build a fishing pole, while his cousins bended long and thin bamboo to create a harness for his elephant. Ven also build a bamboo Antilope.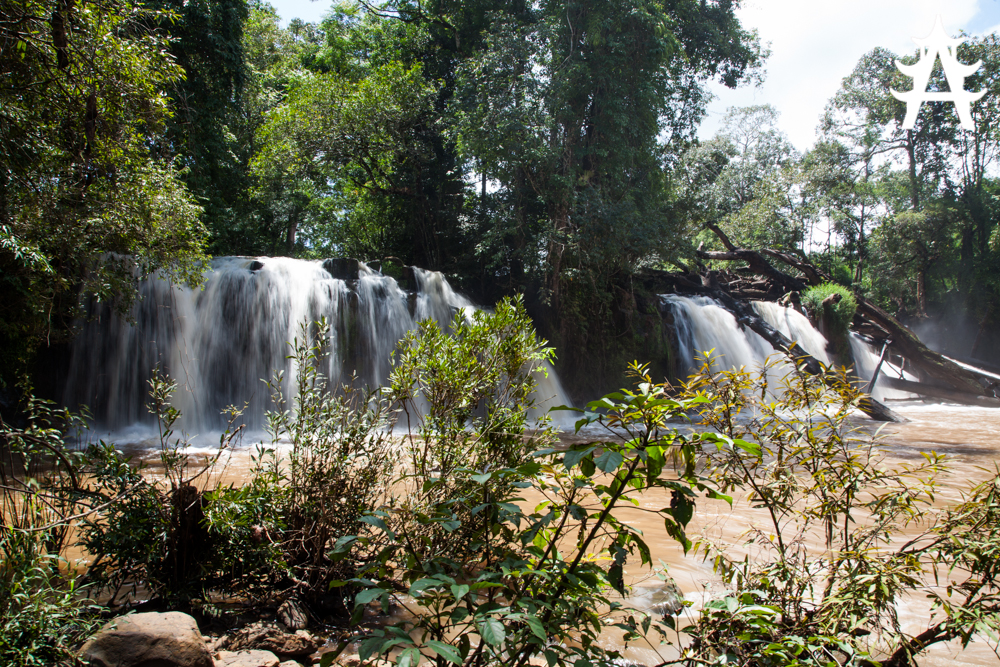 Carving a fishing pole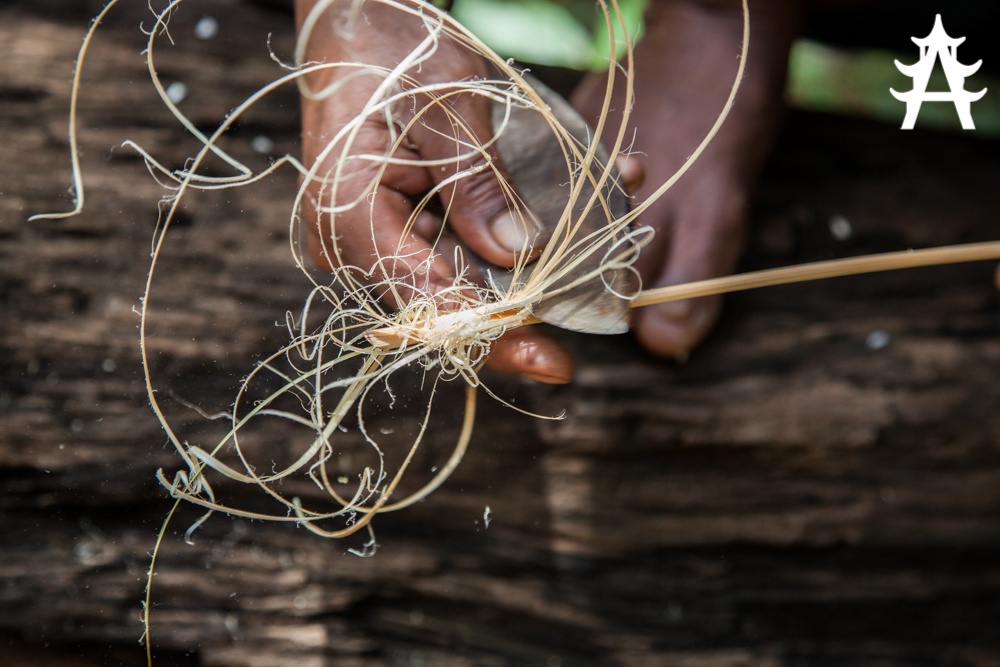 Bamboo Antilope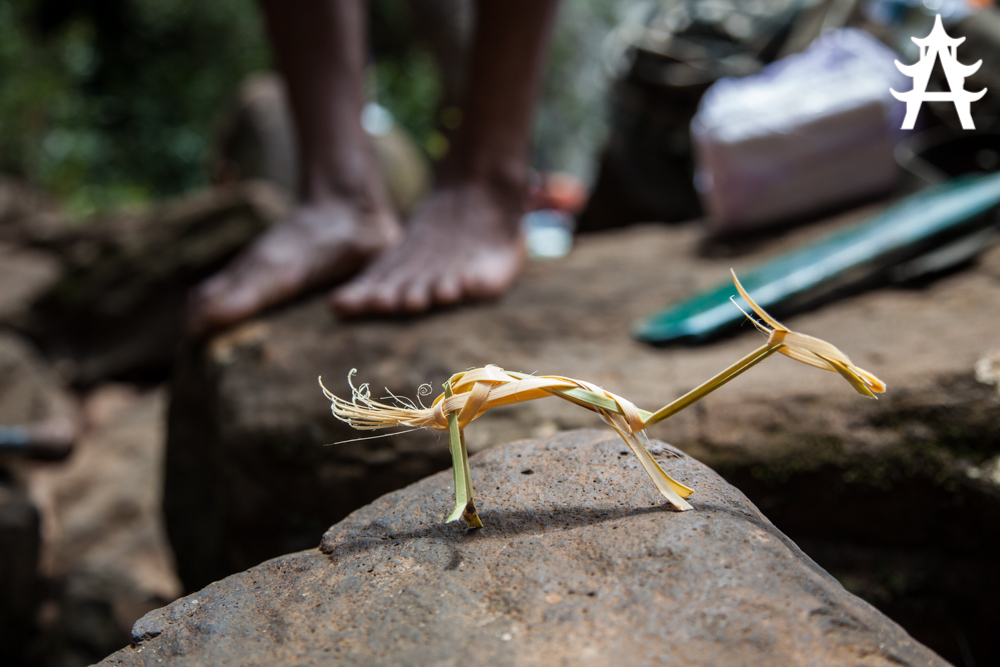 Elephant Harness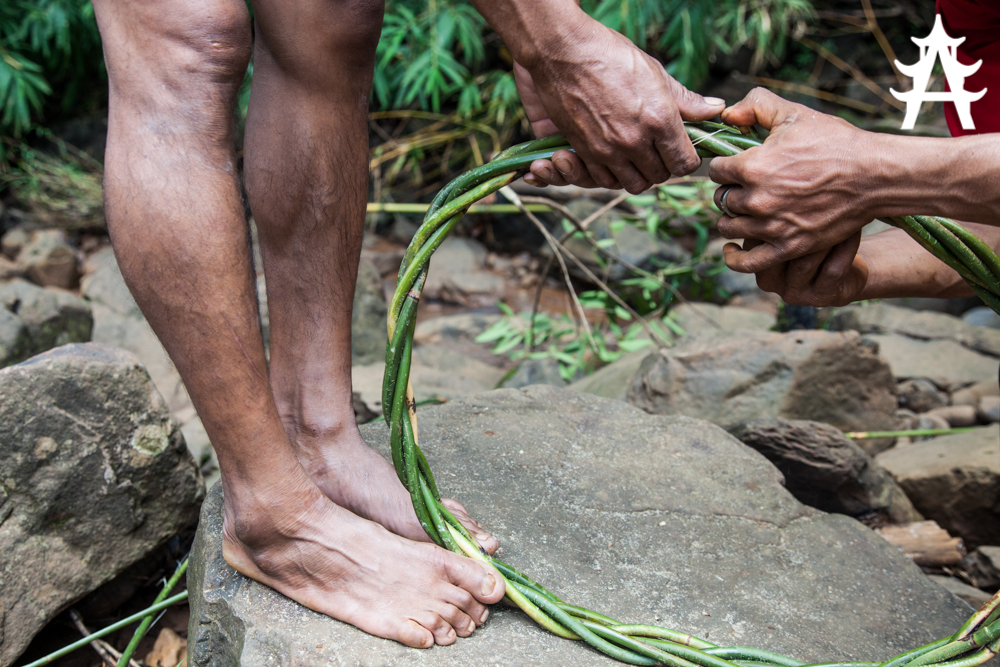 After having lunch, we continued and came upon the first big obstacle: The overflowing, wild river that we would have to cross in order to proceed. Ven went first in order to find a safe way for the both of us as I started to prepare myself for this wild ride. I stripped down to my underwear and socks and stored everything else in my backpack. I then took the bamboo stick that Ven had cut earlier and started making my way. The current was strong and I was lucky that the water "only" went as high as my hip. It was a crazy feeling, intimidating and powerful. It was fun at the same time and I realized that staring down while standing in the middle of a strong river can give you a sense of Vertigo, just as standing on a high building can. The phrase "don't look down" is just as true in this situation. Eventually we made and were able to continue.
Ven crossing the river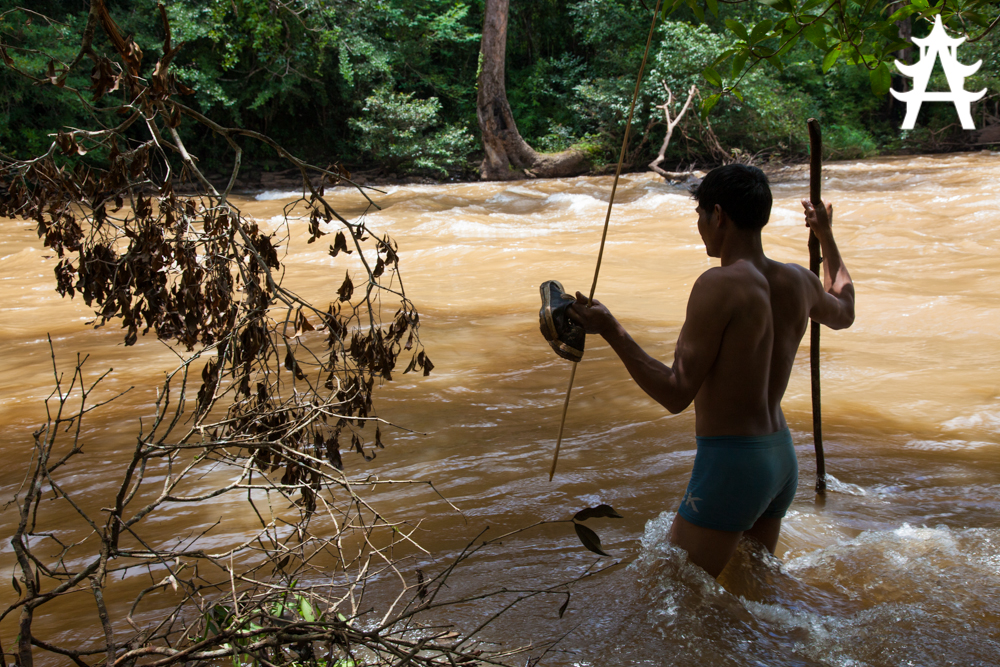 The way led us up and down the mountains, into forest that was too thick to pass through it without a machete. Luckily we had one. We than came across a smaller river, more like a stream, that Ven told me we had to walk upstream in. So, with long pants and shoes on I stepped into the water. A very unusual feeling, however, it was not the first time for me. I had the very same experience when doing a small trek in Pai, Thailand a couple weeks before.
Fishing in the jungle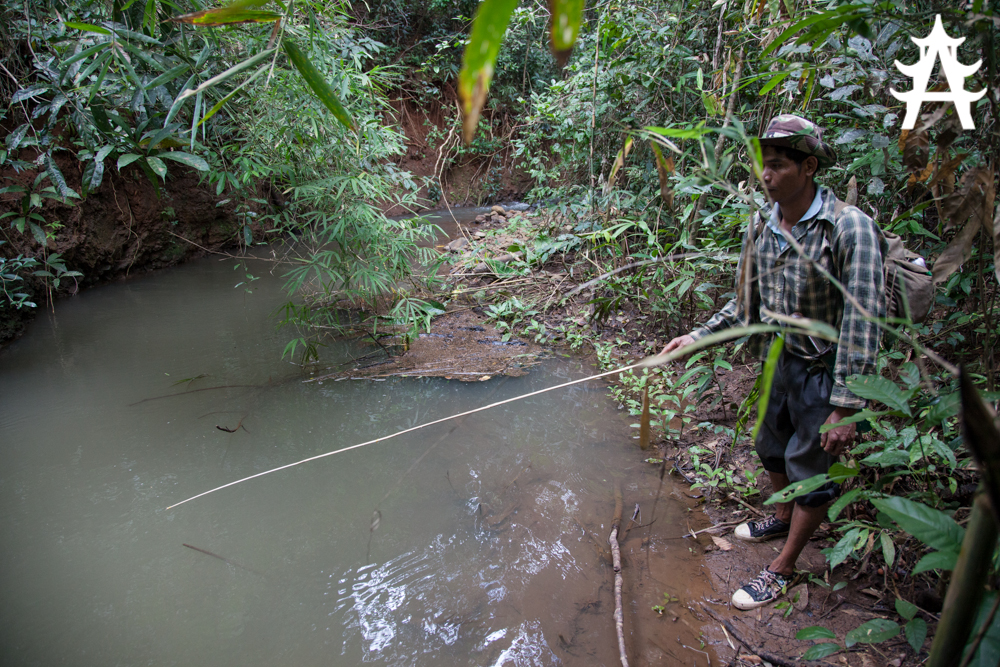 After hours of walking up the river, with occasional resting while Ven used his fishing pole to secure our dinner and after a medium rain shower during the last hour of that days trek, we finally arrived at our stop for the night. It was a beautiful house, filled with around 6 or 8 people (Vens family) that were very happy to see us. I was more than happy to get rid of the wet clothes and change to dry stuff before I finally got to enjoy the place. 
The kids were playing in the garden (the cambodian version of Beer Pong, without beer) while the elders prepared dinner in the house. The fish was grilled on the open fire and served in combination with rice and a mix of fried vegetables. It was delicious.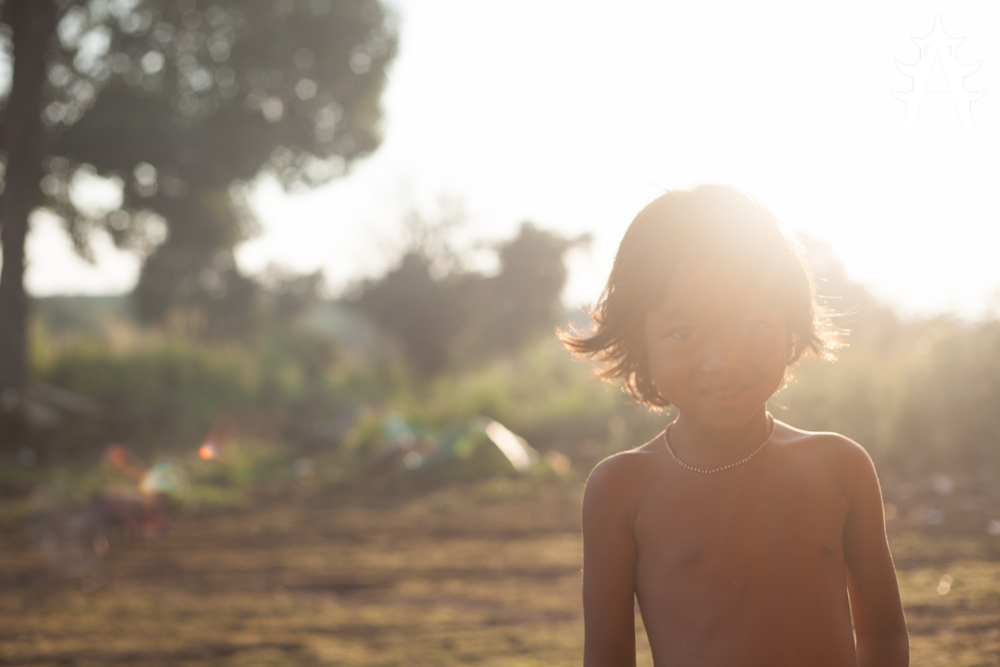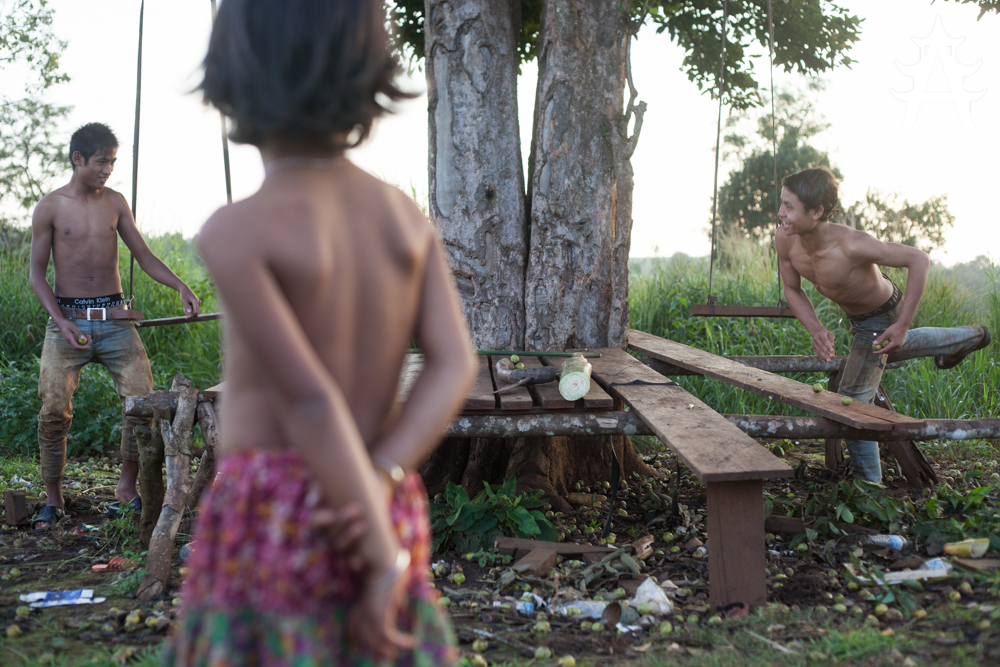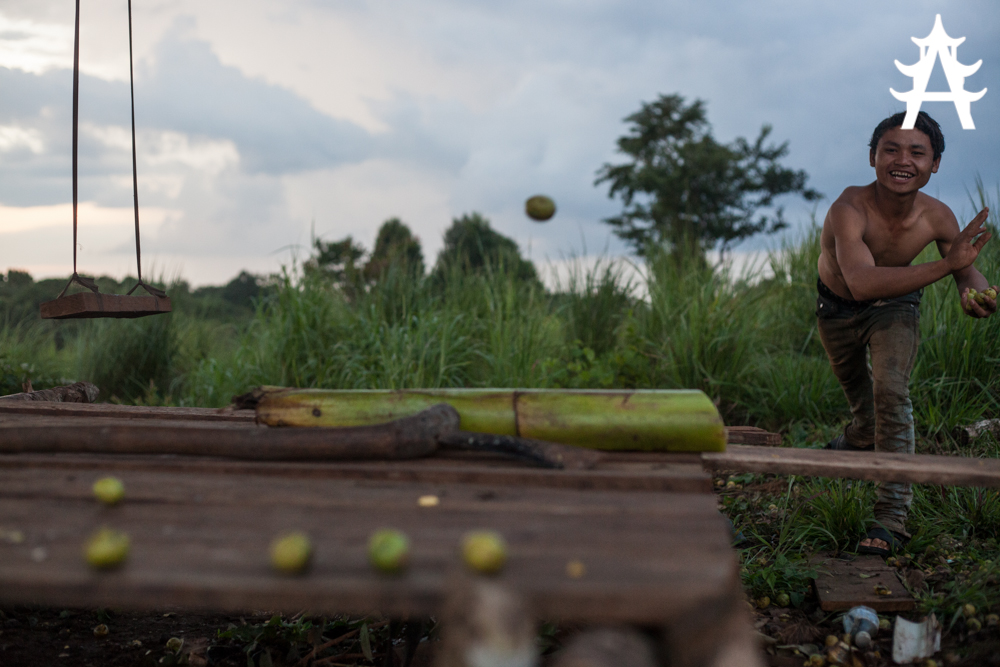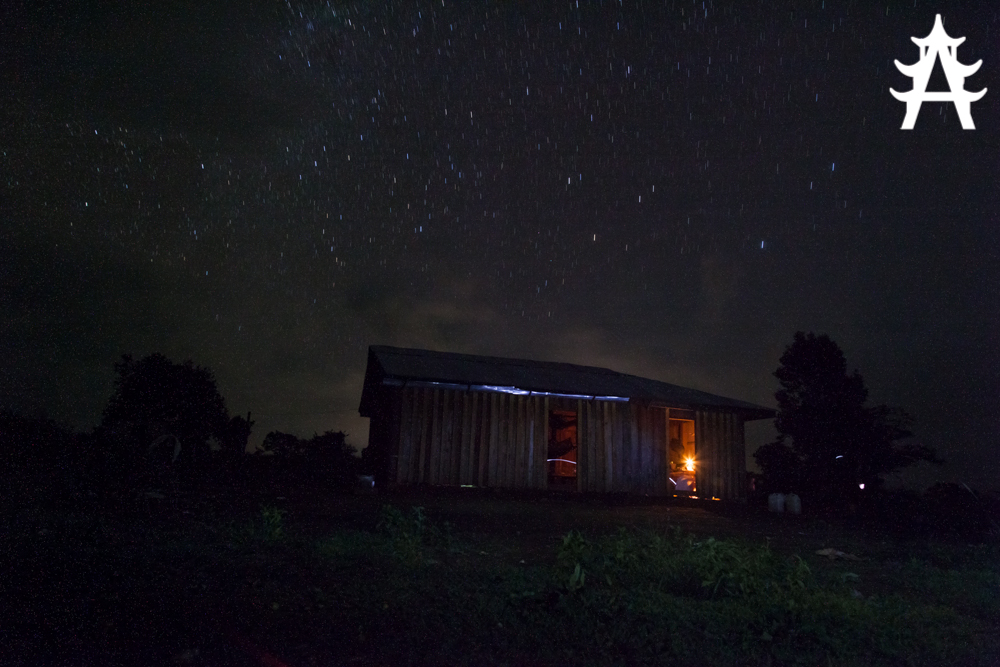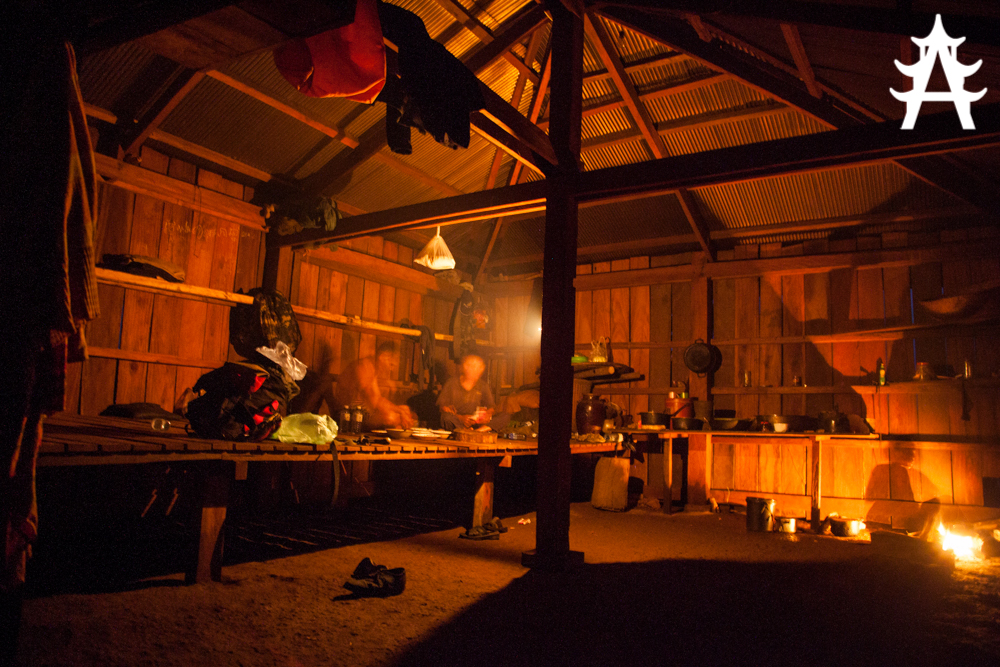 Later in the day, after the sun had disappeared already, it started getting hectic from one second to the next. Apparently a wild pig had attacked one of the dogs. Somehow the dead lizard that was lying on the floor now had to be connected with that story, but I failed to understand in what way. What I understood however, was that this lizard would serve as the feast for tonight. It was scraped off his danders and then put into the open fire. After a bit of turning and grilling it was taken out and chopped into pieces. The pluck was served freshly while the rest was put into bags for storage and then divided among the family members. While the pluck tasted very much like a chickens, the meat was strong and tough and its taste hardly comparable to anything I have eaten before. Everybody seemed to enjoy the unsual meal and it was certainly the perfect day for me to be there.
Dog wounded by wild pig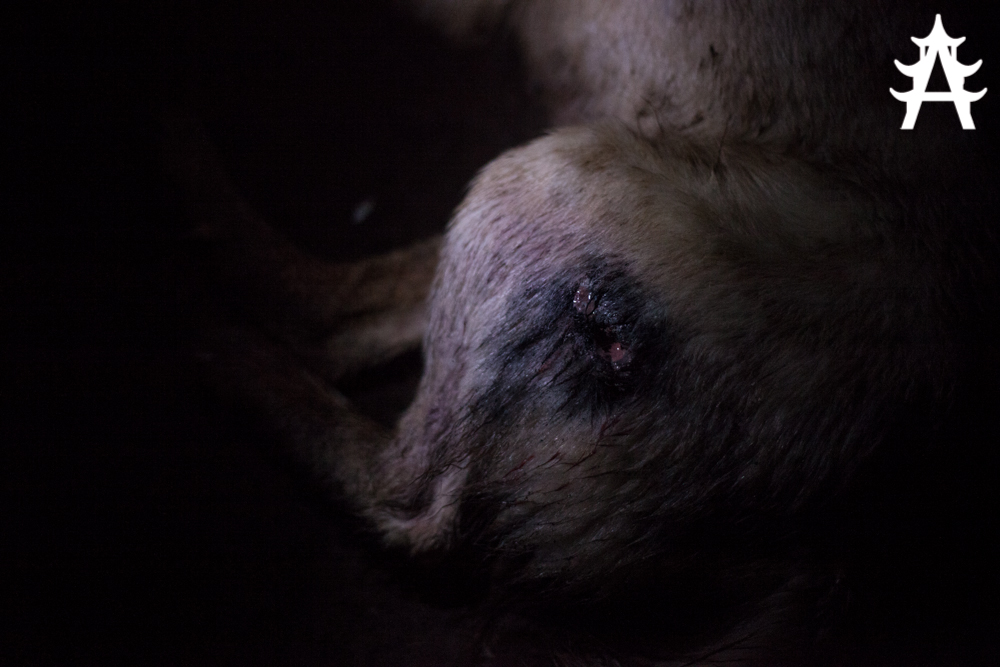 The lizard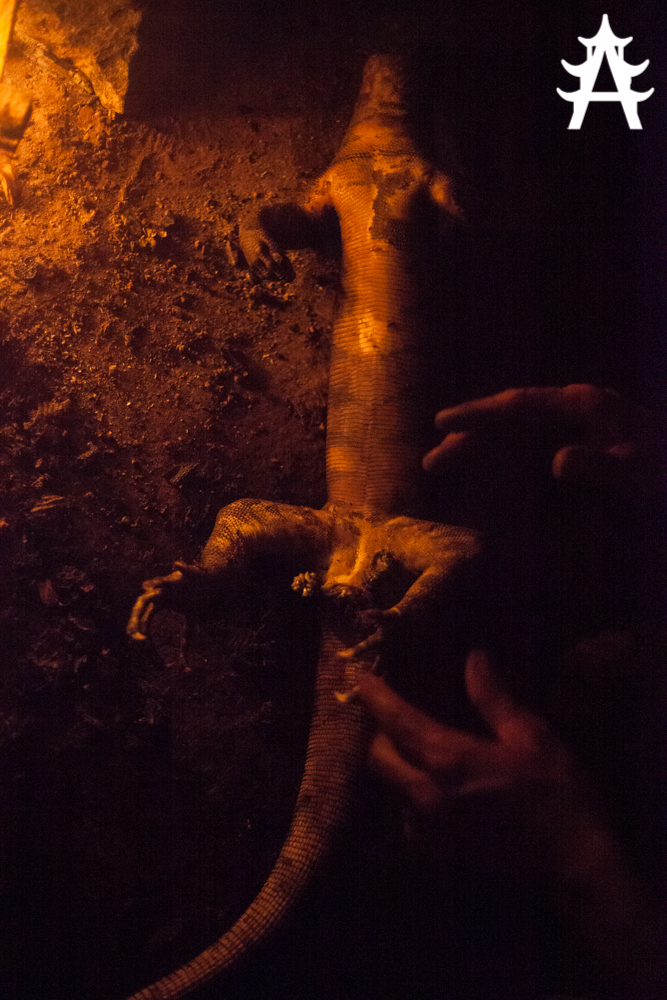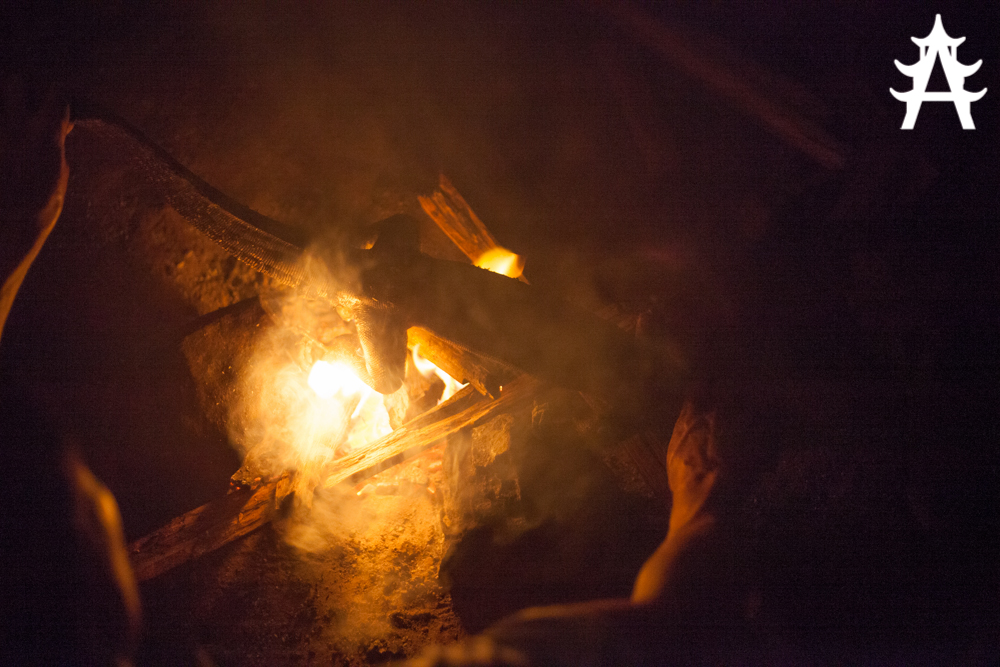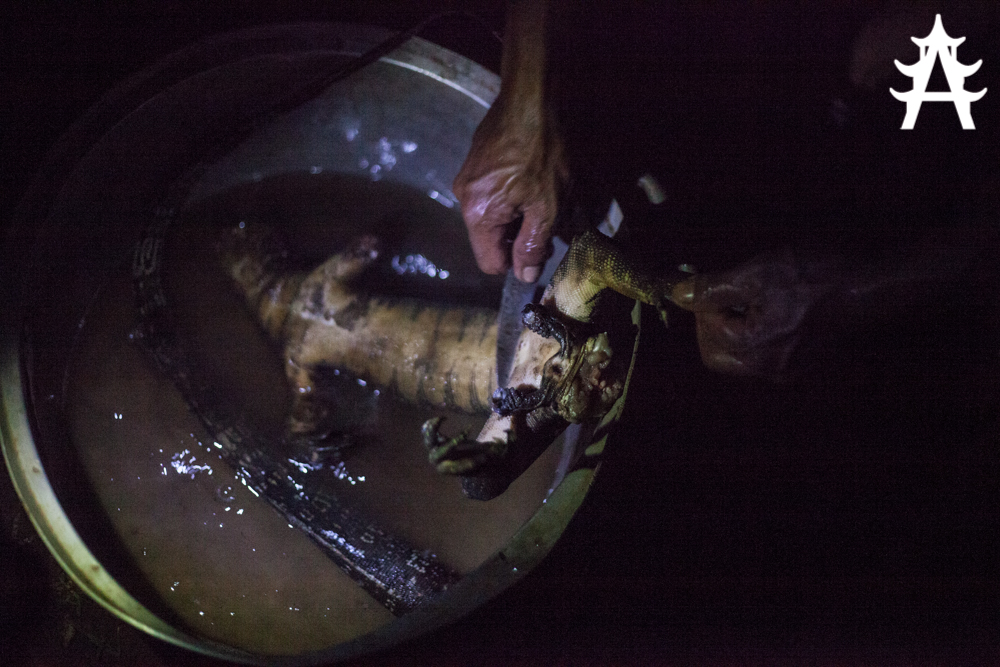 Packing for the second day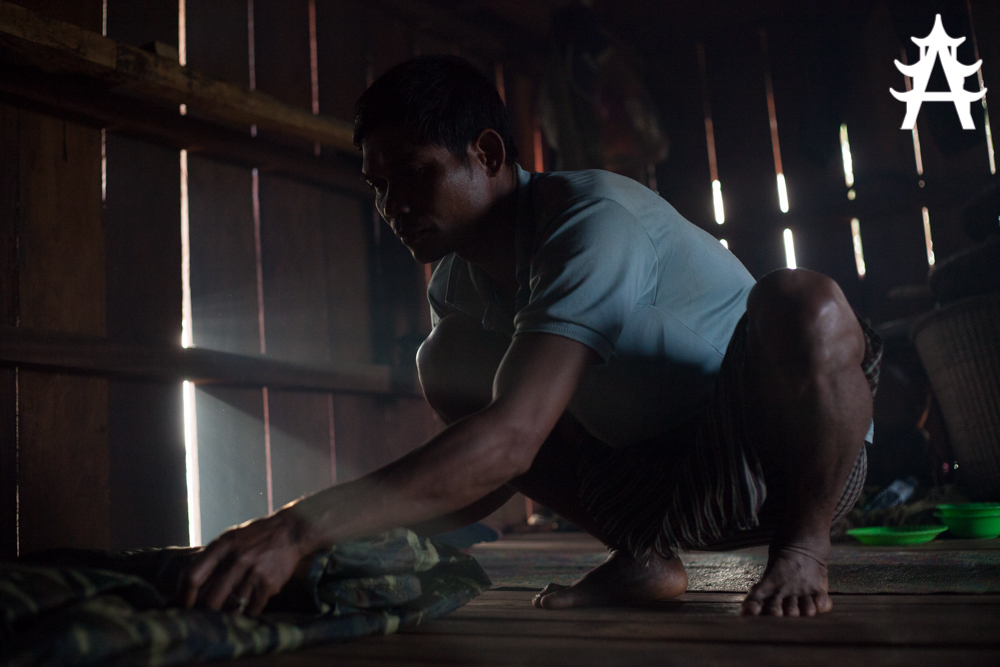 Vens father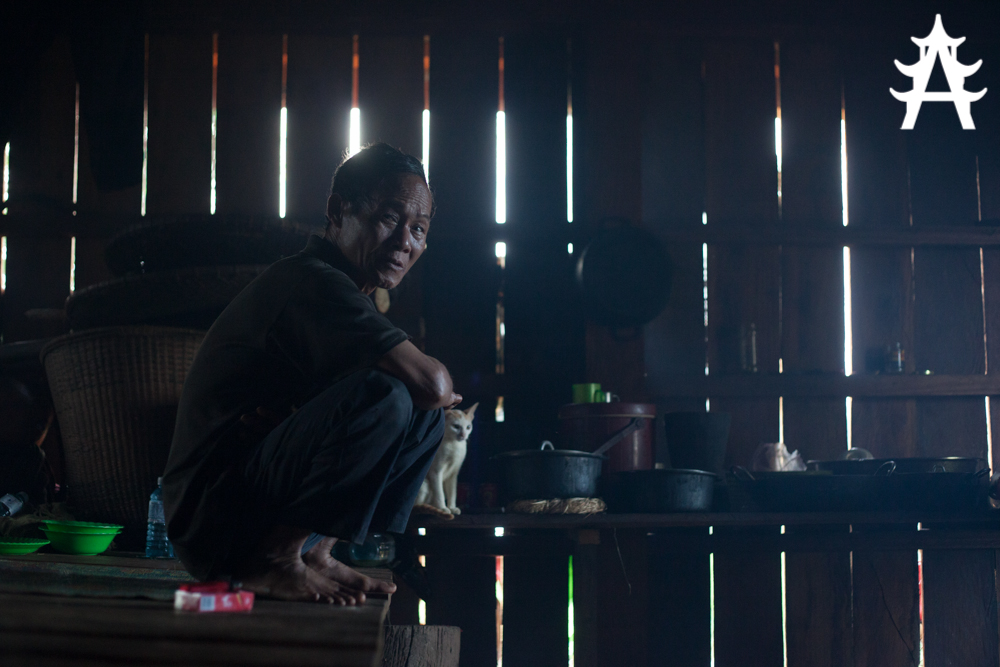 Eating the lizards foot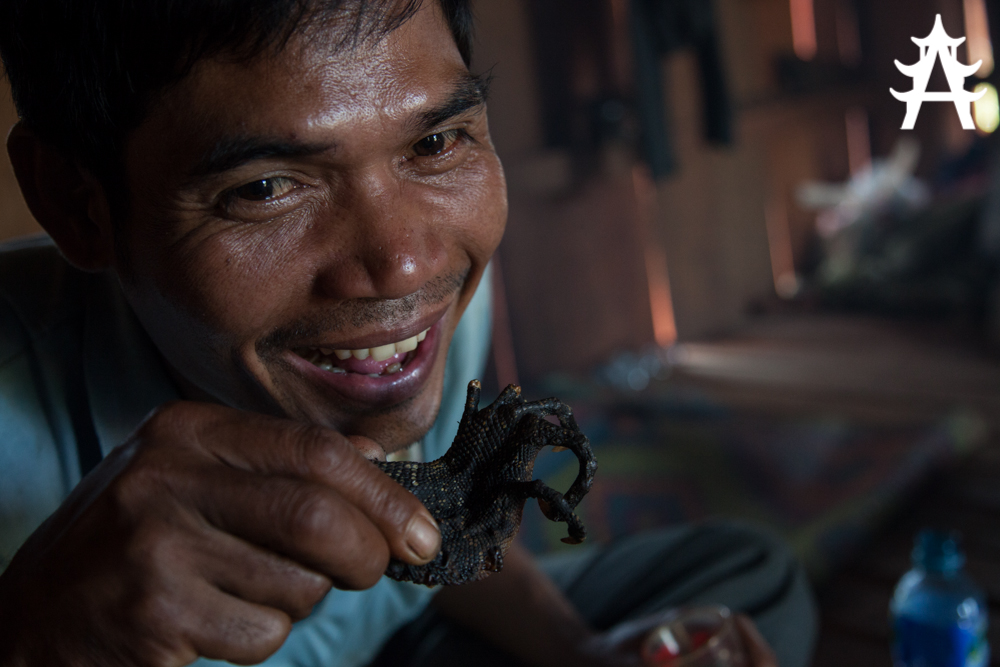 Extensive breakfast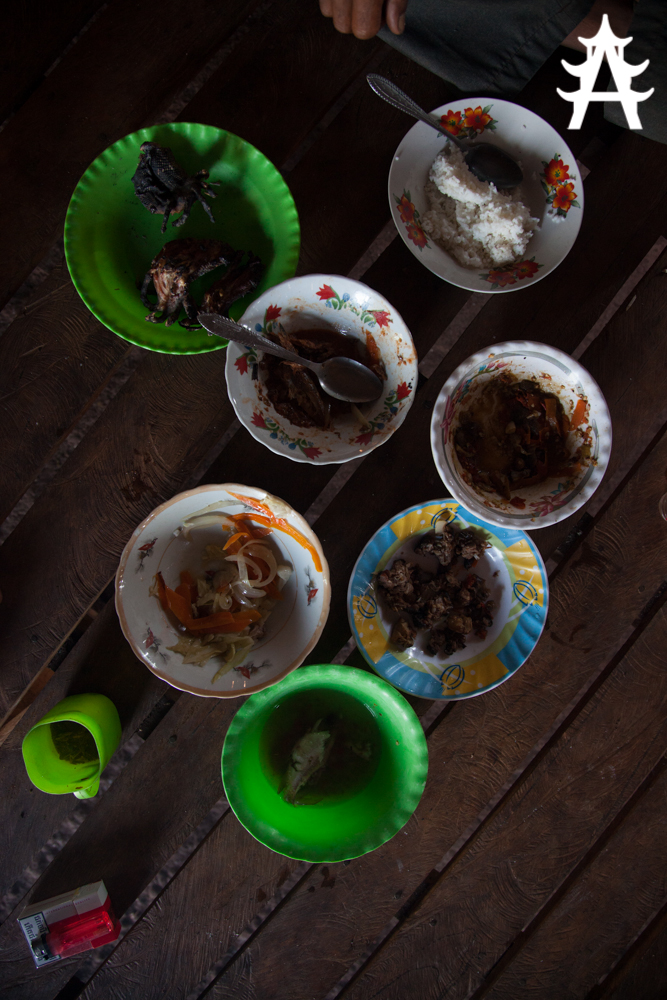 Kids preparing chillies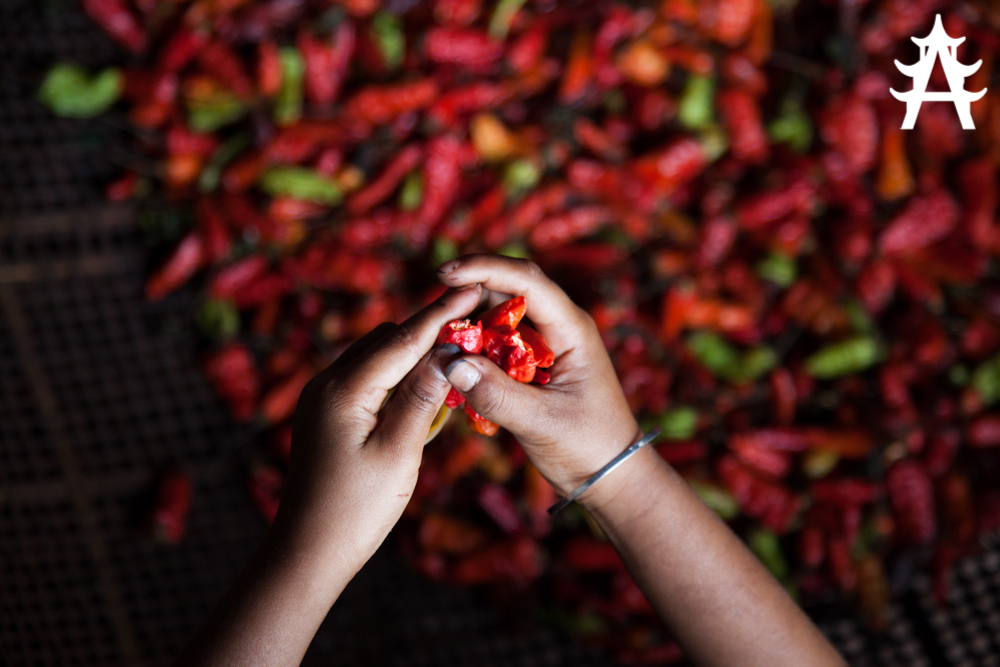 The second day went pretty much like the first one. We left early and walked up and down the mountains. However, while I did not have any contact with leeches on the first day, they started getting attracted to me on the second. I had pulled my socks over my jeans which stopped them from biting me, but they still were all over my shoes and pants. Not fun.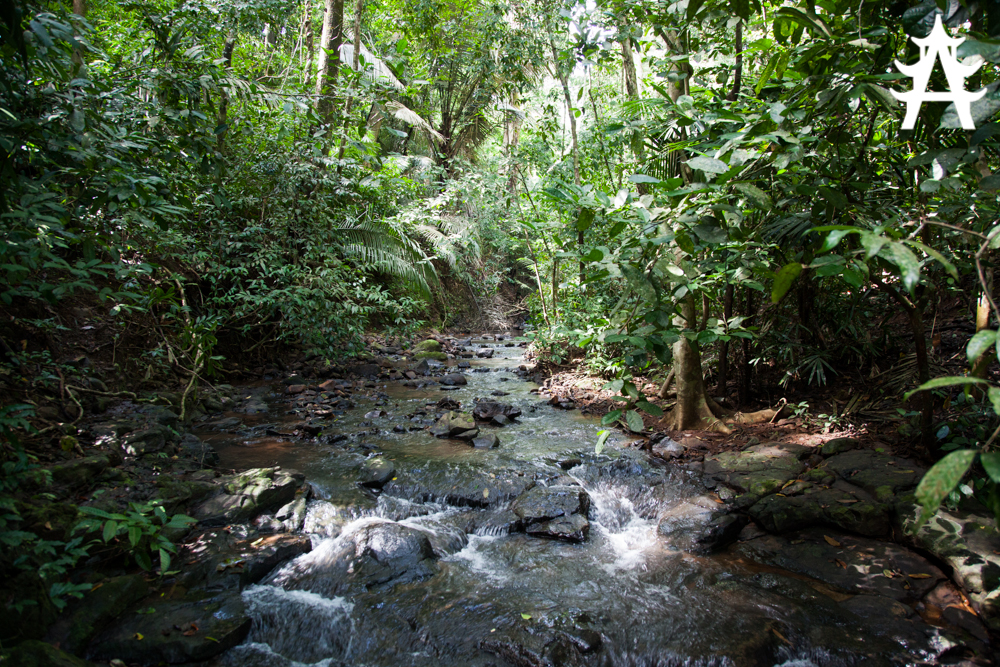 While in the jungle, Ven showed me some jungle survival tricks that I will hopefully keep in mind. He carved a bamboo fishing pole for me, so that I would have the chance to catch something as well, and I watched him closely.
He also showed me a jungle tree that stores water and that, if you cut it on two different spots, will release the water in a stream. I tried it and apart from it being very refreshing, it also tasted very well.
Drinking from the tree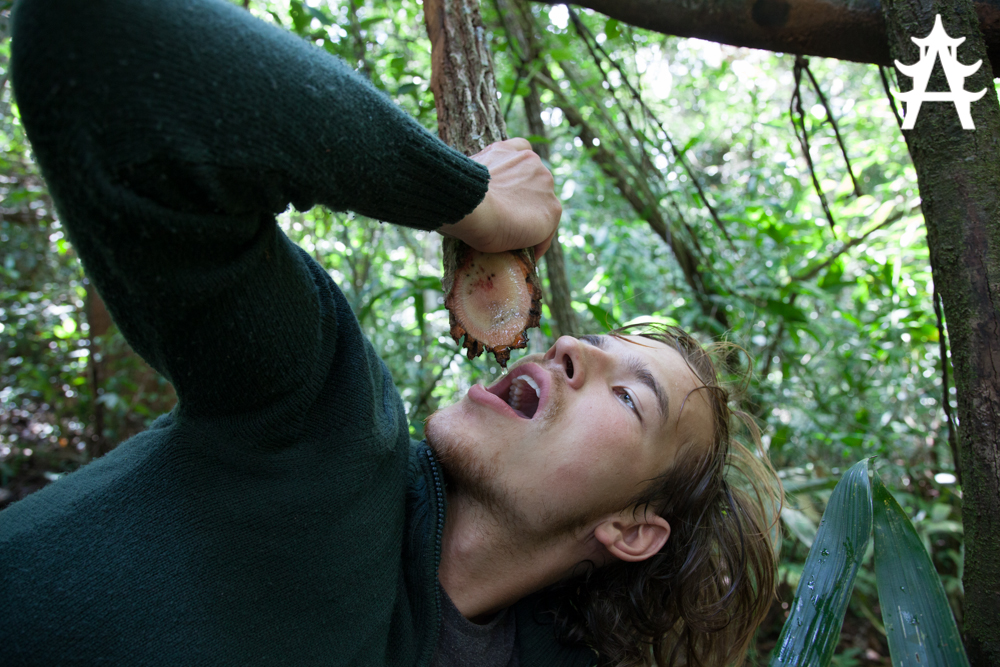 We spent the second night at the house of Vens uncle, who is living on a hill, with nothing else than palm trees and bananas around. Ven told me that everybody else had died and he was alone ever since. Communication was tough and so I don't know anymore about him than that, but the fact that he was living there alone gave this place a very distinct atmosphere.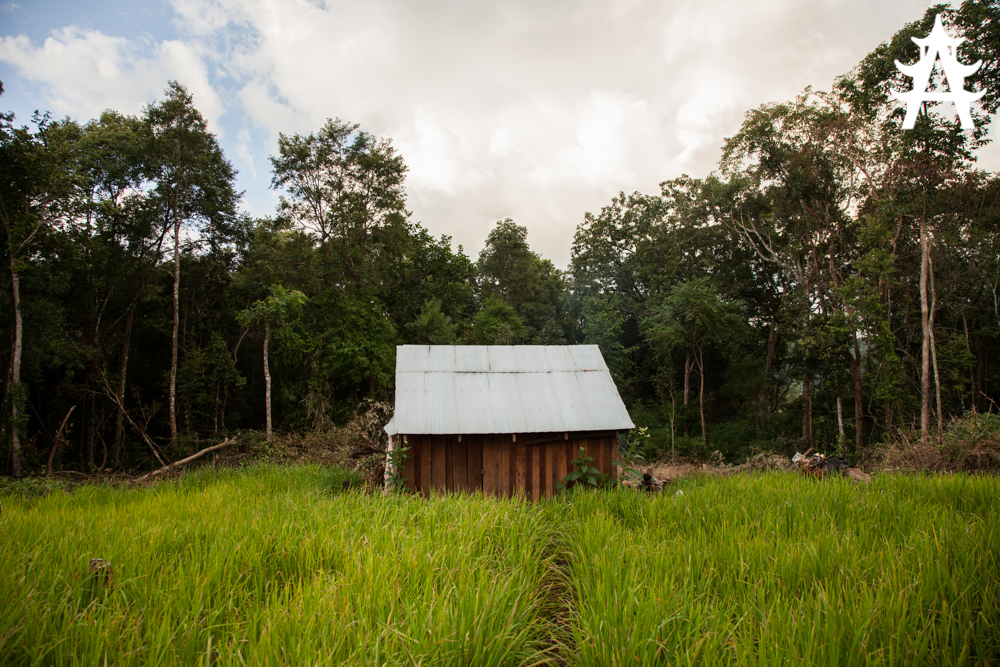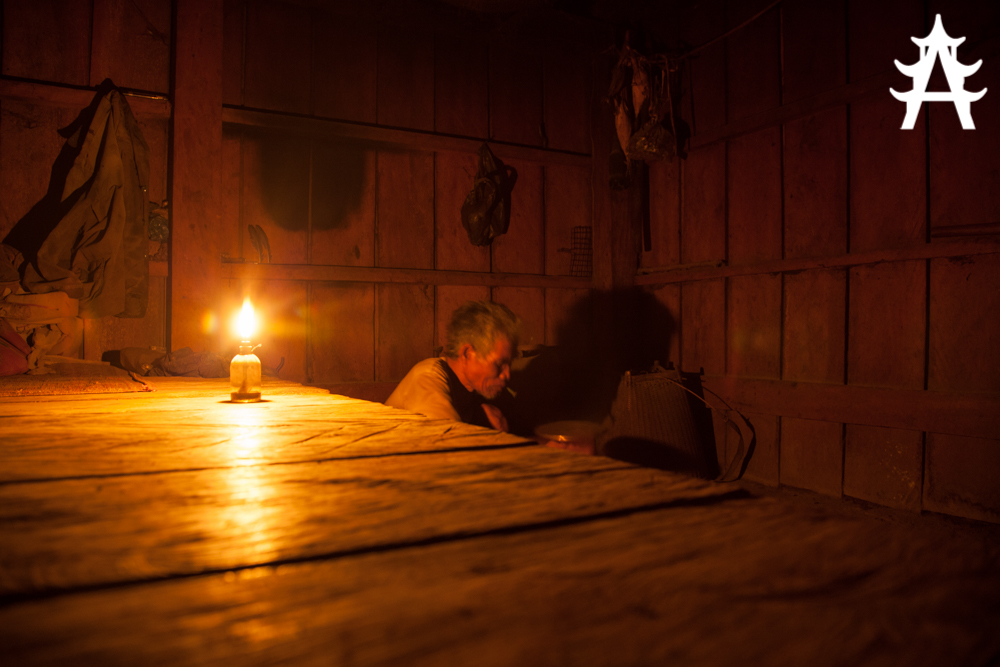 Our third day of trekking was a rather short one, which I appreciated. I was tired, dirty and not in the mood for more walking at all, so I asked Ven to choose the shortest way back to civilisation. The way led us through another river, this one looking more dangerous than the first while actually being easier to manage and through very muddy paths.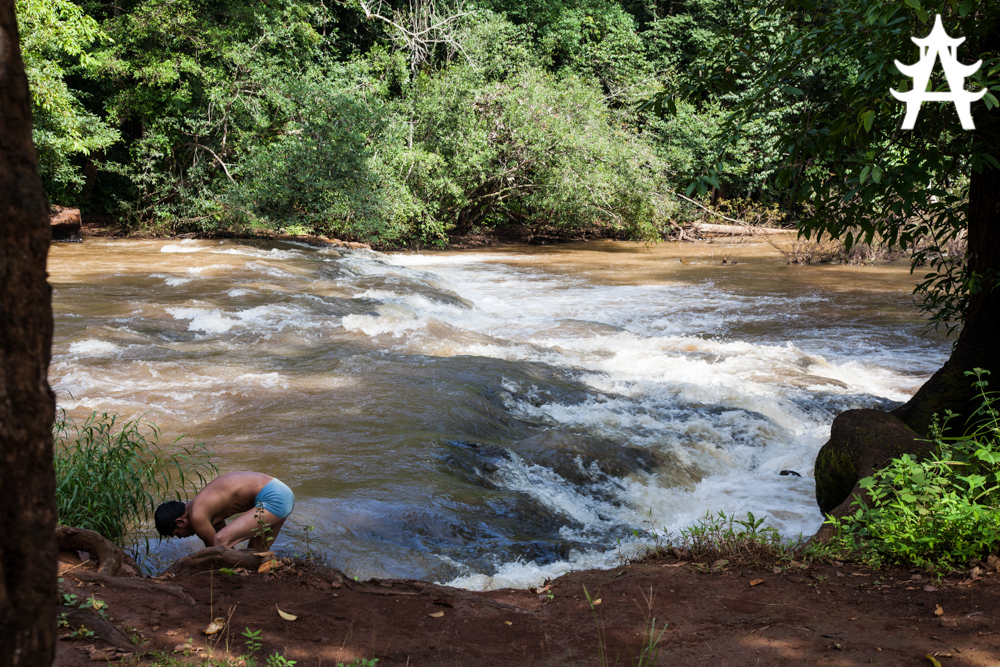 Also, the leeches started a full frontal attack on me, this time not even stopping at my socks. They were all over the place, in the shoes, in my socks, on my jeans and even on my hands. After a couple of hours of trekking and constantly snapping off the blood suckers, I still walked away with at least a handful of bites. Actually, I imagined this to be a lot worse. Leeches are quite easy to remove, the only really unnerving thing about them is that the bites won't heal. They keep bleeding occasionally which makes them very hard to deal with. I guess, after three days in the jungle my count is still pretty good.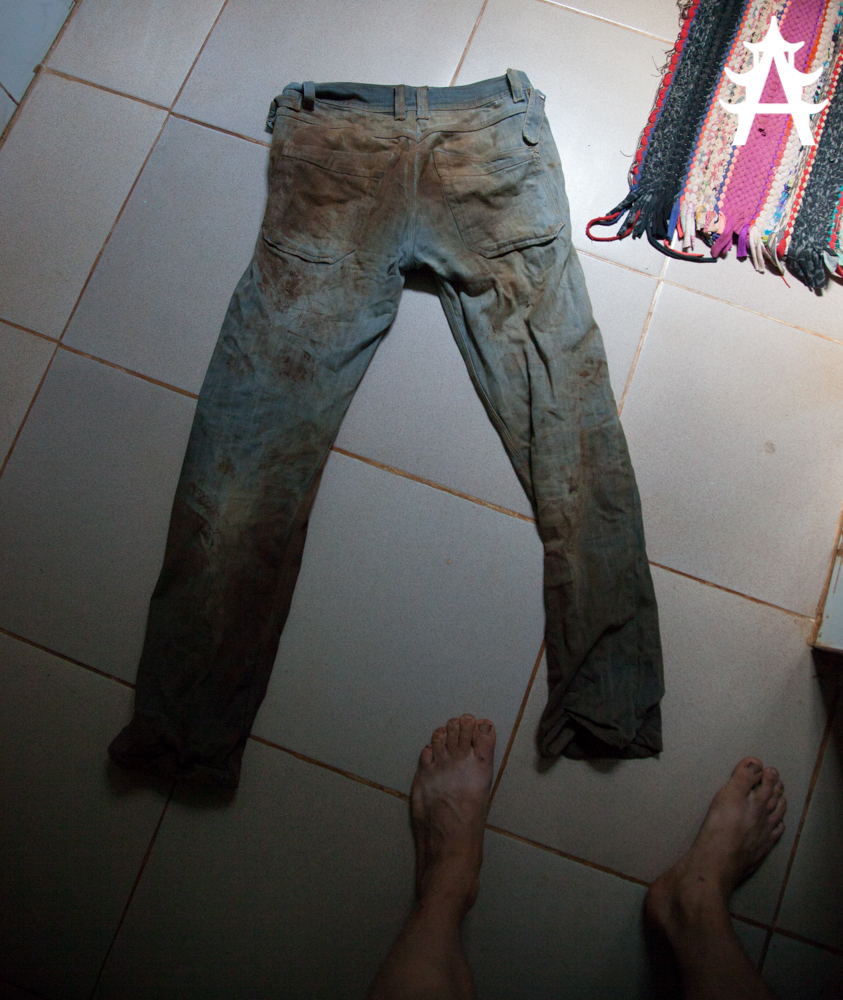 Now, after resting, eating, changing to clean clothes and taking a long (cold) shower I can say that I really enjoyed the time, but that I am also very glad its over. Is that a paradox? Possibly, but still its the best way to describe it.
If you happen to be in Cambodias eastern part, go for such an experience. You will not regret it (possibly you will while you are doing it, but definitely not after).
Yours
Crazy Ivory
Follow my photos, travel route and stories on the Asia Adventure Page.