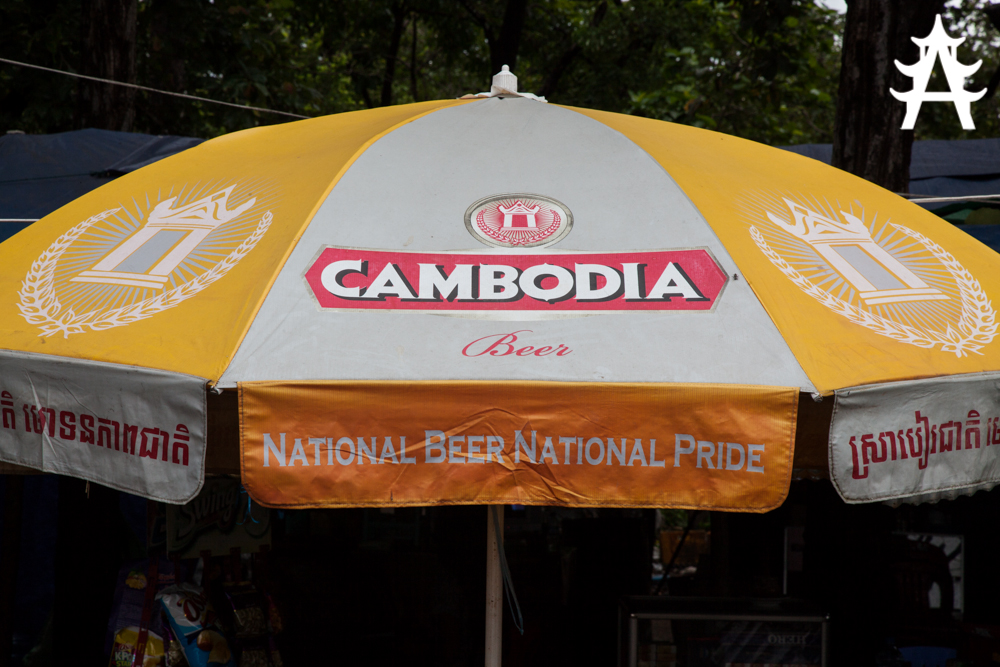 8:00 AM, Don Det, Laos.
The only boat that gets you off the 4000 Islands is leaving at 8 AM every day, so getting up early is a must. This boat then takes you to the other shore, where the bus station is situated. I had expected that a bus would wait for us there, but instead we needed to wait for more than an hour before the bus finally arrived. However, this was OK as I needed to change my last Kips to Dollar (as this is the best currency when it comes to border crossings) and because there was a bit of paperwork that we all needed to fill out: Laos Departure Card, Cambodia Arrival Card, VISA form etc.
I was one of the only people that had only booked a ticket to the border. Most of the other travellers had tickets to Kratie, Pnomh Penh or Siam Reap but I had made the decision to go the border first and then decide how to continue, as the bus ticket prices at 4000 Islands seemed ridicolous.
It was a quick ride to the border and getting the VISA was as easy as it could be. This was mainly because the bus staff had collected all our Passports, VISA fees and paperwork and they did all the work. I was happy about that, as the cambodian border staff is infamous for charging extra dollars for certain stamps and making the whole process more complicated.
Every person had his temperature checked (because of Malaria)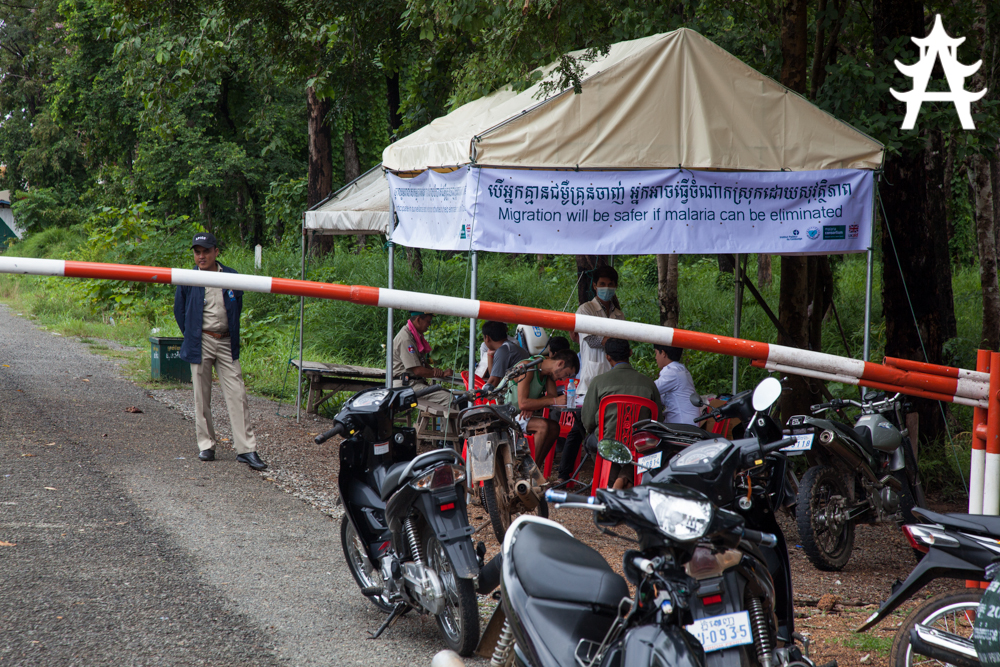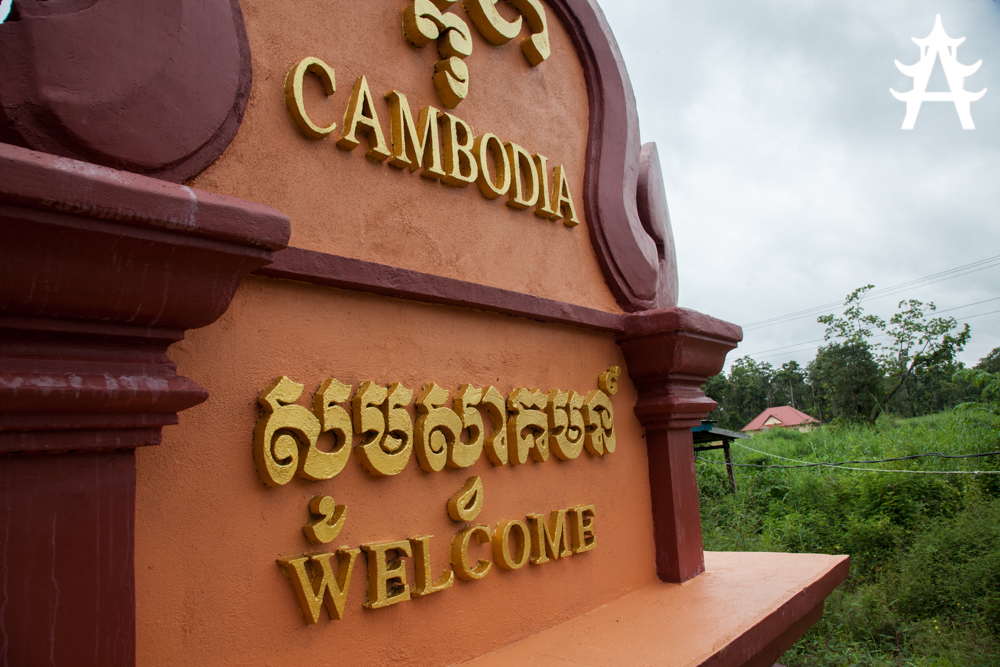 So we had to wait at the cambodian side of the border. An hour passed before we had our passports back, with the coveted cambodian VISA stamp in it. Then another 2 or 3 hours of waiting began. We were told that the bus would be waiting for a couple of other passengers from Pakse.
I was unsure whether this bus would even take me any further as I had only booked a ticket to the border, but decided to wait with the other passengers.
When the bus was finally ready to leave, the scammy part of the trip began. I had decided to head to Ban Lung first. Rating from online reviews, it seemed to be a cute little town, close to the Laos border and it featured a lot of interesting nature including a vulcano crater that you can swim in.
The bus staff told me that it would be 19(!) Dollars to Ban Lung, which, even though I did not know much about cambodian ticket prices, seeemed like a complete rip off. Instead I decided to only book a ticket to Stung Treng, which is the first city after the border. I was hoping to be able to get a connection bus to Ban Lung from there.
The ticket guy in the bus then continued to offer tickets to Ban Lung, giving me cheaper and cheaper quotes and telling me not to stay in Stung Treng. He did not seem honest and I did not have a good feeling. I did not know whether he was to be trusted until he made one certain offer:
"OK, you only pay 5 Dollar to Ban Lung and I call a Tuk Tuk for you that picks you up because we can't drive into the city."
This was the exact same scam that I had read about in the lonely planet a day before. You basically pay for a ticket, then you get dropped off in the middle of nowhere and no Tuk Tuk will ever show. Of course, you will have to get yourself some kind of transportation and most likely you will have to pay a lot more in the end.
This was the point where I decided that I want to be dropped off in Stung Treng. I knew that I would be able to arrange a connection to Ban Lung from there. So I got off at the side of the highway, without further information. Asking around led me first to the tourist office of Stung Treng and then to the taxi station. 6 Dollar and a Tuk Tuk ride later I was sitting in a small stree café waiting for the bus to Ban Lung. Success. The Tuk Tuk driver was a fun and really nice guy. Not only did he wait with us until the bus arrived (took more than an hour) but he even got me waffles. I was impressed and really happy with my driver choice.
The bus ride took around 2 1/2 hours and arrived in Ban Lung around 6PM. I was not able to see the bus station as there were too many touts blocking my view. They offered restaurants, guesthouses and tuk tuks and I felt more than stressed out by this. Of course I can understand that they are depending on this business but I am not sure whether this is the best way to find customers. Its distressing, its agressive and a huge turn off. However, since Ban Lungs bus station is situated in the middle of nowhere (as in so many other asian cities) I had to pick one of the nicer Tuk Tuk drivers to get me into the city. When I told him that I would be going with him he was happy. No, happy is not enough said. He was freaking out. He jumped around and screamed because he got the job. It was hilarious. I felt very good spending my money with him.
After checking into the guesthouse and eating out (I tried snake on a stick for the first time) I must say, I like the place.
Yeak Lom Lake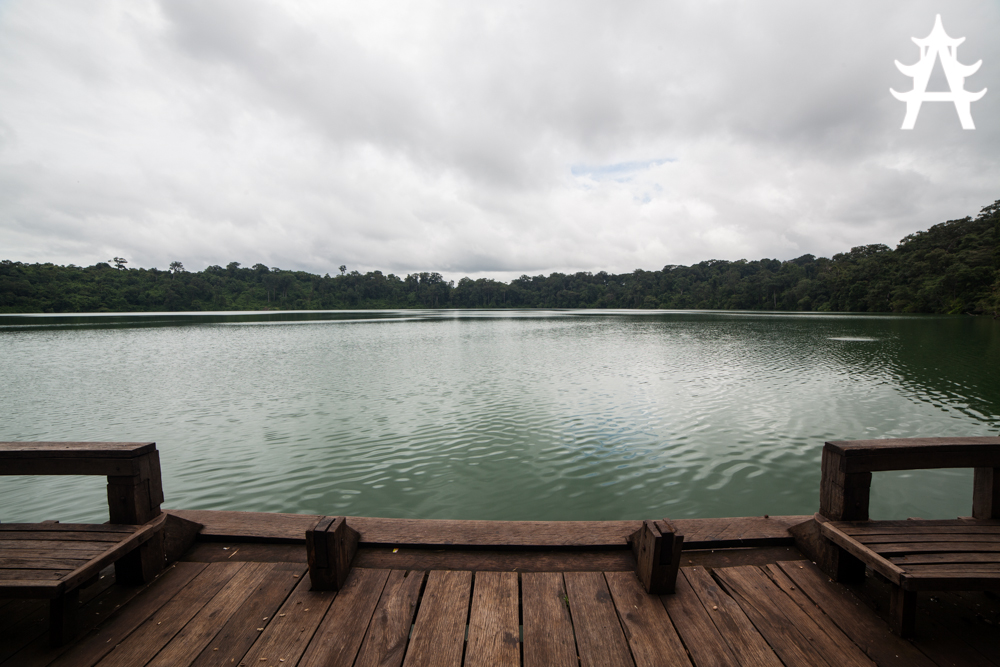 Today I explored some of the surrounding areas including Yeak Lom, a lake inside a natural volcanic crater. Even though its "only" a lake it was impressive, especially because its the first lake I have ever seen that forms a perfect circle.
I also went to Cha Ong Waterfall. I have seen many many waterfalls and this definitely was not the nicest of all these, but it was still interesting as it was the first I have seen where you were able to climb behind the fall.
Cha Ong Waterfall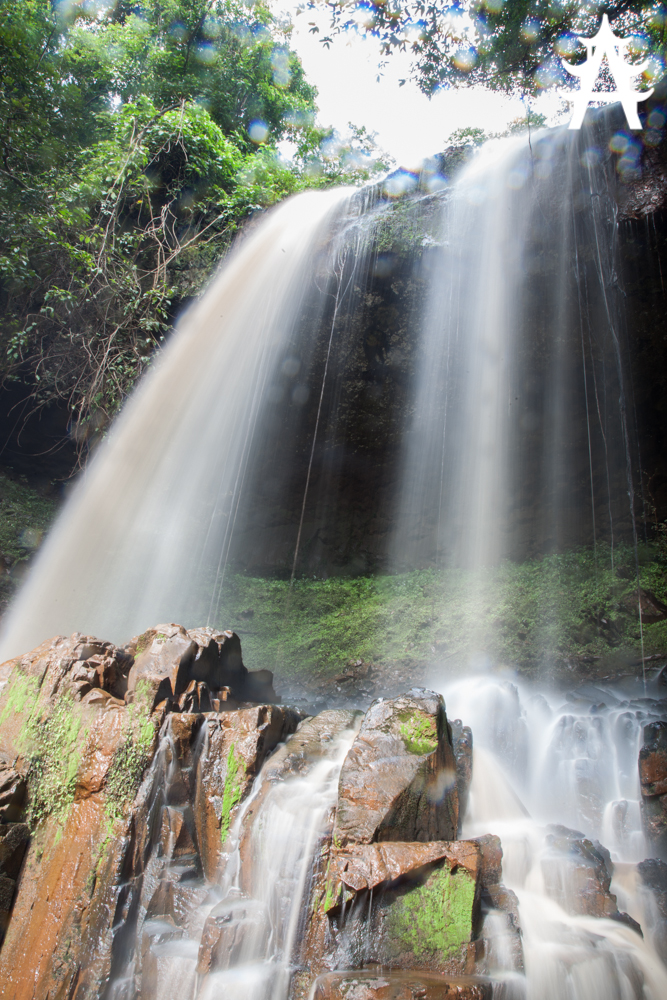 I am not sure whether I will stay here for one more day or whether I move on tomorrow. I think, as always, I will make my decision spontaneously.
All the best
Yours
Crazy Ivory
Follow my photos, travel route and stories on the Asia Adventure Page.