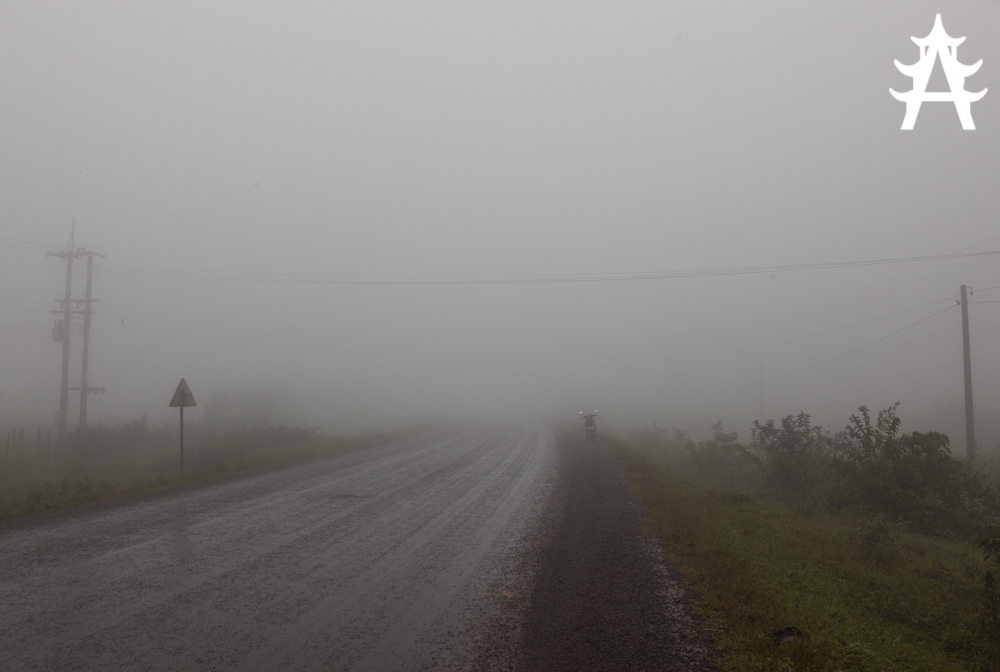 This is not a good place to start reading. Better start with Day 1 and continue with Day 2. Oh, you did?! Sorry for the inconvenience then.
It was raining…again. However, I decided not to stay in Tad Lo another day as I wanted to see the next part of the Bolaven Plateau Loop. After having had a huge chocolate pancake and a fruit shake for breakfast, I took my bike and left Tad Lo.
For the first 30 minutes of the ride, the rain remained constant but rather light. Then however, it started to gain strength and I quickly had to get into my rain jacket in order to avoid getting even more soaked. The rain would not stop, which prevented me from seeing anything of the Loop's eastern half. I was too busy with focussing on the streets, avoiding potholes and mainly: not dying. I told myself to remain strong and not to stop before arriving in Paksong, which is situated almost halfway between Tad Lo and Pakse.
When I finally arrived I was freezing. I was completely soaked, cold, wet and stressed out by this weather. I stopped at a small restaurant to treat myself to a hot tea that would warm me up. The tea did wonders and when I was ready to continue my way I was surprised when the restaurant owner told me that the tea is free. There were no customers, he was sitting there alone in the boring little town of Paksong and would not even want money from his only customer. Can you believe it? I still gave him some of course.
The next part of the trip had some surprises in store for me as well. Within a few minutes the whole street fogged up, and I could barely see anything further away than 20 meters. I have never driven any vehicle through fog, and riding a motorcycle through an extremely foggy, pothole-ridden street in Laos did not seem like the best place to start with it. Since I did not have any alternatives I simply continued on my way. However, I stopped from time to time to shoot some frames as fog is still my absolute favourite weather condition, at least as long as I don't have to drive.
The fog started clearing up after 30 minutes, and Pakse was close. When I finally arrived in the city I was more than happy to change into some dry clothes and start writing this last part of the "Logbook".
My plan for the next days is to pray for good (sunny) weather and then head back to some waterfalls on the Bolaven Loop that I missed today due to the rain. Another place I really want to visit is Champasak, a historical town not far from Pakse which inhabits a temple in the same style as Angkhor Wat in Siam Reap, just smaller. If I get to do that, I will keep you posted =)
Worst thing of the day: Riding the bike through rain, fog and freezing wind while not feeling prepared for this at all.
Best thing of the day: The hot shower after arriving in Pakse. Definitely the best incentive there is!!
Thank you for reading this. If you liked it (or if you did not), let me know in the comments section.
Too bad, that was the third of three parts already. But you can still head to Day 1 and Day 2 if you missed something.
Yours
Crazy Ivory
Follow my photos, travel route and stories on the Asia Adventure Page.