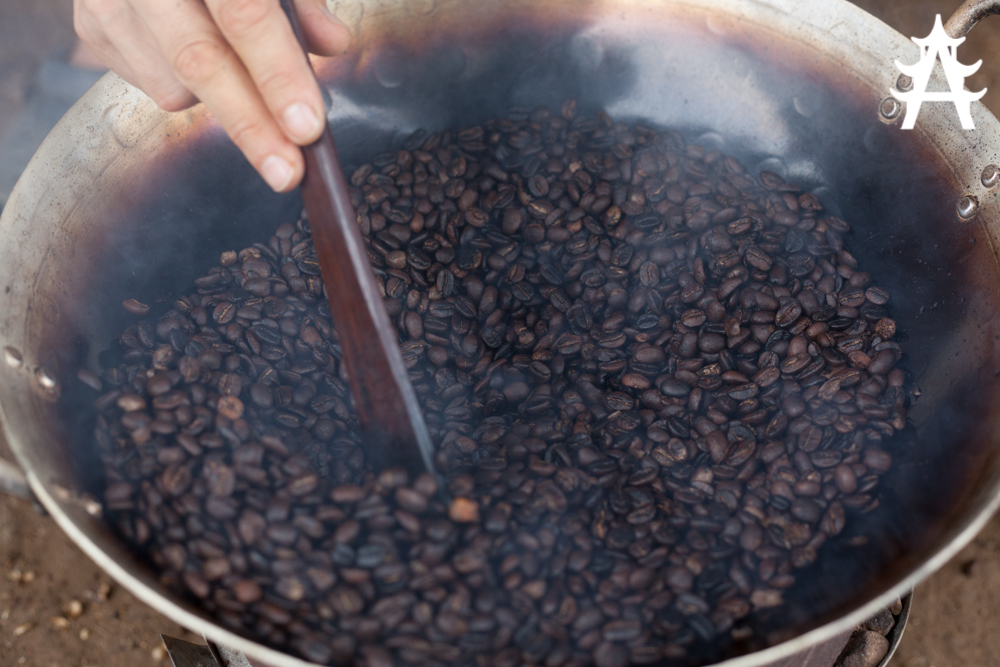 Wait a second! Did you already read about Day 1? You did? OK, read on then.
Since the first thing I realized after waking up was, that it was raining quite heavily, the decision to stay one day in Tad Lo was quickly made. Also, the first impression of the town was a pretty good one, so I enjoyed the thought of spending a bit more time here.
After breakfast, my first "appointment"of the day was at 8AM with Em, a really nice austrian guy that I met last night and who runs a coffee shop in Tad Lo. He had offered to give me an introduction into the secrets of coffee roasting and I was more than eager to learn about it.
The process started by "crushing" the washed beans with a huge wooden stick, in order to separate the bean from its shell. After most of the beans are shell-less, they are transferred to a big, circular bamboo plate, where they are thrown in the air to have the light shells fly away- Its quite an effective process that gets the job done.
Crushing the beans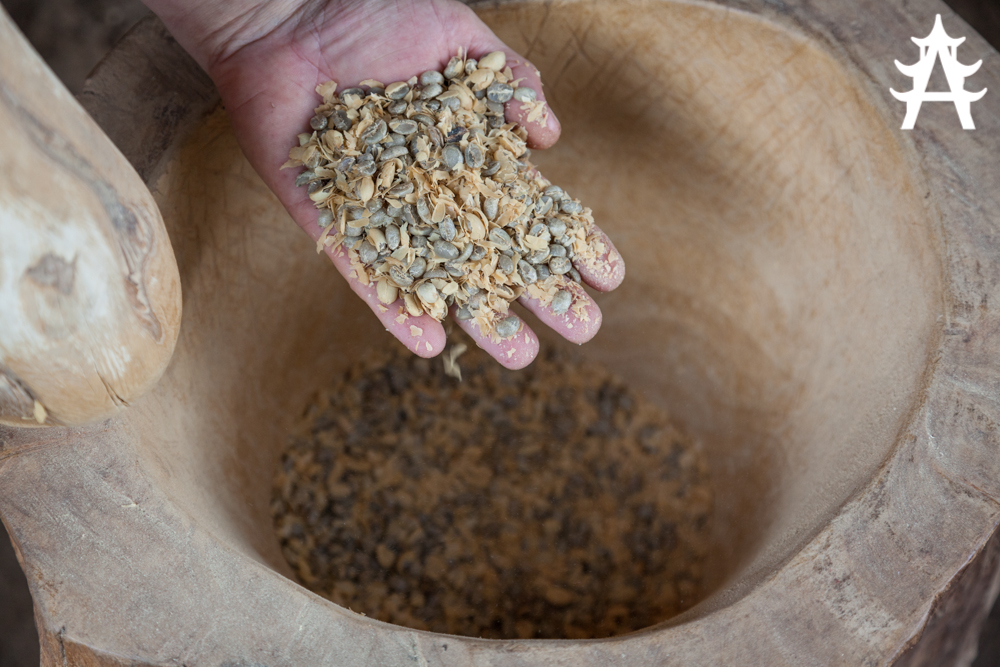 Getting rid of the shells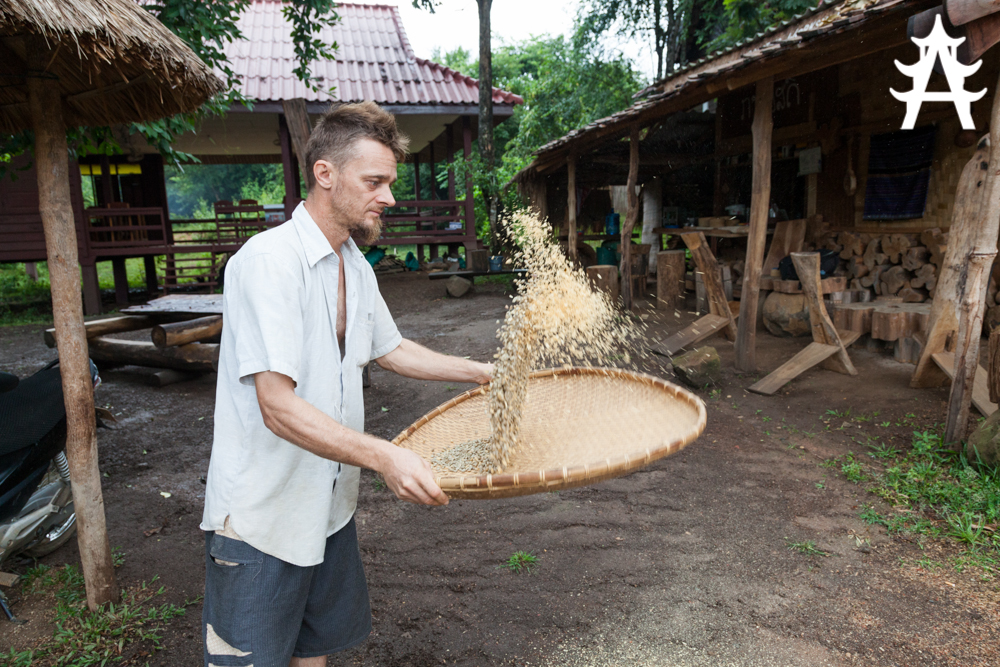 After that, the more time consuming part of the work begins. The beans have to be checked for any leftover shells, for crumbled and bad beans that would leave a negative taste and for the Peaberries. These are the male coffee beans and they are rather rare and therefore coveted. The Peaberries get sorted out and will be sold separately, as some asian customers seem to prefer this special, rare and unique coffee experience (even though its a lot more expensive of course).
The rare Peaberries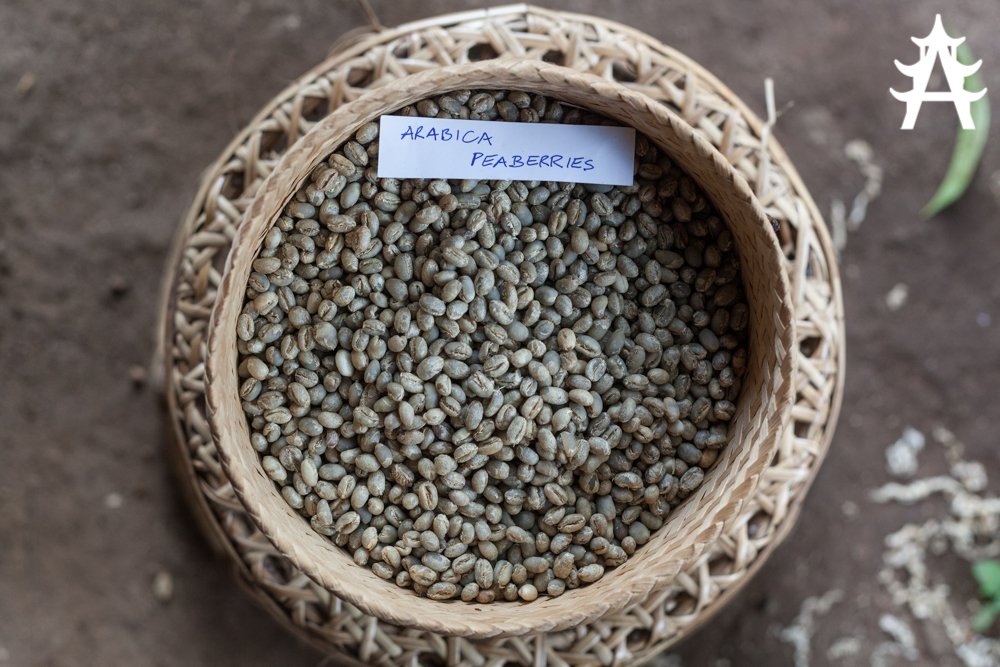 When the beans are checked and shell-free, the roasting can begin. Coals are lit, and when they have a good temperature, the beans are added into the wok and are roasted while continuously stirring well. This is important to prevent the beans from roasting very dark on one side while staying green on the other. After 15-20 minutes, the beans take on a nice brown or even black color and the wok is taken off the fire.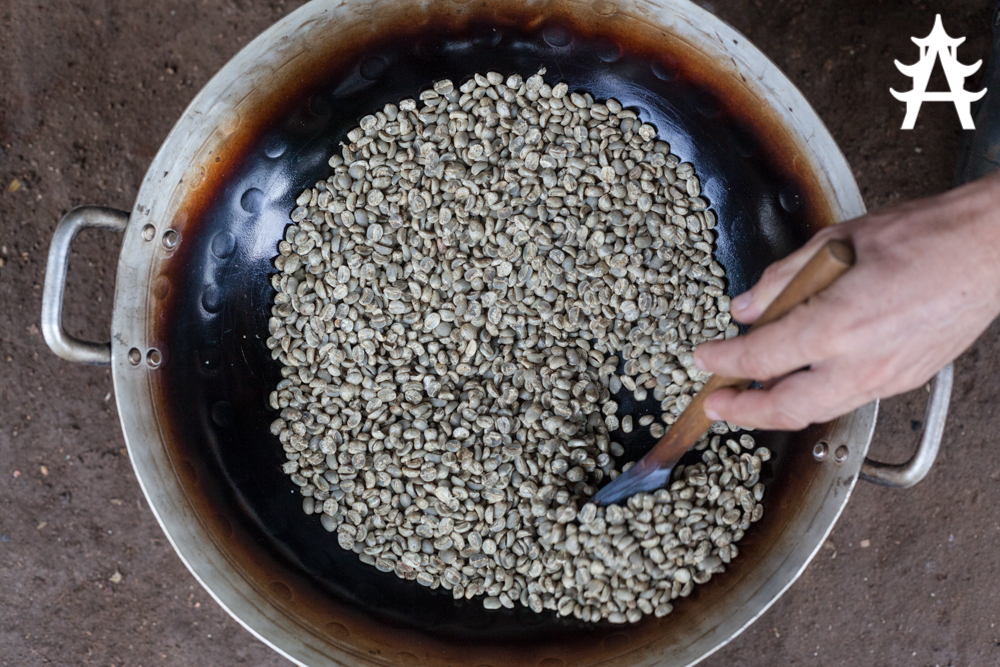 The beans get cooled down by throwing them into the air. After that, they are packaged in portions of either 300g or 500g and go into their bag  ungrinded. This is especially important as they would lose a big part of their aroma if grinded before packaging. It was a very interesting experience and Em definitely is a very cool and interesting guy.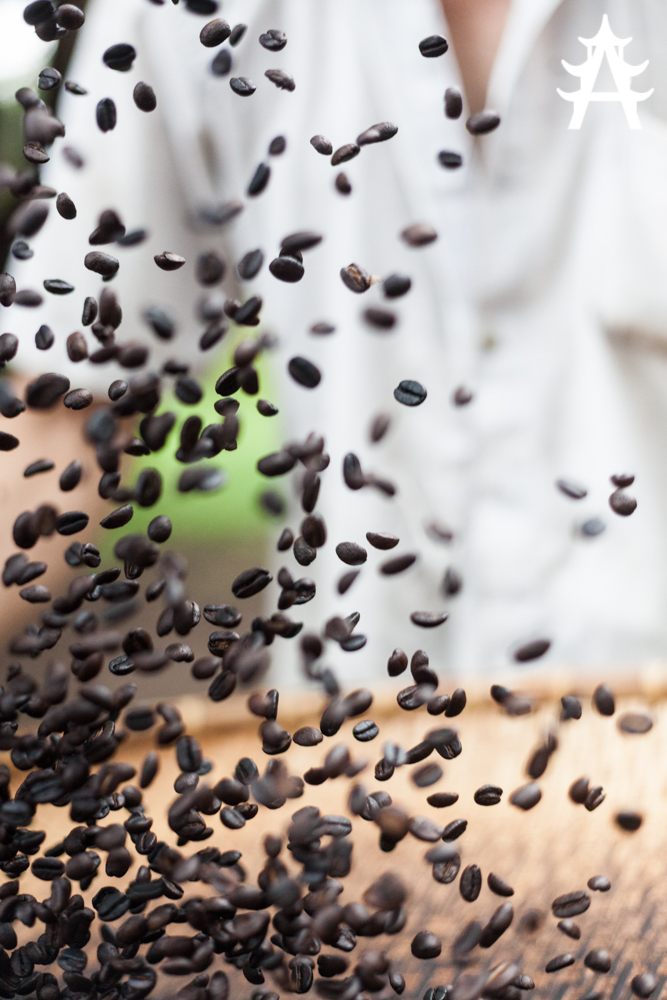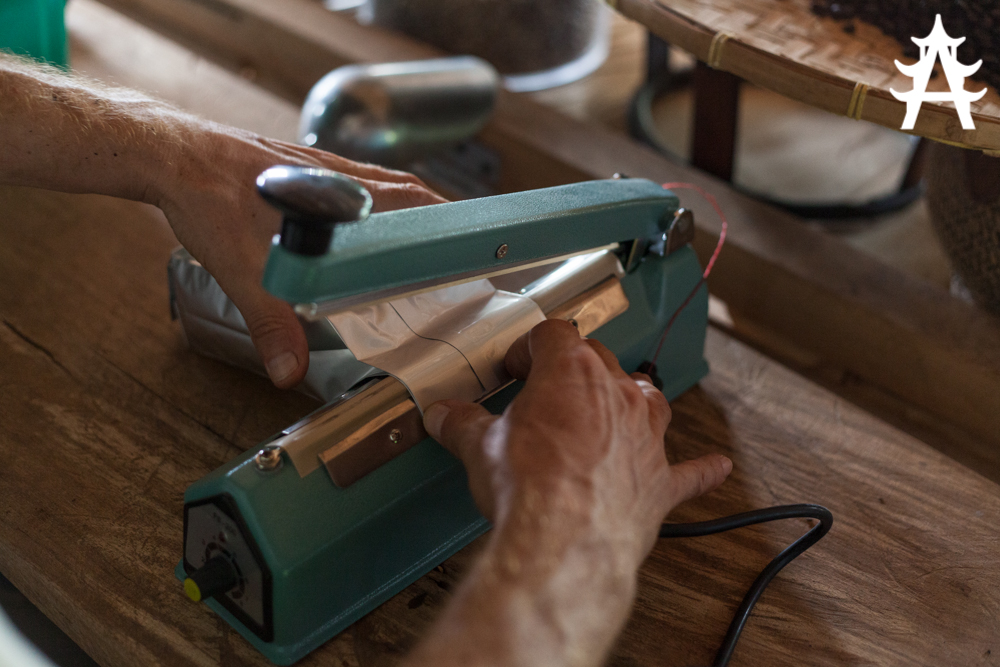 After following the whole process a couple of times (and trying the first coffee in my life) I went to Tad Suong waterfall, the same waterfall that I had already visited a day earlier. This time however, I found a way to the top of it, which is really, really high and a bit frightening. I was completely on my own which was nice, but I did not stay too long. After taking a couple of pictures I left to return to Tad Lo.
On top of Tad Suong waterfall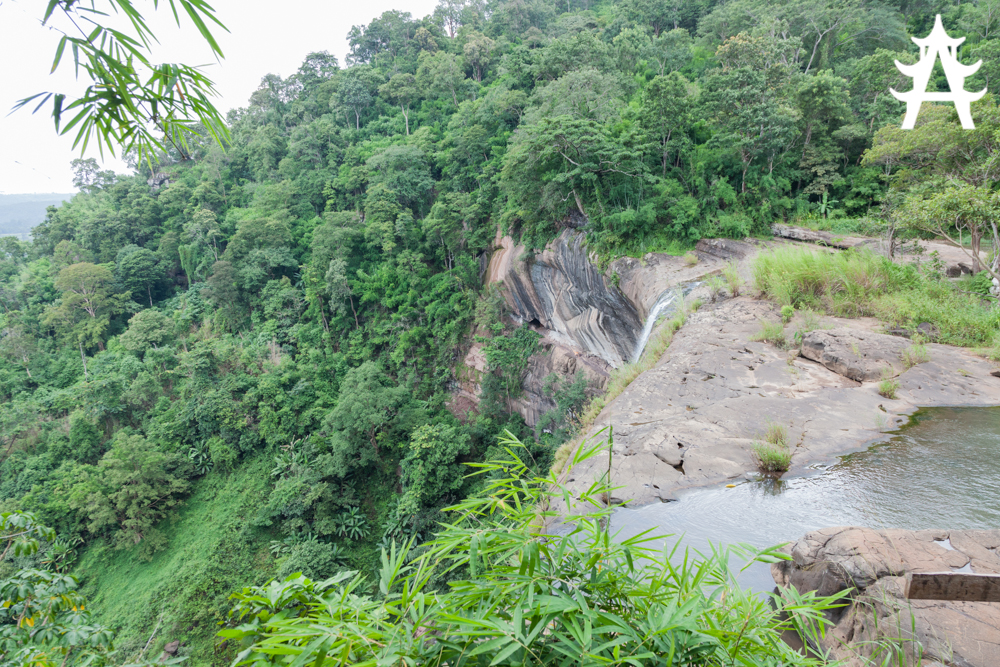 Quite a drop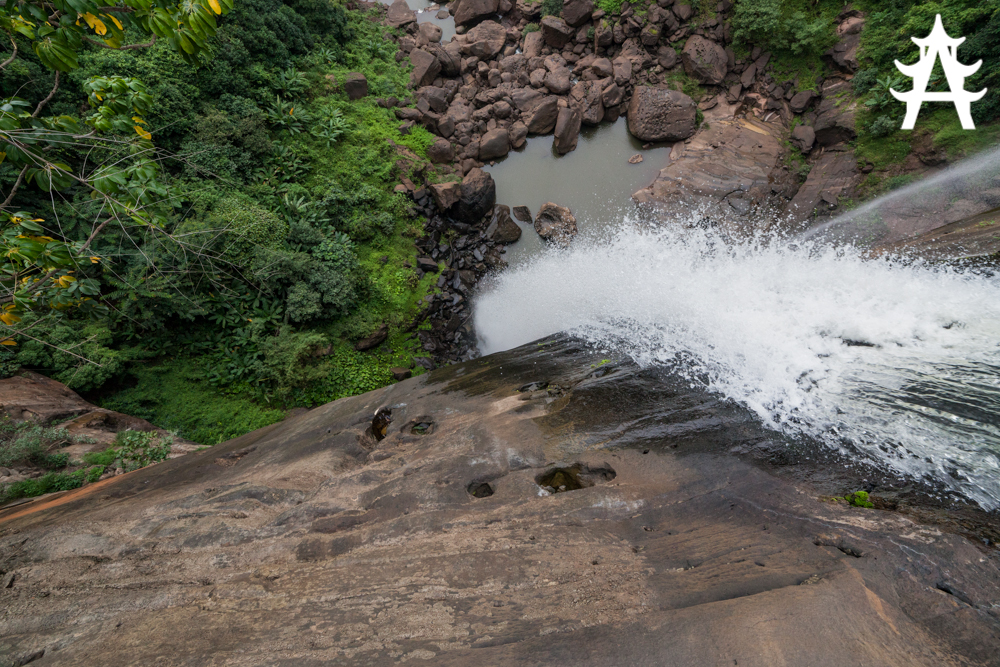 Back in my guesthouse I made a very unpleasant discovery. My wallet missed 450.000 Kips (€ 45) and I quickly used my memory to consider whether I might have left the money somewhere. I definitely did not and so the only two situations where the money could have got stolen where yesterday, when I went swimming with the kids at the waterfall or isomebody working at my Tad Lo guesthouse took it. I was not 100 per cently sure, but I don't think the kids took it. So, since no one of the guestn my guesthouse while I was out of my room. I quickly packed my bag and left for another guesthouse. I was (and still am) very mad about this, especially since I was not able to find out for sure what had happened. One fact that was particularly weird was that my wallet held more than 1.000.000 Kips but only 450.000 of them were stolen. I have no idea what happened but I will look out for my stuff a lot better from now on.
The day ended with a very nice time at the local falang bar, where every tuesday locals get teached in english by one of the volunteers that works in the bar. I also got to enjoy very nice talks with fellow travellers and got into some deep, life questioning chat with Em, the coffee roaster. He has really experienced a lot in his life and was a very inspiring person to talk to.
Teaching english to the locals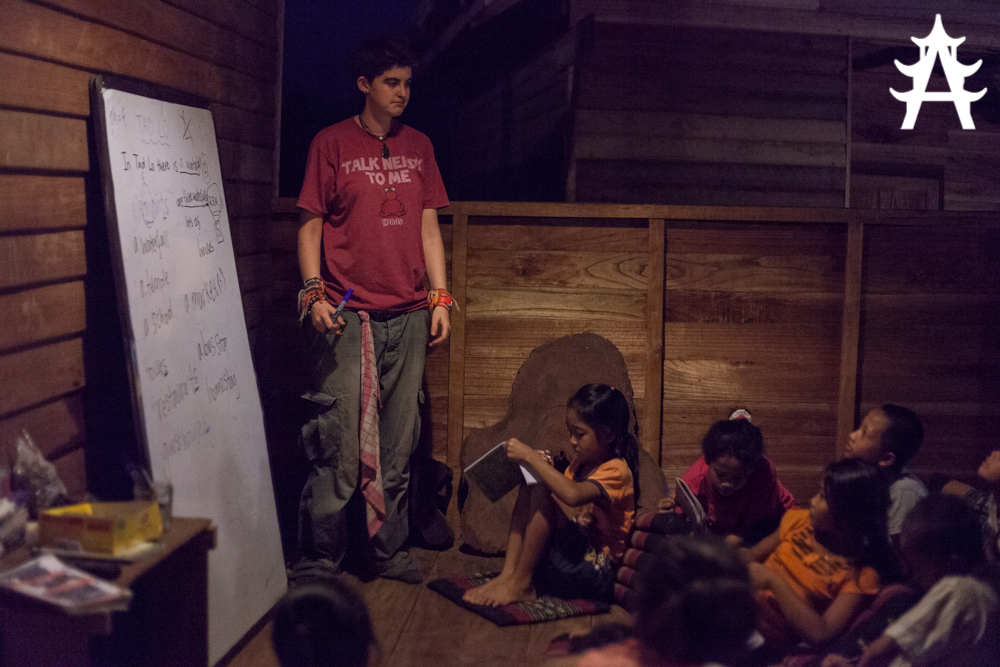 Worst thing of the day: Realizing that 450.000 Kips were stolen from my wallet. I am mad and wondering who took it, but at the same time I am glad that the person did not take everything I had.
Best thing of the day: Very inspiring talks with an incredibly interesting austrian guy that runs the local coffee shop.
Not hating it yet? Read about Day 1 if you haven't already, and then continue with Day 3.
Yours
Crazy Ivory
Follow my photos, travel route and stories on the Asia Adventure Page.