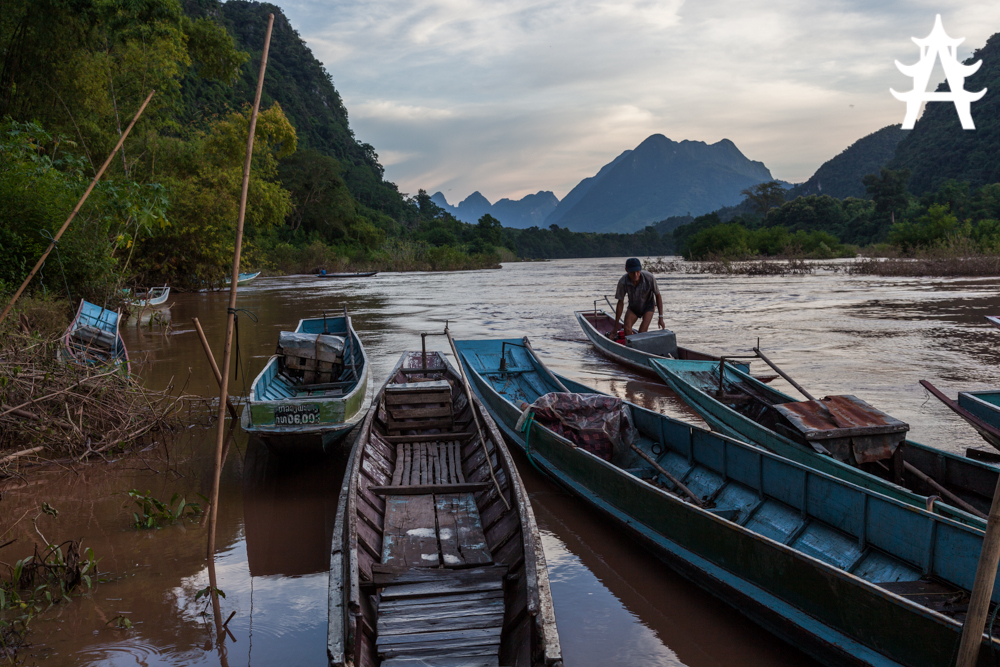 I know I have stressed this point a couple times over the past two months but staying in Nong Khiaw made me realize another time how much I love being away from the big cities, how much I prefer the small, cute little towns or villages.
Now every stay has to come to an end and you are asking yourself: "Where do I head next". In Nong Khiaw the choices are rather limited. You can either head back south to Luang Prabang or you move further to the north, for example to a litte village called Muang Ngoi.
I decided to go for the second option, simply because everything I had read about it was quite positive and interesting. Its a really, really small place that, until very recently, neither had a permanent supply of electric nor a road connecting it to the rest of the world.
Both has changed to the better in 2013 and it has become a bit less authentic and more touristy in the past one or two years according to other travel bloggers who had made their way here in the past. Still its a place without any internet connection and only one dirt road going through it, which definitely qualifies it to be counted as a "first step back in time" in my opinion.
Getting to Muang Ngoi is as simple as it can be. There are longboats connecting Muang Ngoi with Nong Khiaw which run at least three times a day. The price is 25.000 Kip (€ 2,50) and the beautiful ride takes around an hour. After arriving you can choose one of the dozens of guesthouses which offer bamboo bungalows at the riverside from 30.000 Kip (€ 3).
Boat ride in the public boat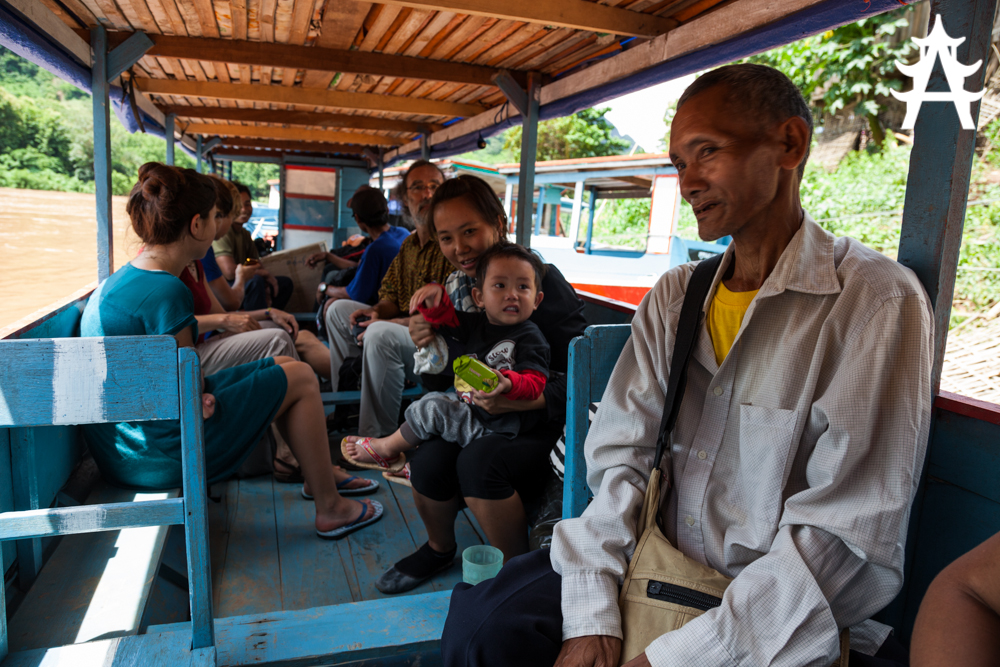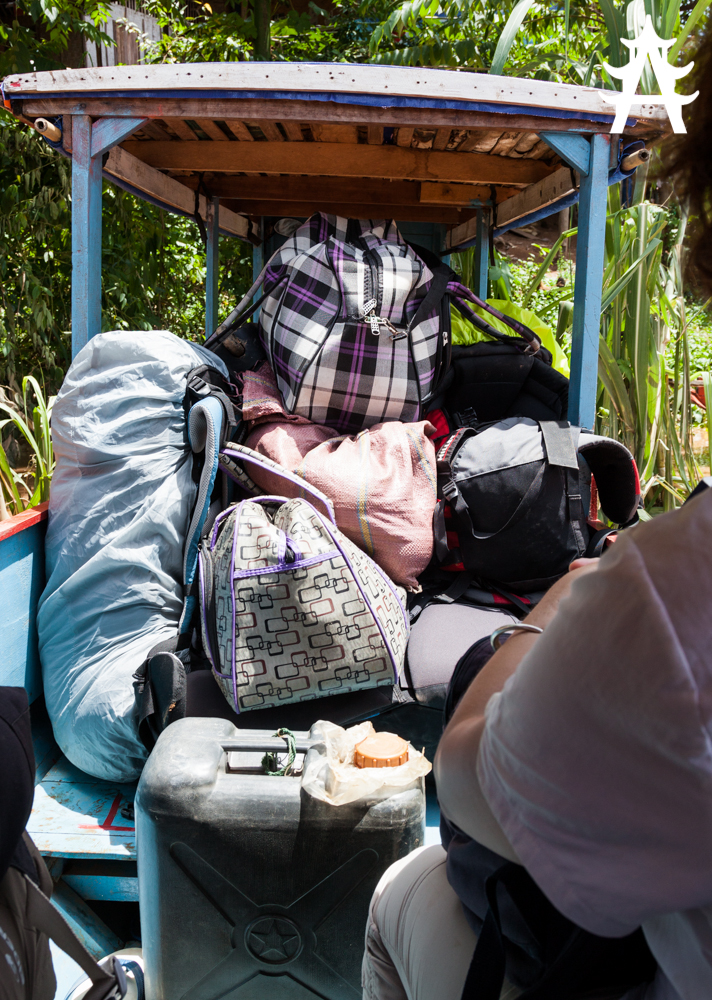 Hammock is included in the € 3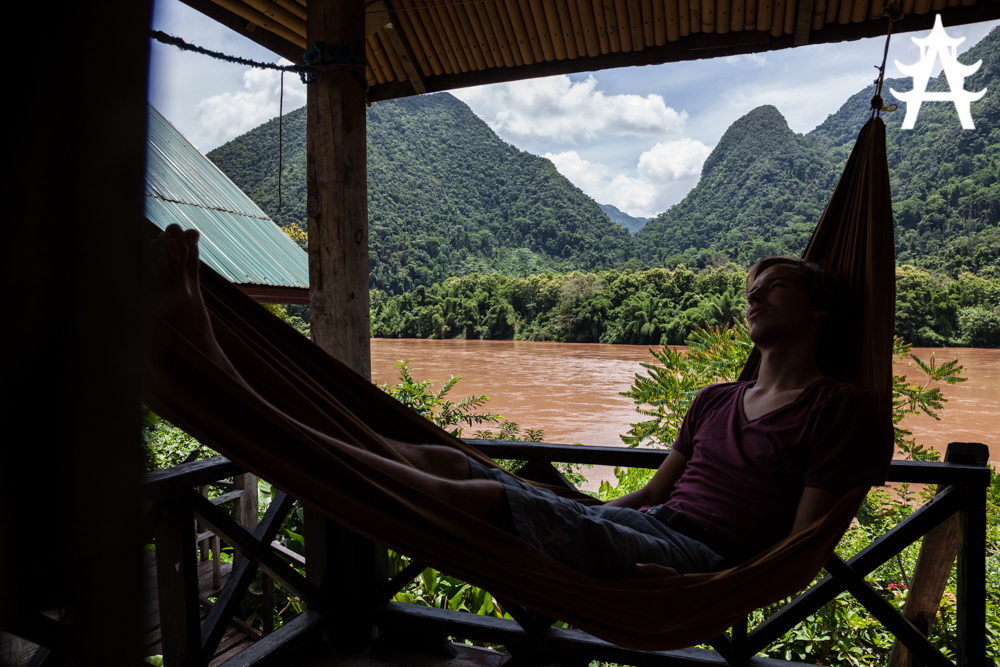 There is not very much to do in the village itself. There are a couple of bars and restaurants that you can try out and you can meet fellow travellers. I had a very crazy coincidential experience in one of the restaurants as one of the guys I met there, one that I had already seen a few times in Nong Khiaw, turned out to be from Appleton, Wisconsin. Appleton is the small town where I spent four weeks in january and february, during my photo studio internship in the U.S. and meeting a person from there IN LAOS is a very good example for how crazy life can be at times.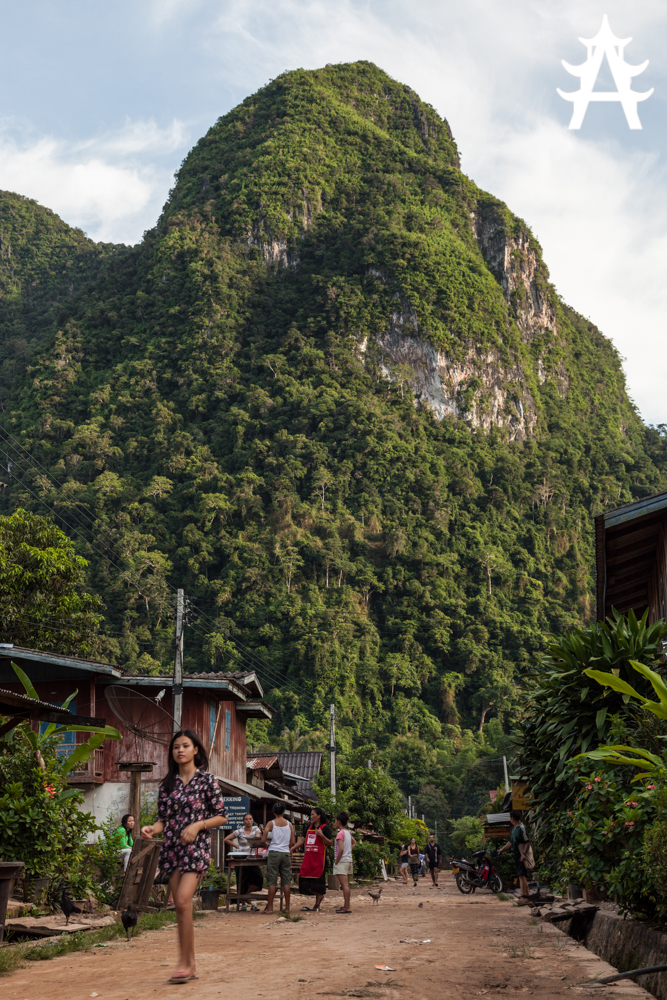 Muong Ngois surrounding however is the better reason to come here. There are a few caves that were used as bomb shelters in the Vietnam War and a couple of very picturesque villages in the middle of nowhhere. I did a hiking trip on the second day I was there and went to Tham Kang cave. It was the first cave I ever visited that you could explore without a guide, which made the whole experience interesting and frightening at the same time. Its interesting to find your own ways and try to explore the cave at your own pace. You can discover old bottles and cans, remains of the times when local people hid inside from the american bombers.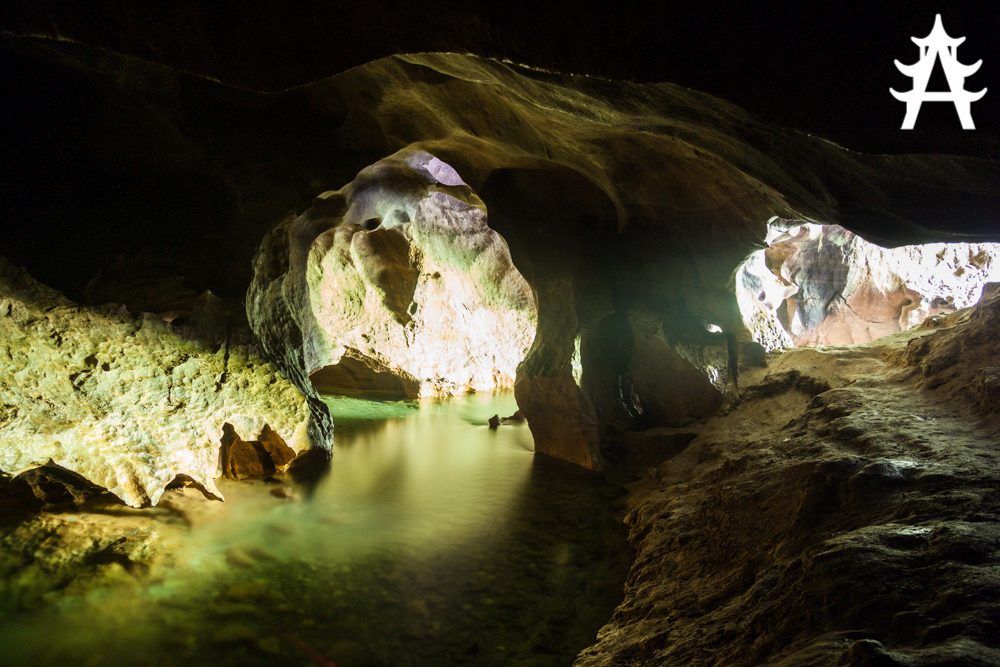 But since the floor is muddy and slippery and there is more than one way to choose, it could easily happen that you get lost in there or that your torch would die. This would make the whole experience life threatening from one moment to the other, which is why I preferred to not stroll away from the entrance too far.
There is also a small, refreshing and surprisingly clean river going through the cave. Since the weather that day was humid as always we decided to go for a swim. It was very cold but pleasant, the water was crystal clear and bathing in a diffusely lit cave definitely has something to it.
After the cave we continued our way to the nearby villages, in order to get some more impressions of the local lifestyle. We passed by rice and paddy fields, buffalos, pigs and many hardworking people on the fields. It was definitely a breathtaking landscape.
The road leads through a river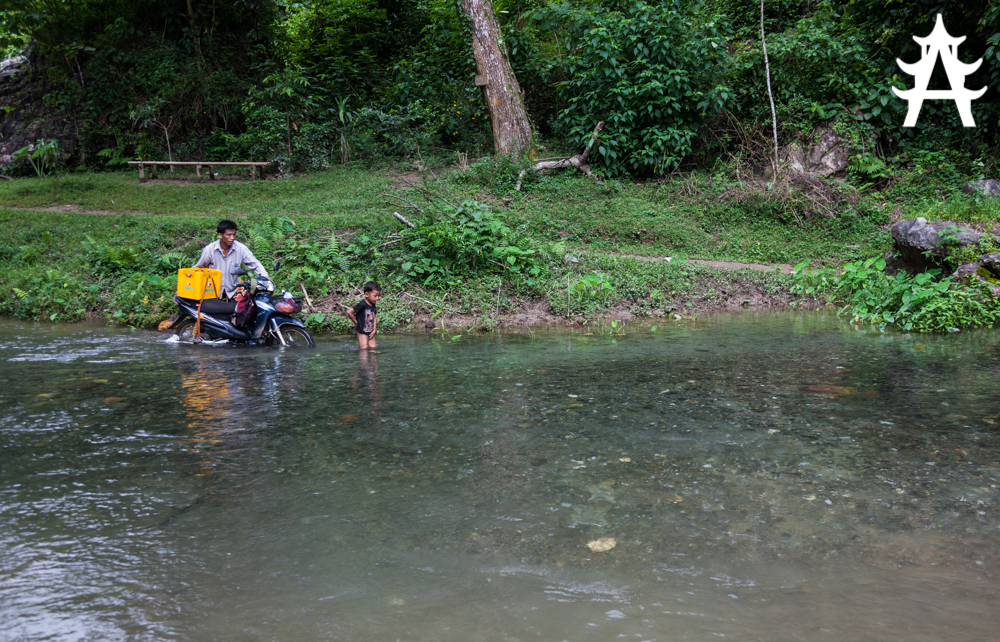 Beautiful Caterpillar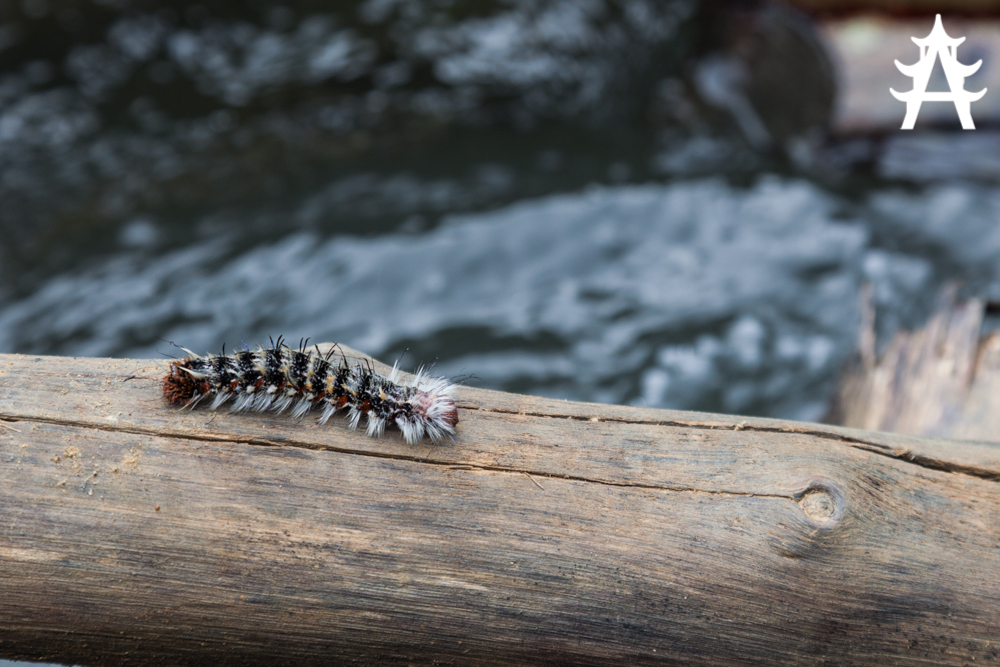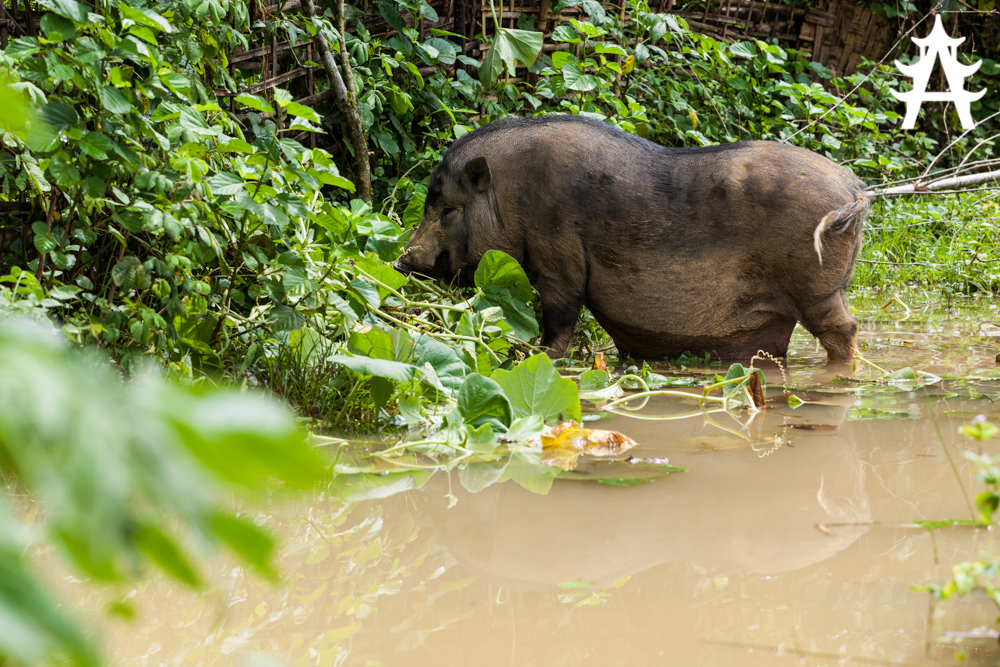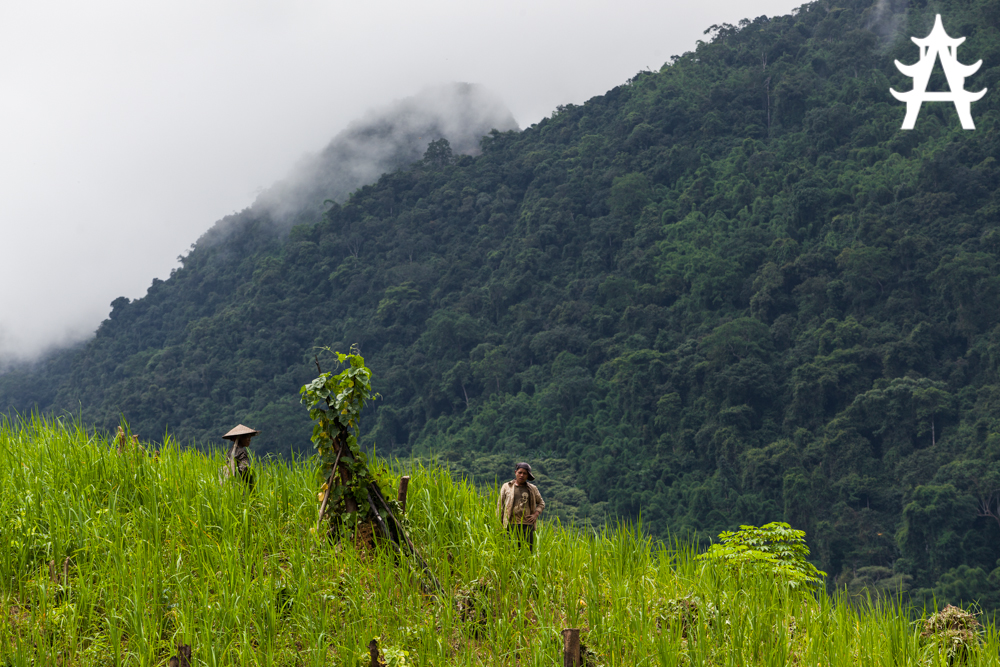 The villages were not crazy exciting for us, we got a few impressions of the village life but left rather quickly as we sensed that we were not welcomed there. Then we decided to head back to Muang Ngoi, enough trekking for now.
The rest of the time in Muang Ngoi was spent between hammock, restaurant and a birthday party for a fellow traveller. We had a highly enjoyable time, I hardly missed the internet and Muang Ngoi definitely is a nice place to visit if you are looking for a couple of relaxing and "authentic" days in a Lao village.
Yours
Crazy Ivory
Follow my photos, travel route and stories on the Asia Adventure Page.