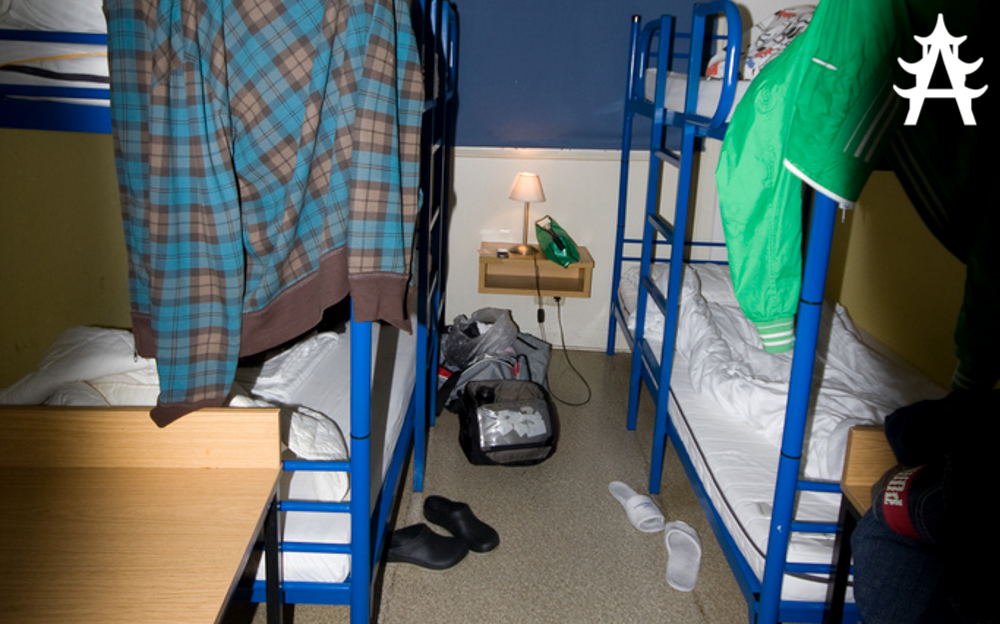 While lying awake in my Vientiane hostel last night, due to stomach problems of the guy in the lower bunk, I started thinking about all the things that I have experienced in hostels in the past. I love staying in hostels but sometimes staying  in the same room with 3 to 16 strangers can lead to extreme experiences. I realized that I never really wrote these stories down.
So, inspired by the austrian with a drink too much, here are my Top 5 hostel horror stories (the austrian made it to #2):
#5 – "Couldn't you leave us alone for an hour?" @ IHSP Chicago
I was staying in this really overpriced hostel in Chicago (apparently the hostel concept with cheap rooms in return for shared facilities is still not entirely understood by americans) in a 4-bed dorm. I arrived after a long-haul bus trip and was quite drained. However, that night there was a huge party in the kitchen area and we had a blast. I still went to bed rather early around 1AM as I really needed some sleep. As I got to the room I saw one other guy that I was sharing the room with, heavily drunk, leading a friend and two girls into the room and closing the door. I went in and you could see that they did not expect me when this little argument took place:
He: "What do you do here?" 
Me: "You know its my room as well, right?"
He: "Yeah, you know. OK, to say it directly: I wanted to have sex here now."
Me: "No, that is not going to happen. I am going to sleep now."
He: "Couldn't you leave us alone for an hour?"
Me: "Most definitely not."
With that he left. At least thats what I thought. After returning from brushing my teeth I just catched them heading to the room again.
He: "What do you do here?"
Me: "Didn't I just tell you that I go to bed now?"
He: "I thought you had left."
Me: "No, I was just brushing my teeth."
He: "Man, you really are no good companion."
After that he really left and did not return until noon. I am sure he found a better place. Apart from wanting to go to sleep, the other reason why I would not want this to happen was simple:
They were two couples and I had the second lower bunk. I could easily calculate in which bed the second couple would end up.
#4 – "Snorting for your life" @ Waka Waka Marrakech
My flight to Marrakech arrived late in the evening and the way to the hostel was incredibly complicated and shady. I did not feel safe in this city and after exploring Marrakech at night, which ended with me bribing a guy to prevent him from probably robbing me, I only wanted to go to sleep. I had booked a 4-bed dorm with single beds, no bunks.
The first negative surprise came when I laid down on the bed. It was certainly the hardest bed I have ever slept on. It felt as if it would be filled with pebbles and sand. To make matters worse it was no wider than 50cm. The pillow was from the same material as the bed. Altogether it took quite an effort to not fall out of the bed and instead fall asleep.
When I had almost worked out a position that I could perhaps sleep in, a girl that I was sharing the room with came in. She had the bed next to me, which I now realized was only 30cm away from mine. Sleeping in such close proximity to a stranger is always unsual but if the other person is snorting, its a whole different story. And this girl was not snorting, she was fighting for her life.
The sounds she made reminded me of a person being trapped underwater, trying everything to fill her lungs with air. It were wet noises, loud and raw. If you closed your eyes you would not believe that a human could produce sounds like this.
Unfortunately she would not win nor lose this fight for her life before the next morning. At some point I might have fallen asleep even though I did not feel like that at all when I woke up the next day. I had already planned what to tell the hostel owner when I told him that I wanted to change the room when she woke up and we started talking. Then she said the magic words:
"I am heading home today".
#3 – "Oh cute they all sleep in one bed" @ A&O Reeperbahn Hamburg
My friend Martin and I were on a fun trip to Hamburg and decided to go for the cheapest option available and sleep in a dorm room situated at the middle of Hamburgs famous party street Reeperbahn. The room was nice with 2 bunk beds, two singles and a huge bathroom. The night we arrived we shared the room with a swedish family. They were very friendly and quiet, picture perfect roommates. We went out drinking a few beers and Martin went back into the room to grab something he had forgotten and catched the swedish father on his way back from the toilet to his bed. Completely naked. That was odd but in a funny way (for me at least).
However, they left the next day and when we got back late at night to find an empty room we felt lucky that we would have the whole room to ourselves. We went to bed believing this night to be a calm and relaxing one only to be woken up around 2 AM by three very drunk germans. The  way this room was build led to them believing they would be alone as they came in and did not see us at first. They turned all the lights on looked around and saw us. For some reason they then argued whether they should pull us out of the beds. Perhaps because only two beds were left and they were three guys but nobody knew exactly. They finally let go of this consideration and started to focus more on each other.
They continued to be loud and extremely rude. Screaming, fighting and doing stupid stuff. One guy also told an interesting story about his experiences with the Hamburg Hookers earlier that night and was considering telling his girlfriend about it. This discussion kept going on and I might just have fallen asleep at some point.
When I woke up early in the morning and went to the bathroom I was surprised to find these tough and aggressive boys all sleeping in one single bed. They were all entangled, sleeping head to head looking like little puppies in a wicker basket.
Luckily they left the same day.
#2 – "Oh Noodles" @ Sihome Backpackers Vientiane
This is the story that led me to writing this article in the first place and it only happened yesterday. I had arrived in my Vientiane Hostel late, after 8PM and was worn out by almost 12 hours of bus riding. After getting a bite to eat and finishing my blog article for the day I decided to head to bed early.
The room is a 8 bed dorm with 4 bunks, and since I checked in without a reservation I was assigned the last top bunk. I had talked to a few of the people I shared the room with and was under the impression that the night would be a quiet one (it seems that I am proven wrong everytime I think that).
The bed was comfy and the temperature good, the night could have been perfect. Until I was woken up by vibrations of my bed and weird noises. I realized it was the guy in the lower bunk of my bed and it took me a bit to understand what happened next. After saying "Oh my god" he vomited all over the floor. Without any warning and without even trying to get to the bathroom. Obviously nobody in the room was sleeping anymore at that point, so somebody turned the light on, which gave me a chance to figure out the whole  extent of this mess. It was obvious that he had had noodles for dinner, and looking down on this really gave me an interesting perspective. I did not look for too long however as I was afraid that my stomach would react to this as well.
While the smell started to spread around the small room a woman from the reception was informed and was assigned the task of cleaning this up. Poor lady. After 10 minutes of cleaning and spraying some air freshener the nightmare was over and we would all get back into our beds, hoping that this would not repeat during the night.
Welcome to Vientiane.
#1 – "Don't stay in a youth hostel if you are 100 years old" @ Hostelling International Youth Hostel Brussels
I was staying in Brussels and decided to check out a real Youth Hostel for the first time. You know one of these that are run by Hostelling International and where you get a discount if you are under 26. It seemed to be one of the cheapest choices in Brussels so I decided to go for a four bed dorm.
I shared the room with a short french guy whose face was definitely too old for him and who reminded me of Rumpelstiltskin and a really old american guy that was interrailing his way through europe. I was assigned the lower bunk under the old guy and within minutes from my arrival he started talking and wouldn't stop again. He told me about his route, his ticket, his family, his life everything. I was not asked anything nor was any feedback appreciated. He only wanted to talk. It may sound rude but at some point I simply started listening to music with headphones to make him stop. That worked well.
However, the talking would not stay the worst of his spleens.
He also seemed to have a strong aversion against clothes, which led to him being naked 90% of the time. Even though I usually prefer the lower bunk, in this case it definitely wasnt helping that I was lying on hip height. Honestly the german culture is pretty open when it comes to being naked and its nothing I would be shocked about but if somebody really walks around naked the whole day, it gets nasty at some point.
It still got worse.
One night I woke up, wondering about the bed shaking slightly. I was unsure about the cause at first but then started to realize that it must be the senior "having some fun". That was stuff that nightmares are made of. Seriously. You may be able to use headphones to stop yourself from hearing it but what do you do against a shaking bed?
I hoped it would be over soon. I somehow did not feel strong enough to stand up and confront him. Today I probably would but I was younger at that time.
The worst however happened after the shaking stopped. I was glad that it did and tried to fall asleep as quickly as possible when I heard a sound. It turned that even though he seemed to be healthy enough to travel he would not be able to go to the toilet at night, which was why he pissed into a bed-pan. Now that really was the worst thing I could imagine. Being stuck in the lower bunk under a dinosaur that would jerk off at night and piss into a bottle being separated from all that by nothing more than a thin mattress really destroyed me.
I got up as early as possible to beg the receptionist for a new room. When I finally got my new room key I decided to leave a note to Mr. Senior. I don't remember the exact words I used but I know that it was something along the lines of:
"If you are too old to wear clothes and use a toilet, please, for the sake of anyone who had and will have to share a room with you, sleep in a hotel from now on. You are too old for Youth Hostels."
It may lead to bad karma but I felt a lot better after this.  And hopefully he took my advice to heart.
Yours
Crazy Ivory
Follow my photos, travel route and stories on the Asia Adventure Page.