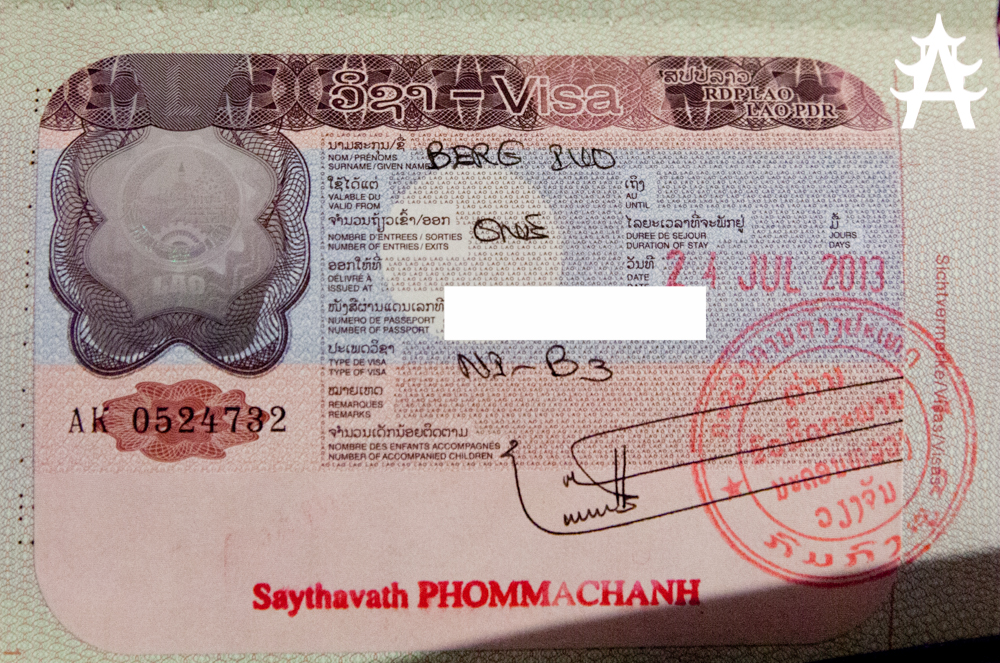 Puuuuuuuuuuuuh.
After pretty exactly 11 1/2 hours of bus riding I finally made it safely to my hostel in Lao. And boy, the way was full of unexpected happenings, as always when you do not expect anything. So here is how my way to Lao went.
The Way to Lao
It all started around 07:30 AM at my hotel in Ubon Ratchathani, where I took a taxi to the bus station. Unfortunately the next available bus to Udon Thani would not leave before 9:00AM and that one would be a VIP bus resulting in a really expensive (at Thai standards) 382 Baht fare for the 6 1/2 hour trip (€ 9,50).
The bus ride went smoothly and I arrived in Udon Thani around 3:30 PM. Since I had only left Udon Thani three days ago I felt like I was not away at all but that feeling wouldn't last long as I had to work on my next steps.
After waiting at the bus ticket office for a couple of minutes the impolite sales men that I asked for a ticket to Vientiane, Lao did not answer anything and only pointed to a sign that was glued to his window: "No Visa, No Ticket". That was bad news as I did not acquire a VISA beforehand (I think its only possible in Bangkok anyway).
A bit of asking around led to the info that I should simply go to Nongkhai, from where I would be able to continue to Lao. Said, done. 45 Baht and another 1 1/2 hour of waiting later I sat in the bus that would get me to Lao. At least thats what I thought. I later learnt that Nongkhai is still in Thailand, and that its still a bit of way to Lao.
OK, then I go to Nongkhai first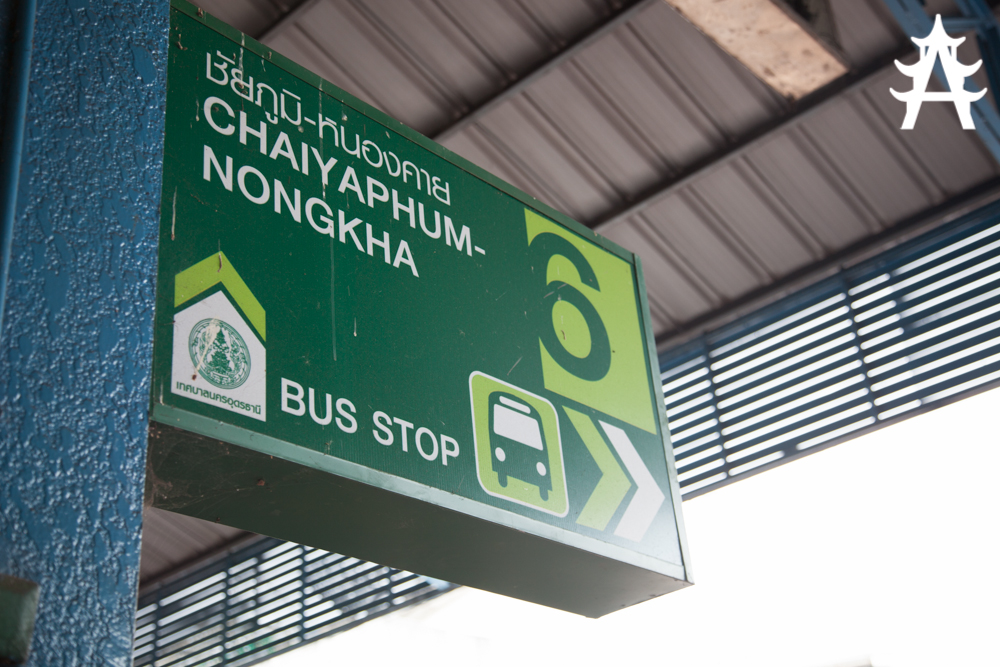 That is why I ended up at the bus station of Nongkhai, from which I was unsure how to continue. Against my firm belief not to agree to any offers made by aggressive taxi or tuk-tuk drivers, I was faced with the unpleasant situation of being dependent of said tuk-tuk drivers. After a bit of bargaining with one of them, we agreed on 70 Baht (€ 1,75) to get me to the Border Office.
The ride went smooth at least until he stopped at a very shady office which was definitely not the border control. He told me to get a VISA here and I told him that I would definitely not do that and that I instead would appreciate being driven to the border office. He did not even reply to this and without a word drove me a couple hundred meters further down the road to the real border office.
Here I had the officials stamp me out of Thailand and 100m further down the road I boarded the next bus which would get me over to the other end of the Thai-Lao friendship bridge, where the Lao customs are situated.
Getting my VISA on arrival was as straightforward as it could be. Filling out a form, paying $ 31 US for the VISA and waiting two minutes. Finally I had my VISA and was officially in Lao.
Still I was more than 20km from Vientiane and I had no idea how to get there. Obviously there is no public or local bus connecting the customs to the city so you are again dependant on tuk-tuks and Songthaews. After a bit of looking around I found a driver that would get me not only to Vientiane but to my hostel, for only 100 Baht (€ 2,50). The cheap price came with a waiting time of 30 minutes so that the car could fill up with more passengers, which did not really work. Apart from me there was only one more passenger, Alessio from italy, who runs a guesthouse in Phuket and had to renew his one year Thailand VISA.
The rest of the trip went smooth. The driver dropped of Alessio who apparently hadn't bargained and needed to pay 200 Baht for the same ride. After a short discussion Alessio translated that the driver did not like me because I only paid 100 Baht (which is the price he offered in the first place) and I also got some really bad looks from him. I did not really know what I had done but whatever. He got me to my hostel and I decided not to tip him for the impoliteness.
Now, after 11 1/2 hours I am finally able to rest and I am very glad that I made it here. I am very much looking forward to exploring my first city in Lao tomorrow.
What I expect of Lao
DISCLAIMER: I wrote this part in the bus from Ubon Ratchathani to Udon Thani so don't be confused by me talking in future statements.
Today, after 7 ½ weeks in Thailand, the next part of my trip is beginning. I am heading to Lao, the next country on my agenda and I really feel anxious. One would probably guess that it doesnt really matter much which country you are at, once you started travelling, as its all foreign and strange, right? For some reason its not. I have grown used to Thailand over the past couple of weeks and even though every city was unique and different in its own way, it was all Thailand and I kind of knew how things were working. Now that I am facing being in Lao within a few hours from now (I am writing this on the bus to Udon Thani) I feel unprepared and a bit scared. New language (even though I did not understand any Thai really), new currency, new people, new everything.
 Also, I don't know ANYTHING about Lao apart from its currency being Kip and its capital being Vientaen. I stopped myself whenever I felt the need to read about Lao in preparation because I wanted to experience the country firsthand. When I came to Thailand I knew a lot more about it than what I know about Lao now, so it really is different.
 I am anxious in a very good way and I really look forward to something entirely new. It will be cool and for sure unexpected. And of course you will be part of the experience as I will continue to share my stories and photos with you.
 Thank you to everyone reading this blog, I really appreciate it!
Yours
Crazy Ivory
Follow my photos, travel route and stories is the Asia Adventure Page.