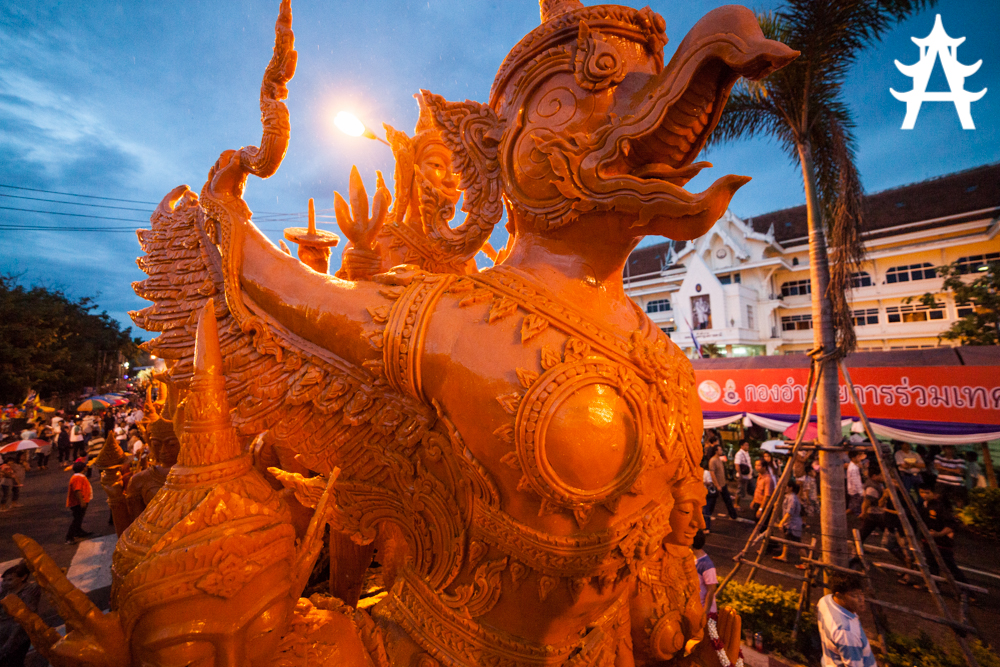 Instead of writing an article about the first and one about the second day of the celebrations, I decided to put everything together in one complete article about the celebrations for the annual candle festival in Ubon Ratchathani. This is said article.
I arrived in Ubon Ratchathani two days ago, just in time to catch some of the last preparations for the celebrations. Yesterday the festival itself started and really, it was definitely worth taking the 400km bus trip from Udon Thani. There is plenty to see and do and what is really pleasant is that everything is in the same area. No driving around or walking endlessly to get from one spot to the other.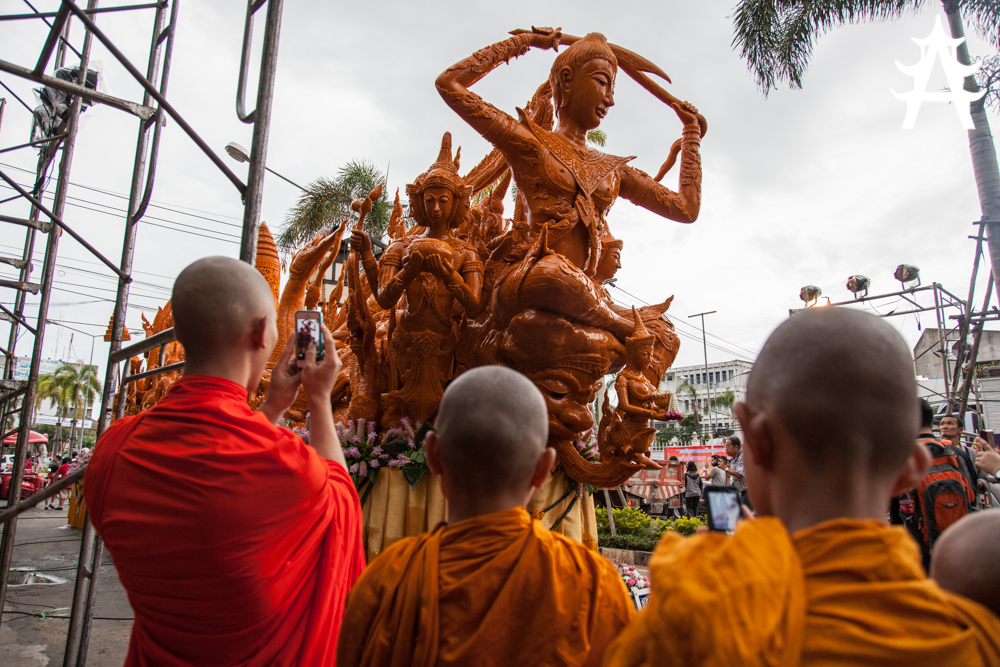 About the festival: The annual candle festival is to celebrate the beginning of the rainy season in Thailand. Candle festival really sounds a lot less interesting than it actually is. The main attractions of the festival are huge, beautifully handcarved wax statues and figures that are put on trailers and are pulled through the city. These things are big, really big, with plenty of fine details that gets you to think how long it must have taken to finish them.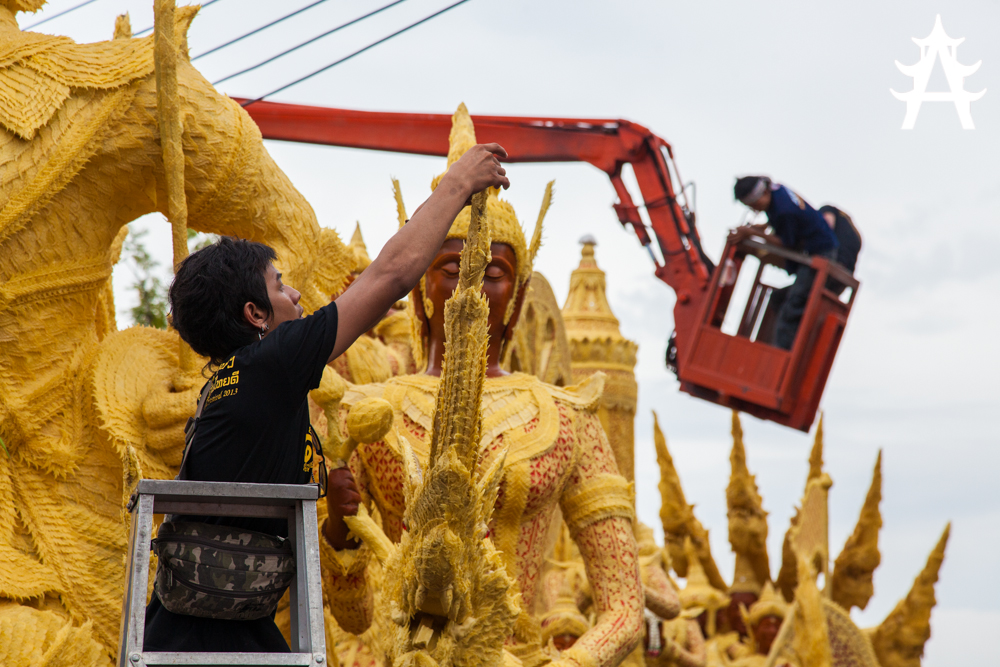 During the day the statues are either parked in one of the main streets or they are attached to tractors and pulled through the city while being accompanied by a parade with music and dancers.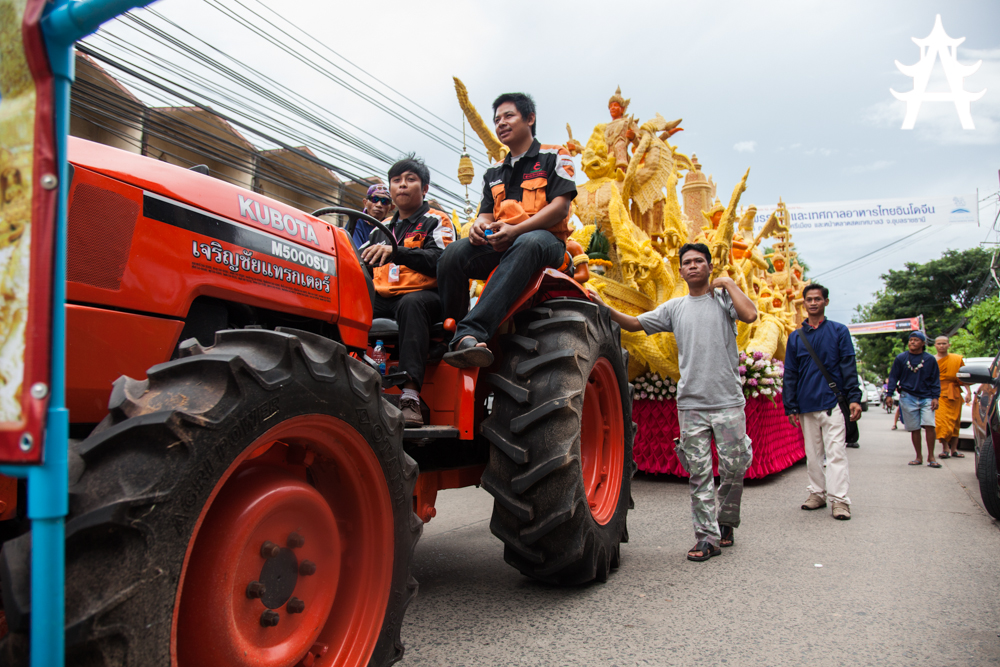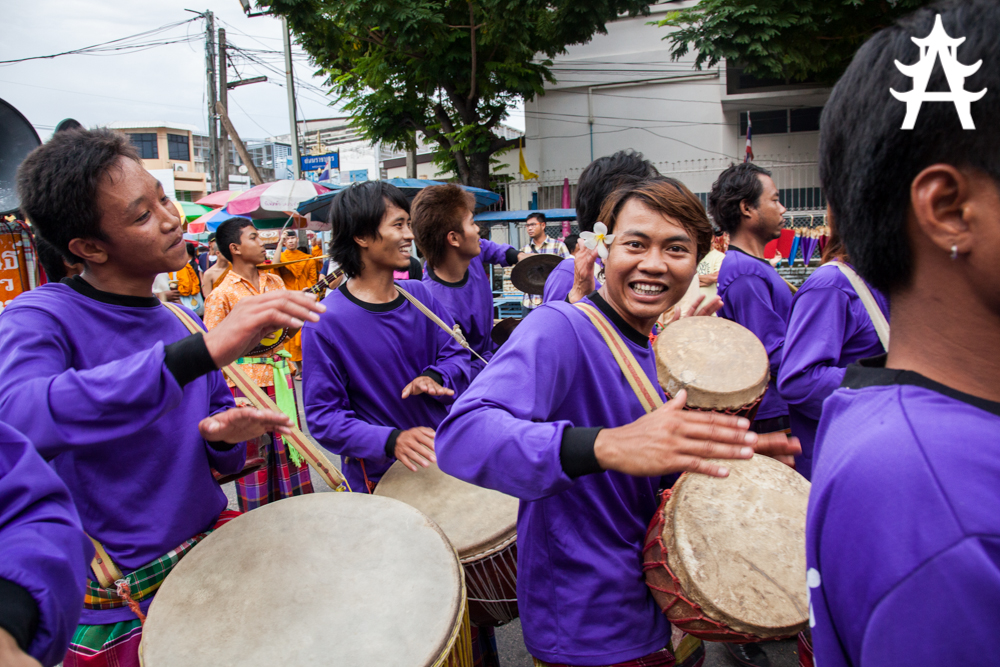 The real show however, takes place at night. After dark the audience gathers in the center, where long rows of seats and benches are stretching alongside the main parade street. The parade cars with the wax statues are presented, accompanied by music, storytelling and lots of dancers.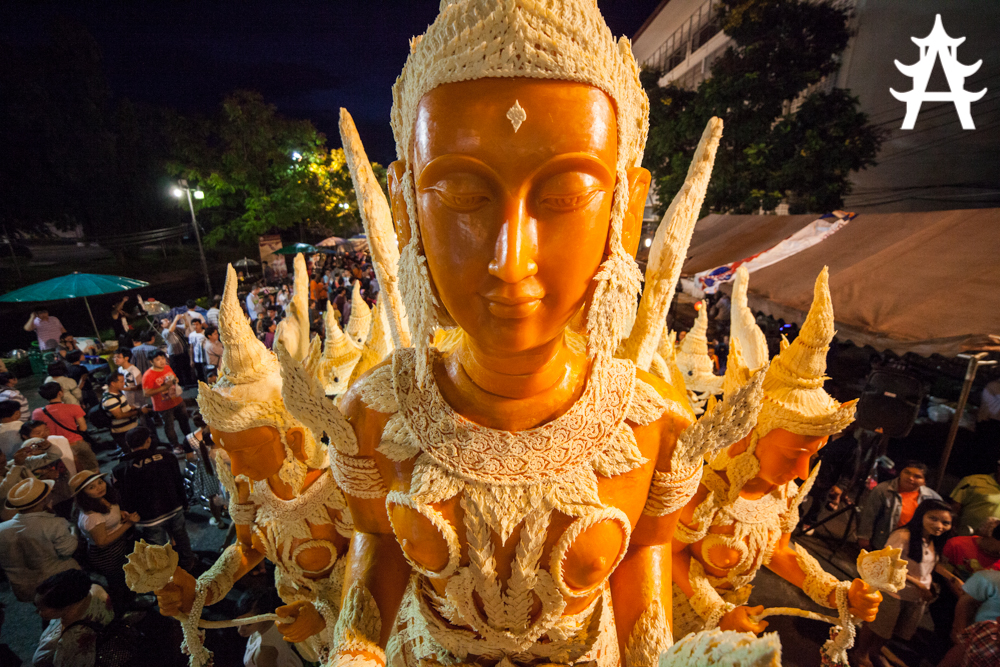 The atmosphere that is created really works and even though I obviously did not understand the stories, the music and effects impressed me nevertheless. The sheer amount of people involved in this parade is fascinating, especially considering the size of Ubon Ratchathani.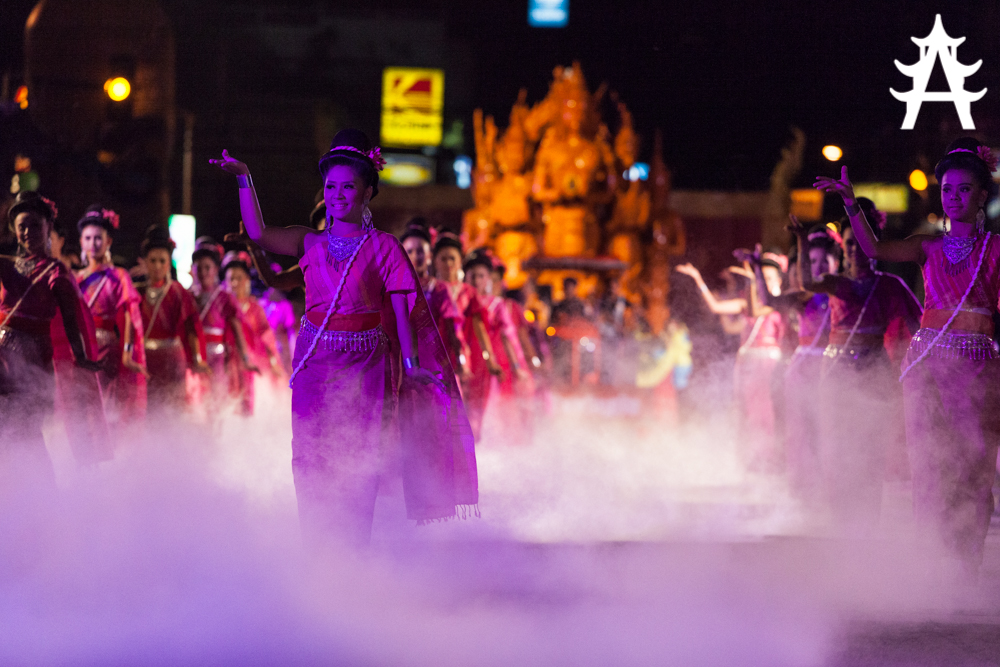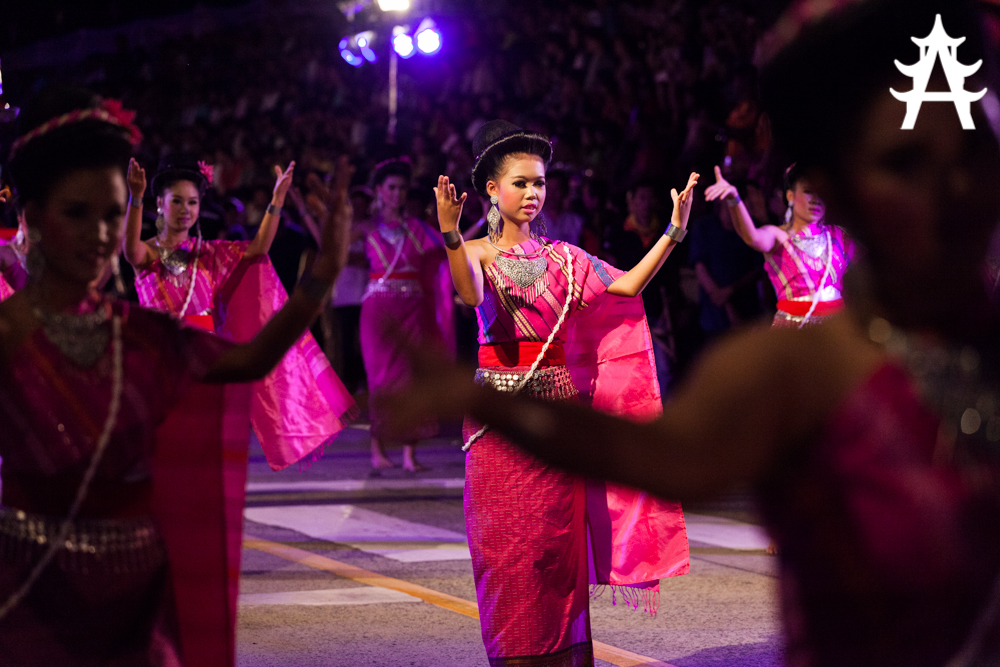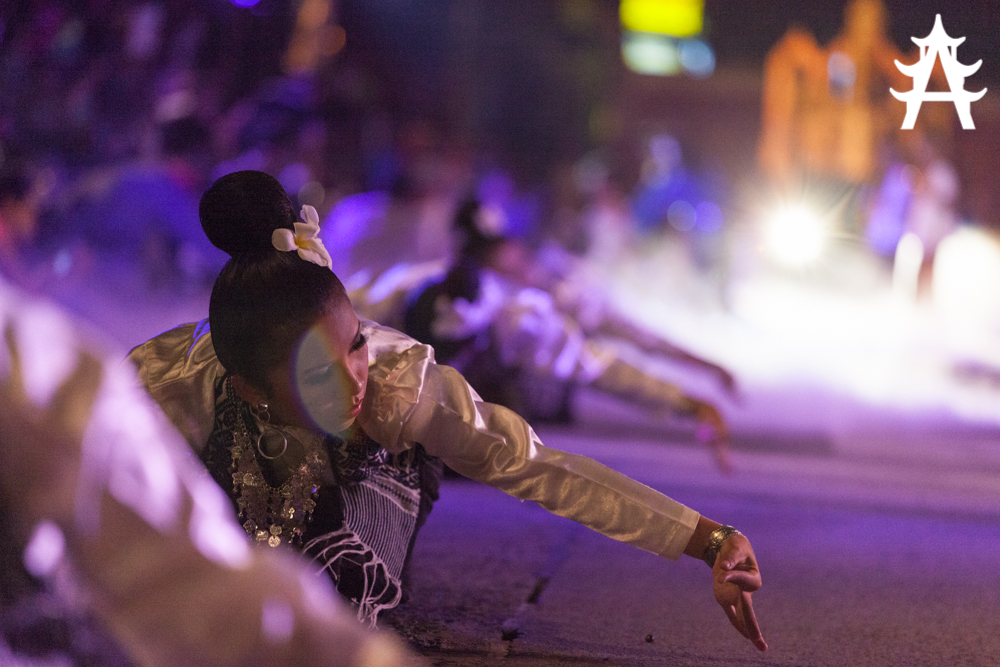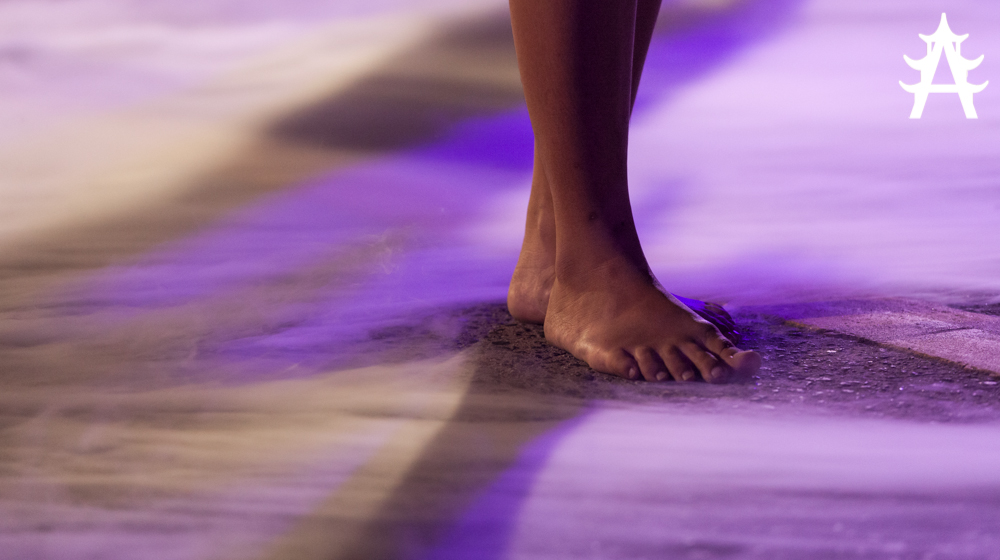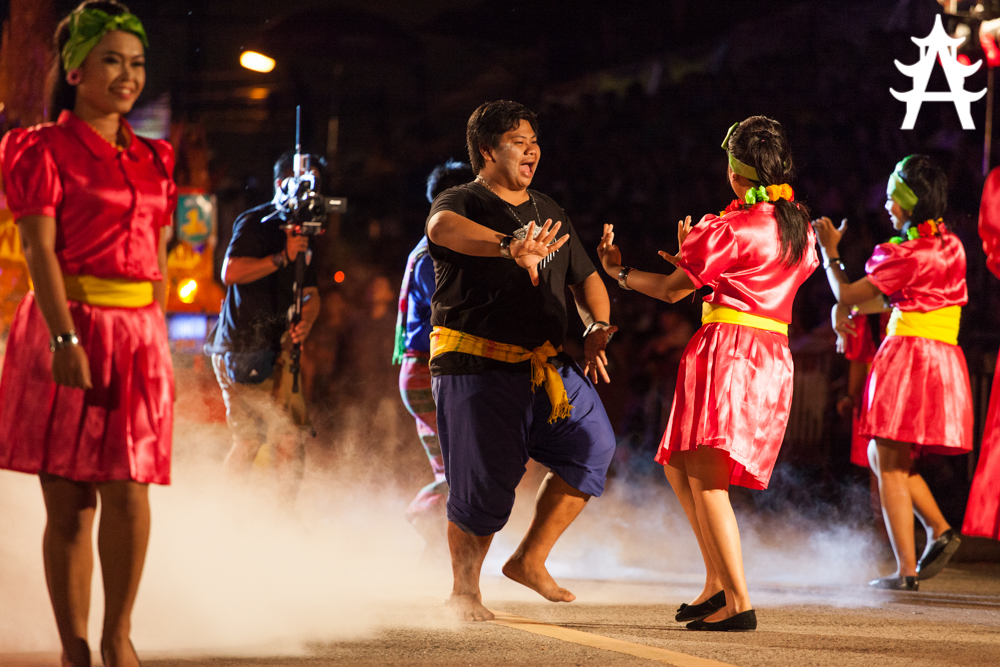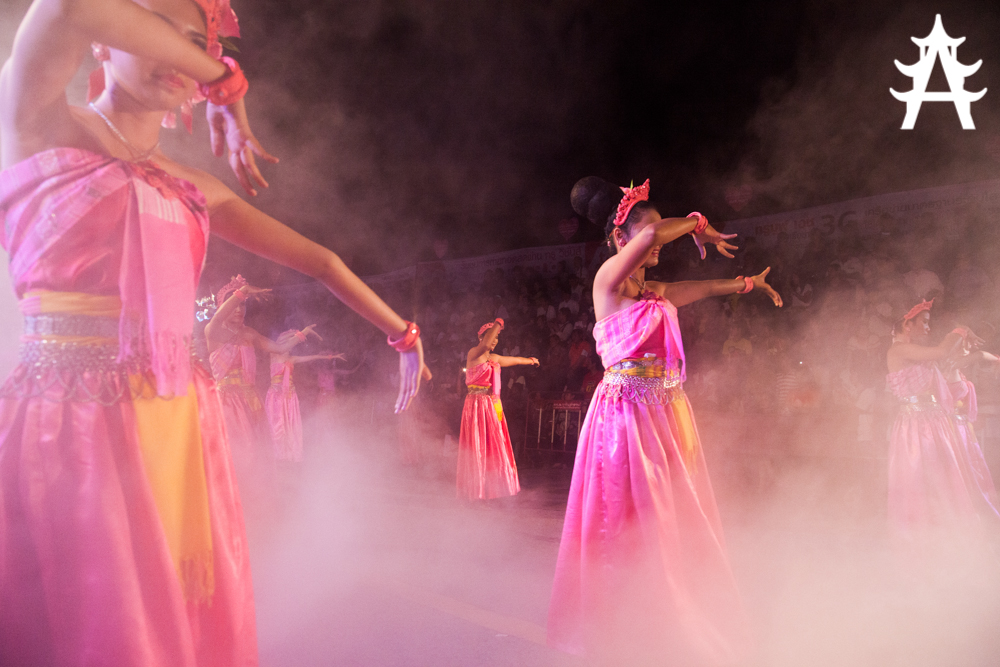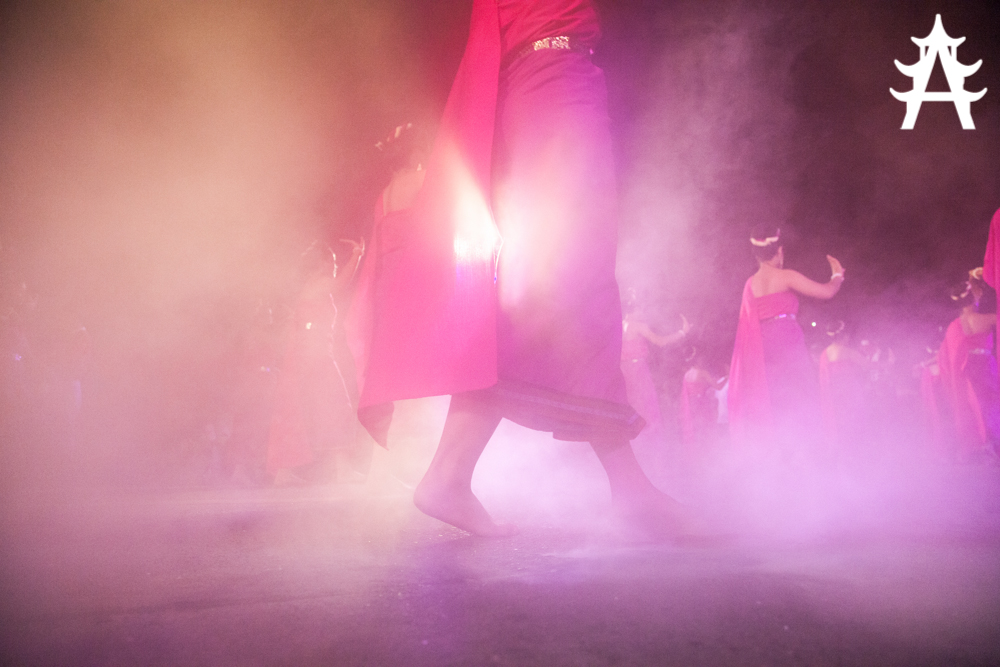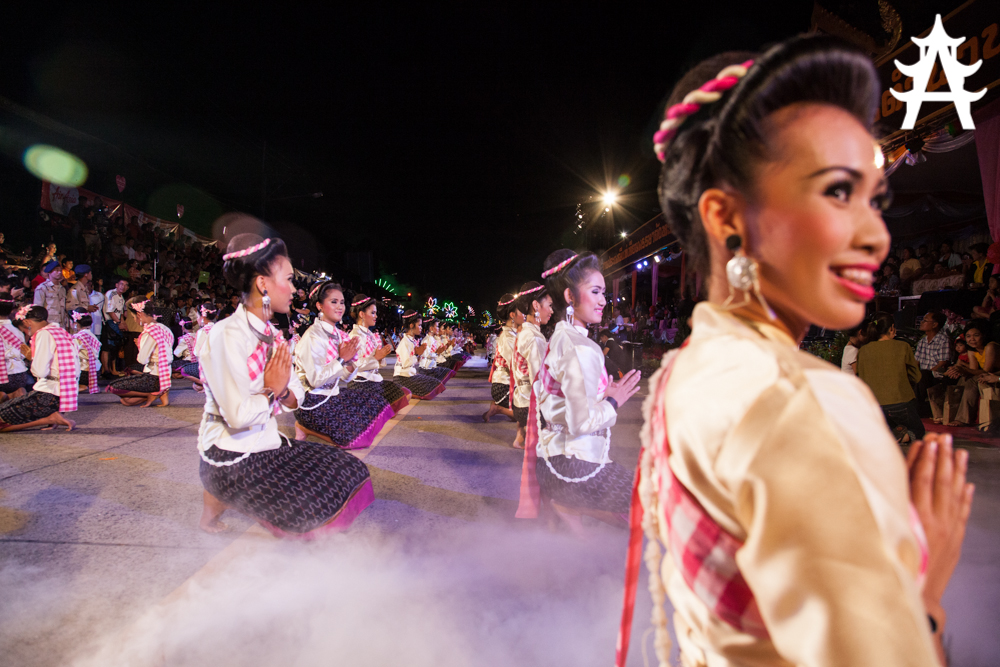 At the same time as this parade happens, there are dozens of other things going on. You can watch real Muay Thai (Thaiboxing) together with hundreds of yelling and highly involved Thai people, you can eat (if you make it to decide for one of the hundreds of small food stands), you can watch theatre and stage action, either on the festival grounds or very close to the river or you can buy nonsense from an unlimited amount of shops.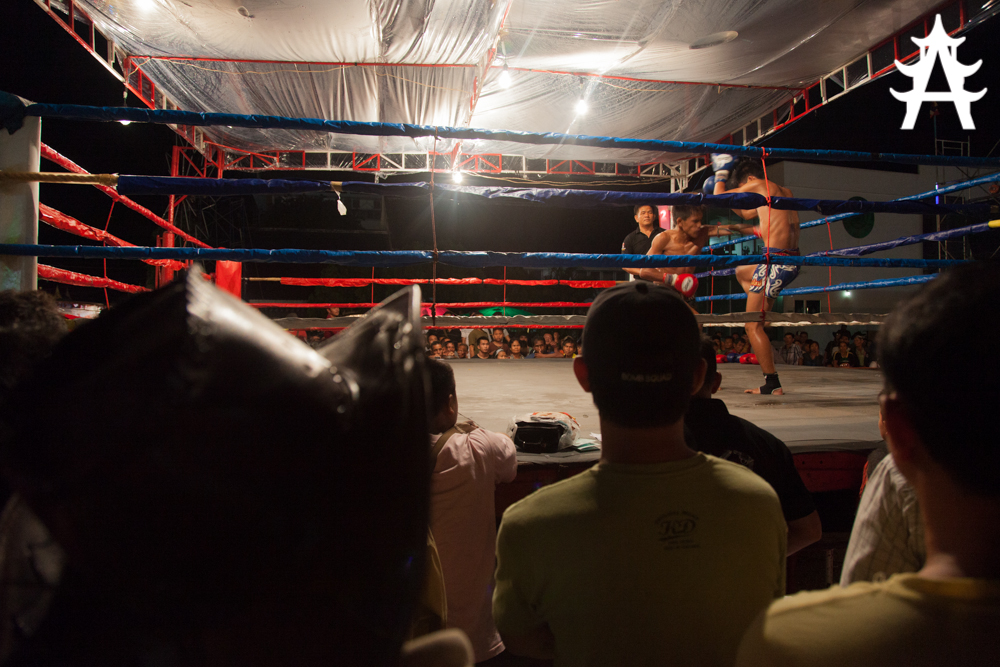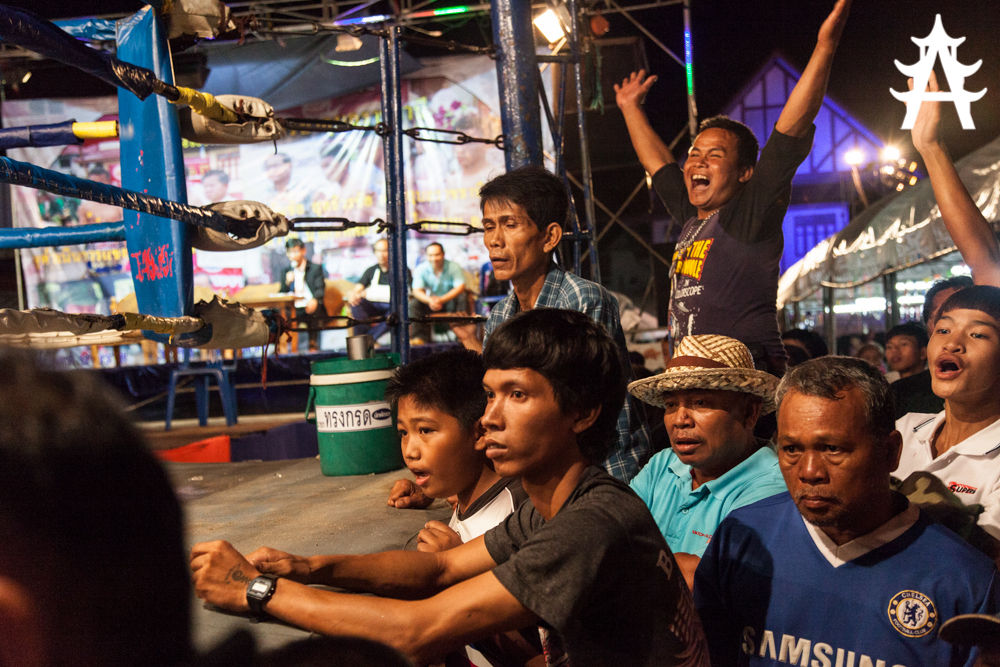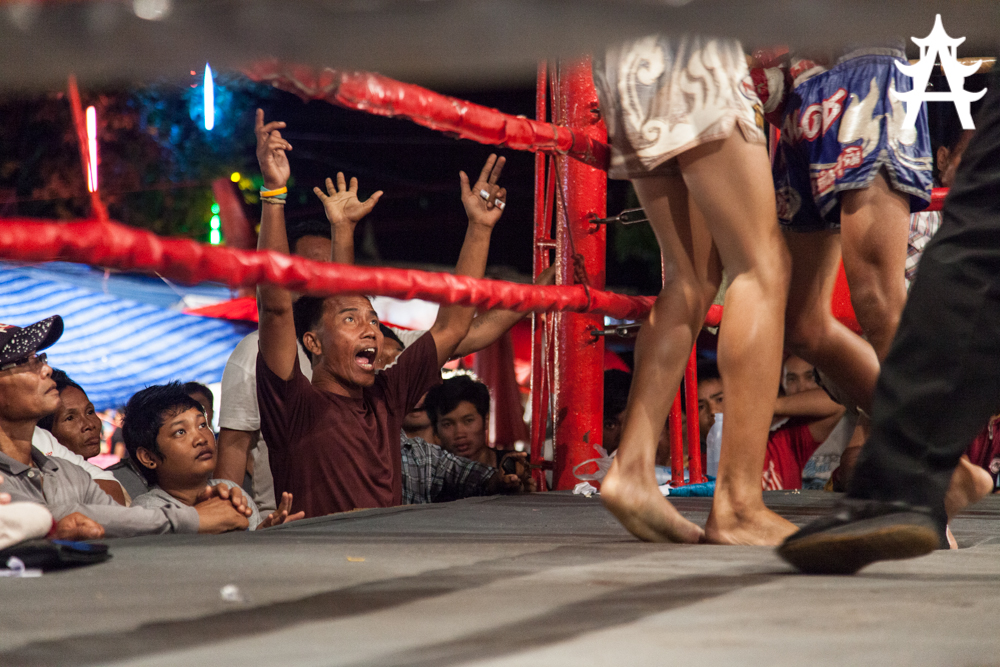 It was also the first time that I was able to witness the release of these beautiful asian paper lanterns, that you only see on TV most of the time.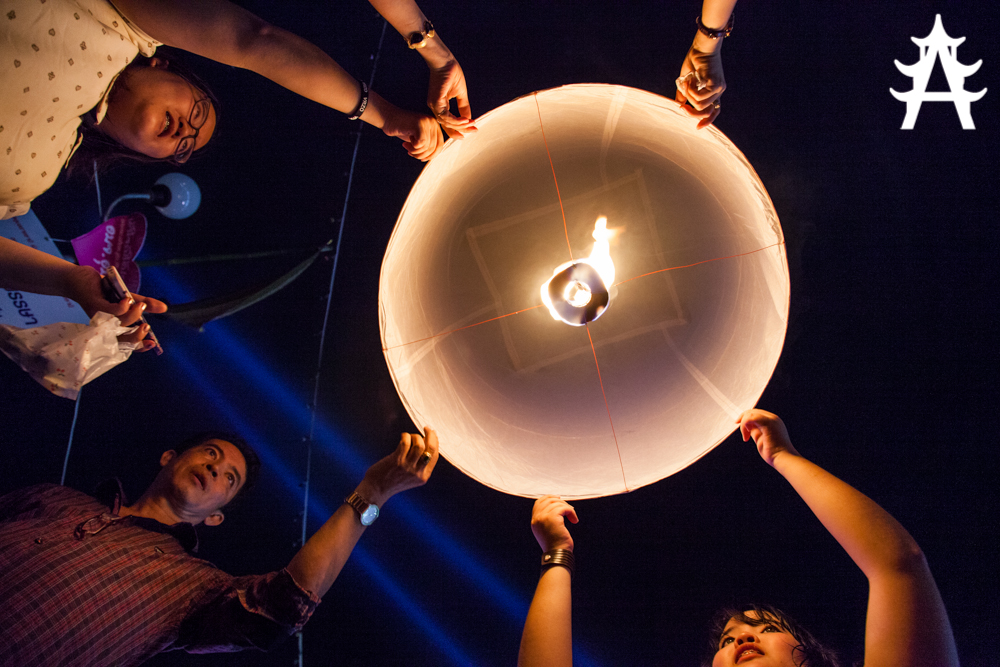 Additionally around 10PM there are fireworks. There is pretty much everything that you can wish for. Personally, the candle festival was the first big cultural event that I witnessed in Thailand and I really felt it was full of the real Thai culture. Also this festival seems to be quite an insider tip with western tourists as I may have spotted only a handful of other europeans/americans there. Apart from that, its only people from Ubon and Thai or asian tourists.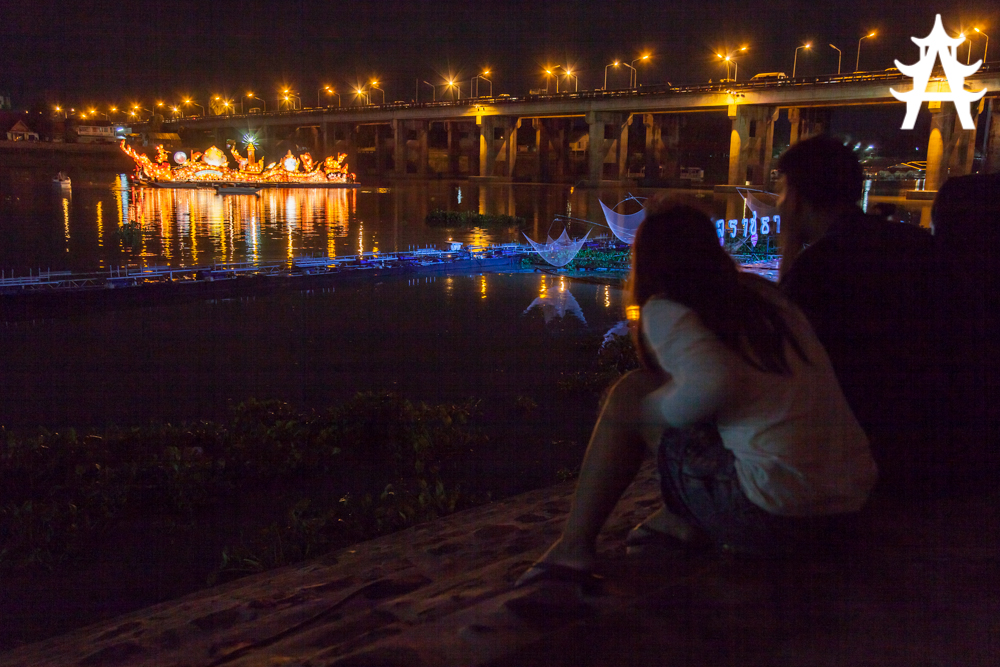 The lack of western tourists also led to a, for me, rather unusual treatment: During the festival I have been asked for an interview at least 15 times. It was all school groups that seemingly had to conduct interviews with different visitors to the festival asking questions like: "How do you like the candle festival?" or "Do you enjoy Thai food?". As the questions were all more or less the same every time, I would guess all of them are in the same class, which makes it kind of fun as I can't help but imagine the moment when they all present their interviews and it turns out that they all interviewed the same german.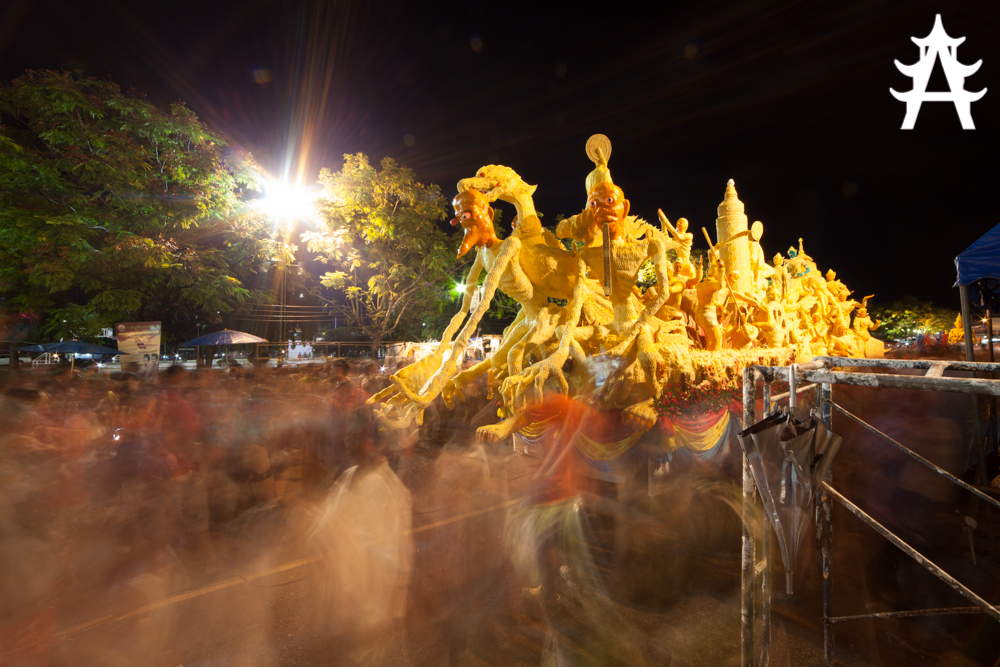 Apart from the interviews, I might have had ten teenage girls (and one boy) asking me for my photo. Yes, they did not ask me to take a photo with their camera but they wanted a photo with them and me on it. Apparently I do fit some kind of rockstar image they have (at least thats my explanation, don't destroy it by saying that it all might be about the skin color) but who knows. Its fun for the time being but if that would happen all the time I would freak out quickly for sure.
Altogether the annual candle festival of Ubon Ratchathani is definitely worth a visit, even if you do not happen to be very close to it by chance. I found it to be a place where the real Thai culture can be experienced, which is hard to find in todays urbanized and modernized Thailand. I feel lucky that this event happened to take place just when I was in Thailand and also that I was lucky enough to learn about it. I hope that the images have gotten you interested and if there are any additional questions, let me know!
Yours
Crazy Ivory
Follow my photos, travel route and stories is the Asia Adventure Page.