Here I am, after my first day of not blogging since starting my Asia Adventure. The last 48 hours have been a bit stressful, so I am glad to finally sit on my hotel bed and write this article. Let's start with yesterday. My plan was to take a daytripfrom Chiang Mai to Doi Inthanon National Park, where Thailands highest mountain is situated in. After that, I planned to take an overnight bus from Chiang Mai to Khon Kaen. To make it short, I am in Khon Kaen now but did not make it to Doi Inthanon. The simply reason for that is, that I was not able to find a decent scooter rental place that also offers damage insurance, and that the ones that did offer such a thing, closed too early in the evening, so that I wouldnt have made it in time. I decided to live with not exploring Thailands highest peak and to instead look forward to Khon Kaen. At 7Pm I mounted the bus to Khon Kaen and off I went.
The bus took 12 hours to arrive in Khon Kaen (around 750km), but it really sounds worse than it was. By reading, listening to music and playing a PC game I was able to kill a couple of hours, and after all my batteries were emptied, I slept through the rest of the journey. Having two seats to myself really helped though. It was a VIP 1st class bus with loads of legspace, a couple of drinks and snacks and all that for only 400 Baht (original price would have been 550, but I have gotten pretty good at bargaining lately)
Our bus arrived by 7AM and my first task was to find a decent place to stay, as I had not booked anything in advance. By using some Wikitravel accomodation tips, I was able to find a cheap room very close to the bus station for only 230 Baht per night. After checking in I had to decide on how to spend the day and since my first impression of the city was: "Well, that looks boring", I fancied the idea of renting a scooter and exploring the surroundings. This was the moment that I remembered something I had read earlier, something about a Cobra Village close to Khon Kaen.
 The necessary information was collected within minutes, I went out to get a scooter (again I was able to negotiate 100 Baht less for my one day rental) and left the city as quickly as possible.
Welcome to King Cobra Village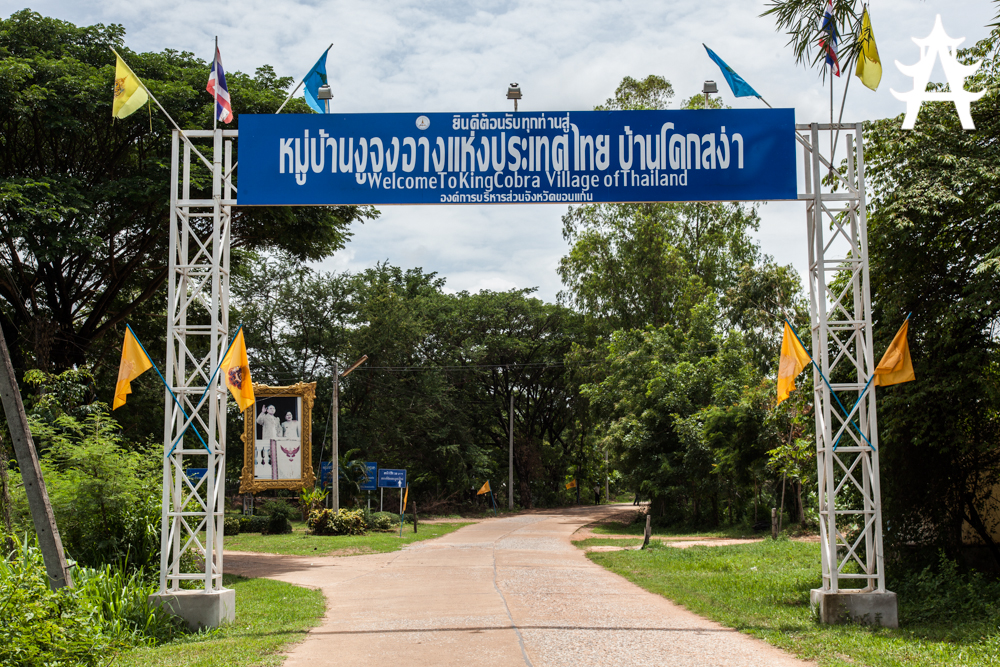 My way led me about 50km northwards, and after getting lost a few times, I finally passed the entry of Ban Khok Sa-Nga King Cobra Village.  As I had not seen any people on my way here I was more than surprised to see the parking lot being full of motorbikes and tourist buses, and it was quite crowded on first sight. When looking closer I realized that many people where not visiting but instead they worked there. Another thing that surprised me was, that I was not able to spot any other european looking person, I seemed to be the only one. This was irritating as I came there having a huge tourist attraction in mind. But it was no unpleasant surprise at all, it seemed like I had found something that most western tourists miss.
The Cobra Arena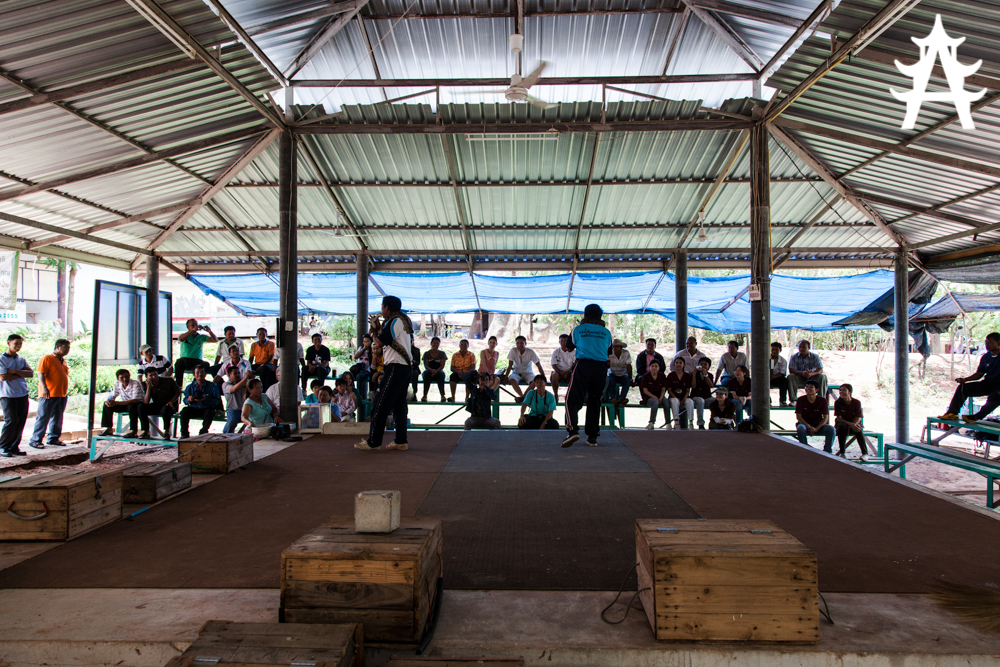 The parking lot was surrounded by numerous shops, all selling random stuff and displaying cobras that you could take a photo of, in exchange for a donation. Most of them looked sleepy, drugged or simply bored, and I was not too eager to change that. After a bit of looking around, I found what seemed to be an arena. A surprising amount of people sat around the arena as four young girl danced a slow dance while each having a cobra around her neck.
The cobra dance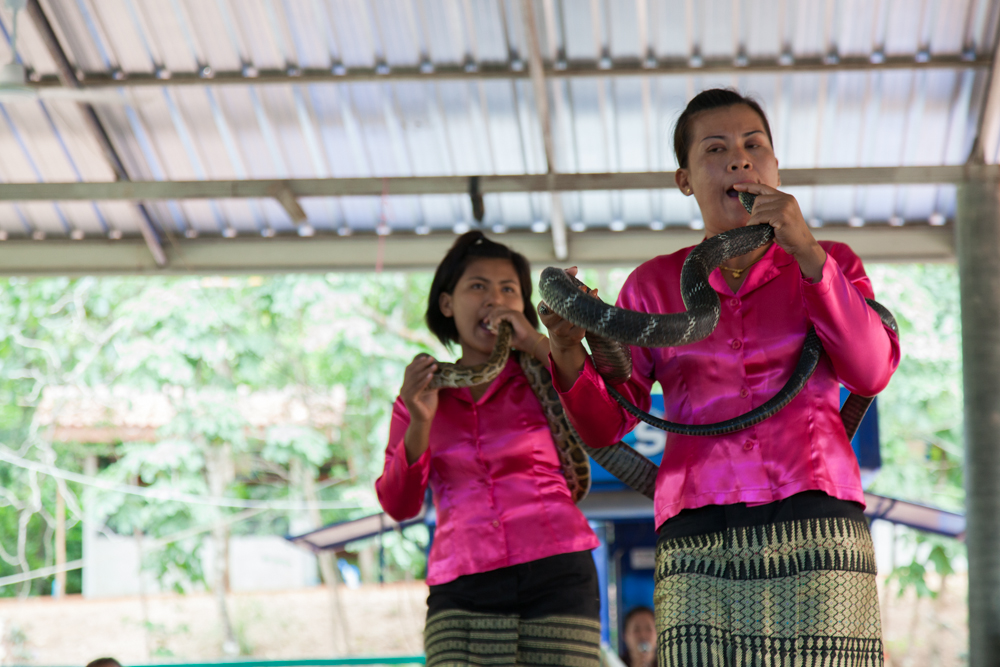 The audience clapped mildly, and the next part of the show began. Two average looking guys entered the stage, welcomed the audience and soon a cobra was released from one of the wooden boxes on the stage. One of the guys got down on his knees, and started fighting with the cobra. Fighting means punching the cobra softly on its belly, dodging the snakes attacks, and at one time even headnutting the cobra. This kind of show was repeated by three other guys and the circus was over. A women went around collecting donations after the show.
King Cobra attacking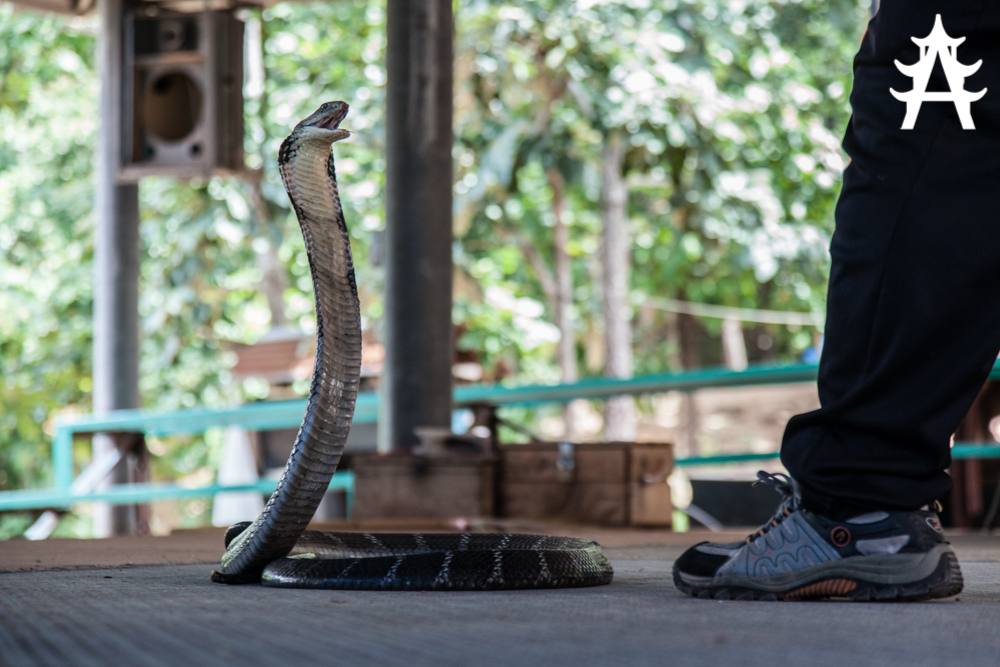 Fighting the King Cobra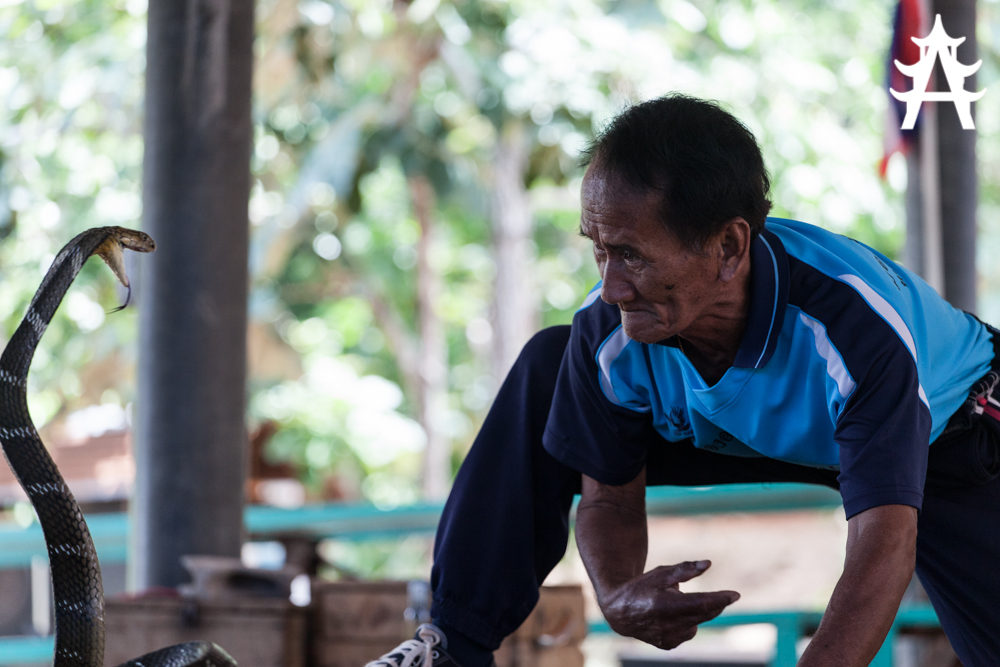 Eat the Cobra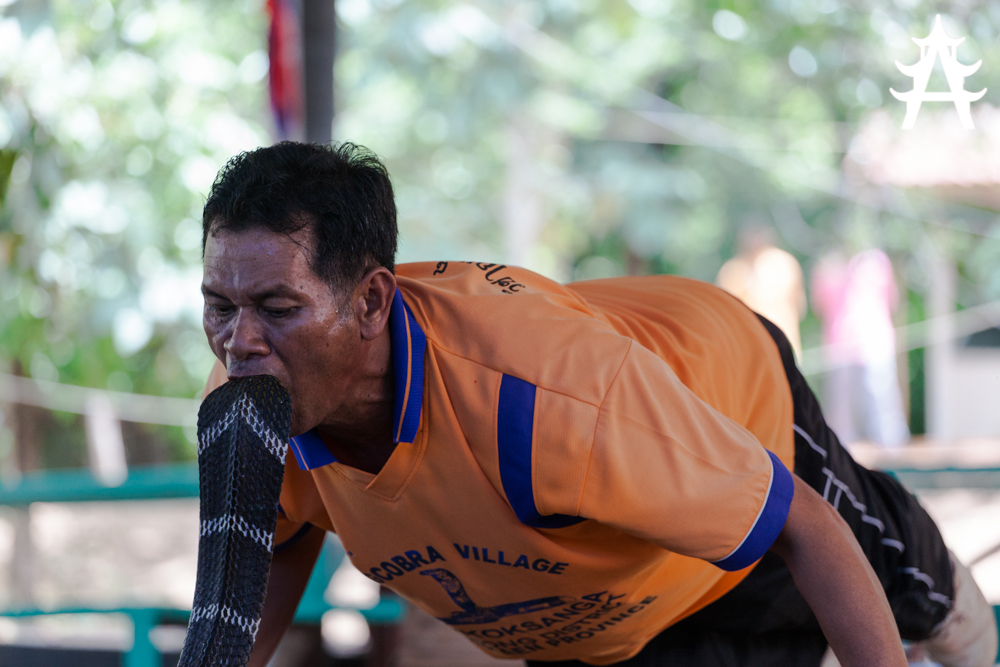 Honestly, my feelings after the show were mixed. On the one hand I found it fascinating to see the cobras and the guys interacting with them, on the other hand I imagine that this kind of stuff must be very distressing for the snakes, especially when repeated a dozen times per day. 
Me with the Cobra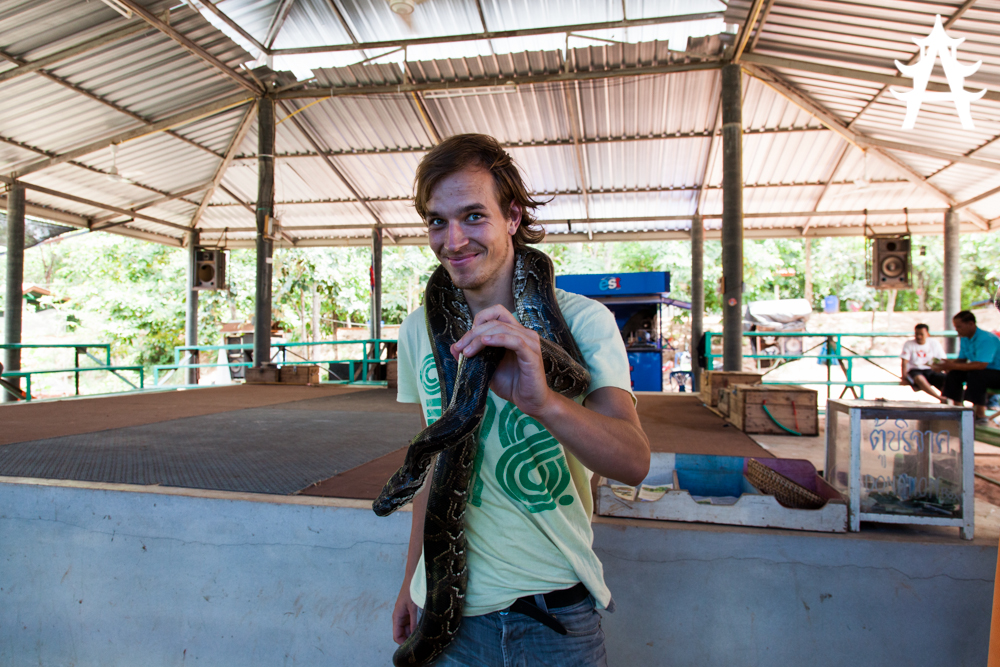 After leaving the cobra village I took a 50km detour to visit the Ubolrat Dam, another popular attraction of the area. After having visited Pasak Dam close to Lopburi before, I did not expect too much of another dam. But this one was actually quite nice, giving you less a feeling of a dam, and much rather of a nice lake. The weather with its small microclouds created an interesting atmosphere, and I rested for a couple minutes before heading back to Khon Kaen.
Ubolrat Dam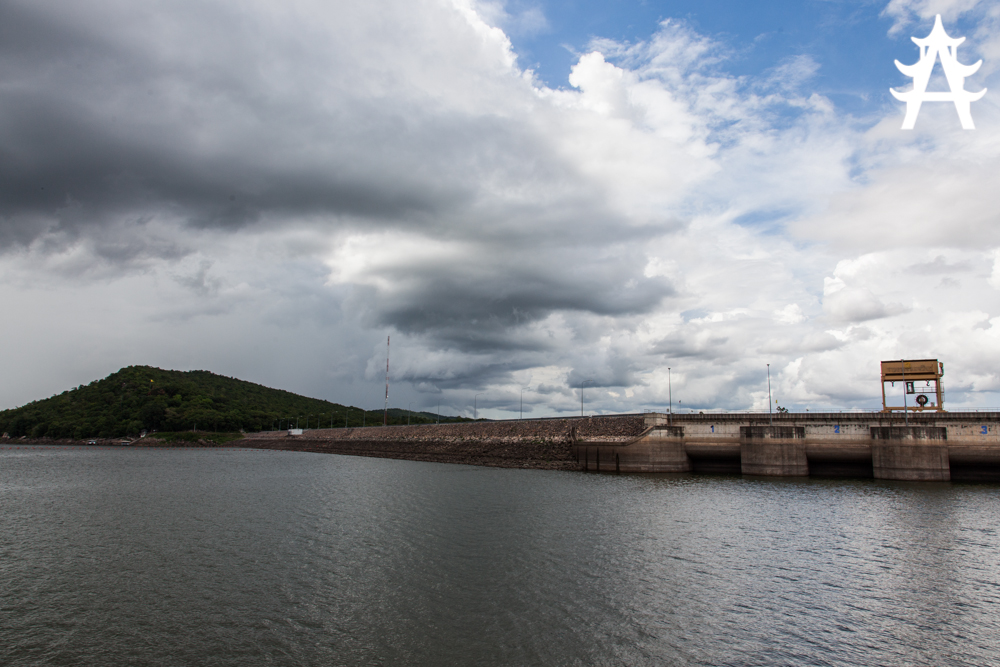 On my way back I got ambushed by a raincloud and had to seek shelter to wait for the rain to disappear.
Waiting for the rain to stop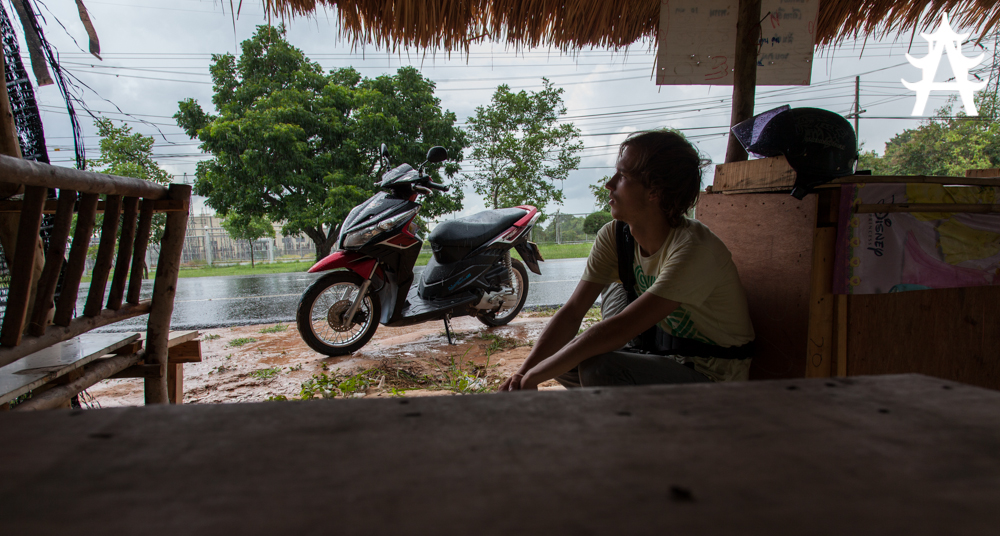 Khon Kaen has not convinced me as of yet. Lets see what tomorrow brings
Yours
Crazy Ivory
Follow my photos, travel route and stories is the Asia Adventure Page.