On the way to Pai Hospital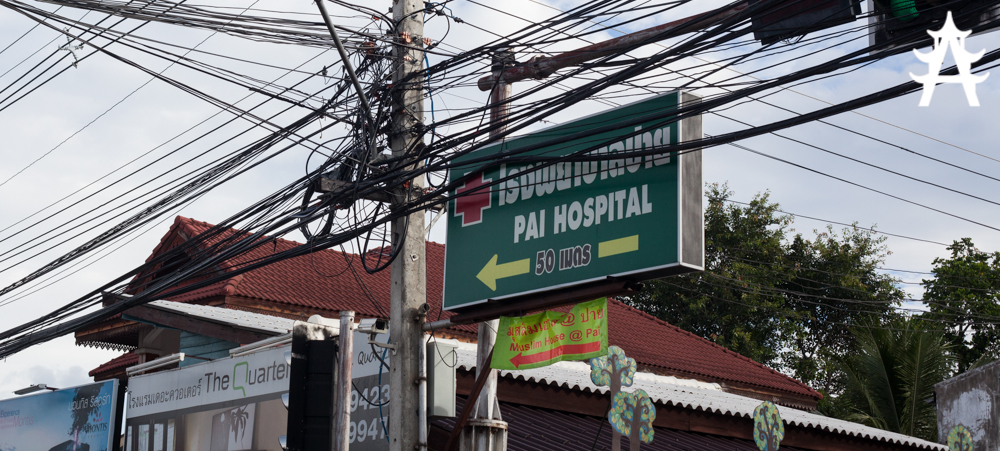 Todays post is nothing that you would expect to read in your average travel blog, but this is not an average travel blog, right? As much as I enjoy writing about the nice, cool and interesting things that I come across on my journey, its simply not nice and freaky all the time. Sometimes its not going as planned, and that has to reflect in this blog as well.
So, let's start from the beginning. Five days ago I rode a scooter for the very first time in my life. It was a good experience, apart from me crashing on a parking lot, running the scooter across my feet, hitting another scooter and crashing through a wooden blockade. This incident left marks. I now have a lot more respect of scooters and I got quite a few injuries on both my feet.
I got a few excoriations and a big blister on my right foot. Over the last days I used my almost non-existing medical knowledge to treat my wounds and prevent an infection. To me, everything seemed pretty fine, at least until yesterday. While my blistered right foot healed (even though very slowly) my left foot started to swell badly late in the afternoon. I did not see this coming, as the left foot was definitely less injured and only had smaller scratches and wounds. It also started hurting badly, and so I made the decision to visit the Hospital of Pai early in the morning of the coming day.
Pai Hospital Outside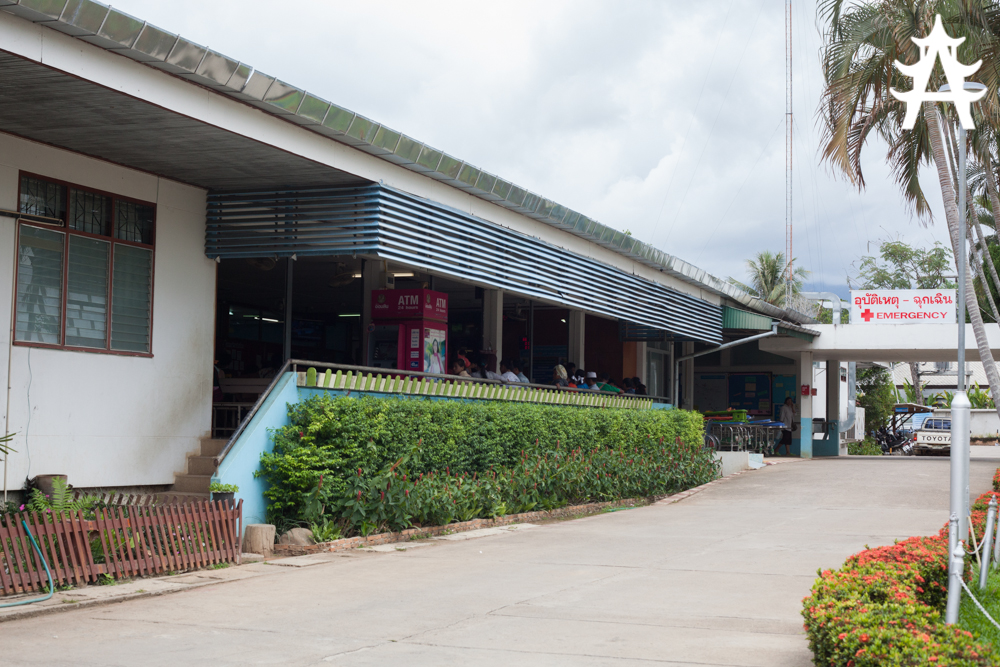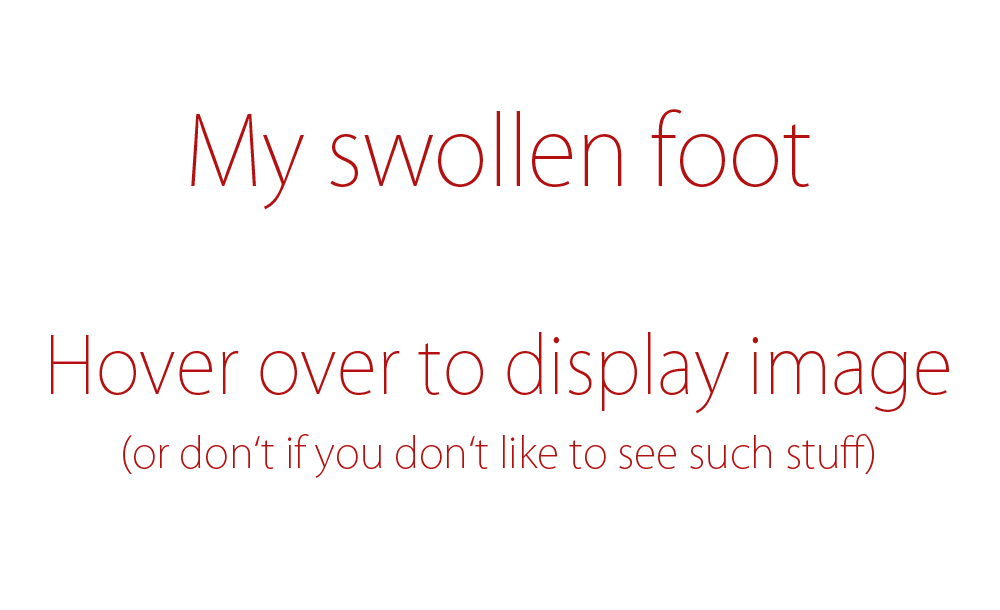 And that was pretty much exactly what I did. I took the scooter to the hospital and the fun part began. After walking into the main entrance of the facility I was unsure how to proceed from here. There were about two dozen people sitting in the waiting area, what for was unclear. After looking around a bit, I realized that everybody had a ticket in their hands. On the second look I found the dispenser, and with my ticket #36 I sat down. I wondered were the digital monitor is that calls your ticket when its your turn, and after asking an old women I knew that I would have to wait for "sǎam sìp hok" (Number 36 in Thai) being called.
Lady in charge of the information desk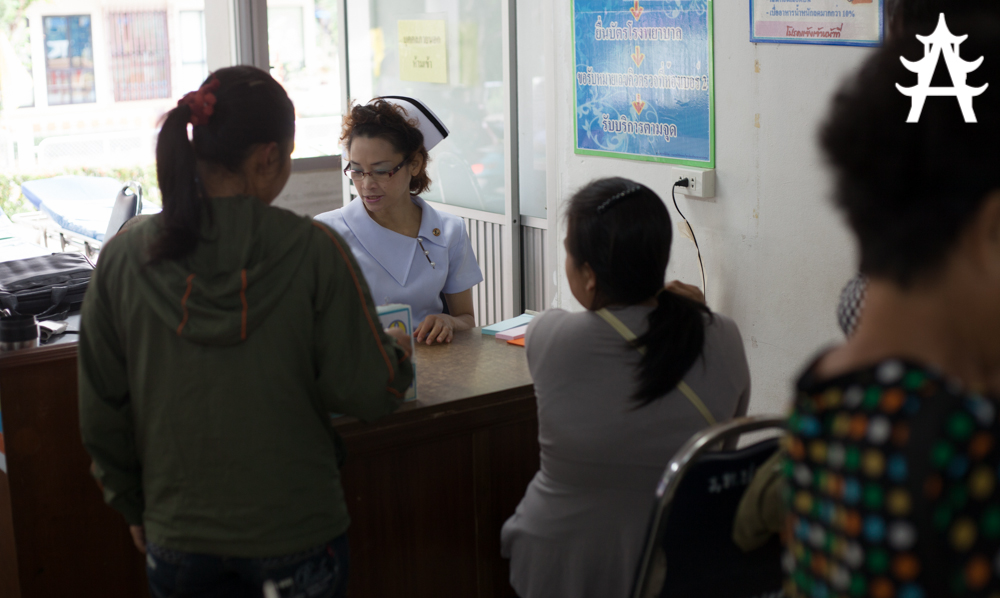 It turned out that the waiting ticket was not for a doctor, but for the information desk, from where you would get send to the right department. The women in charge of the information desk arrived about half an hour after me, and then quickly worked her way through all the waiting patients. I was told that before seeing a doctor, I would need a hospital pass, which I would get at counter two. Said, done. Counter two told me to wait a couple of minutes, so that they could put my information in their computer system. When this was finished, I was sent the the next waiting area, with my new waiting ticket #27.
Second waiting room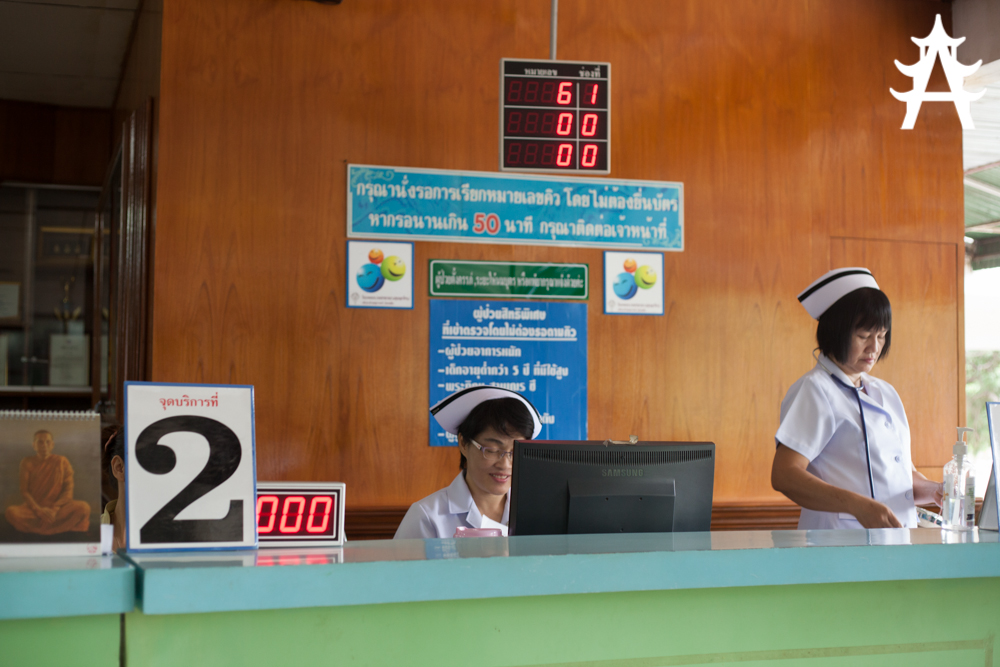 In this room they actually had digital monitors for the waiting numbers, so that I could easily find out that it would take a long while. When I entered the room they called for #06, and during the next 30 minutes this did not show any progress. I waited about 1 1/2 hours before being called to the counter. I answered the ladies question "Whats the matter" with "My foot is swollen". I was then put on a scale and had my blood pressure measured, before being told to sit down again and wait for the doctor. The way she said this gave me the feeling that it would not take too long, but I was wrong. I waited another hour before I got the chance to finally see a doctor.
After looking at my feet for a couple of seconds I was sent out again. He needed me to have my feet x-rayed, in order to make sure that my foot did not get fractioned. So I went to the x-ray lab, and of course, I needed to wait a bit. This time it was only 10 minutes, before I was able to go in, and leave with my finished x-ray images only a few minutes later. Very professional.
X-Ray Room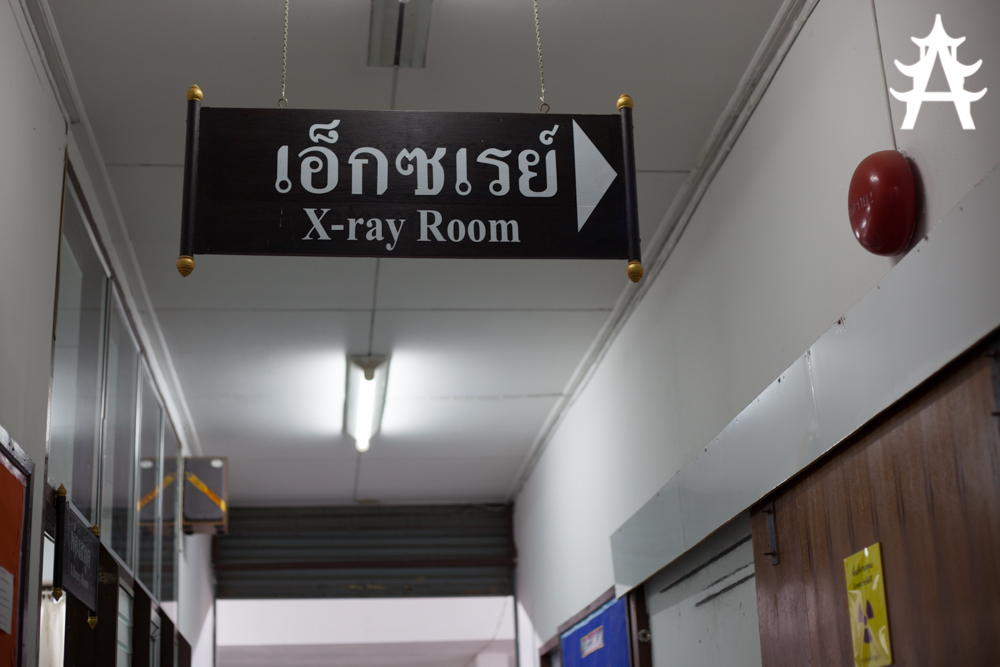 X-Ray image of my foot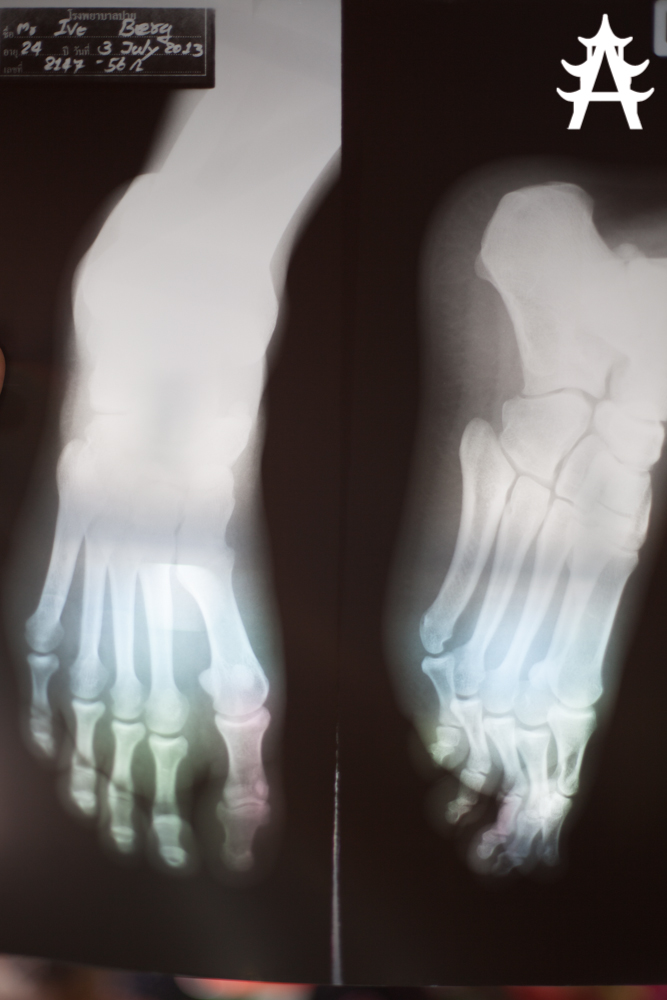 Back at the doctors office, I was told that there is no fraction (luckily) and that my foot was infected with bacteria. He then prescribed some antibiotics that I would have to take four times a day over the course of 7 days, and told me to go to the nurses to have the wounds dressed. Coming into this dressing room was interesting. All the nurses seemed to be in a very good mood, while a Thai guy and a tourist girl said on their couches with their faces distorted with pain. The tourist girl was the worst. She had huge excoriations and wounds all over her legs, feet, ellbows, arms and also the face. She looked like one huge wound. I asked her what happened, and of course as always "she fell with her scooter". This was not the first time I saw such huge injuries caused by scooters, there are blood-covered tourists all over Pai. The hilly surroundings of Pai, combined with boast and stupidity really add up to something bad. Her accident was two days ago, and now she would have to come back to have the bandages changed every day for a week or two. When the nurse removed the bandages and started to use disinfectant, she started shaking, screaming and crying. It was like from one of the exorcism horror movies.
The nurses worked very professionally on my injuries, cleaned them and put bandages on it. They also gave me disinfectant and bandages to change them myself over the next couple days.
After that, I went to the in-house pharmacy to pick up my antibiotics and pay the bill. Altogether this hospital visit set me back 671 Baht, which equals around 17 Euro. I am pretty sure that I would not even be able to get the medicine for that price, back in germany. I was very happy with the work they had done, the bill was definitely reasonable and the whole experience lasted for about four hours, which I would still consider OK.
The Anitbiotics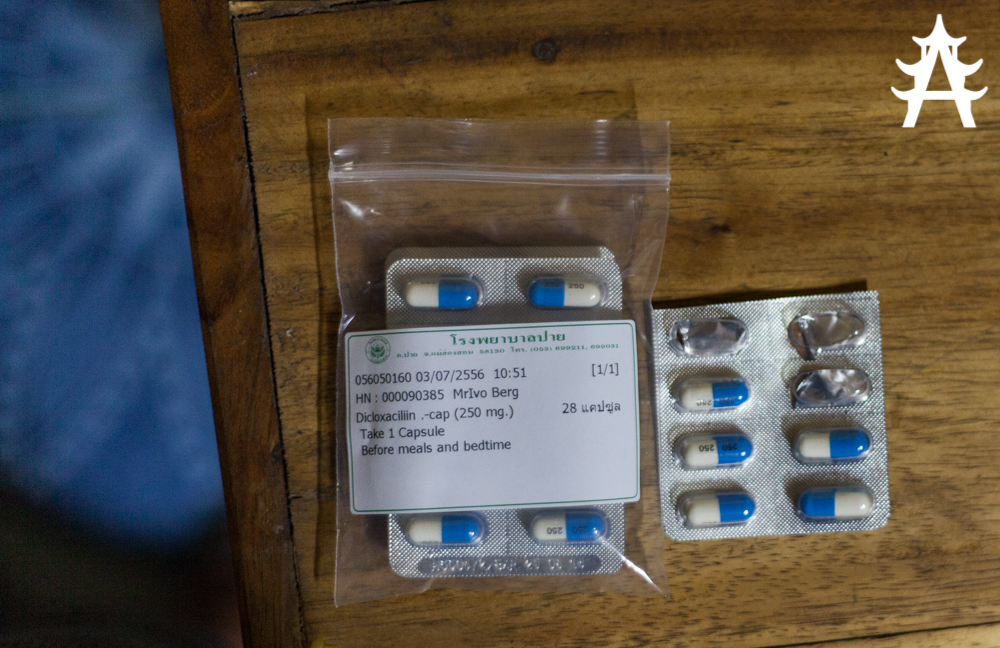 The Thai health system seems to be well organised and professional. Most staff members there spoke good english, they were friendly and caring. In germany I would not have felt better.
After leaving the hospital with my x-ray images, the medicine and bandage material, I decided to give back my rental scooter. Seeing this girl covered in wounds really made an impact on me, and I did not feel well taking the scooter back to the hotel before returning it. A scooter is not a toy, and it can really ruin your holidays (or life). Be careful people!
Yours
Crazy Ivory