Coming from the big city, fascinating nature is something that I would always prefer over big cities and busy streets. That's why I decided to come to Pai, instead of staying in Chiang Mai, it just sounded like a cute and small little town, in the middle of nowhere. Honestly, I could not have been more right. And its stunning, just stunning.
After getting a first peek into the remote areas around Pai two days ago, yesterday I joined in on a few guys from my hostel, that planned to do the famous ride from Pai to Mae Hong Son, with a stop at the Lod Cave (Tham Nam Lod). I did not want to go to Mae Hong Son (at least not yet) but still decided to join, explore the cave with them and then return to Pai on my own.
After an extensive breakfast, the five of us left Pai around noon, heading westwards. The road leading there is in pretty good condition, and the first 30km of the tour are steep, windy and sometimes a bit challenging. Nevertheless its a huge fun to ride your scooter there. The higher you get, the more breathtaking the views get, and you can't do anything else than stopping and shooting it.
Rivers and Forests along the way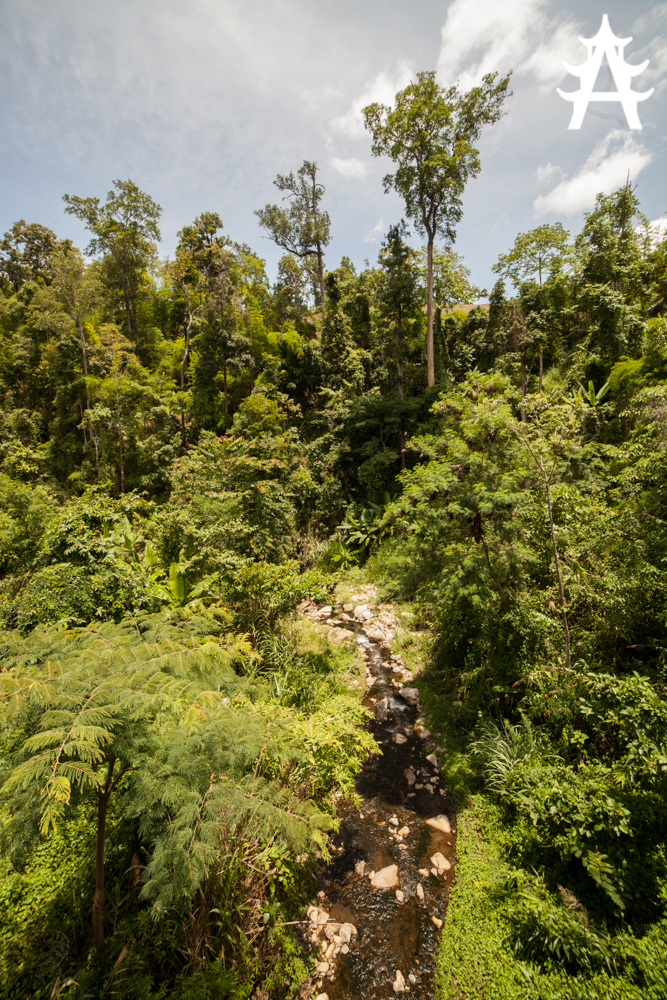 After this first part you arrive at a plateau, almost on top of the mountain, from here it only goes back down again. This is just as fun, as you don't need to use the engine most of the time. Instead you simply let the scooter roll while you enjoy the beauty of Thailands Nature.
Lod Cave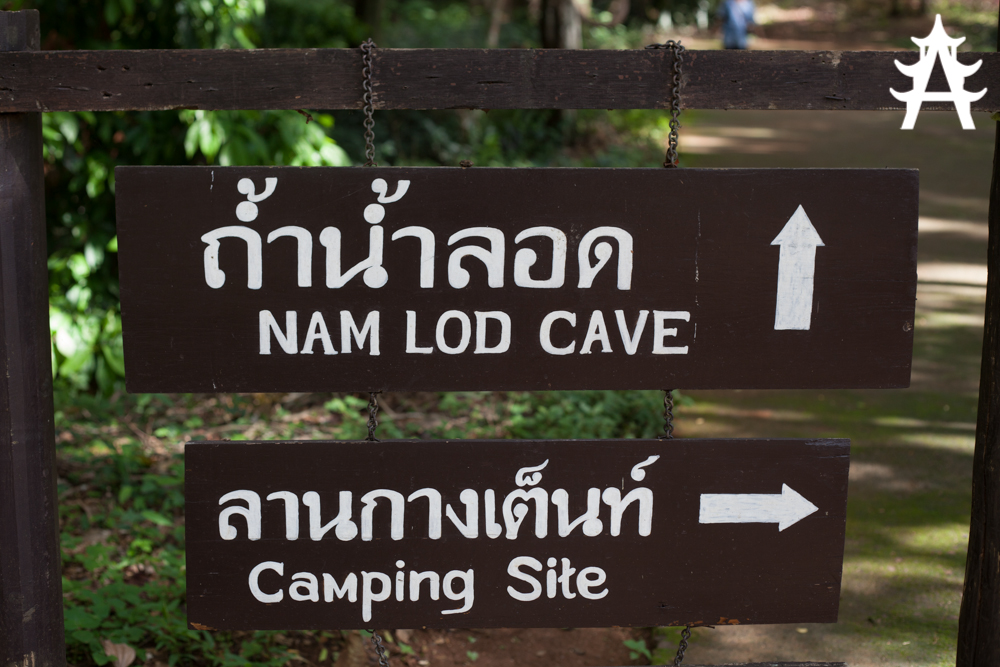 After another 10 or so kilometers, we needed to leave the highway for smaller, dirtier roads, leading us to the cave. The road signs were clear, and the way there easy to find. So, before long, we pulled into the parking lot of the cave. After a short talk with the lady at the entrance, we learned that we would need one guide per 3 persons, so two guides. One guide costs 150 Baht, so divided by five the admission was definitely reasonably priced.
Entry of the cave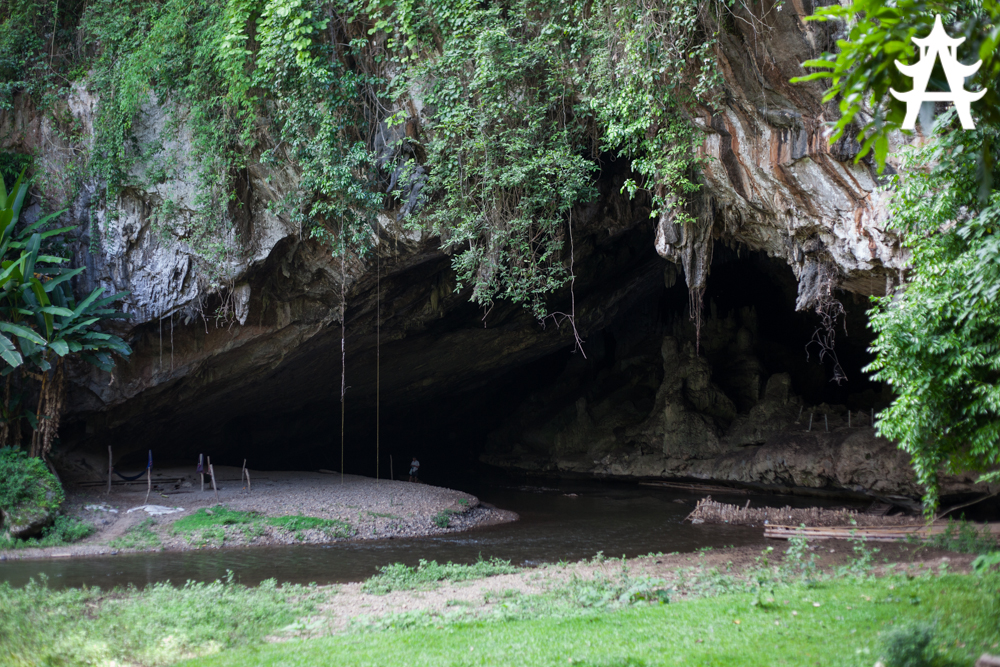 One of our cave guides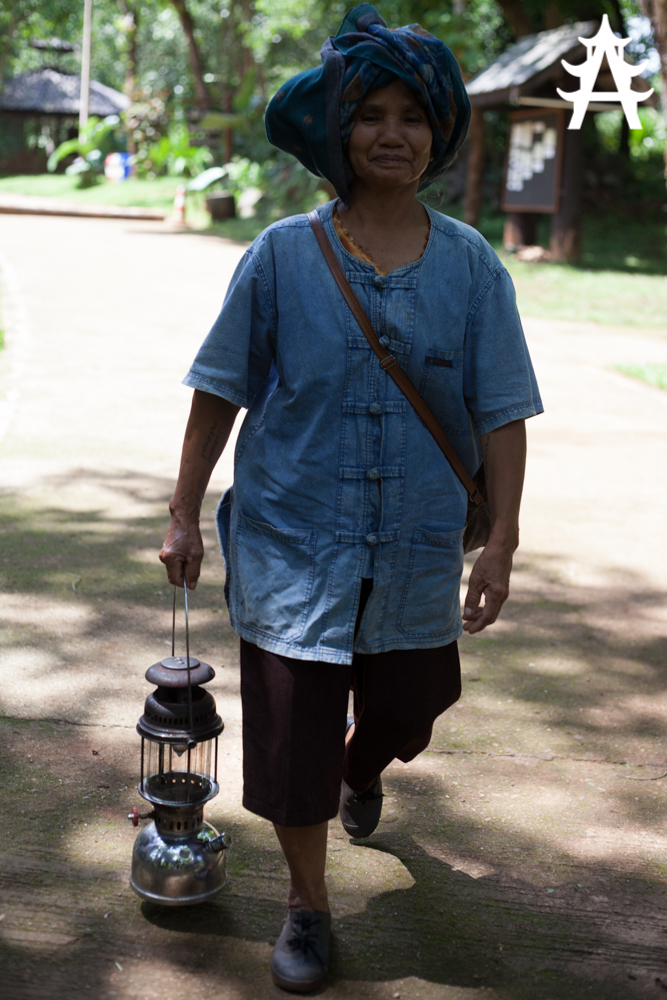 Our guides (two older women with silver gas lamps) led us to the cave entry, and before long we disappeared in the darkness and humidity of the Lod Cave. It was damp, dark and slippery. The air smelled unexplainably, from the bat shit I suppose. And yeah, there were bats. You could not see them in the first cave, but you could hear their sounds very loudly just above your head. It was an interesting place for sure, and a very good location for photography. These two women, both enlightening the huge cave with their comparably small gas lamp, really created an atmosphere. 
Gas lamps inside the cave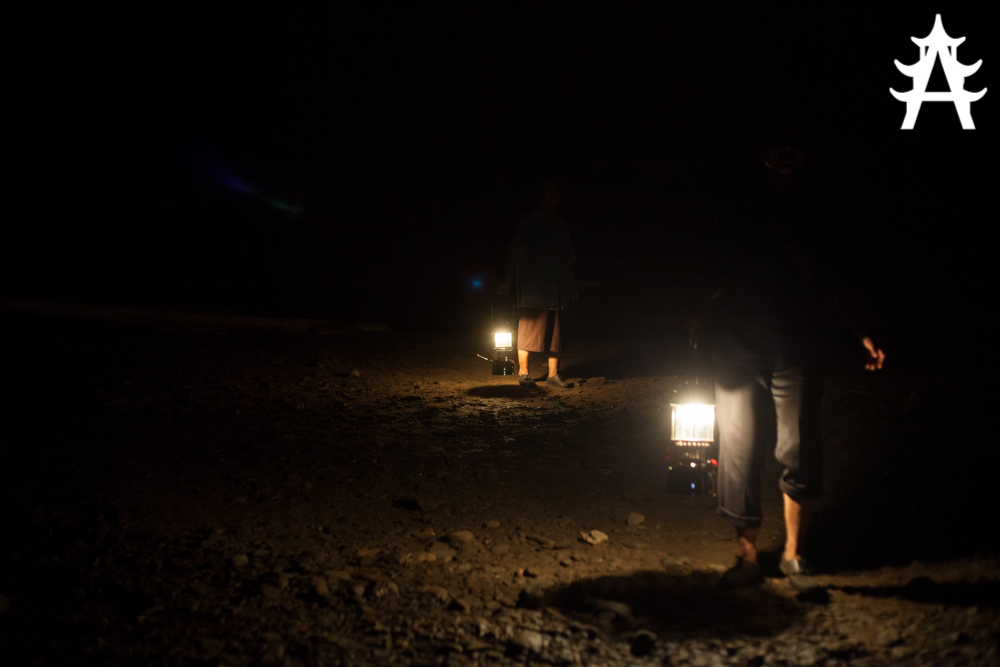 So our tour went like this: We walked around dark and narrow ways, and every ten meters our guide would stop and tell us what a certain cave formation would look like. "See, Illepant" (Elephant), "See Nake (snake), see…you can imagine. It was nice. It would probably have been a lot nicer being there alone, in order to really take in the atmosphere and to enjoy the silentness, but with a group of four others this was hardly possible.
Stairways inside the cave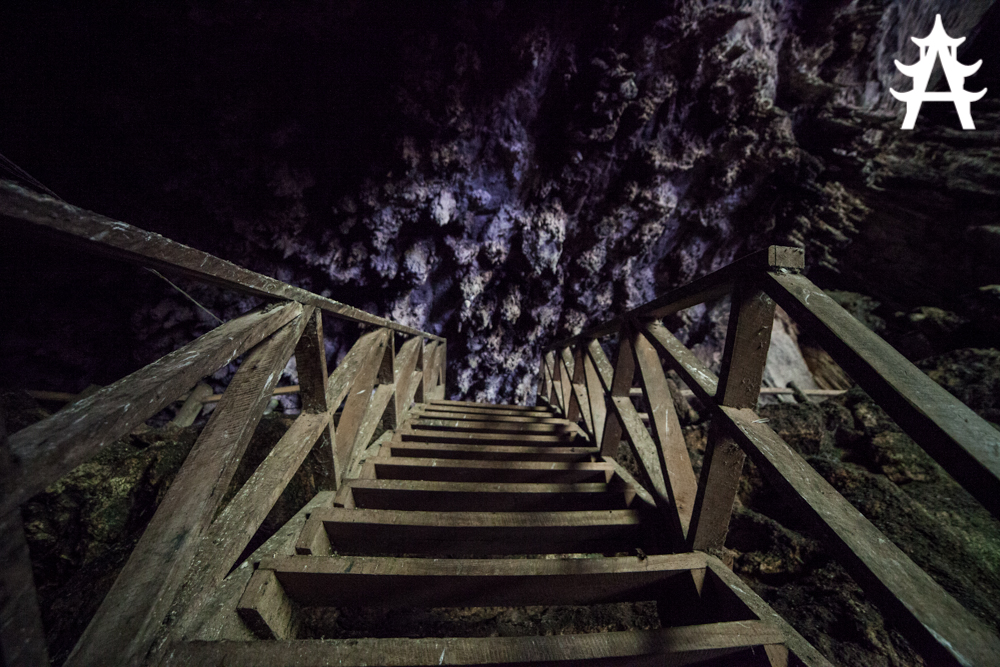 So, after seeing a couple dozen formations, we arrived at the small river that is flowing through the cave. The guides demanded 300 Baht for one Bamboo raft, each suitable for three people. So we would have to pay another 600 Baht. The discussion started, it remained unclear whether the raft is an option or the only way to continue. All our shots at negotiating a better deal failed miserably, mostly because of the almost non-existing english skills of the guides. 15 minutes later we decided to pay, it wasnt that much after all.
On the raft inside the cave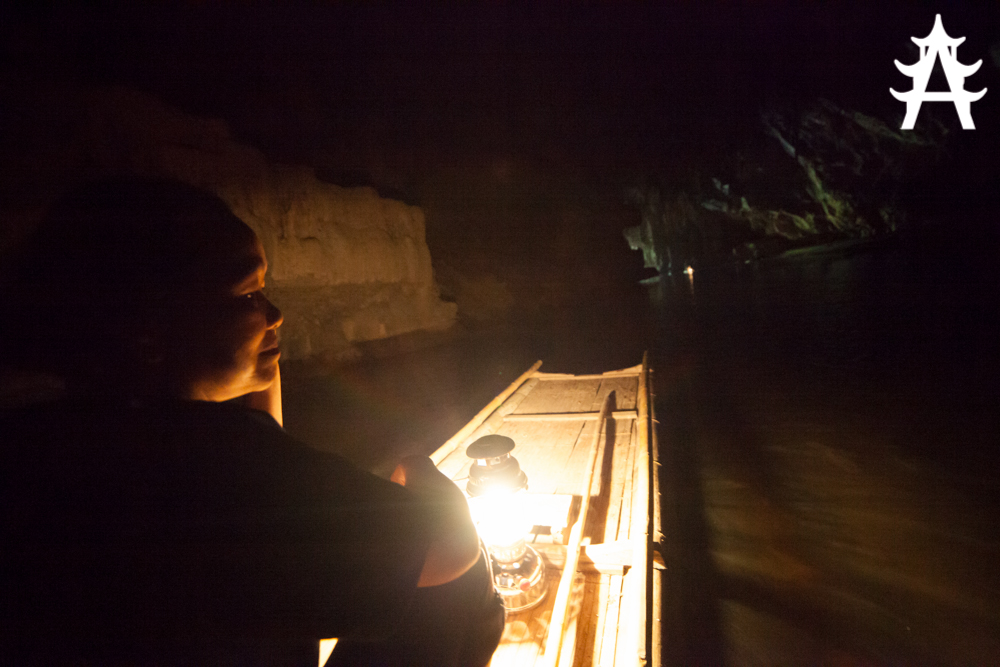 So, our ride continued on a shaky bamboo raft, leading us into the other huge parts of the cave. It was nice. I sat down in the seat just behind our guide, and tried to get a few good shots out of this place. The second cave we passed was frequented by thousands of bats, and with a flashlight, we were able to see them very clearly.
Stalactites inside the cave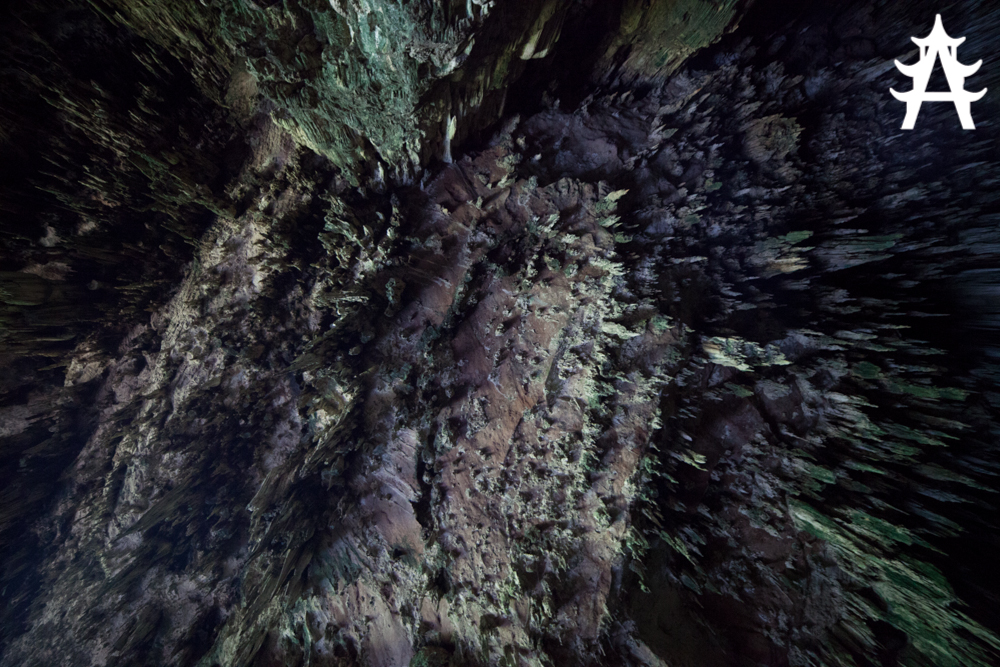 So, we got off in the third cave, saw some more formations, continued to some really old coffins (1.000 years old or more), saw some more formations and went back into the boat to return in the opposite direction. On our way back we also stopped in the second cave, ascended a couple dozen really high steps, and were shown an old painting of a deer and an arrow, dating back a couple thousand years. The painting was extremely blurry and judging from the information signs this seemed to have been caused by too many people touching it.
Another raft inside the cave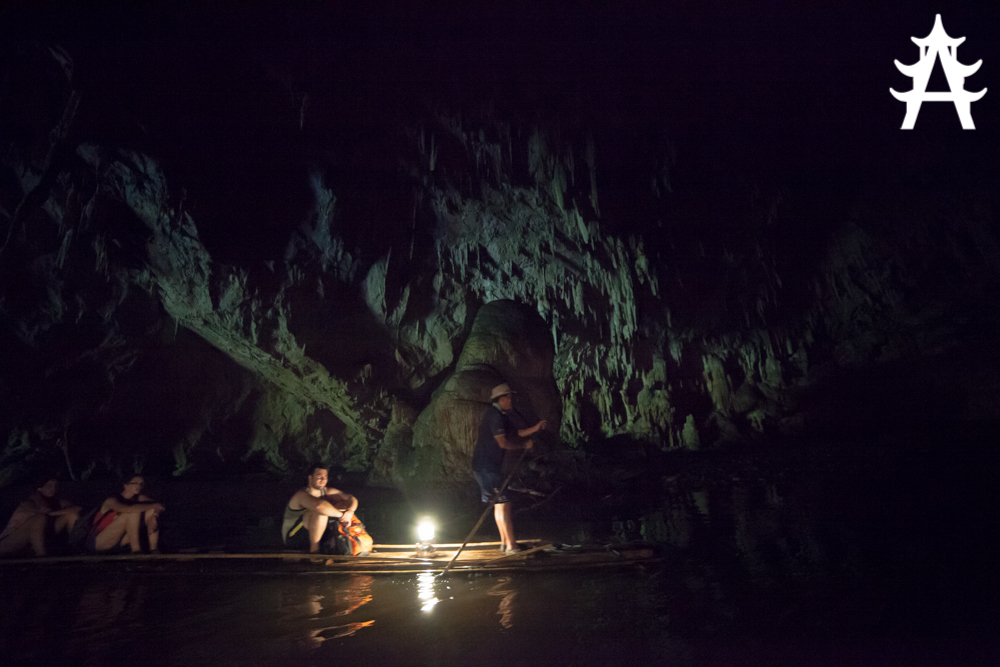 So, after seeing this, we walked our way back out, and the cave time was over. We had all enjoyed it, we were in there for two hours, and the amount we had paid seemed fair. We rode back towards the main highway, and I said goodbye to the guys. They turned right towards Mae Hong Son, I turned left to Pai. Riding alone was nice, I was able to decide on my own speed and I really enjoyed it. I stopped a couple of times, took a few pictures, continued.
The highest peak
When I was back up at the plateau, I recognized the sign saying "The highest peak". Well, that sounded interesting. And since the lighting was magical that day, I thought getting to a high position can't be too bad.  Also the sign said it would only be 2km, so why not. That way was crazy steep, and very dangerous. At times there was nothing else than sand, while riding a 2m wide way with a couple hundred meters descend just next to it. The scooter really had to work hard to get me up there, and some cows blocked the way, so that I needed to honk them away. After walking the last bit, I was there, on the top of this amazing place, and the view really was worth everything.
View from the highest peak in Pai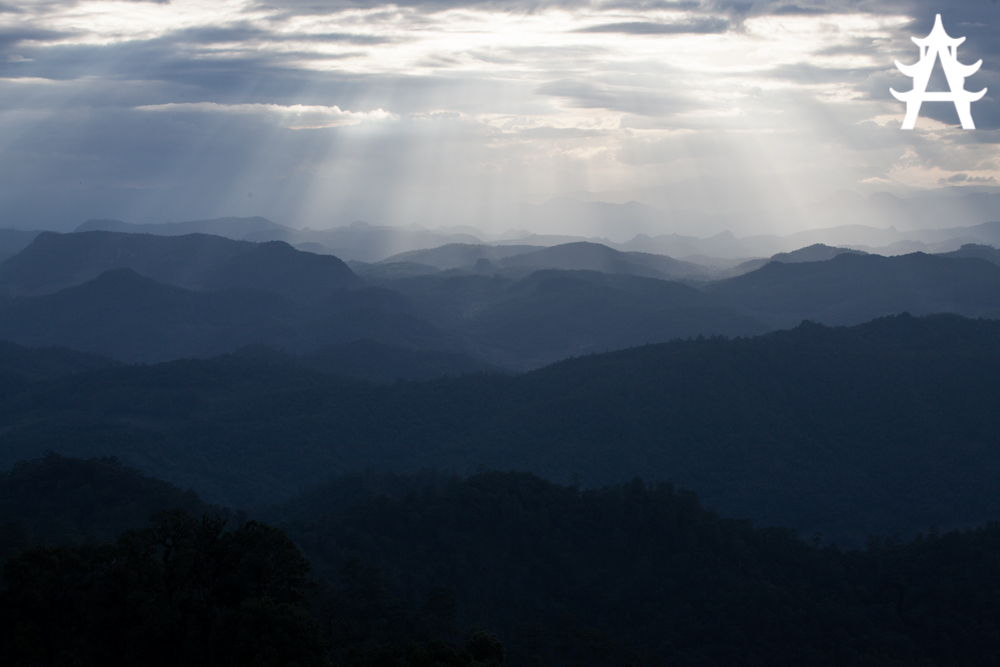 Me on top of the highest peak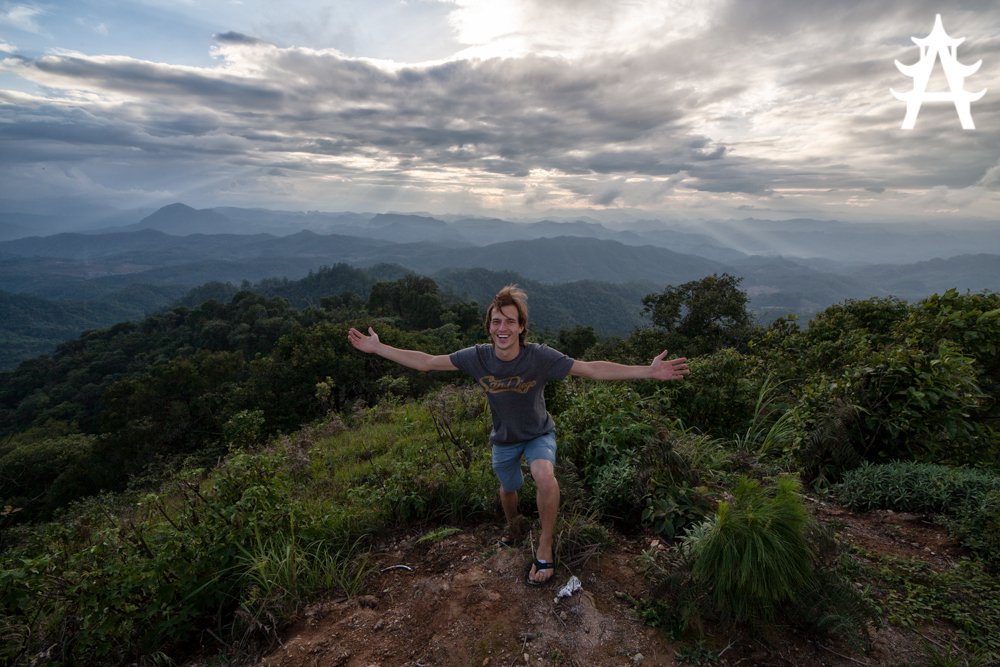 I stayed there for a bit before I decided to head back to Pai, in order to not having to ride back in the darkness (it was late already). My fuel monitor told me that I was on my last 10% of gas, which was not exactly what I wanted to hear. On my way back down the mountain I tried to use the engine as little as possible, and looked out for a gas station. The scooter made it, and just before entering back into Pai I was able to fill up my tank.
The day was amazing, the cave a lot better than expected, and the view from up the highest peak was pretty much one of the most beautiful things I have ever seen in my life. I always thought things like that would only exist on TV.
Yours
Crazy Ivory
Follow my photos, travel route and stories is the Asia Adventure Page.