After not seeing anything of Pai yesterday, I decided to change a couple of things today:
1. I needed a different place to stay, I did not want to stay alone again.
2. I needed a scooter again.
So, I started the day by searching for hostels in Pai, and by walking the 4.5 kilometer from my guesthouse into town in order to rent a scooter. Said and done, I had my scooter, and also a new option for staying: Spicypai. A rather famous and big backpacker hostel. After going there by scooter ( a huge fun with around 20kg of baggage) I was told that they are booked out.
So after getting to a restaurant with Wifi, I realized that I had received a mail from Kati, a german girl that I met a day earlier in the minibus from Chiang Mai to Pai. She is travelling with Alex and Matthias (from germany as well) and I took the chance to connect with them, and to ask them whether they would like to share a room for the next night. They would. So we met up, and checked in at Happy House Guesthouse. It instantly seemed like a nice place to be, everyone was very friendly, and they also invited us to join in on a scooter tour through the outskirts of Pai that they would leave for in about 30 minutes. PERFECT.
So, within a few minutes we had our luggage in the room, and were sitting on our scooters waiting for departure. The group included a total of 12 scooters and one motorcycle.
The group is ready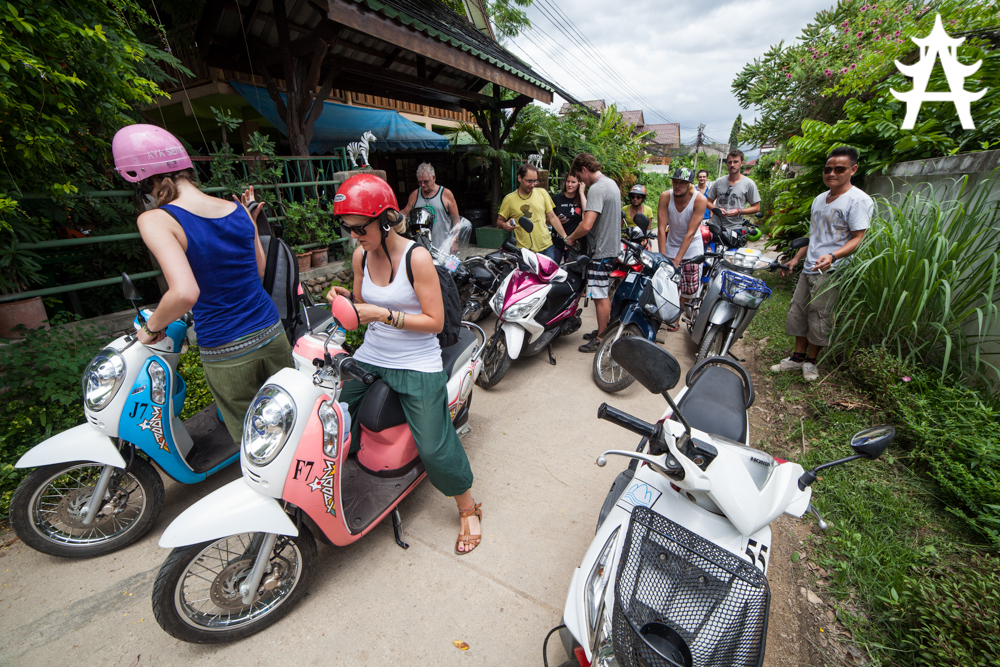 We left Pai, and within a few minutes we were in the middle of the beautiful mountains that are surround Pai. The landscape was really breathtaking, the streets were windy, the sun was out, the mood was more than good.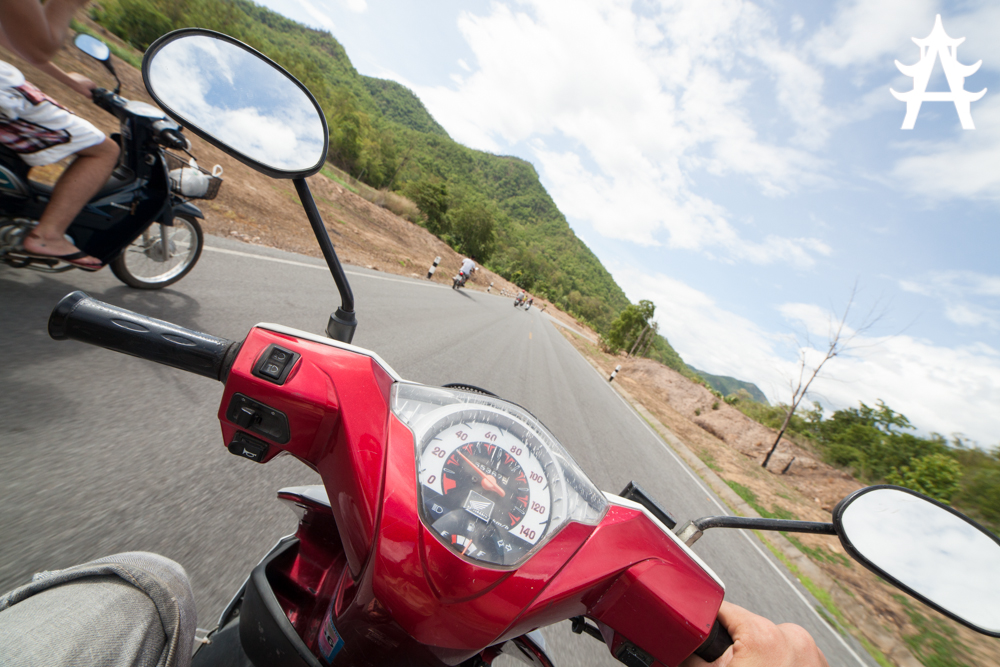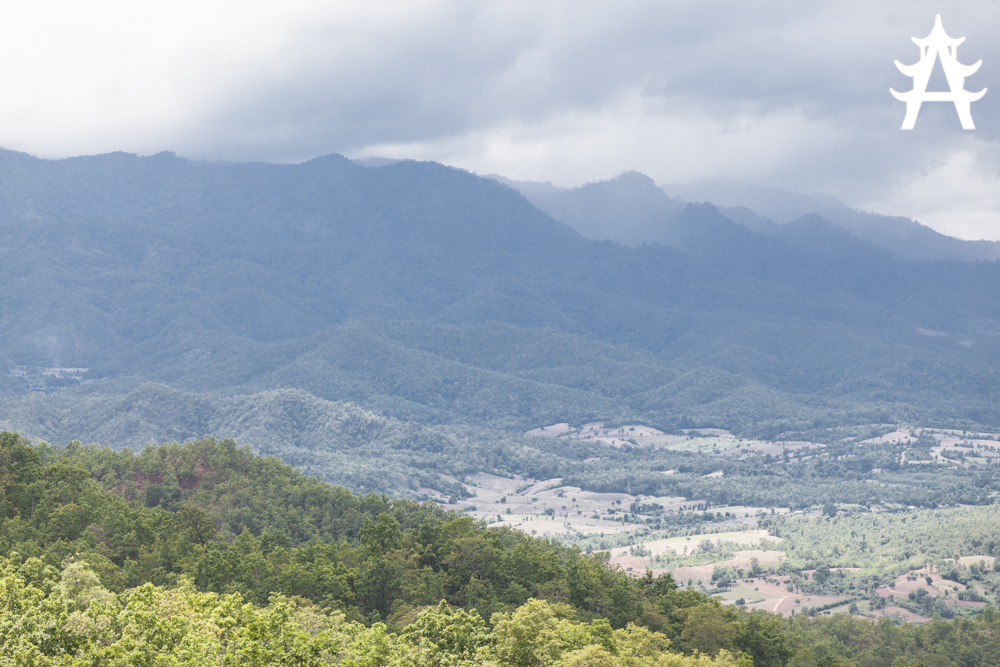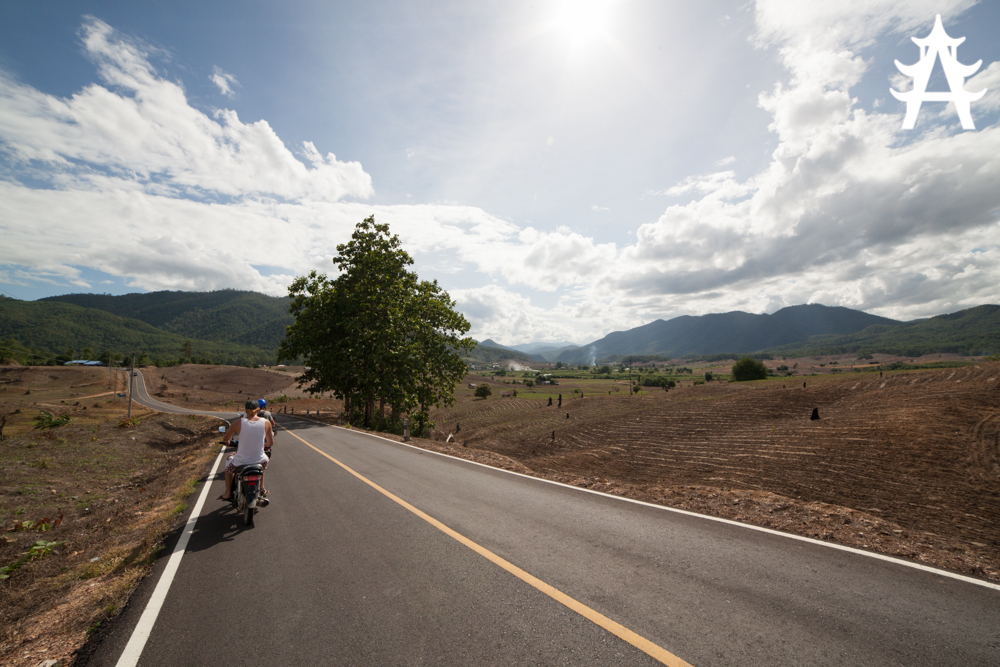 Our first stop was at a quite uninteresting looking street. We got off the scooters, went down to the nearby river and walked alongside it for a couple meters. And then it got interesting. There were hotsprings at this part of the river, and hot really means freaking boiling crazy hot. Hot enough to boil an egg or to get blisters on your skin. I don't think I have seen something like that before, so it was really interesting. Also, not only the water, but also the smell was interesting. There was a strong sulfuric odor in it.
Boiling hot hotsprings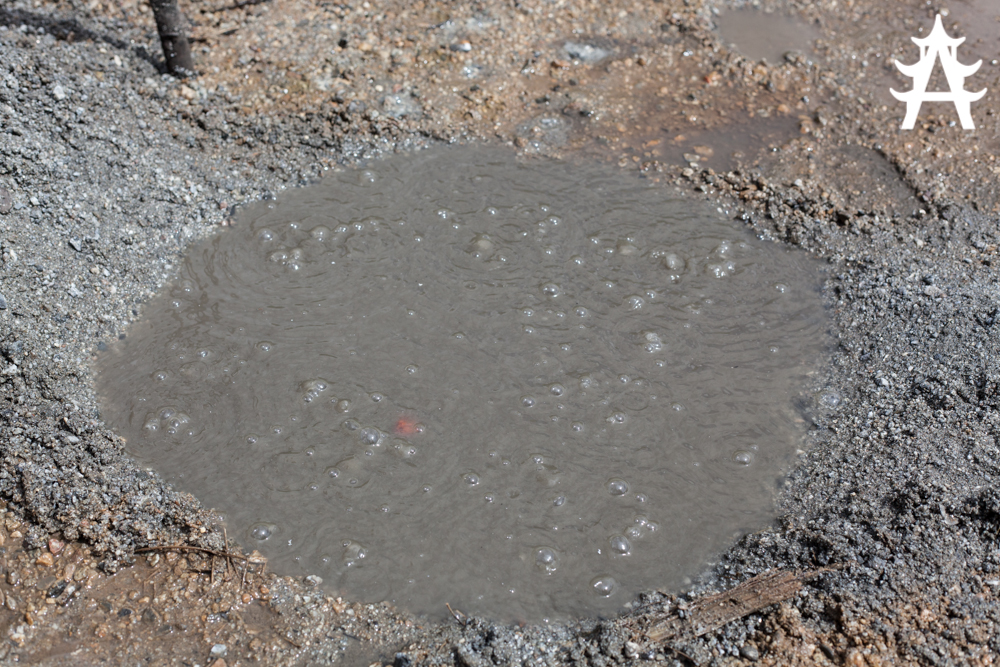 After that we stopped at a view panorama viewpoints, and after an hour or two, got to the second hotsprings. These looked a lot more like what I imagined a hotspring to look like, and were really quite beautiful. These were even hotter than the first ones, and our guide told us that they leave the spring at a temperature around 98°C (Note for all americans: this is only two degrees below boiling temperature).
The second hotspring was much nicer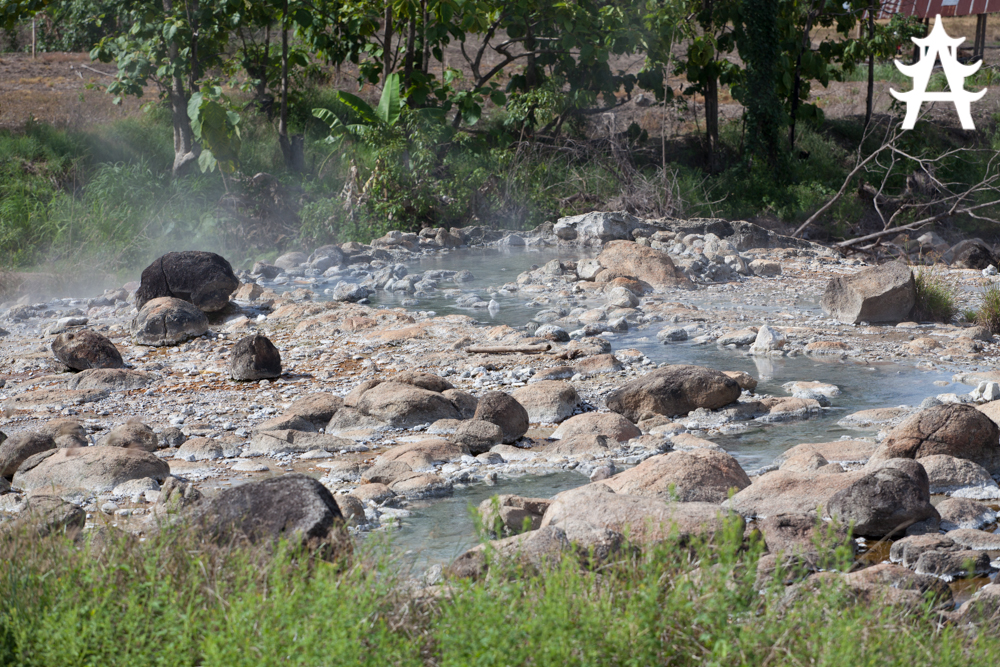 It was steaming even though the weather was crazy hot already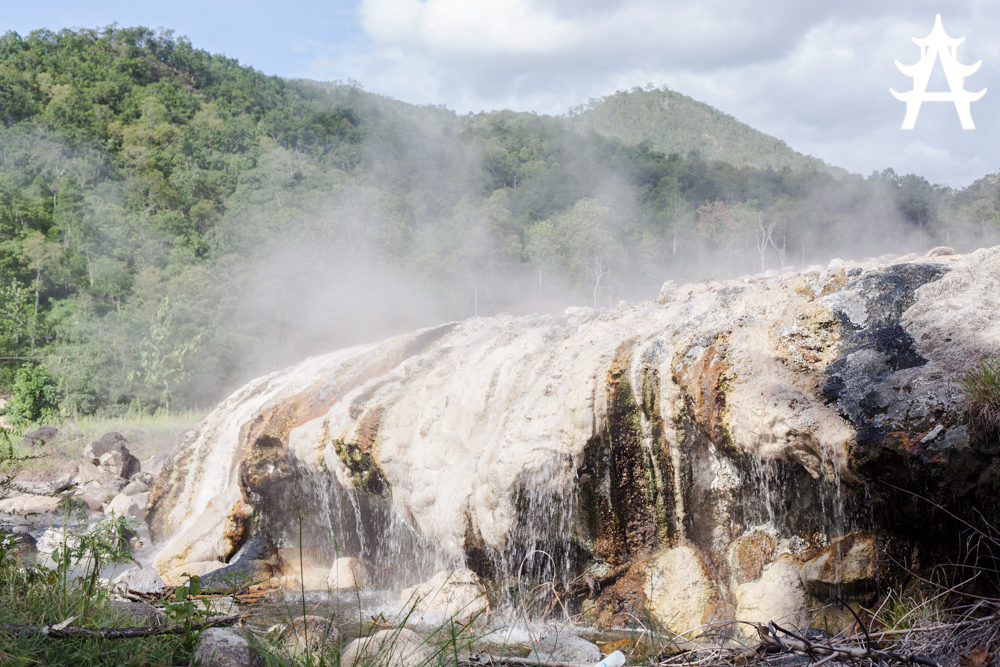 This cockroach got boiled to death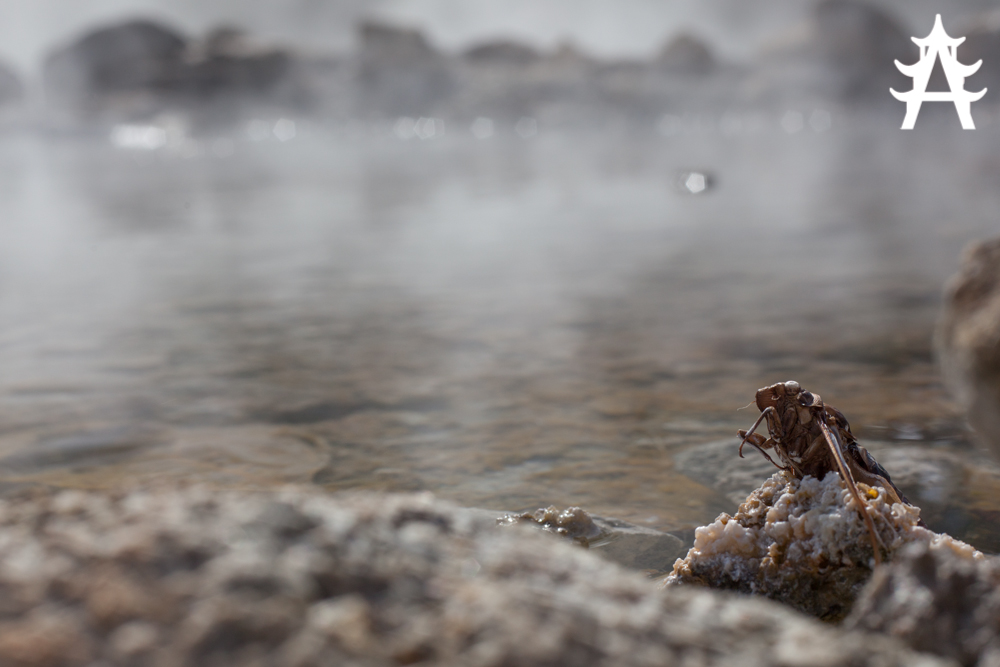 This was about the time when I regretted choosing my flip-flops for this trip. One wrong step, and you would definitely take a nice blister back home. But it worked, and I got close enough to shoot a couple of nice frames.
From these springs we continued our way over dirtroads into a quite remote village. The people there were very nice, you could see that they were interested in this crazy amount of Farangs that were coming into their town at the same time. It was nice, we were shown a really old machine to grind corn (basically two big flat stones that were spinned) and got to rest a bit.
After that, we slowly made our way back to Pai, as it was quite late already, and we had to be back before sunset, as most streets do not have any streetlights and since they are already quite dangerous when using them during the day.
We made it just in time, and catched one of the nicest sunsets I have seen during my time in Thailand.
A beautiful sunset greeted us welcome when arriving back in Pai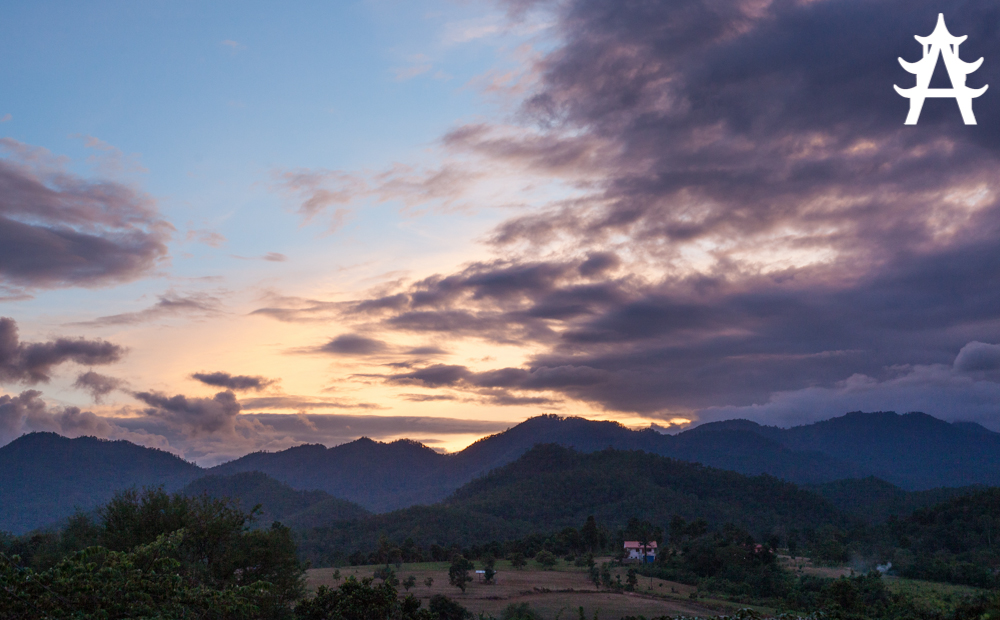 The whole 85km roundtrip took around 6.5 hours and was really exhausting. Nevertheless a really nice way to get an impression of the surrounding landscapes, and honestly: I love this place. I am afraid I have to stay here for quite a while until I have the feeling of being ready to leave. Its amazing!
Yours
Crazy Ivory
Follow my photos, travel route and stories on the Asia Adventure Page.