As my Chiang Mai hostel is a bit far out of the city center and since the surroundings of the city are just as nice as the city itself, me and another guy from my hostel decided to rent out scooters and explore what Chiang Mai has to offer.
Our main goal was Wat Phra That Doi Suthep, the famous monastry in the mountains of Chiang Mai. For myself however, it was not so much about where we wanted to go, but much more about how to get there. I have never ridden a scooter before in my life, and honestly, I was just as afraid of it as I was excited for trying it. Renting a scooter is possible in pretty much every place in Thailand, no drivers license required, and its ridiculously cheap as well. So I was considering it for the past couple weeks, but somehow I did also go for the bicycle instead. Today however, with the friends from the hostel, I felt confident enough to finally try it.
Me and my machine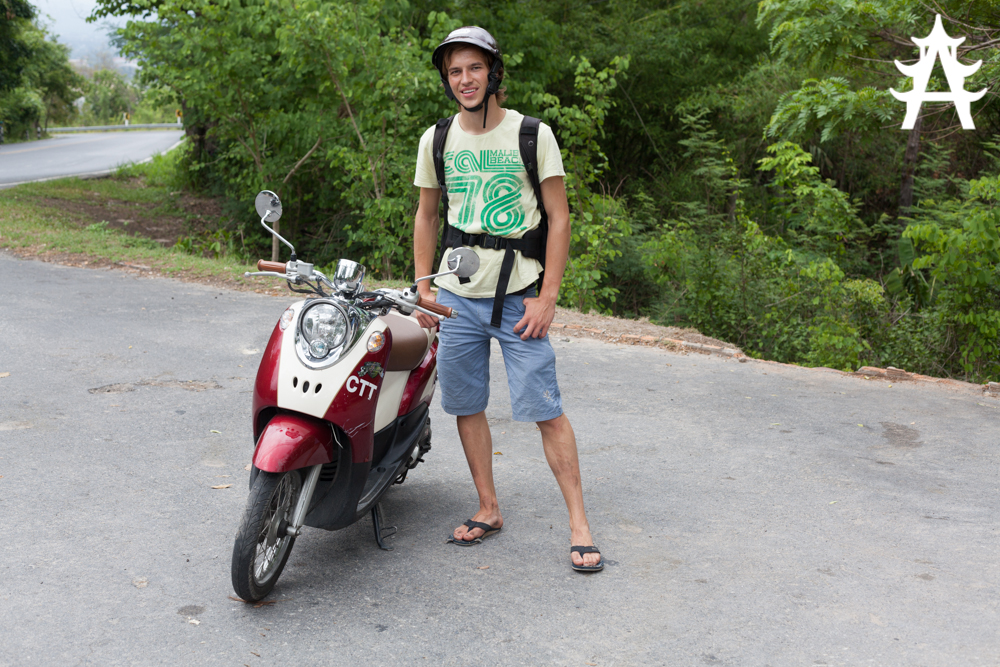 The paperwork was quick and easy, its only one form where you need to put in your personal information. Together with your passport (they keep that as a security deposit) and 200 Baht for a day (around 5€) the scooter is yours and you are free as a bird. So, after a couple of rounds on a parking lot, I felt confident enough to make my way into the mountains.
Now, scooter riding is actually quite easy. Even driving on the left hand side of the road is something that I would have imagined to be a lot harder. I guess after spending four weeks in this country, you are already adjusted to that. The only thing that can be really worrysome here is the traffic itself. There are so many scooters around, all driving however they please, and you have to extremely attentive and prepared for everything. You should definitely not rely on other people playing by the rules.
So yeah, the time flew by, we were able to leave the city traffic without any issues, and were slowly making our way up the mountain. The roads really were winding like crazy, and it was definitely a good road to practice. To give you an impression, this is the road that we took (we came from east):
Crashing
So, it was big fun. At some point my companion Rupert gave me a sign to stop at the parking lot that we were just approaching. So I pulled into it, stopped, and got off the scooter without turning the engine off. I turned my head to ask him why he wanted to stop and at that moment I accidentially stepped on the gas, because I was holding the scooter with my right hand at the right side of the handlebar, which is where the gas is situated. Now, I could have easily stopped the scooter by taking my hand of the gas, but remember, I probably had around 30minutes of experience with this machine, and was not able to react fast enough. I tried to apply the brake, which did not work, instead my hands movement accelerated the scooter even more. 
So, what happened was that I:
1. hit a scooter that was parked there and caused it to fall over
2. accomplished to make the scooter break through a massive wooden blockade
3. had the scooter running over both of my feet, causing bad excoriations
and 4. let my own scooter fall down.
Broken wood blockade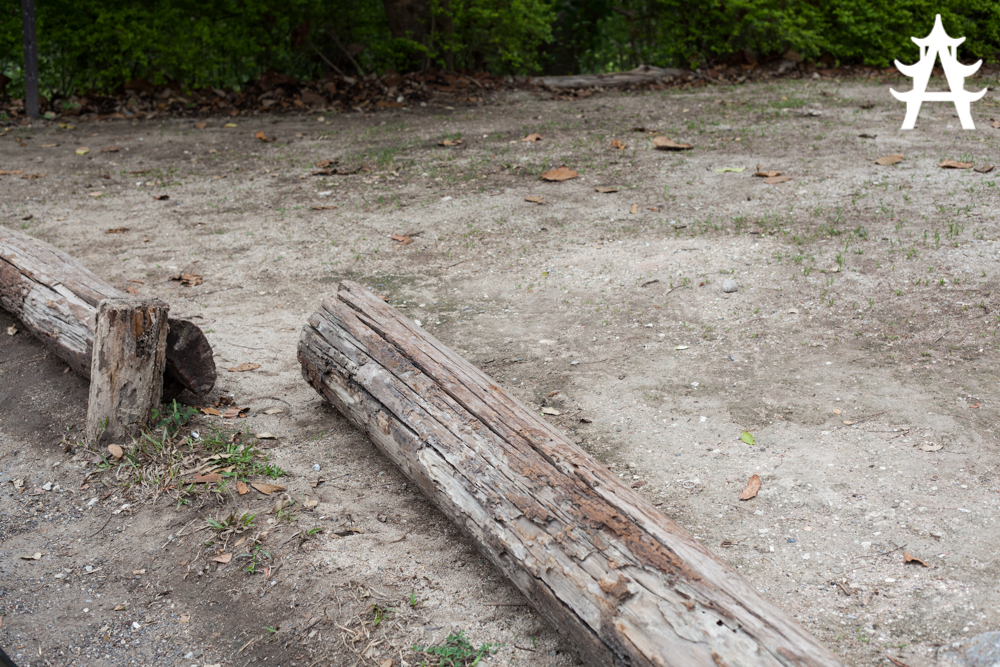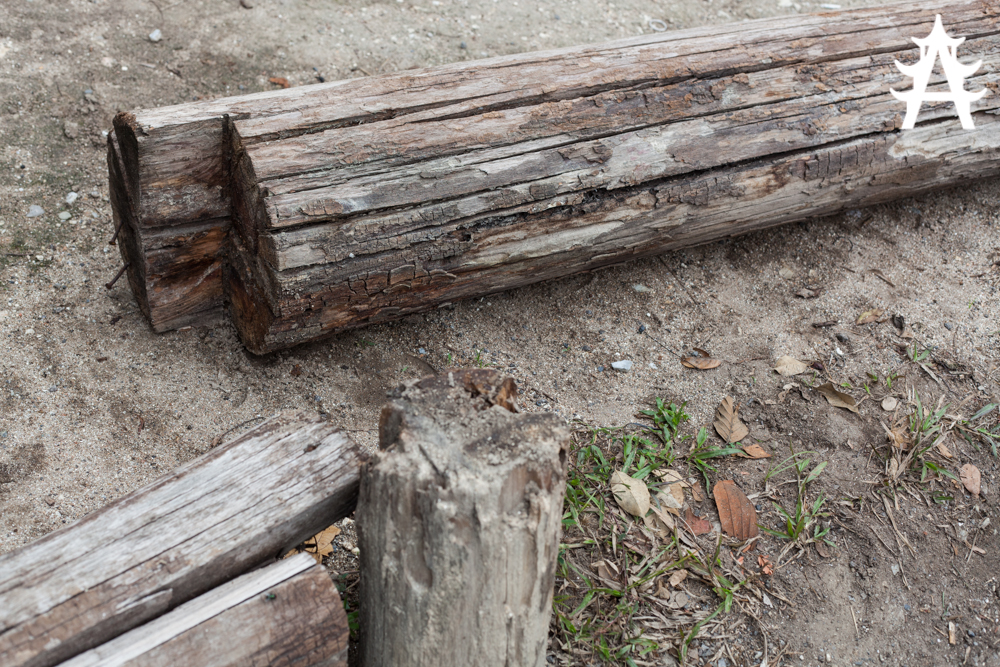 War wounds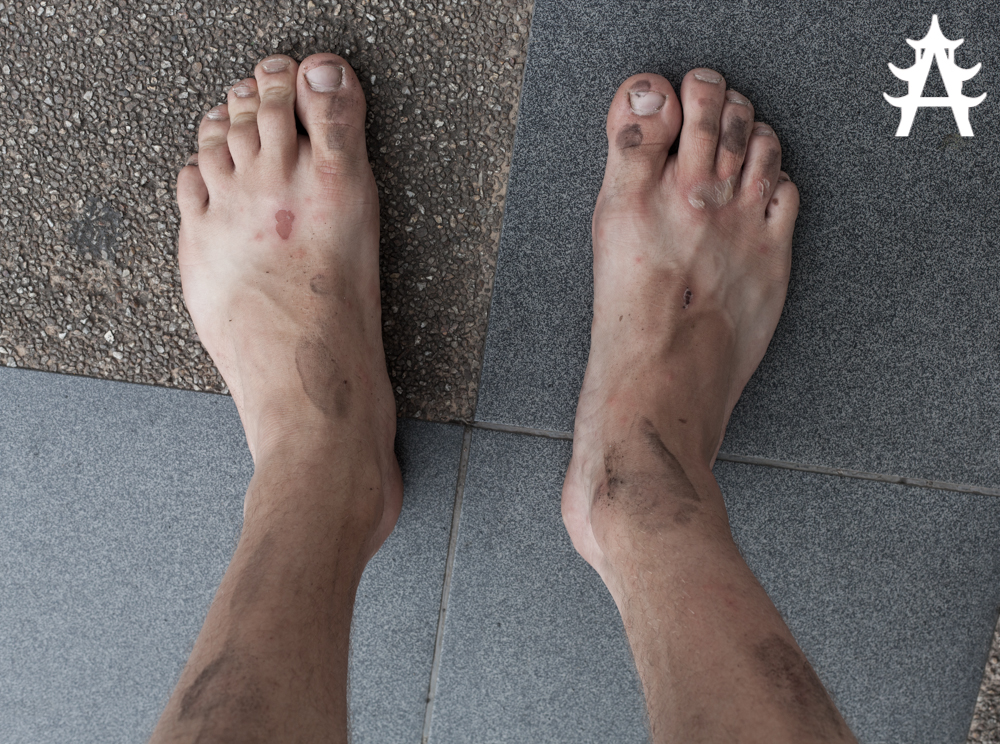 I guess reading this must create quite funny pictures in your mind, and honestly, I am pretty sure it looked very funny in reality. In retrospect, I must have looked like a cartoon figure, or a guy from a silent movie.
Luckily the scooter did not get scratches or anything, so in the end it was an experience without any bad outcome (apart from my hurt feet). I was also lucky for another reason: The parking lot was already quite elevated, and would it have happened at any other end of the lot, the scooter would have fallen down the hillside (really deep). So, thats why I can still laugh about it.
Wat Phra That Doi Suthep
After that experience we continued our journey to the monastry and eventually made it there. The Wat Phra That Doi Suthep was rather boring, and not very different from any other temple I have seen in Thailand (after a while you really can't see temples anymore), the only mildly interesting thing was the nice panoramic view over Chiang Mai from up there.
Wat Phra That Doi Suthep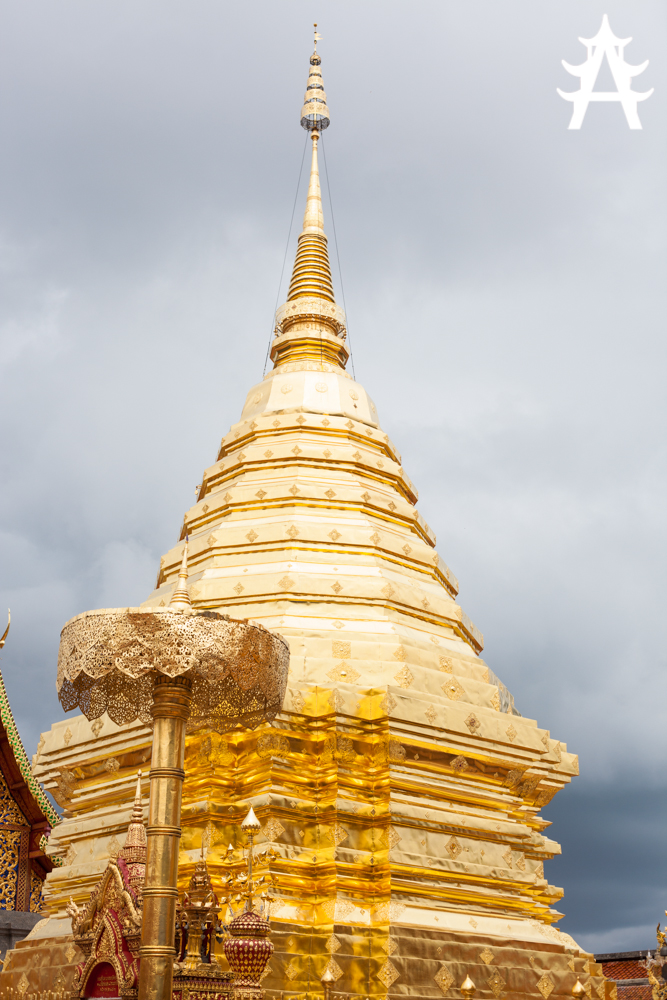 High above Chiang Mai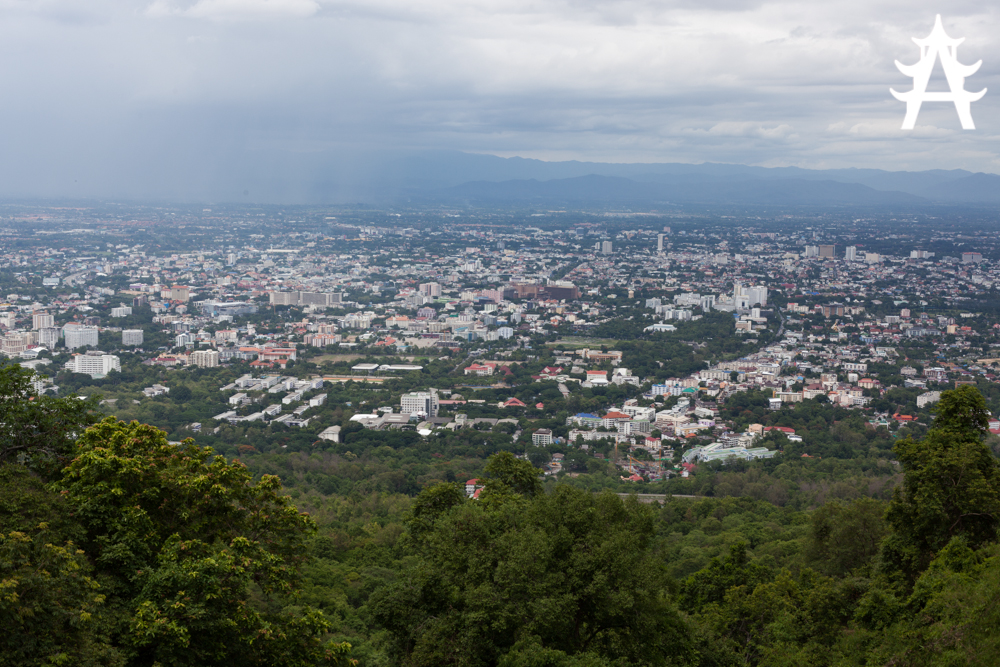 After having spent a good 20 minutes up there, we decided to make our way back to the hostel. Firstly because it started to rain lightly,  and secondly because I really felt like getting something done about my excoriations.
The way back was rather unspectacular, apart from a waterfall that was situated just at the side of the road. 
Oh, and if you want to get an impression of my scooter skills (they are legendary), then please enjoy the rare pleasure of moving pictures (I am not the one filming, I am the one being filmed):
Yours
Crazy Ivory
Follow my photos, travel route and stories on the Asia Adventure Page.