As expected it did not go as expected today…it went a lot better.
In the early morning I went to say goodbye to the Mon monks, that I spent the biggest part of the past week with. I had a few prints with me, and they really appreciated this gift. They were very happy, some put theirs up directly, and we all had a good time.
After that I planned to head back to my guesthouse to pack my stuff and then get a bus to Kanchanaburi. But it went differently. For the first time in the whole past week I saw another photographer that was exploring the temple. Of course we started chatting, and within a few minutes it turned out that his name was Pak, originally from Korea, permanently living in Bangkok and only on a photography trip to Sangkhlaburi. It also turned out that he was planning to head back to Bangkok around noon that very same day, which was around the same time that I had planned to depart. I thought that it would be nice to go on the same bus, as the six hours can get very long if you are on your own. But then he told me that he came to Sangkhla with his car, and that he would like to take me with him. JACKPOT!
Pak, the nice korean guy that let me ride with him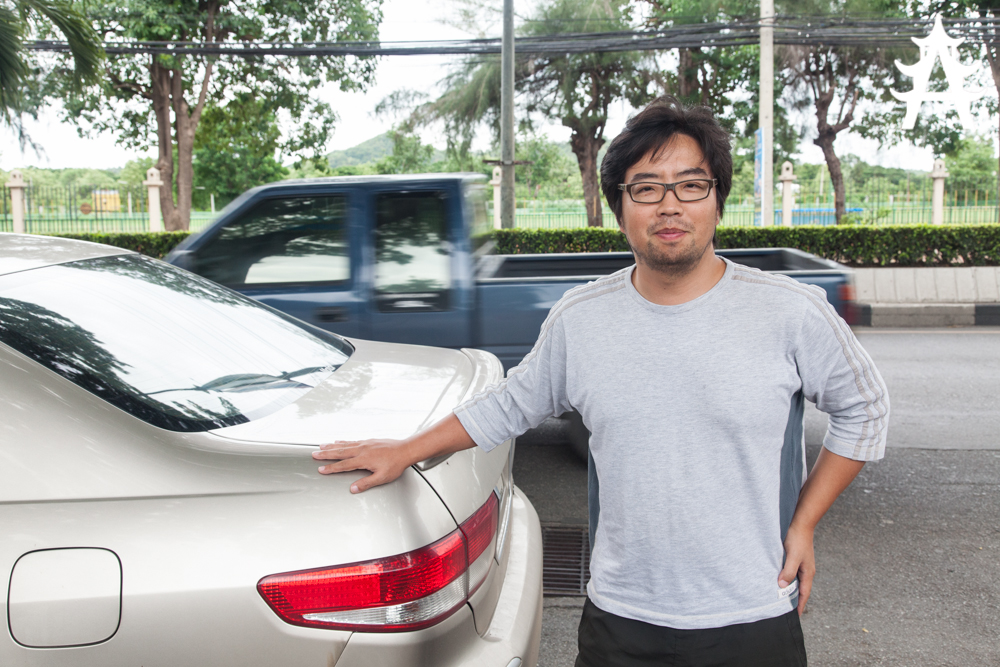 Firstly this meant that I would not have to rush to the bus station. Secondly that I would save a couple Baht (I still invited him for lunch), thirdly that I would save about 3 hours, as the trip did not take longer than this. Also I was in good company, we did geek talk for a while, I got to sleep a bit, the time flew by and without expecting it this quickly we arrived in Kanchanaburi. Sometimes life really has good things in store for you.
Oh, and I also know where I want to head next. I found out about a supposedly very interesting little place called Lopburi. The city is especially famous for one thing: Hundreds of monkeys that are living there wildly. After reading this I did not need to look further, that definitely sounded like a place to continue my Asia Adventure at. So tomorrow I will leave as early as possible to get to Lopburi.

Lopburi on Google Maps
 That will be a five hour journey (if there is a korean with a car heading in the same direction tomorrow, please give me a call) and probably I can already show off with some nice monkey images in tomorrows blog post.
Arrrriba!!! (Ok, that did not belong here)
Yours
Crazy Ivory
Follow my photos, travel route and stories on the Asia Adventure Page.