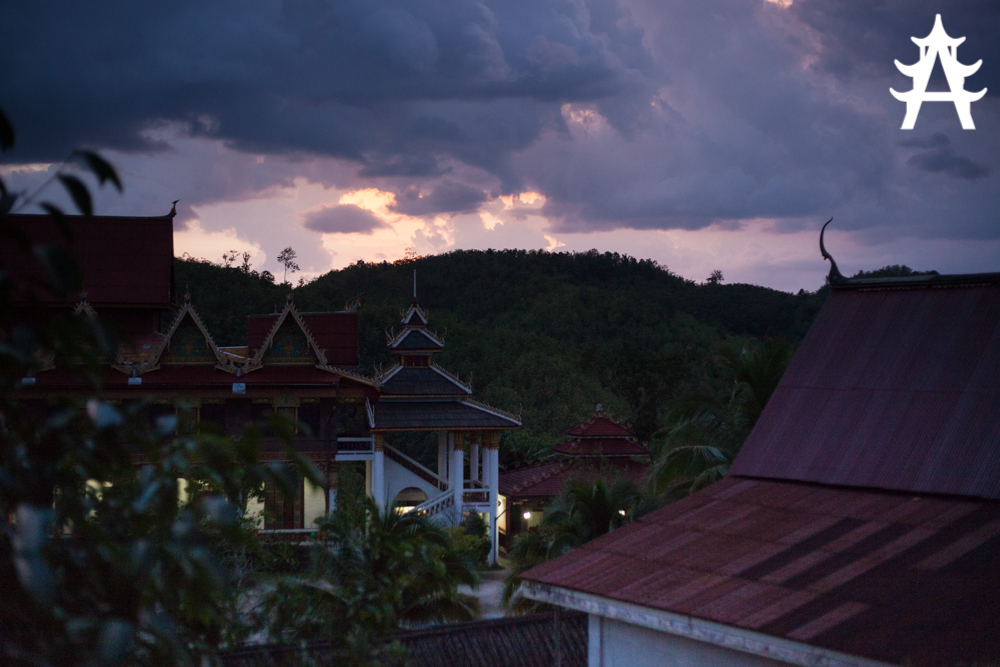 As I told you yesterday, I had the honor to be invited to sleep in the Wat Wang Wiwekaram Temple in Sangkhlaburi. I was curious, and since I really want to learn about buddhist customs and how an average day in the temple looks like, this was a chance that I definitely wanted to take. Additionally, since I was attacked by termites in my guesthouse room the night before, I did not dislike the thought of sleeping somehwhere else too much. So, after finishing yesterdays article, I made my way to the temple, which is a 25 minute walk from my guesthouse. After arriving at about 7PM, I joined the doctor again who was in the middle of sifting a black powder of unknown origin. I also walked around, looking for what the others were doing. Many of them seemed to prepare for the night, as they were taking a shower or went to brush their teeth. At around 7:30 PM, all the young monks gathered in the temple, and one of the older monks teached or told them something. I am not exactly sure what it was about, remember they are all speaking burmese only, and no english.
The last evening teaching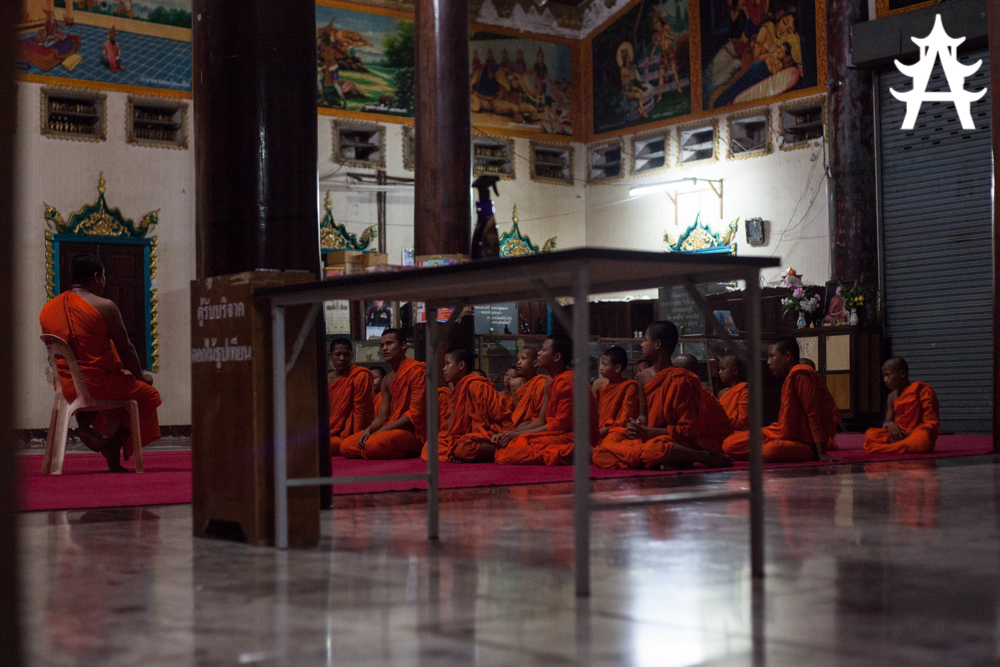 After that, everybody went to the last prayer of the day. I kind of missed this, and when I realized I had no idea where to go, or whether it is respectful to join later. So I stayed in my "bed" and waited. And waited. And waited. At some point I got tired, and decided that I could also sleep now.
That worked out well…to a certain extent. I was in the middle of almost sleeping when I out of nowhere got woken up by an incredibly loud noise. I literally jumped up to realize it was the Gong. Several times a day, a very loud Gong is used to make all the other monks aware of important happenings as for example the second and last meal of the day at 11 AM. Now, my heart was racing and I was completely awake in an instant.
So, I stayed up, waiting for the sleeping time to arrive. It was about 9:30PM when the monks started shooing the stray dogs out of the temple area. This worked for most of them, but one of the dogs got stuck under a shelf and would not get out. Now, the monk that seemed to be responsible for the temple being dog-free did not find that funny. So he started shooting stones at him, and also he hit him with a stick. I don't want to go into further detail but it was hard to witness to say the least. 
Monk with headlight trying to get the dog (on the right under the shelf) out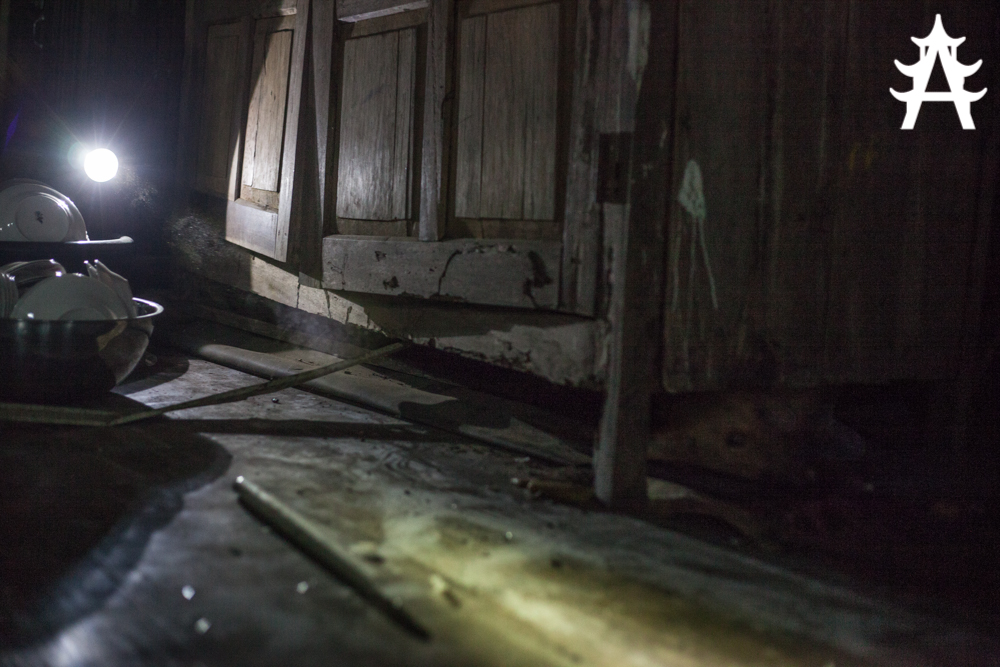 After the dog finally got out and ran for his life, the temple was clear for sleeping. The headlights got turned off, but before that I managed to get a shot of me acting like I would be sleeping. It looks quite nice, and it was nice, but it was also very cold, and hard. The wooden floor really hurt my back, and I realized that I will never become a monk in my life (not that I had planned it, but you never know).
Sleeping (image only for illustration, I did not sleep yet)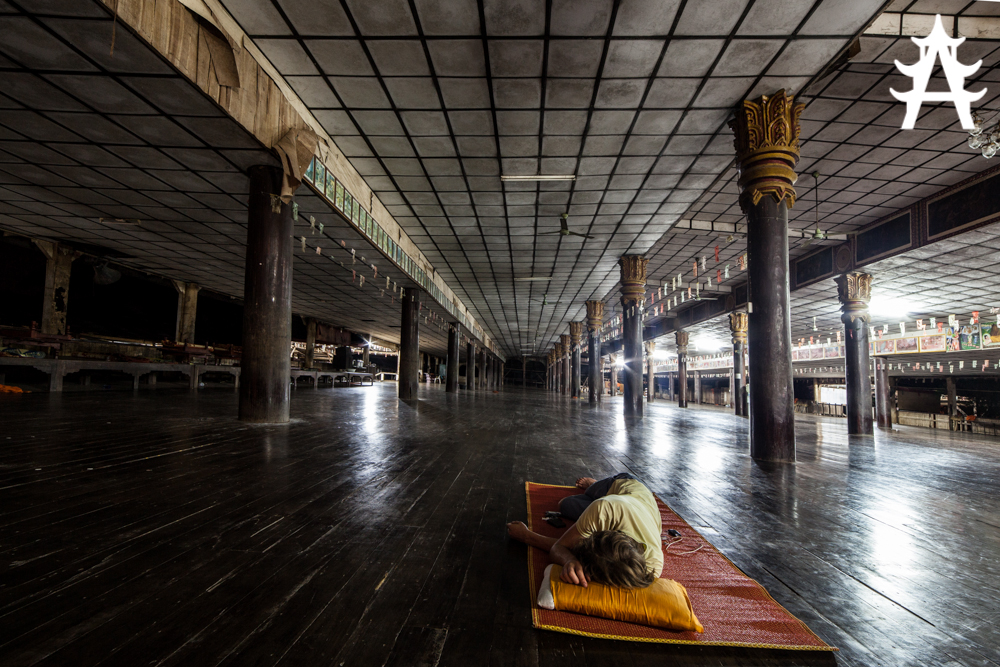 Also, the ants ran over me during the whole night, which took a long time for me to get used to. So, after not too many hours of sleep it happened to be 5:30AM, wakeup time. I got up, brushed my teeth, and then joined the monks on their daily alms collection.
It was definitely worth trying it, and the monks earned my highest respect for sleeping like this every single night. Also I have the feeling that the monks realized that I am serious about documenting them, which will hopefully help me shooting good stuff over the course of the next days.
All the best
Crazy Ivory
Follow my photos, travel route and stories on the Asia Adventure Page.