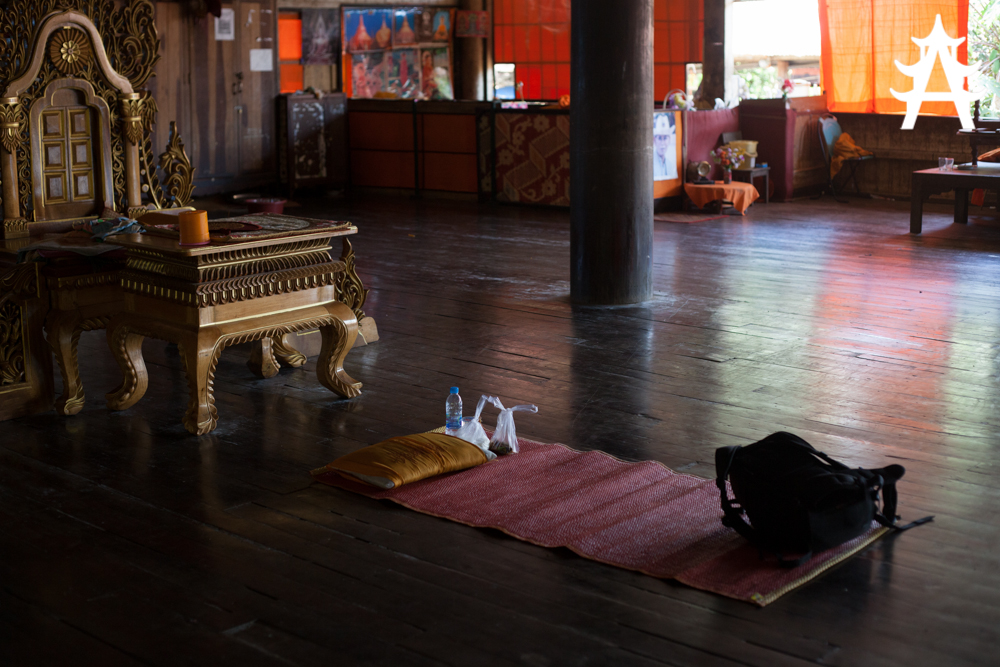 No, this is not a cheap hotel with a strong affection towards old furniture, this is a temple. To be exact, this is the Wat Wang Wiwekaram Temple in Sangkhlaburi, the one, where I shot the images of the tribe doctor. I revisited this place today, because I really digged the atmosphere there, and also because I consider doing a photoseries about this place.
I joined the doctor again, as he is the only one in the temple speaking english (at least as of all the people I had contact with already. We talked for a while, and then he invited me to eat with the monks. Everyday at 11, the monks have their lunch, and after they are finished, the rest of the food can be eaten by other people. I was very surprised by that offer, and of course I took it. Also, he asked me where I am staying in Sangkhlaburi, and what I am paying there. I told him the name of the guesthouse and that I am paying 250 Baht per night, and he told me that if I would be sleeping in the temple, I would not pay anything. I asked him whether he was serious, and he definitely was. So I said, OK, I will. 
In order to get in closer contact with the monks, I am really glad about this offer. I hope to get a chance to see  and learn a lot more about their allday life and the habits in the temple. I also hope to earn respect, so that I can get closer with the people, especially when photographing them. I will let you know how it was.
Aloa! Yours
Crazy Ivory
Follow my photos, travel route and stories on the Asia Adventure Page.