There is so much to see in this area, and I will hardly make it too see even a good bit of it. However, that doesnt mean I won't do my best, right? Most of the national parks around here are too far away for day trips, so it does not make much sense visiting while still staying in Kanchanaburi, but I still found one thing that is closeby and still interesting: The Temple of the Golden Dragon (Wat Ban Tham) is an attraction that I was told about by fellow guesthouse inhabitants, and it sounded interesting.
After looking it up and seeing pictures of it I decided to give it a shot. I left the hostel early today, rented out a bike and started making my way to the Temple. Its not too far, probably something around 10km from my guesthouse, and the route promised to feature some nice natural sights. However, I got completely lost on my way there. I ended up in the middle of nowhere, circled around the same streets at least three times before giving up. I headed back to the hostel in order to look the way up once again, this time I also used Google Streetview to see where I would have to turn.
After I also got myself a bite to eat, I went to try it a second time. I somehow made it to not get lost again, instead I got stuck in the rain. It started raining so heavily that I would have to stop and seek shelter under a tree next to the road. I just waited for the rain to stop, which it didnt, but a truck transporting stones did. The driver asked me where I wanted to go, I told him the Temple, and he told me to store my bike on the stones and have a seat next to him. WOW! Such nice people around here.
This nice guy would give me a ride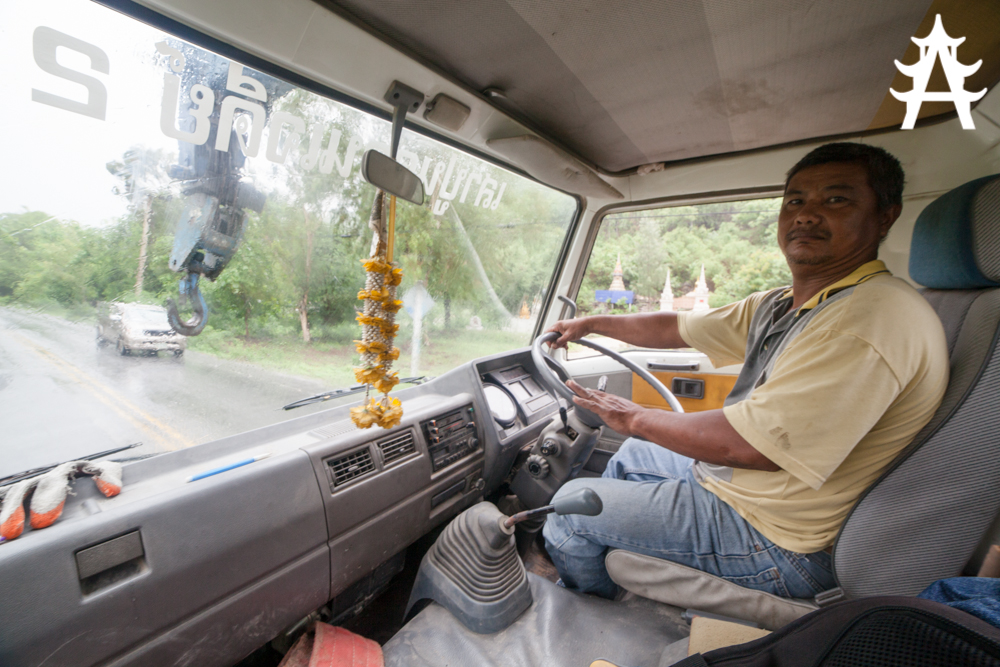 Even if it was only a three minute ride, which I did not know, I still felt so thankful for him taking me in. I repeated my "Khabon Krab" thank you phrase a couple of times, and then I saw the temple.
It looked cool, really nice and colorful, and I realized that I was the only person there.
Many Steps to the top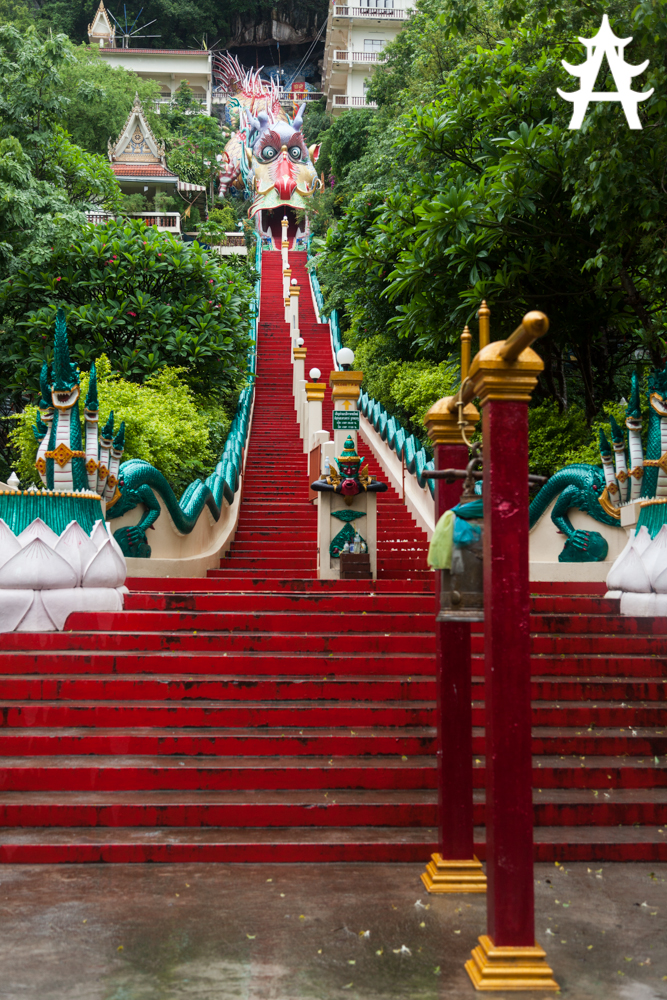 Lots of steps, but OK. I tried to get up there as quickly as possible, in order to be finally out of the rain.
Closer to the Goal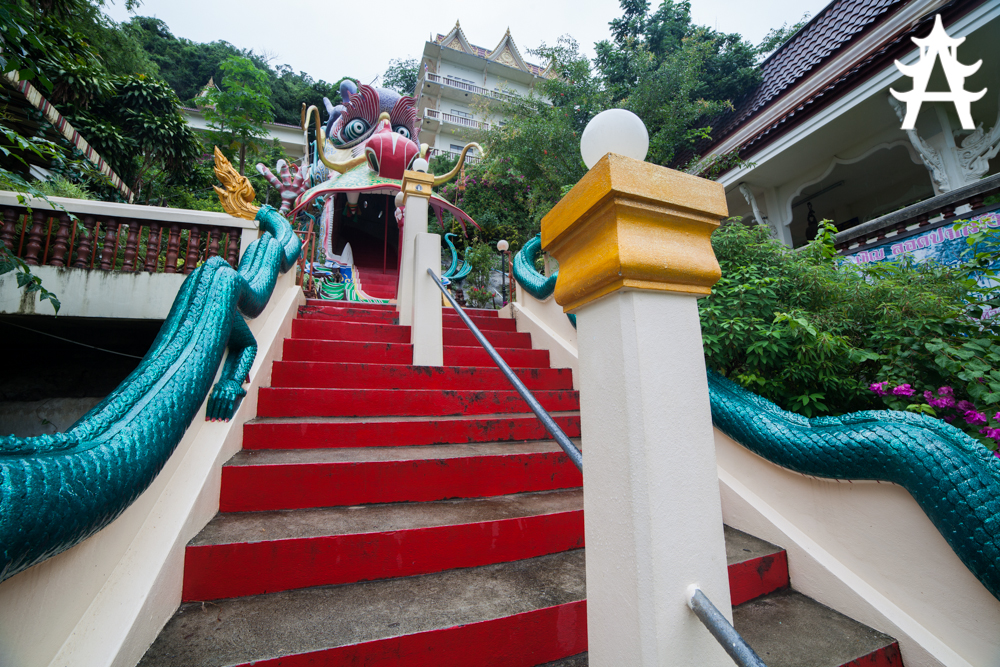 The nicest part definitely was walking into the Dragon. It was fun, the walls were covered with painted imagery and a straying dog had seeked shelter from the rain in there.
Inside the Dragon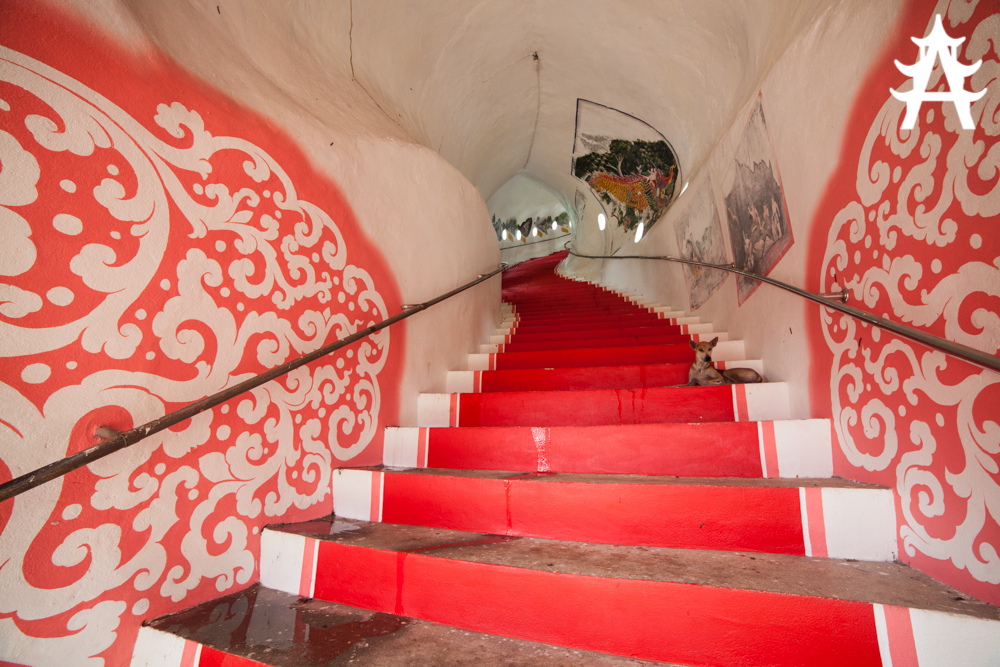 When I finally made it up to the cave with the temple in it, I got snubbed by a lady that was keeping an eye on the temple. I had forgotten to take my shoes off. In my defence, I did not know I would have to take them off on the outside stairs already. Especially since these are made from extremely smooth tiles, so that it was close to suicidal. More than once would I have almost fallen.
Whatever, entering the cave let me forget about all this. It was dark, my eyes needed a few seconds to adjust, and it was beautiful. As expected I was the only person in there, and it was nice and calm. There is an opening in the back of the cave, so you could hear the rain dropping loudly, but together with the carved structure and the candle-lit Buddha, this created quite an atmosphere.
The Temple Cave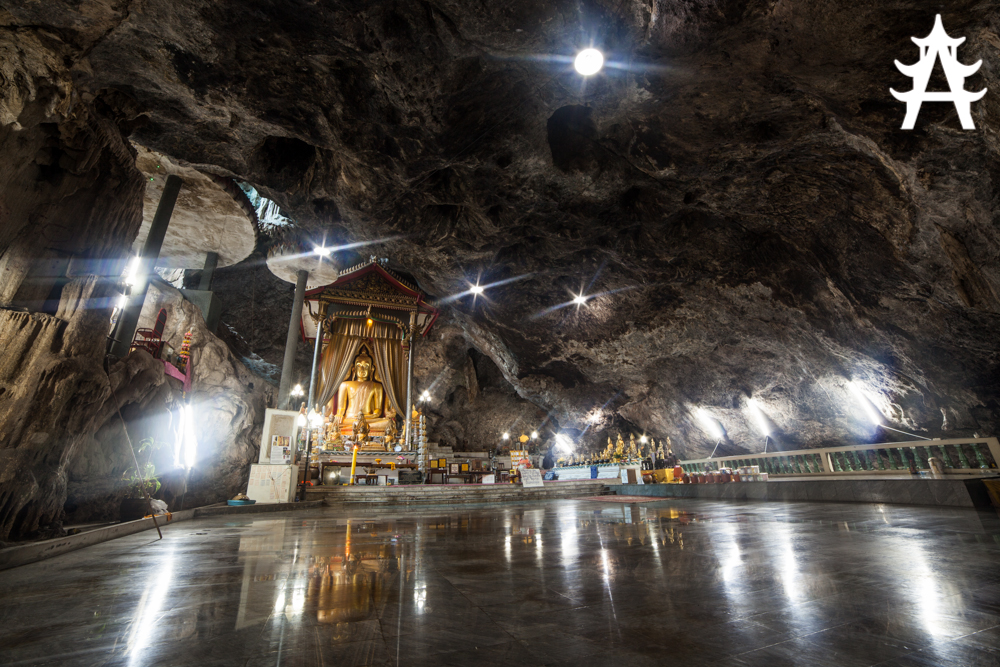 The Buddha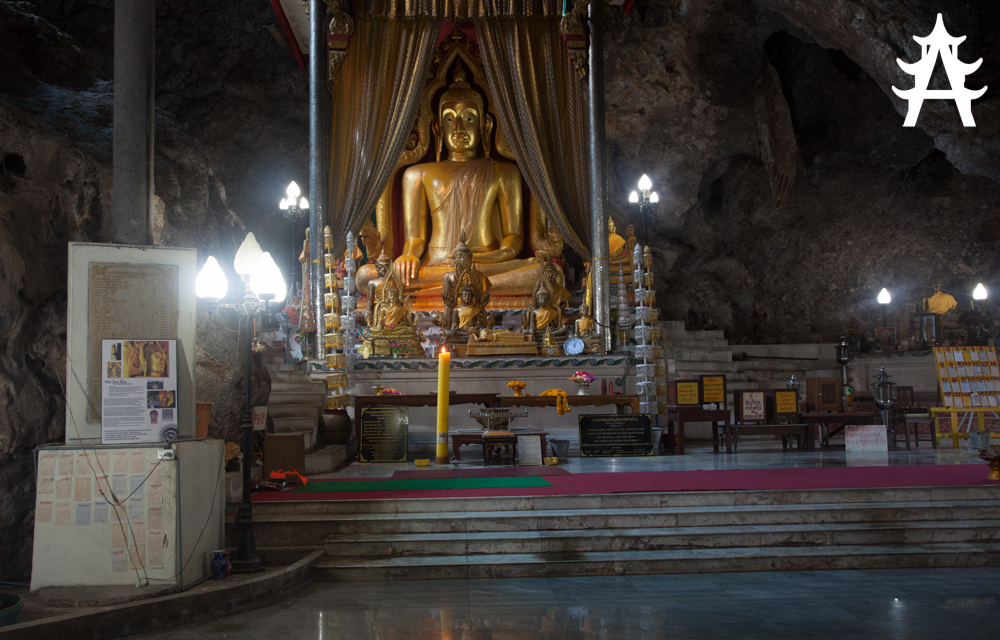 It was nice, especially being there alone. I can imagine that you usually won't be that lucky, but with rainy weather like this nobody would even consider going to the mountains I guess.
There was also a very interesting looking way to a higher level, but the further I walked towards the top, the wetter it got. It was dripping like crazy, so I decided to not go up there, whatever there is to see.
A way to a mysterious higher level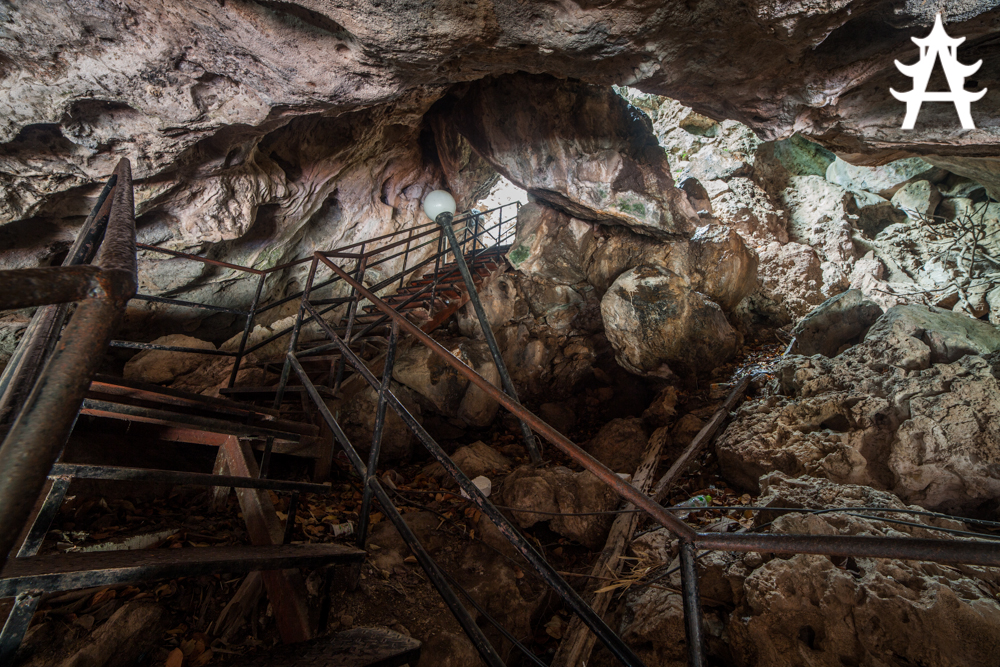 So I went back to the cave, and waited until the rain started to get less and less. When it finally stopped, I made my way back down, this time less careful than when I came up, which resulted in me falling down the smooth tiles that I told you about earlier. I was lucky enough to only fall 4 steps, instead of possibly 20 or more. It still hurt.
On my way back to the guesthouse I also saw an interesting structure next to the road, which I would assume is a huge chinese graveyard, with beautifully designed graves. I don't know anything about its background, but having a chinese graveyard in this location was unexpected.
The chinese graveyard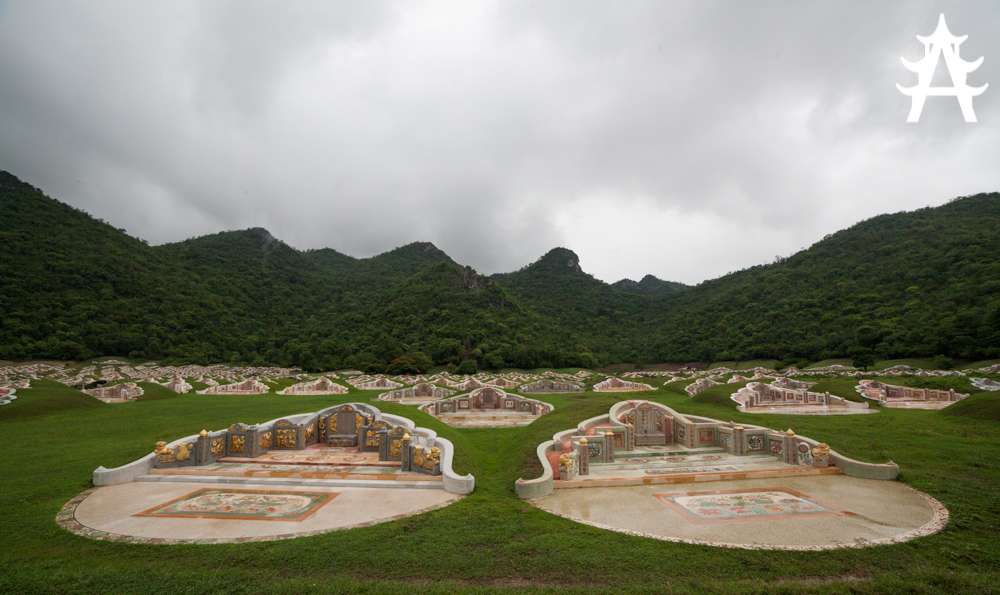 Looking back, the weather could have been a bit better, but apart from that it was a good trip. Definitely nice for an exploration when staying in Kanchanaburi. Here is where it is:
Yours
Crazy Ivory
BTW: The best way to follow my photos, travel route and stories is the Asia Adventure Page.