I came to Thailand to start my Asia Adventure. When preparing for the trip, it was very important to me that I did not want to plan anything ahead. I wanted to come to Bangkok, and then decide how to proceed. There was only one thing that I did plan, the only thing that was in my travel itinerary: I wanted to get up to the top of the Sathorn Unique Building in Bangkok.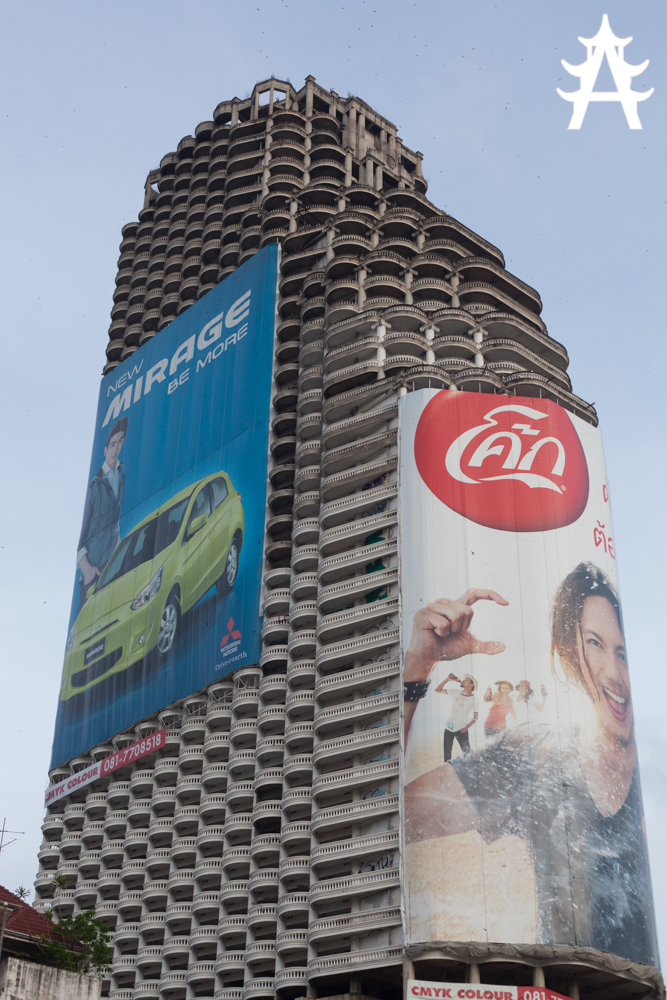 The Sathorn Unique Building is a 49 story skyscraper that they started building in the booming 1990′s, but in 1997 a huge financial crisis hit the Baht, and the construction work was never finished. Nowadays its a ghost tower, it looks already alot like a finished building from the outside, but inside there is almost nothing but vast, empty space.
I coincidentially learned about the building before coming to Thailand, and I knew that I had to get to the top.
Today was the day it was supposed to happen but as you can already guess from the title, I did not succeed. But lets start from the beginning.
Me and a fellow hostel inhabitant went to Saphan Taksin Skytrain Station and walked towards the building. The gate was open, so we simply walked in. But within a few seconds we were thrown out by a guy that seems to live on that ground and who did not want us there. So we walked around the property, slipped through a hole in the fence and were in. From my online research I already knew that the stairways would be welded shut, but I also read that there might be a woman that opens the gate in return for a couple hundred baht. This woman was not present but a few straying dogs were. OK, its time for Plan B then.
We went off the property, into the neighbouring abandoned parking ramp. The parking ramp is very close to the Sathorn Unique, and there is a bridge between these two. I read online that there would be guys (most certainly junkies) living there, that you would have to bribe in order to not get in trouble. It was exactly like that. On a mattress in the fifth floor of the ramp was a guy, that instantly got up and started talking to us in Thai. Even though my Thai knowledges are basically not existing, I understood that this is his place, we are invading and that we should leave. I then told him we would pay for going up the building, he got interested and after a bit of negotiation we agreed on 300 Baht for the two of us. "That was easy" is what I thought at that time. "Now we only have to get over there, walk up and enjoy". I would not be like that.
We went up the ramp another two levels and found the bridge. It used to be a safe bridge to get over to the tower with railings and everything but it was welded shut, so the task was to go over on the roof of the bridge, without any railings and only thin metal between yourself and a 20 or more meter drop.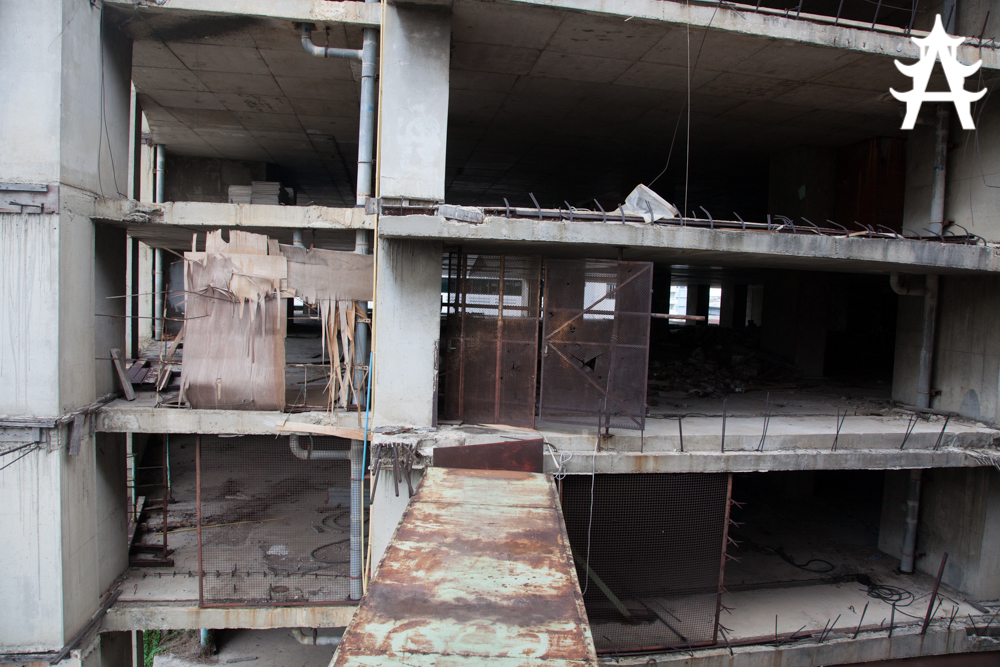 I did it first, and it turned out that the bridge itself would be the easy part. On the other side the entry was blocked by welded metal boards, so you would have to climb around it. That meant being only held by your hands while seeing 20 meters of nothing underneath you.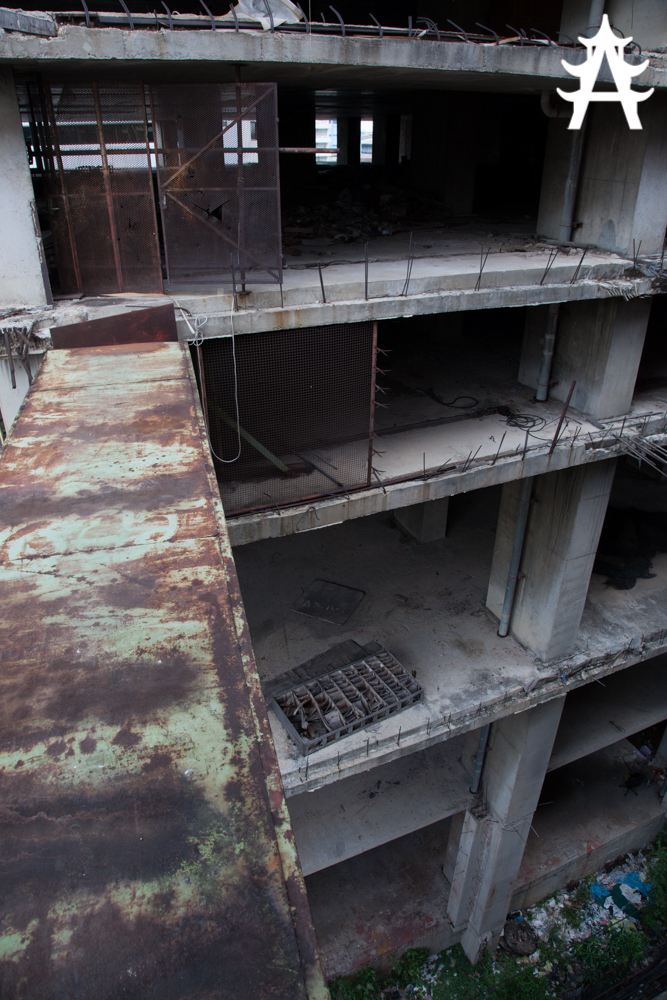 It took me at least 2 or 3 minues to decide whether I would do this, and I decided to try it. It worked, and I was glad. My fellow invader decided to not follow me, as it was to dangerous. Actually that was pretty clever. However, I had dreamed so long to make this happen, I did not want to stop now. So I continued on my own, convinced that now only thousands of steps would be between me and the top. Again, it turned out that I was very naive thinking that.
Walking up the staircase, after less than two floors I was stopped by another welded gate. "Shit, but OK, I will have to try the second staircase then." is what I thought. Doing exactly this this resulted in the exact same outcome, leaving me with no clue how to continue now that I found out that the stairs would not lead me to where I wanted to go.
Walking around the floor I was on, I discovered a crazy construction, that looked a lot like an improvised way up. It turned out it was exactly that. I thought about it, and decided to try it. Up the stand, up the pipes, and up the very instable, shaking hanging ladder that was only mounted with one rope, that I did not trust too much. At that point I was again 6-7 meters above the floor, a height that I would definitely not want to drop down. Being up there I needed to get around the big pillar, which was not that easy either but I managed it.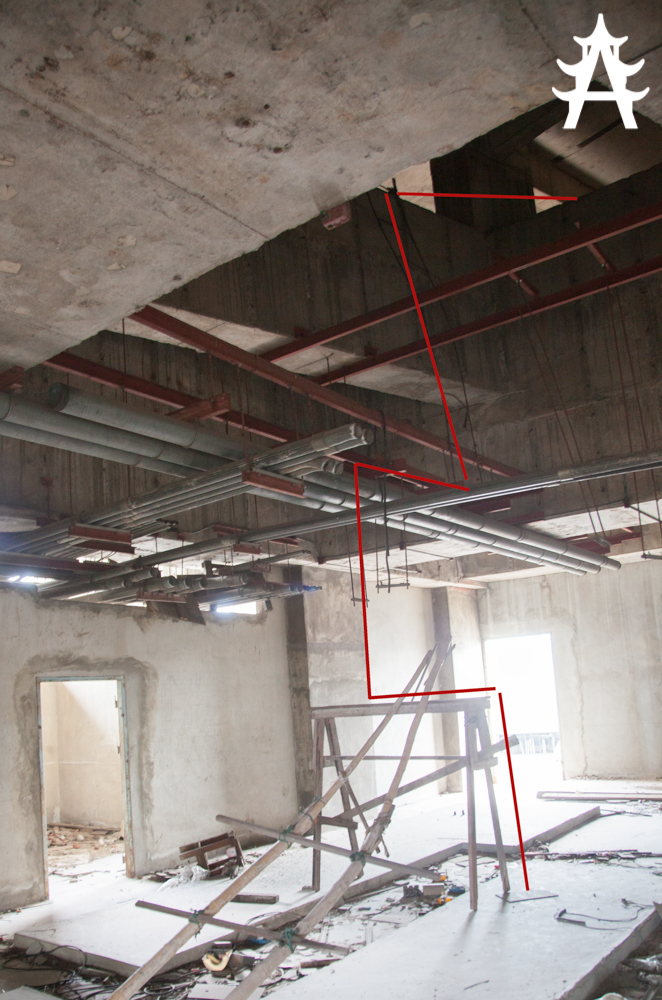 At the point, I realized that I would not continue. Before my eyes I saw loads of rather thin concrete walkways, all with huge gaps in between them. Also the whole space was not high enough for me to stand up, so I would have had to continue in a crouched position.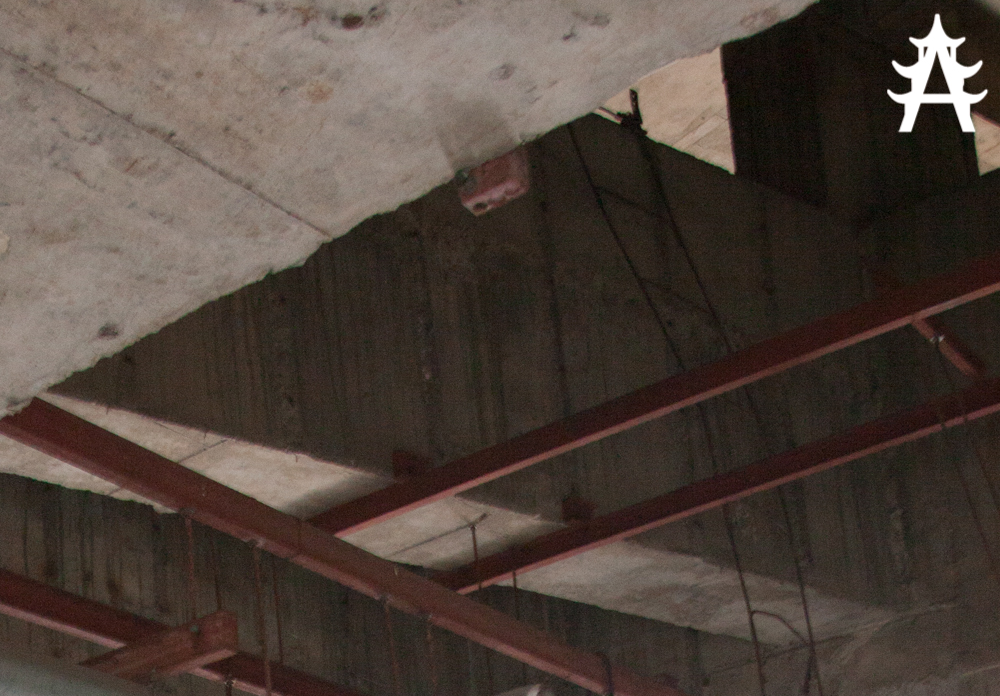 I gave up, I accepted the defeat, I left. I was very disappointed, but still I was convinced that it was the right decision. Putting my life at risk for these photos wouldnt have been worth it. Perhaps, if I would have continued it would have been easy. Perhaps not. I will not find out.
There are so many more adventures to experience, I don't want to risk that.
Yours
Crazy Ivory
BTW: The best way to follow my photos, travel route and stories is the Asia Adventure Page.