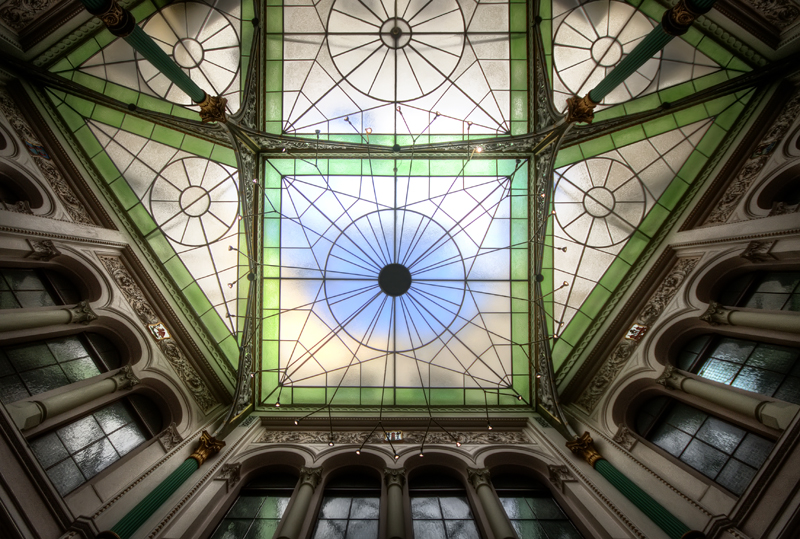 Hover over the image to see the BEFORE version
I really love this shot, especially since its not really my typical style. I love the symmetry and forms, but also the color. If you are interested in what I did to achieve this effect, let me break this down for you roughly.
The Processing
Since the light is very diffuse here, and the range of brightness between the bright ceiling and the rather dark walls is a bit too much for only one exposure, I decided to shoot three Brackets (AEB Mode in Canon Cameras) of the scene to allow me to do HDR processing later.
After rendering an HDR from these single frames, I began with straightening the image to get the most symmetry possible.
I shot this at 10mm from hand. Even if you do the best you can, you will hardly get an 100 per cently straight image at 10mm.
In my case, I mainly had to deal with flipping the image to achieve symmetry, I did not need to heavily transform it.
The key is to make sure you are standing on a perfectly centered spot in the room, and you are holding the camera in the right axis.
It needs to be parallel to the ceiling, to get straight, symmetrical lines.
If you are leaning towards any side, and the camera is not parallel to the ceiling (wall, or whatever you are trying to shoot), you will have a hard time correcting this later. 10mm forgive nothing really.
Rather take 5 more minutes on location, than 60 more minutes in post (exaggered but true).
But lets get back to the processing.
After straightening the shot, I wanted to make it "pop"!
To do so, I increased saturation and contrast (using adjustment layers saturation/hue and curves).
I did not have to do it extremely since the HDR processing already enhanced and brightened the colors.
This  mainly is an act of personal taste, play around until you are happy with the result.
Finally, I took 20 minutes for cleaning up the shot.
Its hardly visible in the Before Image in this post because of the size, but the original shot had many many dust spots on the bright spaces (leaves and dirt on the roof). It really disturbed the calmness of this scene, so I cloned it all out.
Thats it, no other secrets.
I hope you like this Before and After!
If you are interested in a Before and After of a different shot of mine, or you have additional questions,
dont hesitate and contact me via contact form or through the comments under this post!
Thank you!
Yours
Crazy Ivory