My Photography is a product of the digital age.
I started photography with a DSLR (Canon EOS 400D) and if I think of analogue experiences of mine, I have to think back at least 7 or 8 years when you usually took a compact film camera and 2 films on any trip you did.
I never actually "learned" real photography.
What I mean by real?
I mean, I never learned photography from A to Z. The D in DSLR makes it a lot easier to get into it, and to produce technically "good" photos. The cameras of today are very customer friendly and not made for professionals only anymore.
Dont get me wrong, I love digital photography and I sincerely believe that I would not have catched the "fire" if there wouldnt be DSLRs. Postprocessing my photos is a big reason why I love it so much, so is sharing on Flickr and other platforms. I would totally sort myself into the DIGITAL PHOTOGRAPHER category.
Nevertheless I often felt that the way I approach photography is a whole different one than how photographers 20 years back had to do it.
When I go shooting, I often shoot up to 500 or 700 shots a day.
I am completely happy if there are 5 shots that I consider good enough to process them.
I rather shoot 10 images of a scene than to think about a really good concept and get the ONE shot that really works.
A big reason for this is that digital photography is literally for free once you have got the equipment.
You dont need to pay films and pay for developing them, you only need enough Hard Disk memory (cheap as hell today).
I dont think that there is anything wrong with it, I believe its good that SLR photography has made its way to the average consumer and that most of the people who want to photograph can afford it. But its changing the awarness for THE IMAGE, its not worth anymore what it used to be worth. Today you take images at hundreds without being limited to 36 shots on a roll and the costs that follow.
Since I know that I am usually photographing in a bulk, and that my archives of the last three years is consisting of more than 120.000 shots, for a long time now i felt that I wanted to get a feeling for how photography used to be.
Now I did the first step.
On Mandys and mine trip to Leipzig on the weekend before last weekend, we visited a huge flea market a bit outside the city centre.
It was a real flea market, not the mainstream fake version that you often find in Berlin, and the things that were offered were actually old, many broken, and the interesting things hid between tons of useless stuff. You get the idea.
Many sellers offered old analogue cameras, most of them broken compact ones, and some overpriced SLRs.
But at one certain selling tent, this guy had only one camera, on a CANVAS HOLDER in the middle of the table.
I instantly grabbed it and liked it.
It was a Exa 1a, a name that even I, who has never really been interested in analogue cameras, had heard before.
I played with it, without really knowing what I did there, when another customer approached me, telling me how good this camera is. He showed me that everything was working and even told me some of the improvements of this version to the standard one. He also assured me that the offered price was a very fair one for a camera in this condition.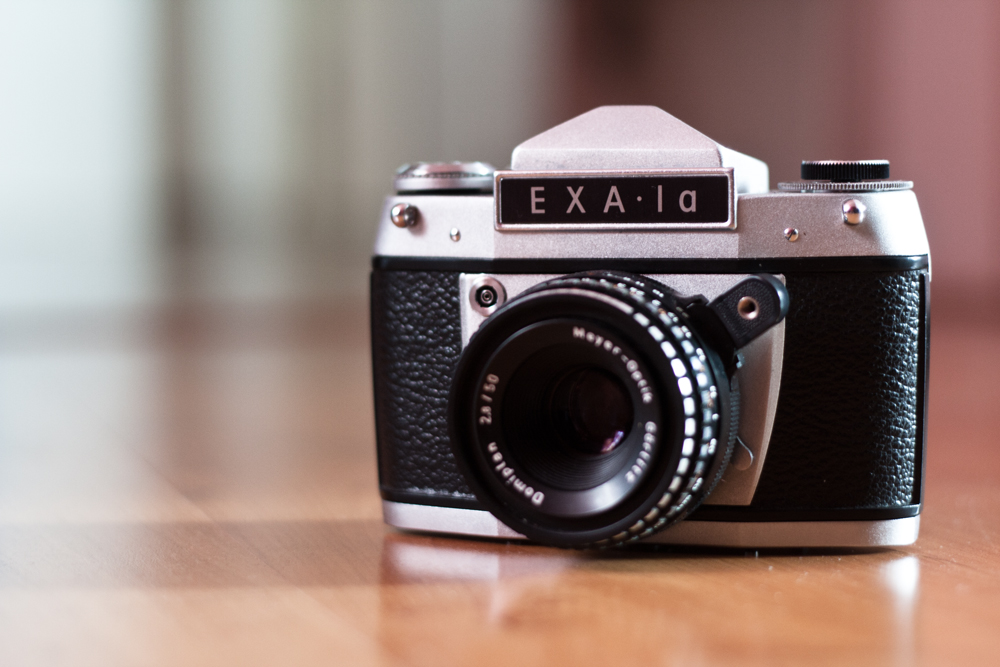 This somehow made it for me.
After two minutes of bargaining I bought it, and felt proud the rest of the day.
I also looked it up online, and from what I read its a camera with good reputation and high building quality.
The fact that it was produced in G.D.R. assured me of this.
At the moment I am still in the "playing mode", I havent got any films yet.
I cant wait to start trying it, and more so I can hardly wait to pick up my first developed film roll.
I am planning to use it only from time to time, and mostly as a stylistic device.
I am hoping that this will teach me a lot about real photography, without digital sensor and in camera light metering.
I will of course keep you updated about how this will develop (pun intended).
But for starting with this, I could really need some help.
What film types can you recommend me? I would like to shoot Black and White Film, if the price difference to color film is not utopic. Where is the best place to get it?
Are there any tips you can give an analogue amateur?
What is the Exa best for?
What are its soft spots?
Thanks to all readers!
Yours
Crazy Ivory